When buying jewellery, most people don't think about how it has been made. They won't, therefore, consider how the manner in which it was manufactured might affect the quality or value of the piece.
The two most common methods of production in jewellery are casting and hand-making, both of which have their advantages. Read on to work out what is right for you and your design.
Casting
Casting is a process where a mould is made and then molten metal is poured into the mould. The mould is made by the jeweller either carving or 3D printing the shape to be cast. A carved model is usually made out of wax and this is encased in a mould, often made of plaster. The mould is heated  to melt the wax, leaving a space inside the plaster mould which is the shape and form of the model (which gives the process the name the Lost Wax method.) This is then filled with molten metal to create the piece of jewellery. It requires a little cleaning up but overall, this is a fairly quick process.
Casting can be used as a mass-production manufacturing technique because if you make multiple copies of the model, it allows you to make infinite copies of the same shape. This can be done through 3D printing a wax model of a computer generated design, or by creating a mould to produce further wax models. The vast majority of jewellery found on the high street is cast, which makes it very easy to mass produce.
Benefits
You can often see a three dimensional model of the piece you are having made in wax, unlike when a piece is fully hand-made.
If a piece is being made using 3D printing, you will be able to see a 3D render of your design, which is usually more realistic than a hand-drawn sketch. You can see it from all angles.
Casting the whole piece, or even just using cast components such as settings, is cheaper than producing the whole piece by hand as it is less time-consuming. This can mean you have more budget to spend on perhaps a more expensive metal or larger, higher quality or a larger number of stones.
The piece you end up with will be exactly the same as the design you have seen as a model or rendered image as casting produces the same piece every time, unlike hand-making.
It is often easier (and quicker, therefore less costly) to cast an intricate design. It is also a good method to produce a fitted wedding ring to sit nicely alongside an engagement ring.
Cons
There is a small risk of porosity within castings – this means there may be small air holes within the metal, which particularly when in the claws of settings, can cause a weakness and potential breakage. Casting techniques have improved greatly over recent years so this shouldn't be an issue but is something to be aware of as a potential risk.
If you're after a one-off, completely unique piece, casting usually means the piece or component is not unique. This is not always the case, but it is worth checking with your jewellery designer how they are going to make your piece and whether it will be a true one-of-a-kind piece.
If the piece is cast in one piece, such as the examples below, the piece of jewellery can only be made from one metal, meaning a mixed metal design is not possible. That is unless the piece is made from separate cast components, for example, a yellow gold cast setting which a goldsmith could then solder into a white gold ring shank.
Hand-made

When a jeweller produces a cast piece of jewellery, they start by creating a model of it in another material. When making a piece from scratch by hand, they will work in metal from the very beginning.
A jeweller will work out what metal is needed and will then shape it to create the design. For example, when making a plain wedding band, a jeweller will take a piece of metal wire, solder the ends together and shape it into a circle. They will then shape the band to the correct width and profile and apply the desired finish.
Benefits
The main benefit to most people is that the piece of jewellery is truly unique. A lot of people will enjoy knowing a skilled goldsmith has created a piece from scratch. It may have small 'imperfections' but this is part of its charm.
Handmade jewellery is inherently stronger. Working the metal by hand hardens it, making for a stronger end product.
You can easily have a mix of metals within one design because it is put together by hand.
It is easier to make small changes to a design while it is in production than with a cast piece.
It can be quicker to make a piece by hand as often fewer people and processes are involved.
Cons
Handmade jewellery tends to cost more as there are more complex processes involved.
You won't see a 3D model of your design before the piece is made, so you will have to rely on your designer's sketches and descriptions to envision the final piece.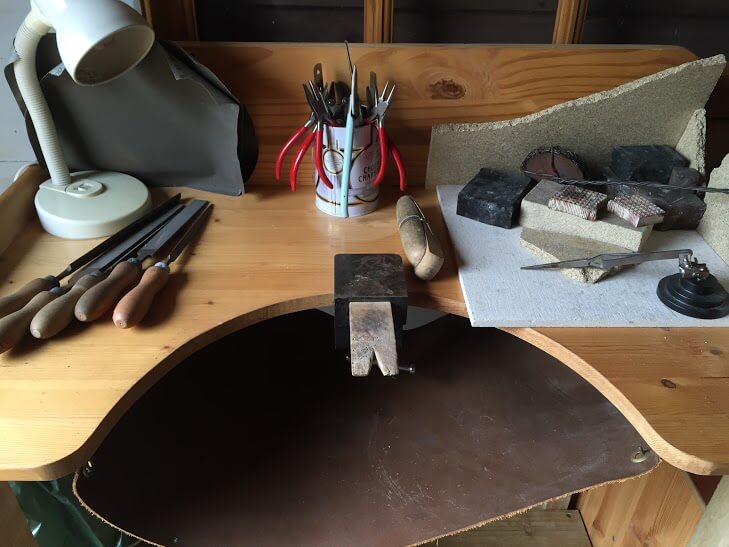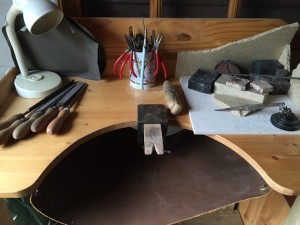 Middle ground
Quite often, a jewellery designer will utilise the best of both and combine handmade and cast elements, for example using a cast setting in a handmade shank. This is a good way to reduce production time and therefore reduce the cost. The important thing is that your jewellery designer should be open with you about how your ring is made. I will offer several options when quoting – both making a ring totally from scratch and the difference if some cast elements are used; I will advise you on what would suit your design or budget best. Here are some examples of my work using these various methods:
Cast

 I created this bangle by hand carving a block of wax. It had to be cut in half to be cast as it was so large, but was then soldered back together.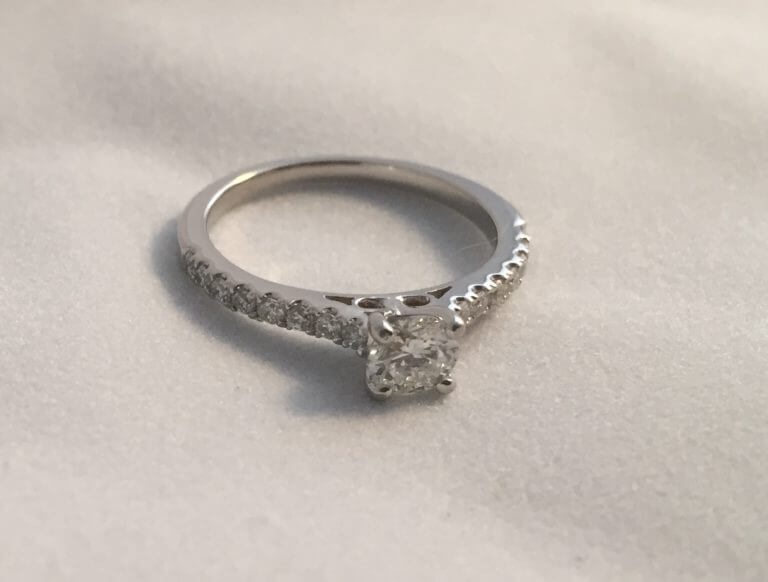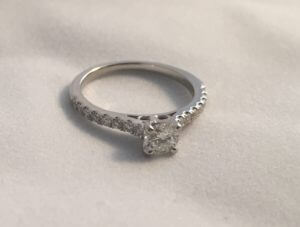 Lee wanted an engagement ring for Charmaine in time for a Christmas proposal – we only had a few weeks, so we chose a ring from a selection of designs from a jewellery casting company. It was made to order but was made through a casting process. Another benefit other than time for this particular design is that the intricate design beneath the setting would have been really costly to make by hand, so it helped keep the ring in budget. He was therefore able to afford Platinum and high quality diamonds within his budget, which was something he was pleasantly surprised by.
Handmade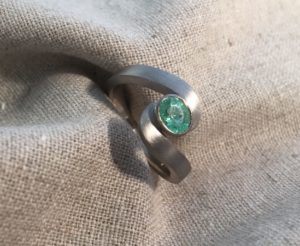 Michelle's twist tourmaline engagement made in Palladium was totally handmade as the stone was an unusual size. Hand making this design meant the twist connects beautifully to the setting for a really pleasing effect.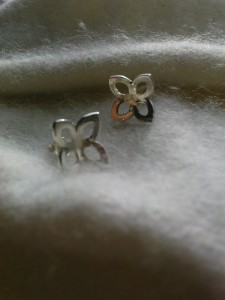 These earrings were made by hand by piercing the shape out of silver sheet, which was then domed to give it the soft curve.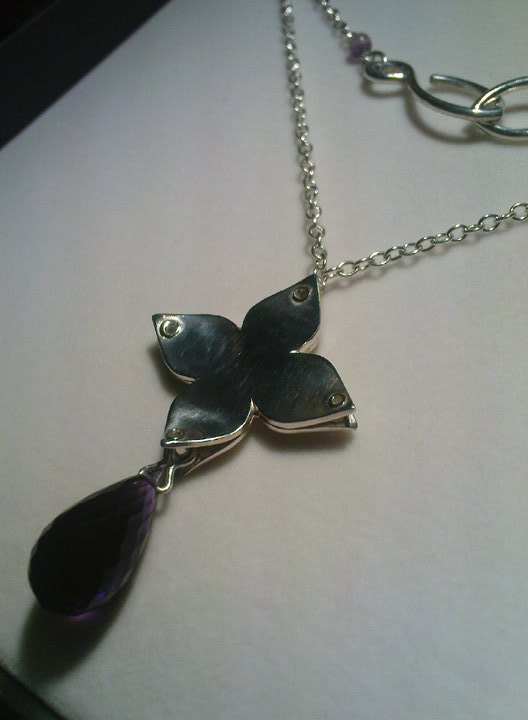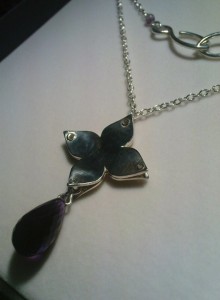 This silver and amethyst pendant was constructed entirely by hand for Liz.
Mix of cast and handmade
Sarah's ring was kept in budget by using a cast ring shank and setting combined with the handmade diamond set leaf details on the shoulders of the ring. This is a way to make mass produced jewellery more personal and unique.