A lot of people find the thought of selecting a wedding ring they intend to wear for the rest of their life daunting. This is further compounded by the vast array of choice you see in a jeweller's window – it can quickly turn into a case of 'analysis paralysis.' The thought of going bespoke can seem even scarier – basing your decision on a drawing rather than seeing the finished product on your finger before buying it.
It is my job to put your mind at rest and take the stress out of the situation. I believe that choosing your wedding rings should be a romantic and memorable part of your wedding planning! I provide expert knowledge and filter through the options to ensure you are not bombarded with too much information. I do this by breaking down the decision-making process into a series of small decisions, and once you get going, you will be amazed at how opinionated you are on the most minute details of this special piece of jewellery.

1. Starting points to consider
It is a good idea to have a conversation about the following three questions before having your design consultation to ensure you are on the same page.
a) Are we working around an engagement ring – shape, style, metal?
This usually only applies to a lady's wedding ring, but not exclusively, and the design may influence the gent's wedding ring if you would like them to have a cohesive feel.
b) Do you want both wedding rings to match?
Does it matter to you if the rings are made of different metals? Do you want them to have a complimentary design feature?
c) Have you seen any ideas that grabbed you?
Take a look at what is available on the high street as a starting point, but don't get overwhelmed. I highly recommend setting up a Pinterest board where you can save all the designs you like on first glance. You can then look through this later and see if any design features keep cropping up, e.g., a metal colour, engraving, contemporary design or more traditional.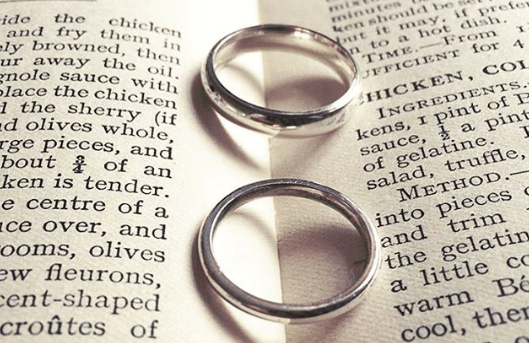 ---
2. Metal
Consider the colour of your existing jewellery
If you're looking for a wedding ring to sit alongside an engagement ring, the norm is to match it, but don't feel you have to! A contrast can be lovely. If you're looking for a wedding ring to wear on its own, the choice is entirely open. If you don't usually wear jewellery, take a look at the metal colours you are drawn to on the hardware on your bags, clothes and even interiors, e.g., kitchen door handles. If you tend to err on the chrome side, you would probably prefer a silver-toned metal like white gold or Platinum, whereas if you like the warm tones of brass or copper, you could consider yellow or rose gold.
Look at skin tone
An often-overlooked element is how the metal choice works with your natural skin tone. Jas and Cesare's rings below are an excellent example of this. Jas was given Ces's late mother's engagement ring, which was made by her father in law's family in Italy in a beautiful 18ct yellow gold. This looked stunning against her dark blonde hair and olive complexion but looked a bit brash against Ces's more rosy-toned skin. He opted for 9ct rose gold, which looked far better on him. The two rings absolutely do not need to match each other – especially if the metal only suits one of you.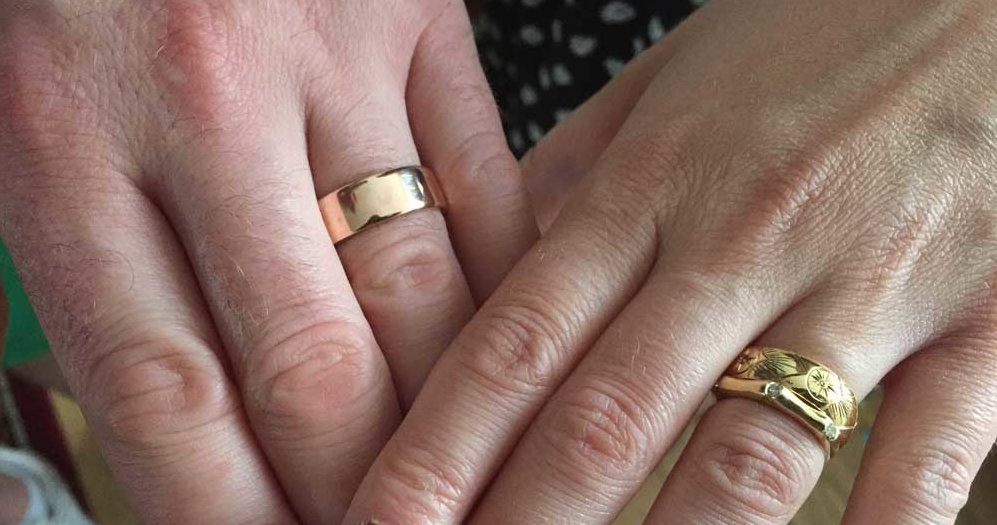 Durability
You want to take into account your lifestyle in terms of the metal you chose. No precious metal is going to stand up to rock climbing and DIY (I always recommend you take it off when doing an activity that might damage it!), but some precious metals are stronger than others. Platinum and Palladium are both considered the most hard-wearing, but remember that even these are much less durable than stainless steel for example, which we come into contact with all the time with cutlery and door handles, etc. Silver is the softest and will collect marks and dents the fastest.
Price tag
The price of the chosen metal is a significant consideration. I don't believe in going into debt for jewellery, but equally, this is the most symbolic and special piece of jewllery you'll ever own and is worth investing in. You plan on wearing it every day for the rest of your life, so it isn't an area to scrimp and save on from the wedding fund. Platinum, 18ct white gold and Palladium are the priciest metals at the moment, while 9ct gold is very reasonable.
There is more information about precious metals here.
---
2. Width
Matching the sides of your engagement ring or contrasting?
An excellent way to get the feeling of a matching and cohesive pair of rings when you're looking for a wedding ring to sit alongside an engagement ring is to match the width of the engagement ring. I tend to measure the width at the sides and back, as a lot of engagement ring designs taper down towards the central setting at the front. If they match at the sides, when you look down on the rings, they'll look made for each other.
But this isn't a hard a fast rule – my own wedding ring is 2.5mm wide, whereas my engagement ring is 2mm. It sounds subtle, but it is noticeable. I did this because I wanted to fit diamonds into my wedding ring and this was more easily achieved with a wider ring. I like the look of the slight contrast in width, and this was something Jas did with her wedding ring too. Her engagement ring was very slim, but as it was so sentimental being her late mother in law's ring, she knew she wouldn't wear it all the time. This gave her free reign to do something different with her wedding ring, and she opted for a much wider design. They still complement each other but do so without matching.

What suits your hand
If you have really small fingers, you generally don't have a lot of room for a wide ring. It is best to try on various widths to gauge what works best for you.
Trends/norms
The traditional norm if you like, is for the man's ring to be wider than the ladies. This is for no other reason than because men's hands tend to be larger, so have more space for a wider ring. We have come to associate wider rings with them looking more masculine, but there is a growing trend to men opting for slimmer designs for a contemporary look. The key is to go for what is comfortable to you and not to get swept up in what is 'normal.' Select what you want and like the look of on your hand.
---
3. Profile
Matching your engagement ring or contrasting?
Again, the easiest way to make a wedding ring look like it matches an engagement ring is to replicate the profile. If 'matchy-matchy' is not your thing, you can contrast in this design element too. My wedding ring is a court profile, whereas my engagement ring is halo (fully round – see photograph above). Because they are both curvy and soft designs, they work together. Had I gone for a crisp and straight profile next to the halo shape, this would not have worked as well.

Comfort
Curvier profiles tend to be deeper so if you'd rather not feel the ring too much between your fingers, straighter and flatter designs might work better for you. A curve on the inside of the ring can make it more comfortable as it feels less restrictive for those not used to wearing rings.
Style
Flatter styles tend to look wider than curvy ones (a trick of the eye down to the reflections on the metal) and also more contemporary. A highly domed D profile, for example, looks very traditional.
You can find out more about the various profile choices here.
---
4. Depth
The depth of the band refers to the thickness of the band between your fingers. This is not something a high street jeweller would talk to you about necessarily, but going bespoke gives you the option to personalise this element of the design.
Comfort
You might want to feel the presence of your ring and have a chunky, durable band around your finger. But equally, you might want a more delicate depth so it doesn't feel like you can't close your fingers.
Profiles
The curvier profiles tend to have more depth to allow for the curved shape, but you can specify how much depth you want. You can have a chunky flat profile if you would like it!
Durability
The deeper the ring, the more longevity it has. I tend to err on the deep side to ensure the rings I make will last a lifetime. The metal will wear over time, so if you start too thin, it might mean the ring needs replacing or repairing later on down the line.
---
5. Additional design features
Once you've got the main details sussed, you can then consider if you want any other design features.
Finish or texture
You could consider an alternative to the standard polished finish. Some people prefer the idea of a matt effect to their ring, so we can achieve that in a multitude of ways – either a brushed finish (a light surface texture applied with sandpaper) or a deeper matt finish like a pin end or sandblasted effect. It is worth noting that all these textures will eventually over time even out to a dull shine, polished included.
Another alternative could be to have a texture like a hammered finish. This can have the typical dimpled hammered effect or can be made to look like tree bark.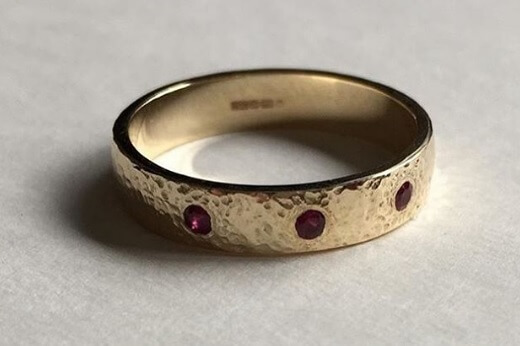 Engraving
Engraving can come in all forms – be it lines, natural forms like vines or flowers, Art Nouveau curves, lettering – you name it, you can have it. I have seen people have their partner's handwriting replicated on a wedding ring and even Elvish… The engraving is either done by hand using traditional methods or by laser if it suits the design better. This can be done on the outside of the ring as a design feature, or even hidden inside the ring as a secret message to each other. You could have your wedding date, a meaningful quote or song lyric, or the name of the song that will be playing when you're walking down the aisle, or your first dance.
Stones
Stones can be set in a multitude of ways to add an extra dimension to your wedding ring design. Click here to see some ideas. Invisibly set stones can even be set on the inside as a hidden detail only you and your partner know about.
---
6. Other ideas
Fitted wedding rings
If your engagement ring has a large central setting or is an unusual shape, you will quite often need a fitted wedding ring to sit neatly alongside it. There are many ways in which you can do this – here are some ideas.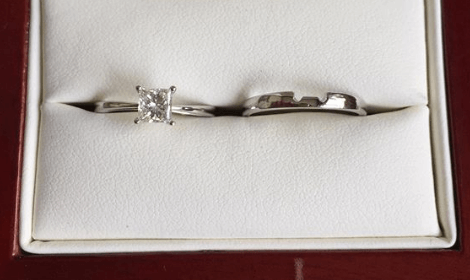 Combined engagement and wedding rings
If you don't have an engagement ring, you could make one ring that represents both the engagement and wedding ring like this one I made for Beth.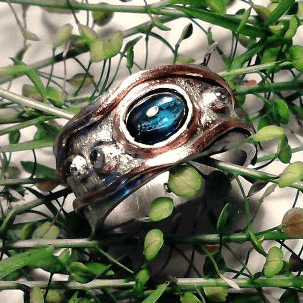 Alternatively, you could incorporate your engagement ring into a new combined wedding, engagement and eternity ring like Tracy did (below).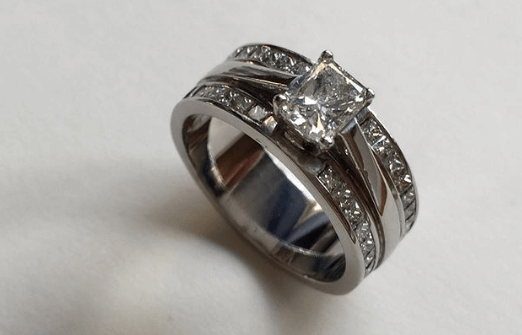 ---
7. Ring size
The final decision is ring size – the jeweller will have a set of ring blanks for you to try on and gauge how the size feels. You want to pick a size that has a gentle push over the knuckle and will easily slip off. How tight you like your ring size to be varies from person to person, and if it is your first time wearing a ring, this process will feel strange. I personally like my rings relatively loose as I like to twist them, but other people prefer them to be tight, so they feel more secure. Take into consideration the temperature of your hand when you measure your finger, as when your hands are hot, they can swell. Likewise, in the cooler months, your hands may be smaller, so you need to allow for summer swelling. If your hands become hot and swollen during this process, stop and take a break, wash your hands under cool water and wait a little before trying again. Putting rings on and off can make your fingers swell, so you need to make sure you get an accurate result. Your jeweller can advise, but you need to feel comfortable with the choice you make with the size. But don't worry if it's wrong – most rings can be resized.
---
8. Process
1. Get in touch
So you're considering going bespoke for your rings. Bespoke rings can take up to 6-8 weeks to make once a design is agreed upon, so try not to leave it till the last minute to begin thinking about them. You can contact me via the contact form on the website or by email.
2. Conversation
I work with clients all over the world – a recent example of this was Ryan's engagement ring for Caity, which we designed together over a series of Skype calls and emails as he lives in Canada. I often never meet my customers! However, if you are local to Bedfordshire, UK, it's great to meet face to face if possible to talk through your ideas.
These initial meetings are completely free, and there is no pressure to go ahead. I know how important it is to get your wedding rings right so will keep tweaking the design until it is right. The meetings typically last around an hour, and I will send you a photo of your design to help you mull it over.
3. Sketches
During our initial consultation, I will produce some rough sketches to illustrate your idea. Quite often, this is enough. But if you'd like to see a more detailed drawing with colour, I will happily do this to ensure you are happy with your design.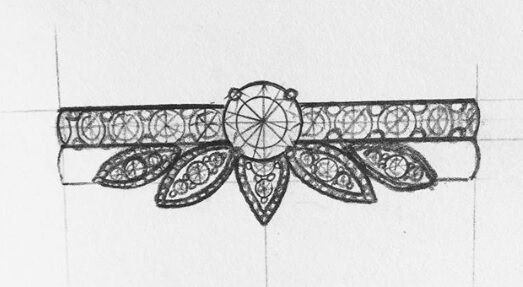 4. Production
When you are 100% happy with your design, we get going with production. I work with some fantastically talented Goldsmiths to make your dream ring a reality. All my bespoke jewellery is hallmarked at the London Assay office to provide you with peace of mind about the quality of the piece you have bought, and I present my jewellery in polished mahogany boxes. The finished pieces can be collected, or I can post them using an insured and tracked service.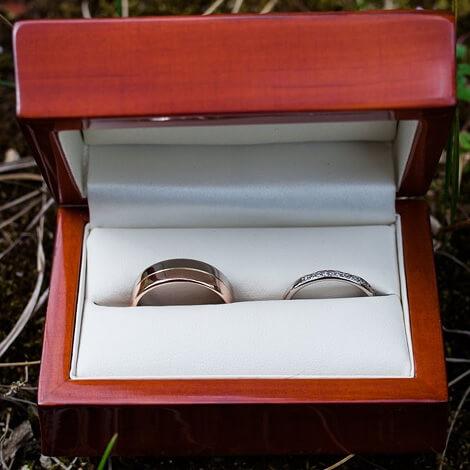 If you would like to talk about making your dream ring a reality, please do get in touch.