I'm really excited to be able to share with you a beautiful ring we made for a very good friend of mine. Michelle is a trained jewellery designer herself so designed her own ring around the stunning oval cut 0.52ct Paraiba tourmaline she sourced online.


Paraiba tourmalines are prized for their stunning blue-green colour. The particular stone that Michelle sourced is a stunning colour, not dissimilar to the dreamy turquoise hue seen in exotic swimming pools.
Tourmalines are famed for their varied colours, which are normally due to trace amounts of chromium, iron, manganese and vanadium, but Paraiba tourmalines are unique in that their luminous turquoise colour is down to the trace element of copper.
The name tourmaline comes from the Sinhalese 'tur mali' meaning 'stone with mixed colours' as there is such a wide range of colours available within this family of stones. It also links to the fact that tourmaline is the most dichroic of all gemstones, which means that each tourmaline stone has two colours – one dark and one light. The intensity of each colour varies as the stone is viewed from different angles.
The name Paraiba derives from the location in Brazil where the first stones were discovered in the early 1980's near the village of São José da Batalha in Paraíba, Brazil. This mine was quickly exhausted only a few years after it's discovery, but new deposits have since been found in neighbouring areas. Paraiba tourmaline has also been found in Nigeria and Mozambique in the early 2000's, making it more affordable. These African stones are also often cleaner of visible inclusions.
When choosing a Paraiba tourmaline, the colour can vary widely from Caribbean turquoise to peacock blue. The vivid, luminous tones are the most prized and expensive. The greater the neon intensity, the greater the price tag.
Oval and pear cuts are the most popular in this stone as the elongated shape works well with the dichoic nature of the stone.
The rotational symmetry of Michelle's design works to highlight the curvy form of the stunning oval cut stone. She opted for a subtle, low key satin finish, which ensures all eyes are on the hypnotic stone. The cool, bright white colour of the palladium works beautifully with the watery tone of the tourmaline. This light satin finish will eventually wear to a dull shine over time.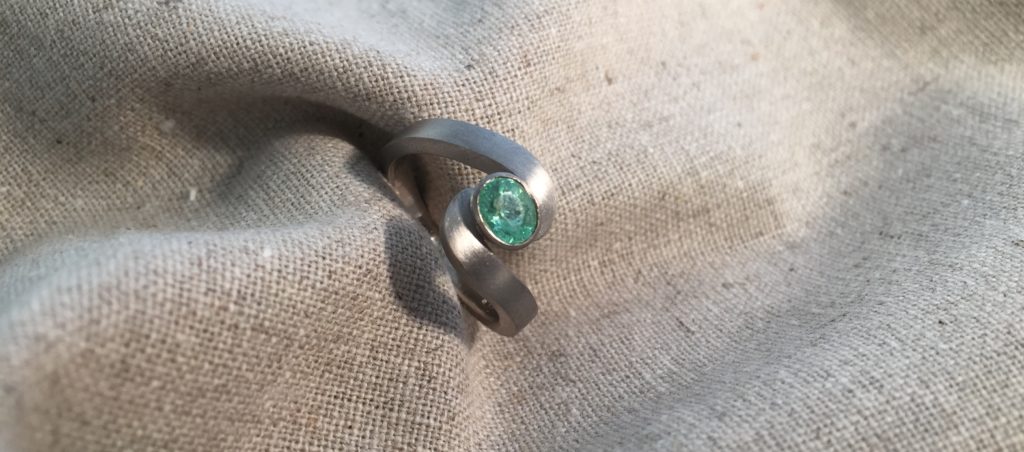 In the future, she will have a twisted wishbone shaped wedding ring made to slot up against her engagement ring.
If you have a stone you've bought or inherited and would like to be made into a special piece of jewellery, do get in touch to discuss your ideas.