Bespoke Engagement Rings
Love is in the Details
Custom Engagement Rings
What could be more romantic than a bespoke engagement ring designed from scratch?
Whether designed in secret as a surprise or you design the ring together, there is something incredibly special about selecting each element of an engagement ring's design. Your love story can be immortalised within the design of your bespoke engagement ring.
Whether you would like a simple solitaire or something totally different, Jodie can work with you to develop the perfect custom design that will always remain totally unique to you. Jodie listens to your ideas and knows the right questions to ask to tease out precisely what you are looking for. It doesn't matter if you come armed with a mood board full of inspiration or have no clue at all; Jodie has over a decade of experience to draw upon to create to your dream engagement ring design.
You may have some sentimental metal or gemstones you would like to incorporate into your special ring, which is something we love to help you with. We are passionate about the stories and history behind our client's projects.
Explore our filterable galleries for inspiration from our many previous designs, all made by master craftsmen to last way beyond the marriage they symbolise. We craft future heirlooms.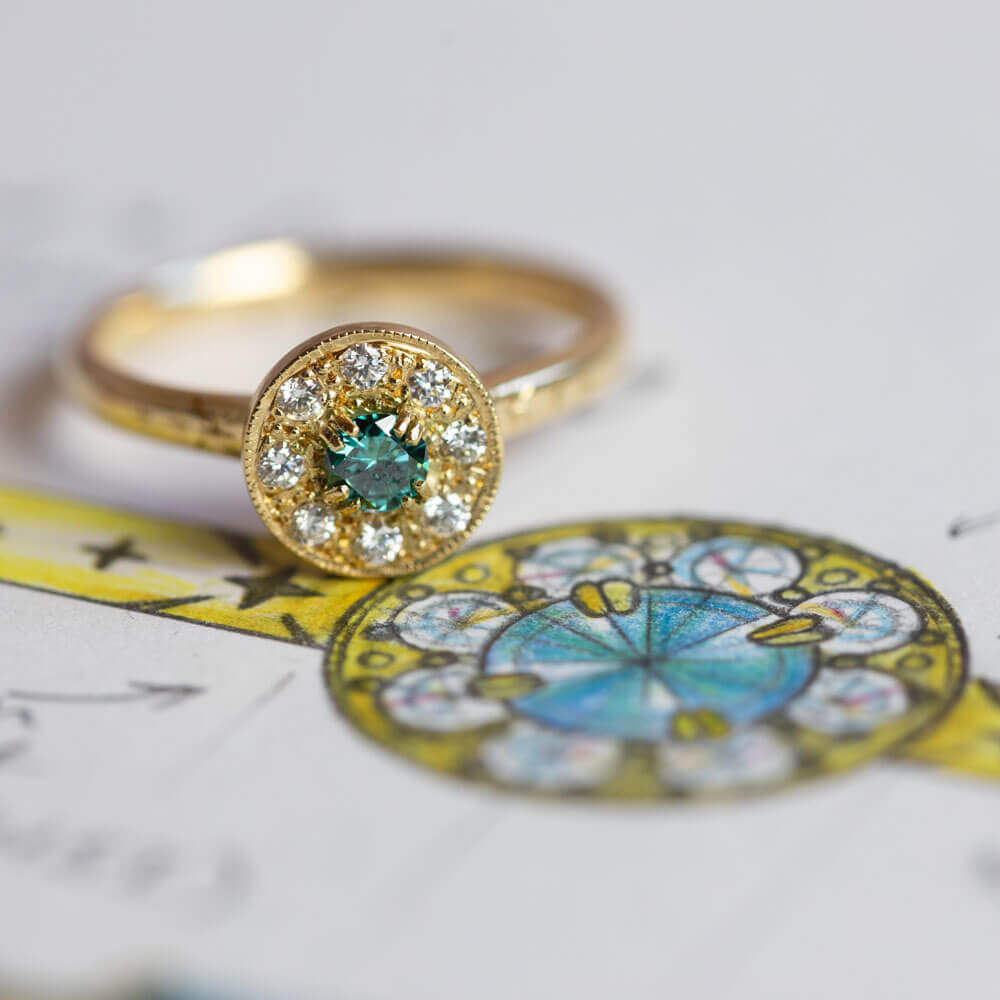 Get InspiredView Our Past Designs
To help you on your bespoke journey, browse through our many previous designs. From simple single-stone bands to elaborate modern asymmetric designs that make a real statement, there's plenty to browse for inspiration. VIEW ENGAGEMENT RING GALLERY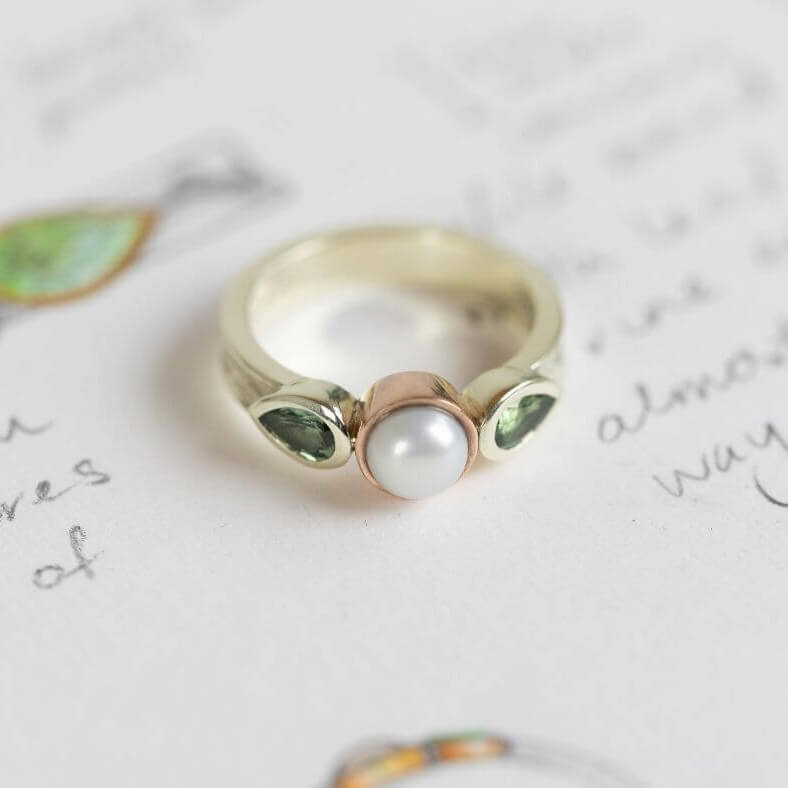 Bespoke Jewellery Design Experience
From the initial design to the finishing touches, Jodie is a highly experienced jewellery designer. Her beautiful sketches quickly bring ideas to life allowing you to visualise your bespoke engagement ring from the very beginning. LEARN ABOUT BESPOKE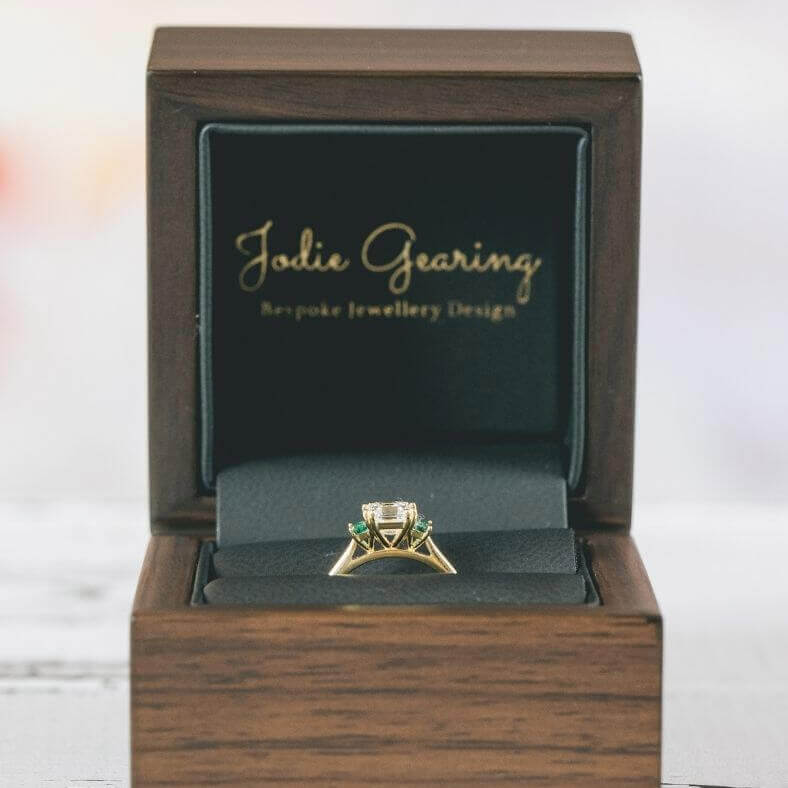 Design ConsultationsFace-to-Face & Online
We're based in Bedfordshire UK, but can also design remotely online no matter where you are in the world. The process is relaxed, informal and enjoyable. Love is in the details as we design a custom ring to last a lifetime. CONTACT US
"Well as of Friday evening I have a very happy fiancé, with a ring she absolutely loves!

Thank you so much for you amazing work. It couldn't have turned out better."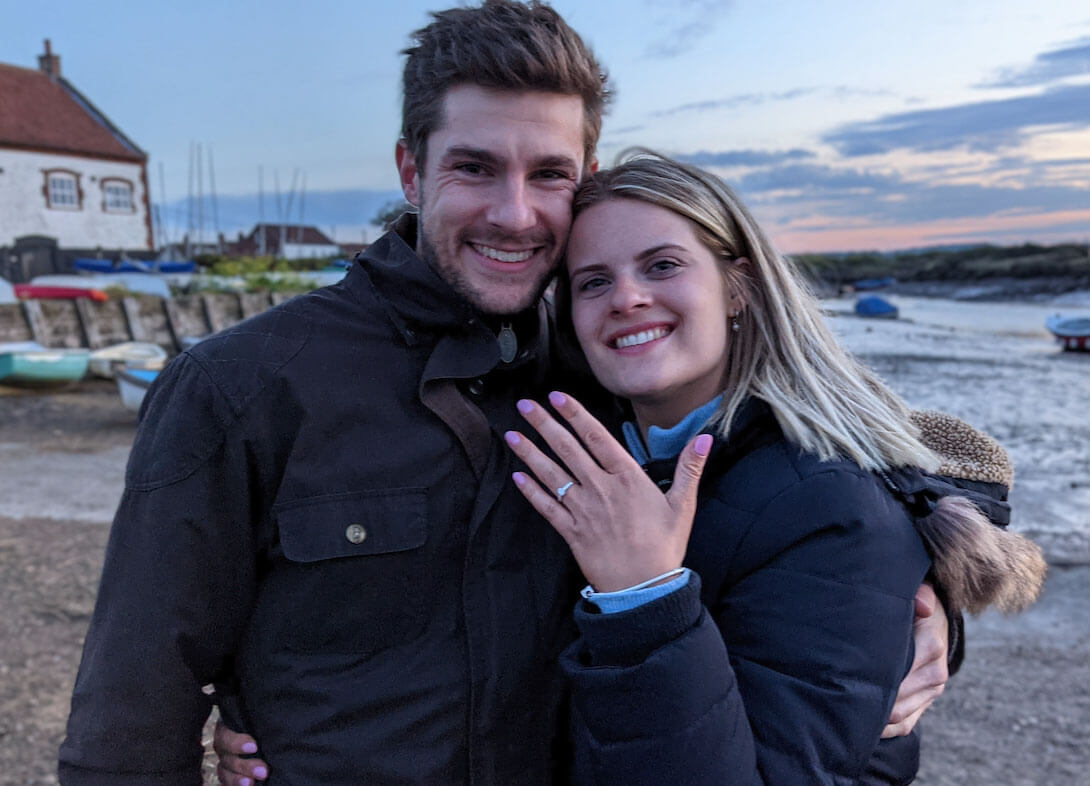 CASE STUDY:
Katie's Water Inspired Bespoke Engagement Ring
Katie and Adam had been gifted a brilliant cut diamond from a family member, so this was to become the centre piece of the design, with the addition of two pear cut diamonds either side to create the meaningful trilogy design (representing past, present and future).
The central brilliant cut diamond is set in a six claw setting, that twists up from the finger like a whirlpool. The band wraps around the stones like water swirling around rocks.