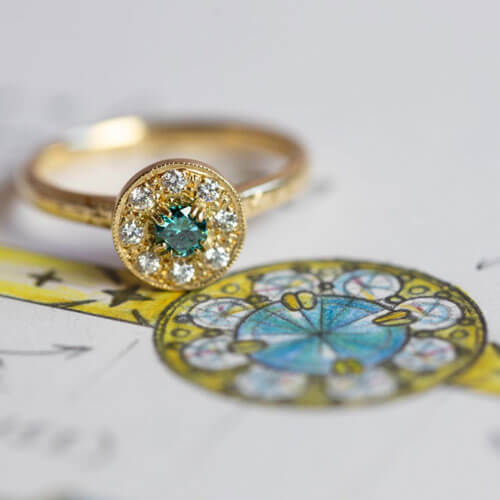 What services do you offer?
We specialise in custom, handmade jewellery, made to order for our clients unique needs and tastes. No design is ever exactly replicated for anybody else. We use a mixture of modern jewellery techniques (CAD) with traditional fabrication depending on the piece are working on.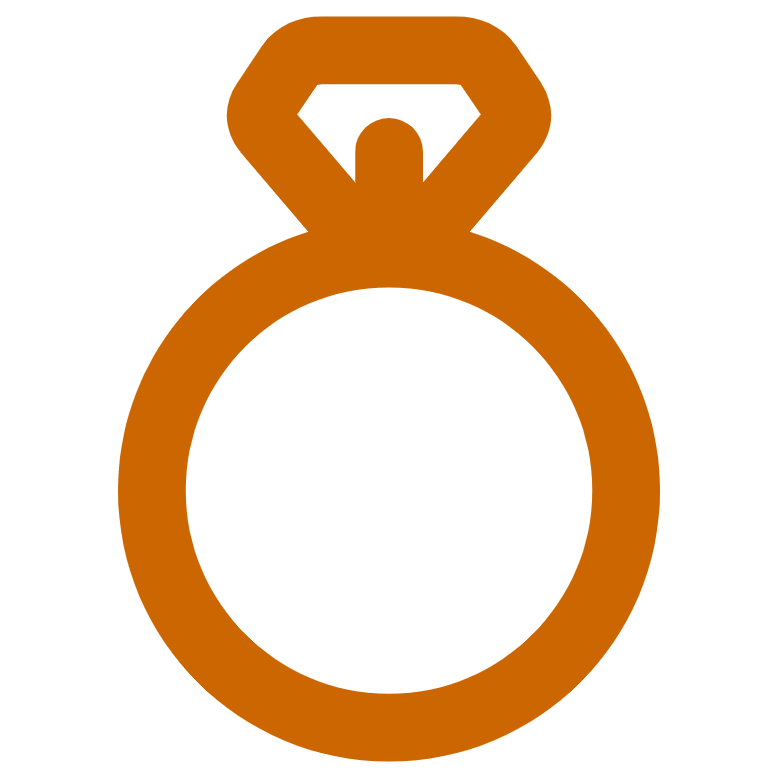 Bespoke engagement, wedding, and eternity rings
Totally unique, designed from scratch, and with your unique story at the centre.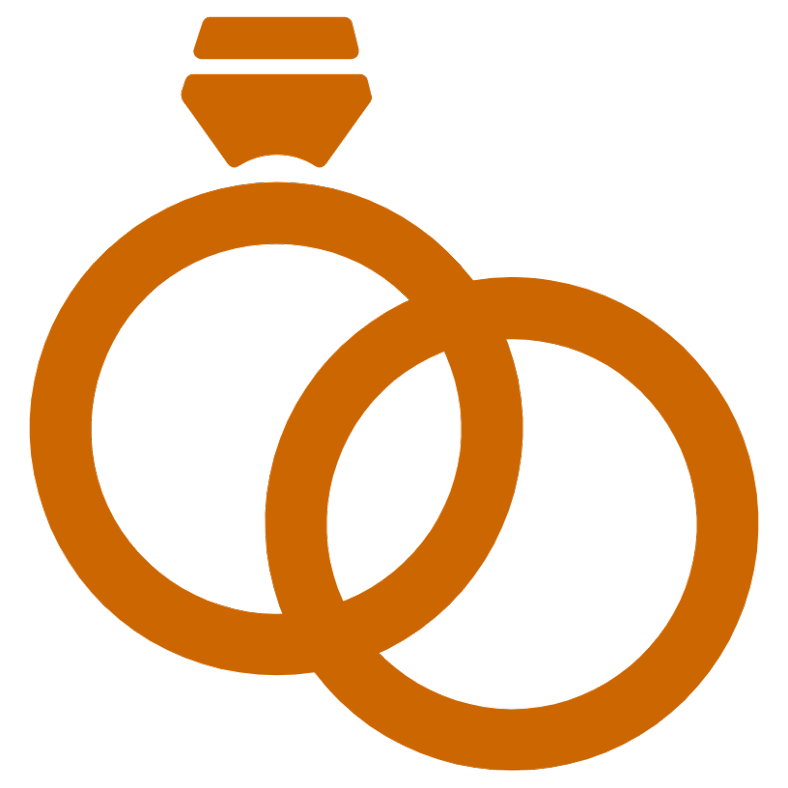 Fitted wedding and eternity rings
We specialise in custom jewellery to fit around your existing jewellery.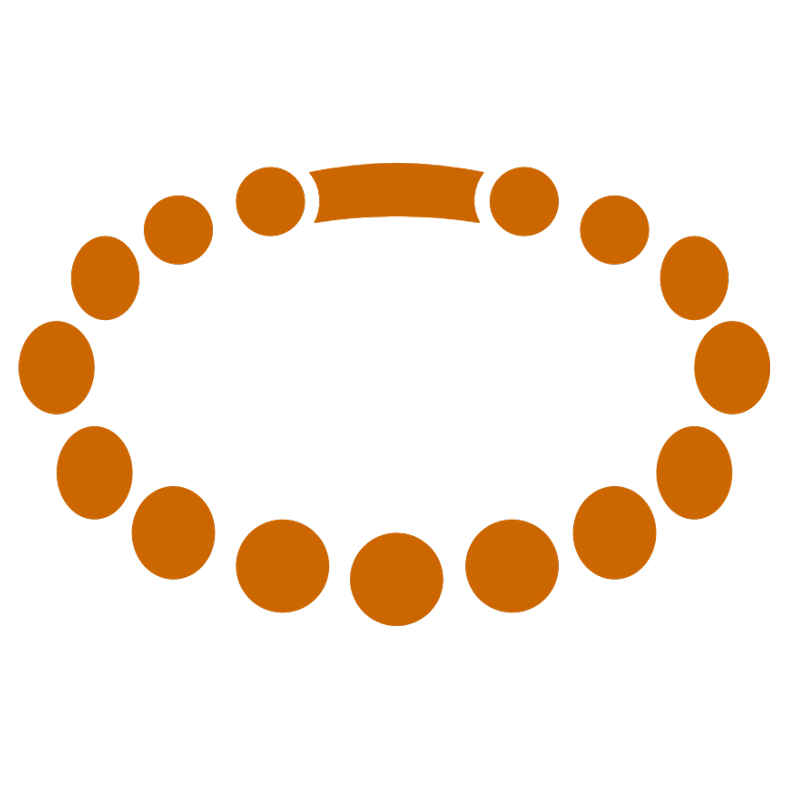 Custom Jewellery
Earrings, necklaces, pendants, bracelets, gents jewellery and more, designed to your specification and to your individual budget.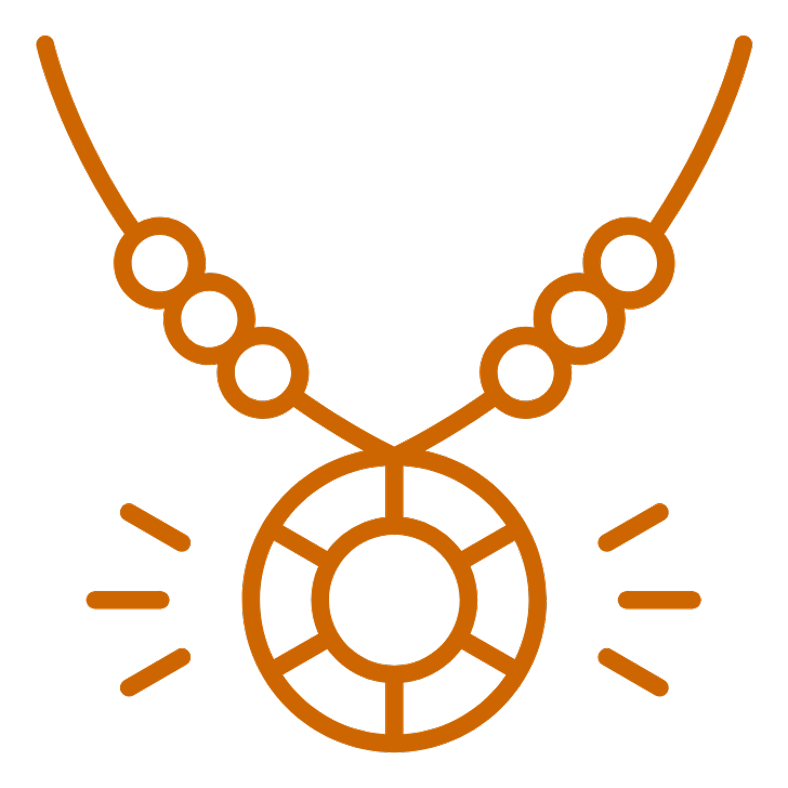 Remodelling jewellery
We can use the metal and/or stones from pre-loved and sentimental jewellery, turning them into new pieces to be enjoyed again.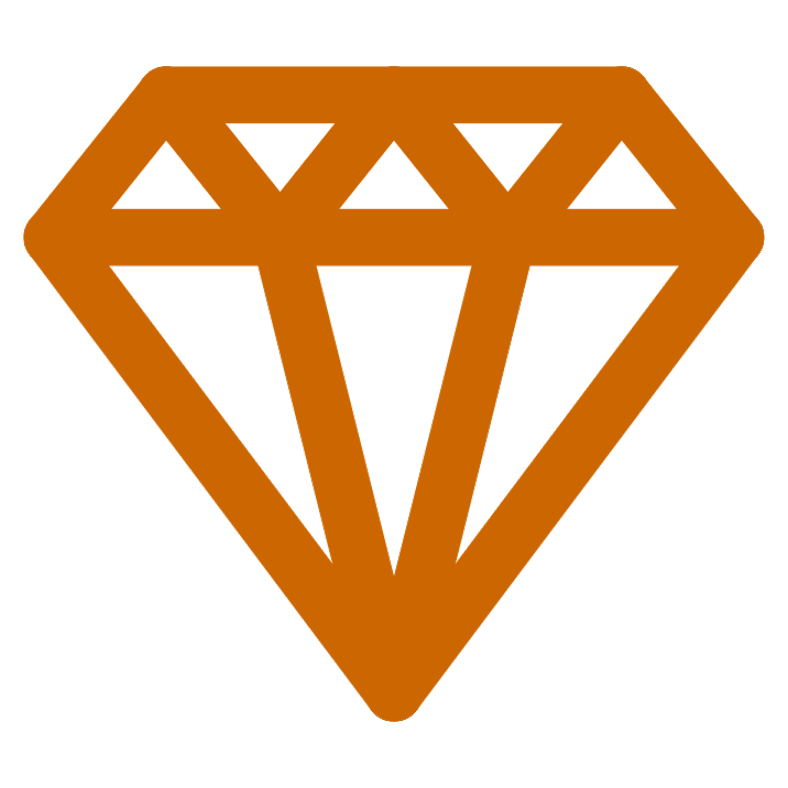 Stone sourcing
We work with the best stone suppliers in Hatton Garden to find our clients the perfect, ethically soured gemstones for their design.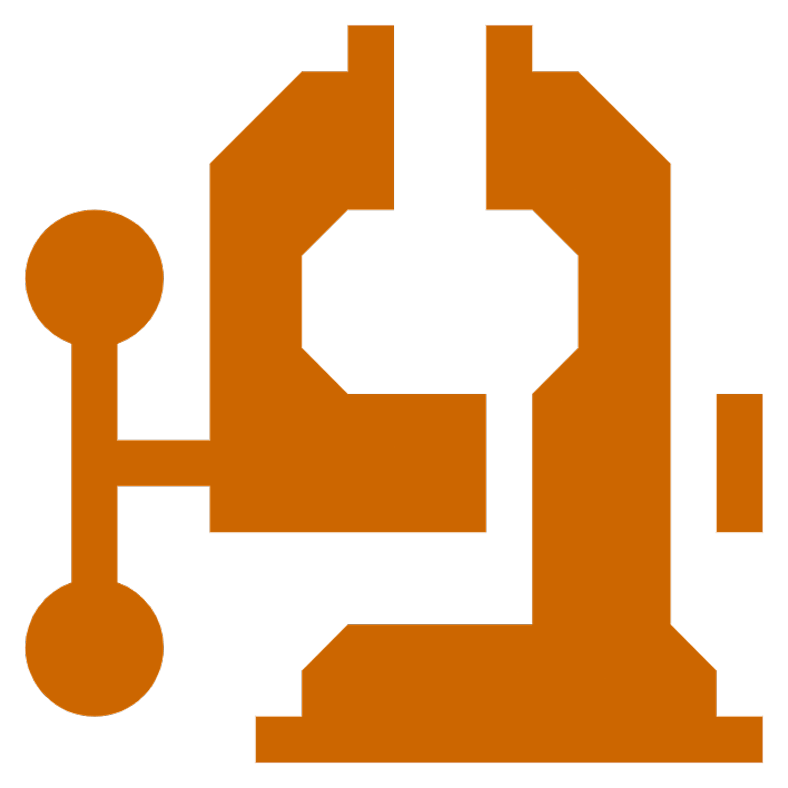 Repairs and resizes
We are proud to be able to take on resizes that other jewellers say are impossible, for example full eternity rings and rings with stone set shoulders. We can bring much loved jewellery back to life with our repair service.
Jodie works from home in the historic Georgian market town of Ampthill, Bedfordshire. This thriving town is full of independent businesses and boutique shops and cafes, and is a wonderful place with a fascinating history to visit to around your design consultation. If you're planning your wedding in Bedfordshire, make sure you take a look at our recommended local suppliers page.
It's always great to meet face to face to chat over your ideas in a relaxed and informal, free consultation.
If you're not local, or prefer to work remotely, it is completely possible to work together via email, phone, Skype etc to develop your perfect design. Jodie has clients in Canada and Norway - geography is not an issue!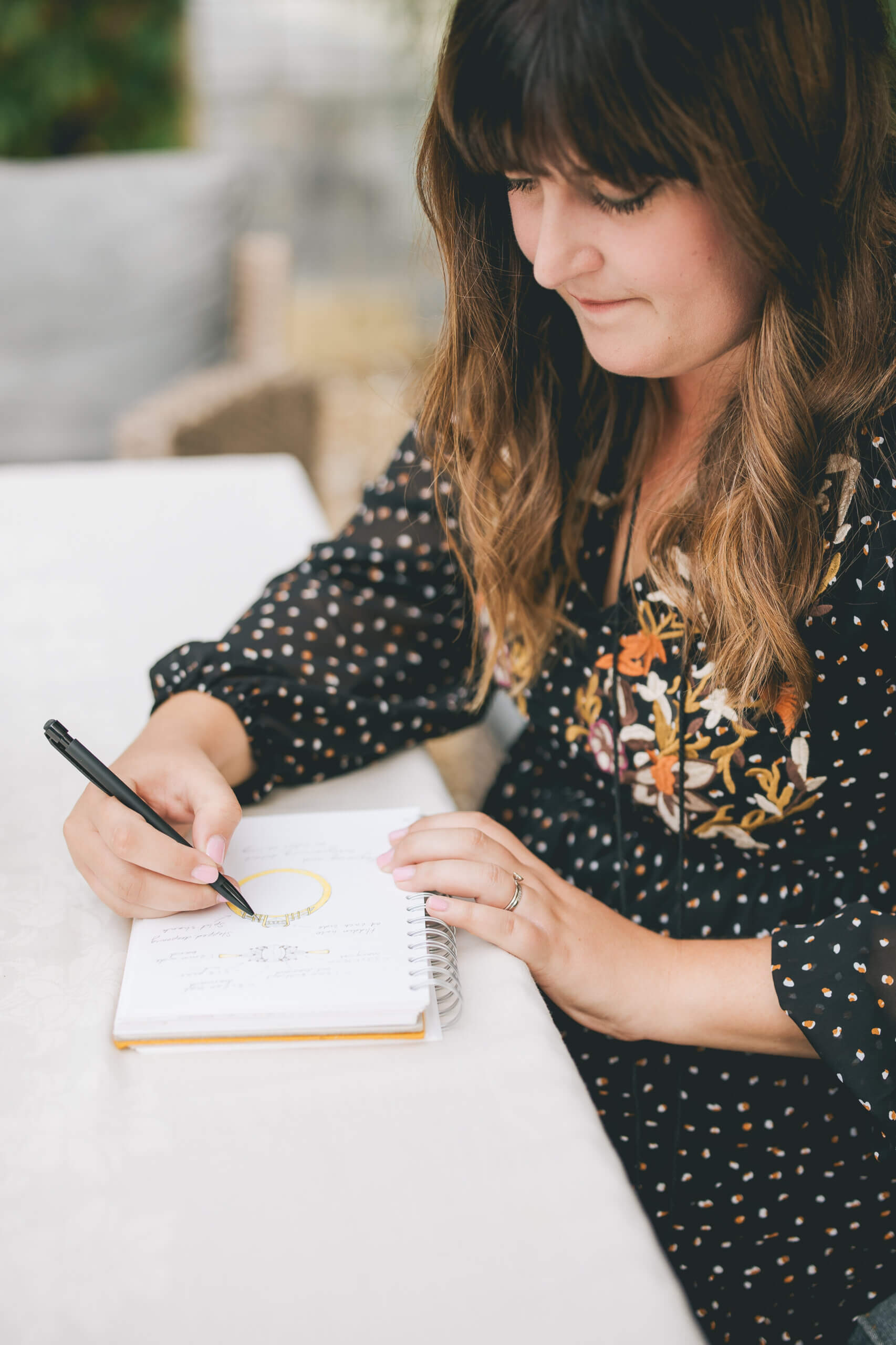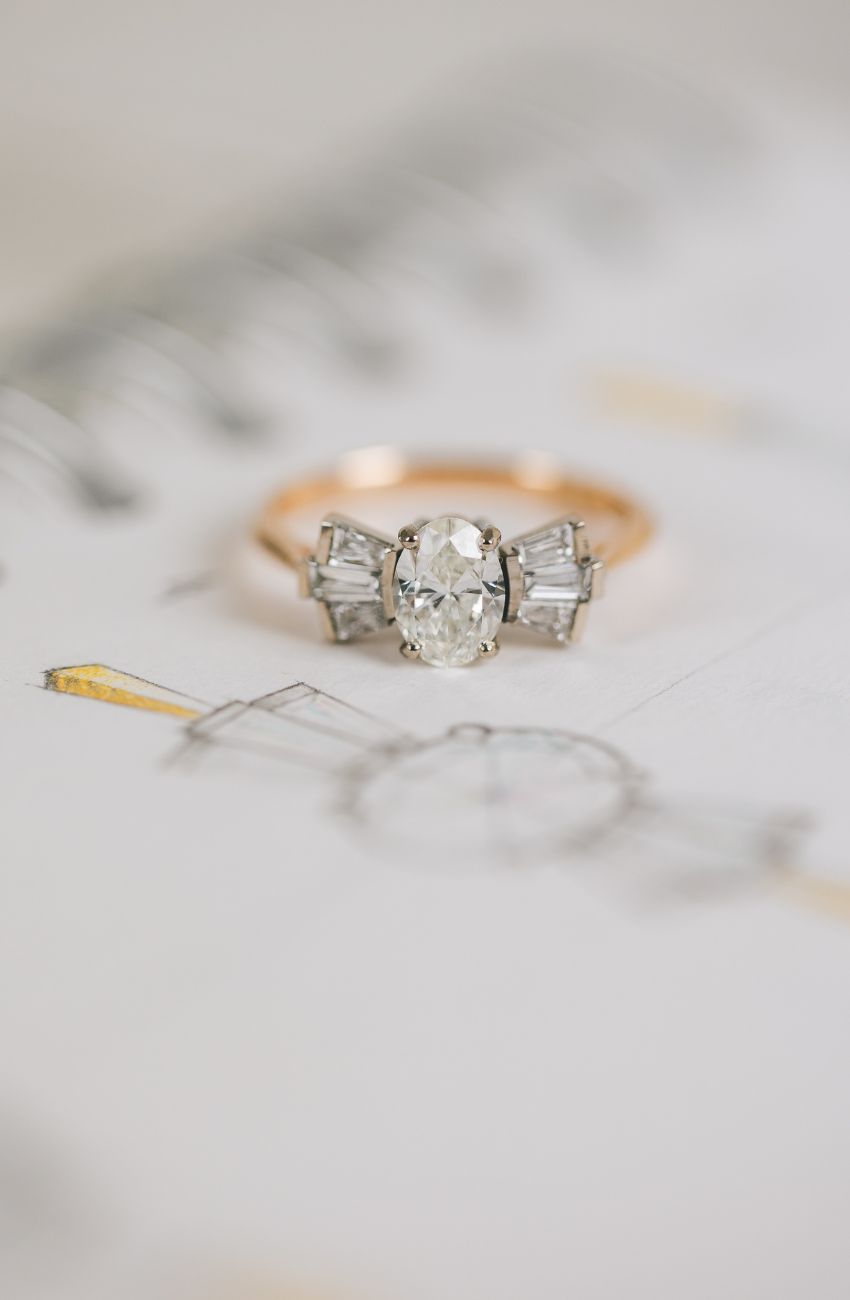 How much do Bespoke Commissions Cost?
The price of a design varies depending on the choice of metal, any gemstones used and the complexity of the design.
As a starting point, a simple engagement ring may cost £1200, with the majority of engagement rings we work on costing between £2000-£3000, right up to £25k.
If you let us know your ideal budget, we can advise on suitable metals, gemstones and design details to achieve the look you are after at a price you are comfortable with.
How long do bespoke commissioned pieces take to make?
Once a design is finalised, most pieces take 6-8 weeks to complete.
If your timescale is shorter, we will make every effort to meet your deadline. But we have some other suggestions when this is not possible:
Gifting a gemstone
We can source a gemstone for you to gift as the starting point of a bespoke piece. We will present it ready for gifting, and can provide a sketch of a proposed design to go with it should you wish.
Gifting a sketch
Jodie will produce a sketch you can gift to the recipient. This could be framed or boxed ready to present to the lucky recipient.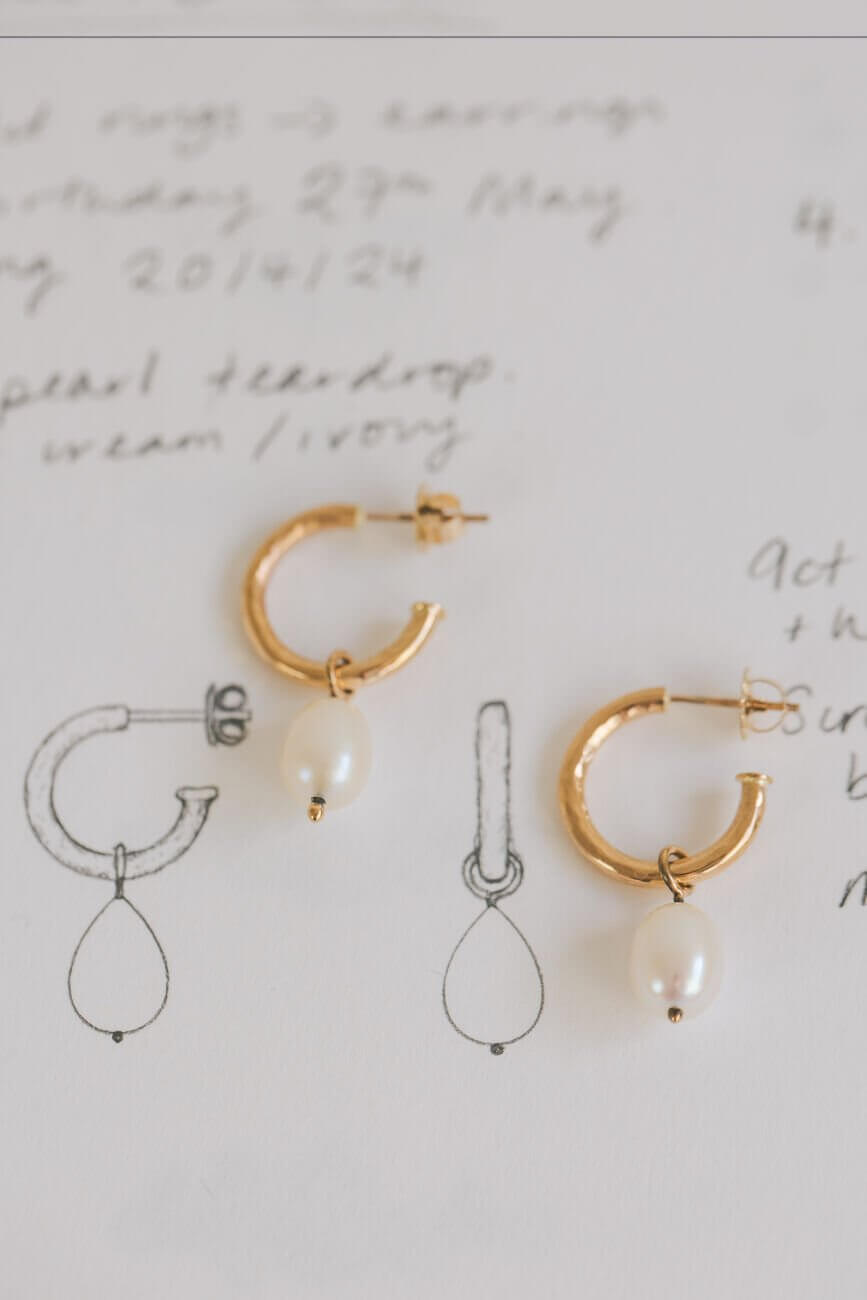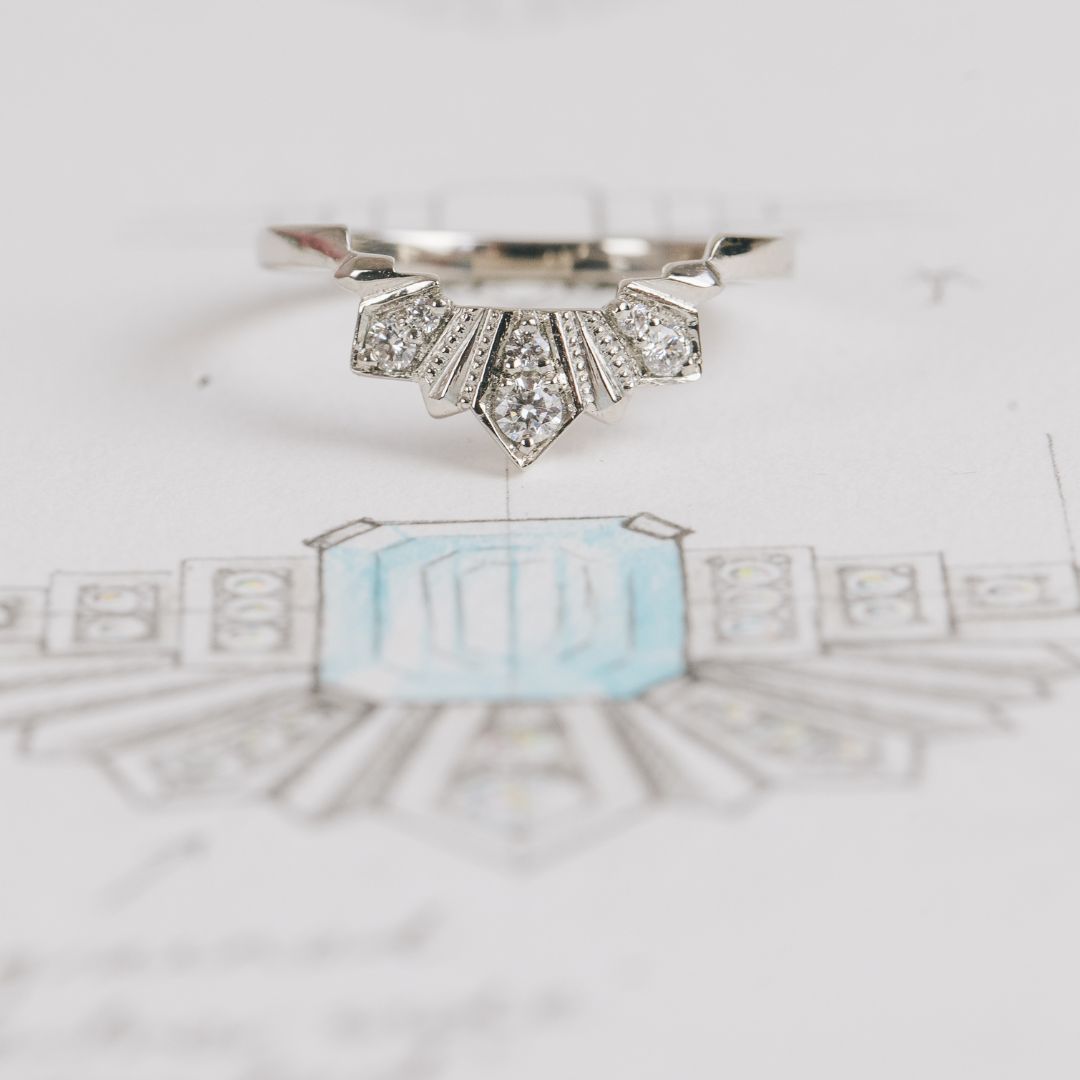 How do I book an appointment?
You can either use the contact form to get in touch, send us an email or give us a call to arrange a design consultation - all our contact details are on our Contact page.
How can I best prepare for a design consultation?
Bring along any inspiration you may have for your custom piece of jewellery. Previous customers have made Pinterest boards, saved images on their phone, printed images, saved links, or brought along favourite pieces of jewellery to demonstrate their style.
Don't worry if you don't have anything to bring - you are most likely looking at bespoke options because want you want does not yet exist! Jodie is able to ask the right questions to discover what it is you're after, and you'll be amazed at how opinionated you are about the intricacies of a design once it is broken down into manageable pieces for you.
If you want to remodel an old piece of jewellery, bring it and it's story with you - Jodie loves to hear the background of the piece and what it means to you!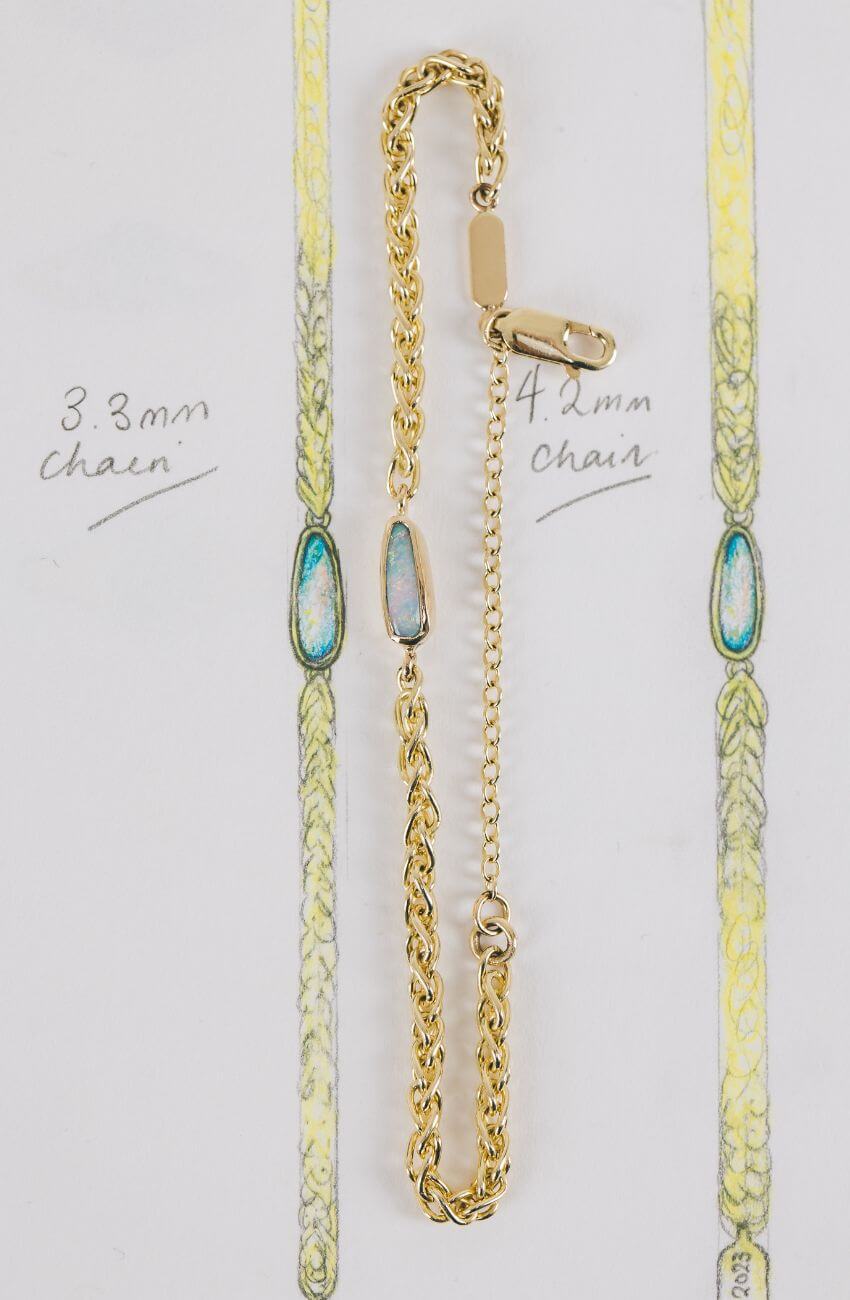 "Thank you for making the appointment a lovely experience. Honestly, your service has been second to none."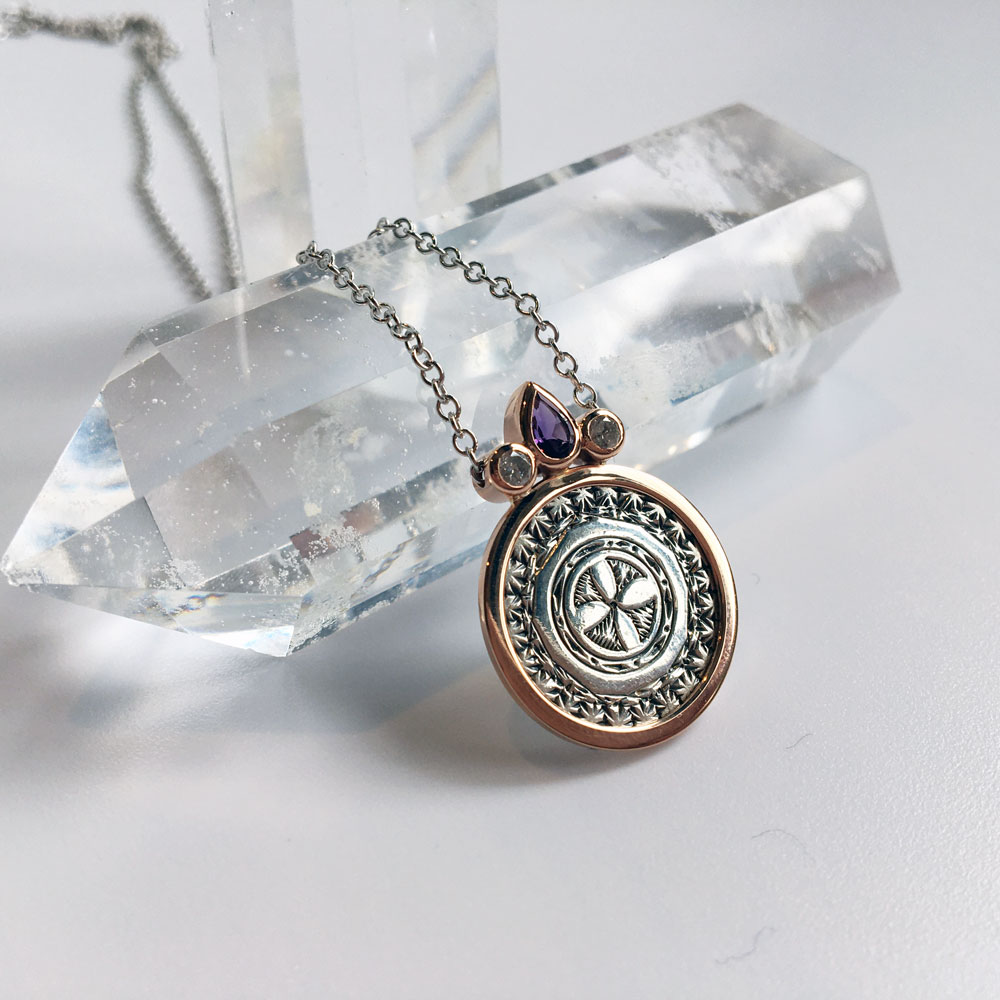 What is the process for a bespoke piece?
Once we have established a design you are happy with, Jodie will draw up a full-colour illustration of the final design. 
Jodie sources stones and metal from ethical and trusted sources, and can arrange for a selection of gemstones to be supplied for a stone viewing appointment so you can pick the exact stones used in your piece.
Your new stunning design is brought to life by a master goldsmith to ensure a remarkable finished product.
We require a 50% deposit to get started on your design and the balance is payable upon completion. 
You can read more about the bespoke process here.
Are your metals and gemstones ethically sourced?
We are proud to offer only ethically sourced materials and gemstones, working with trusted bullion and gemstone suppliers well known for their ethical credentials.
Most of the metal we use is recycled, and we can also source Fair Trade gold on request.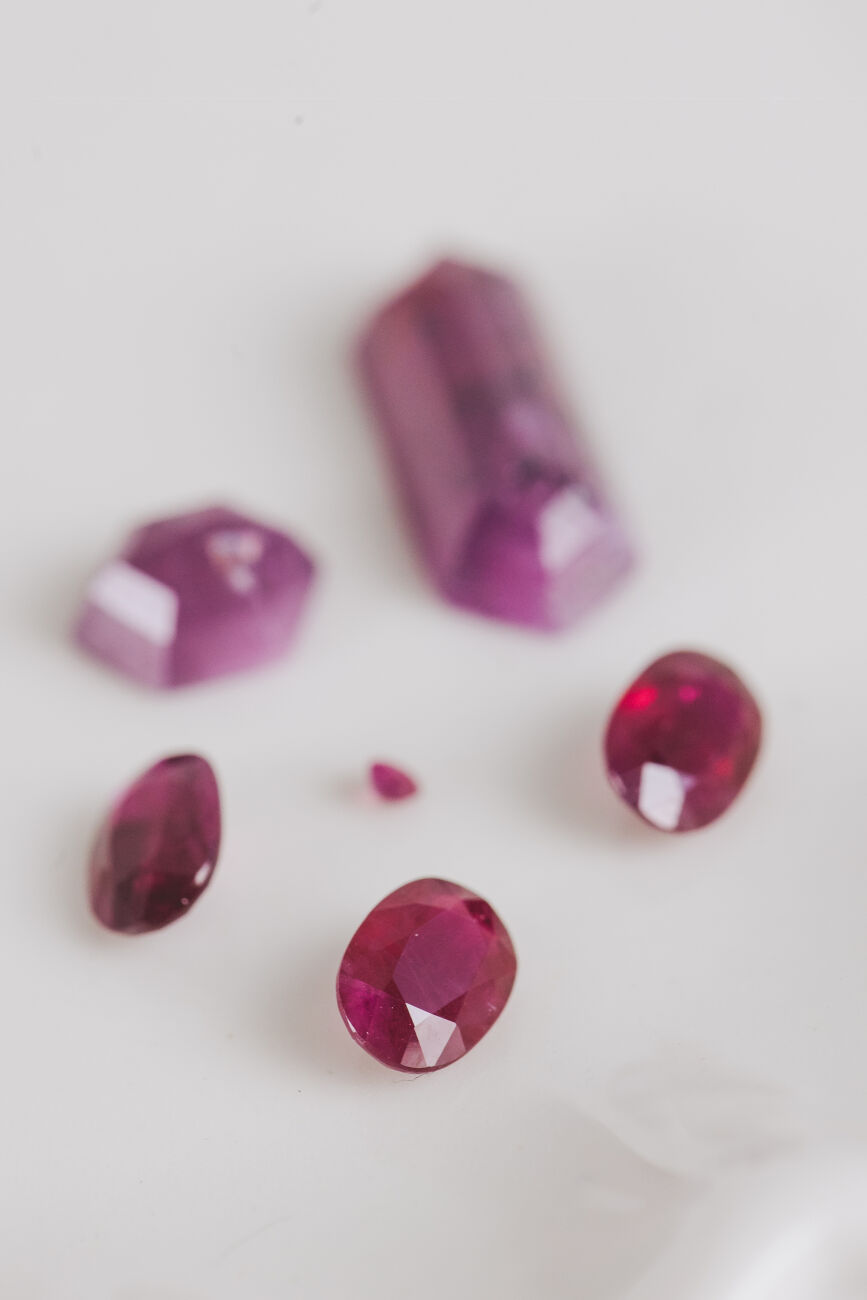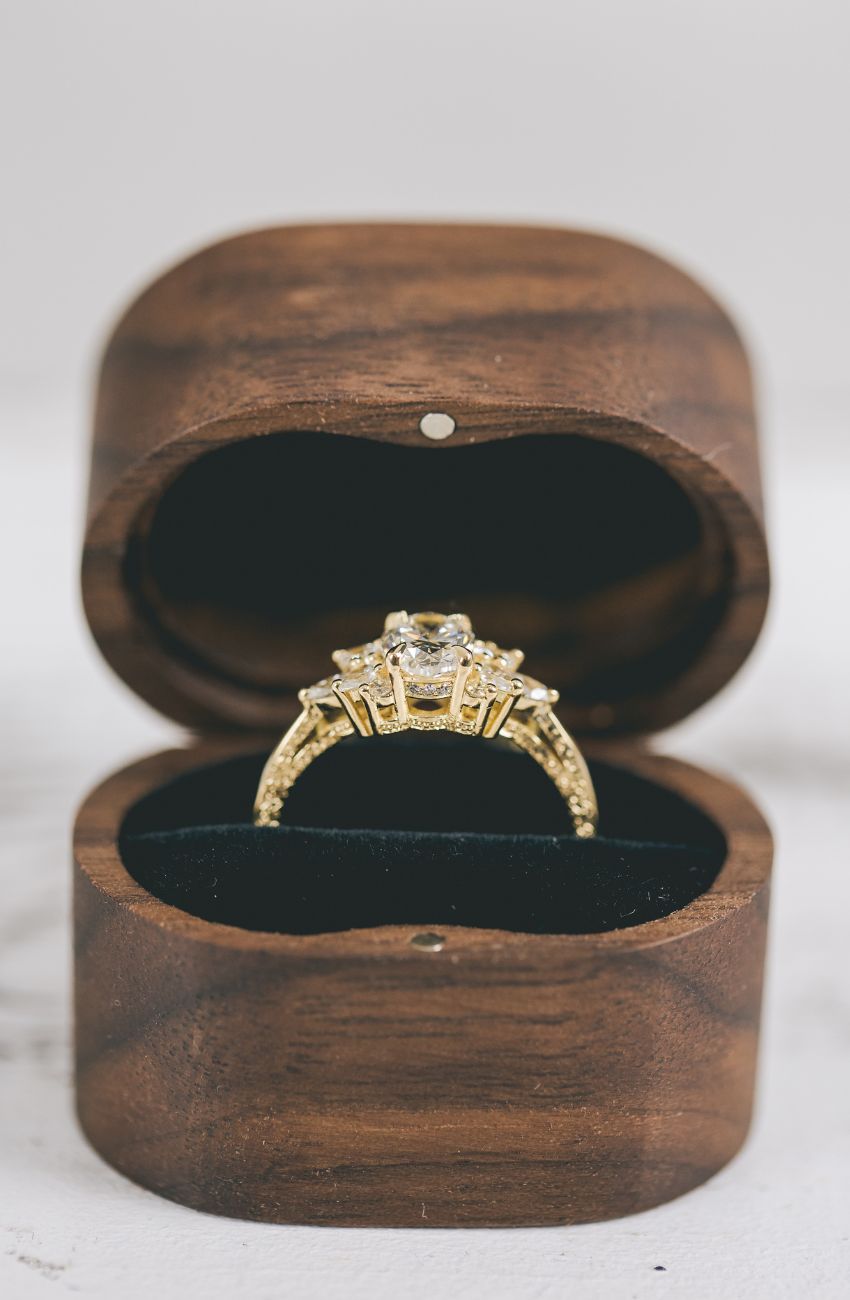 Will you have to borrow my engagement ring to make a fitted wedding ring?
Ideally, we like to borrow your engagement ring for a short time to ensure the perfect fit with your wedding or eternity ring. We use the opportunity whilst your engagement ring is in the workshop to check it over, clean it up and polish it up like new, so your engagement and wedding rings look perfect together for your big day.
Alternatively, we stock a special kind of putty where we can take an imprint of your ring to work from.
I don't know my partner's ring size - how do I get the size right for a bespoke ring?
If you are planning a surprise bespoke ring of any kind, getting the size right can be an understandable cause of stress. If you share with some photos of the ring's recipient with us, we can usually make a very good estimate of ring size. If it's not quite right, a resize can be arranged.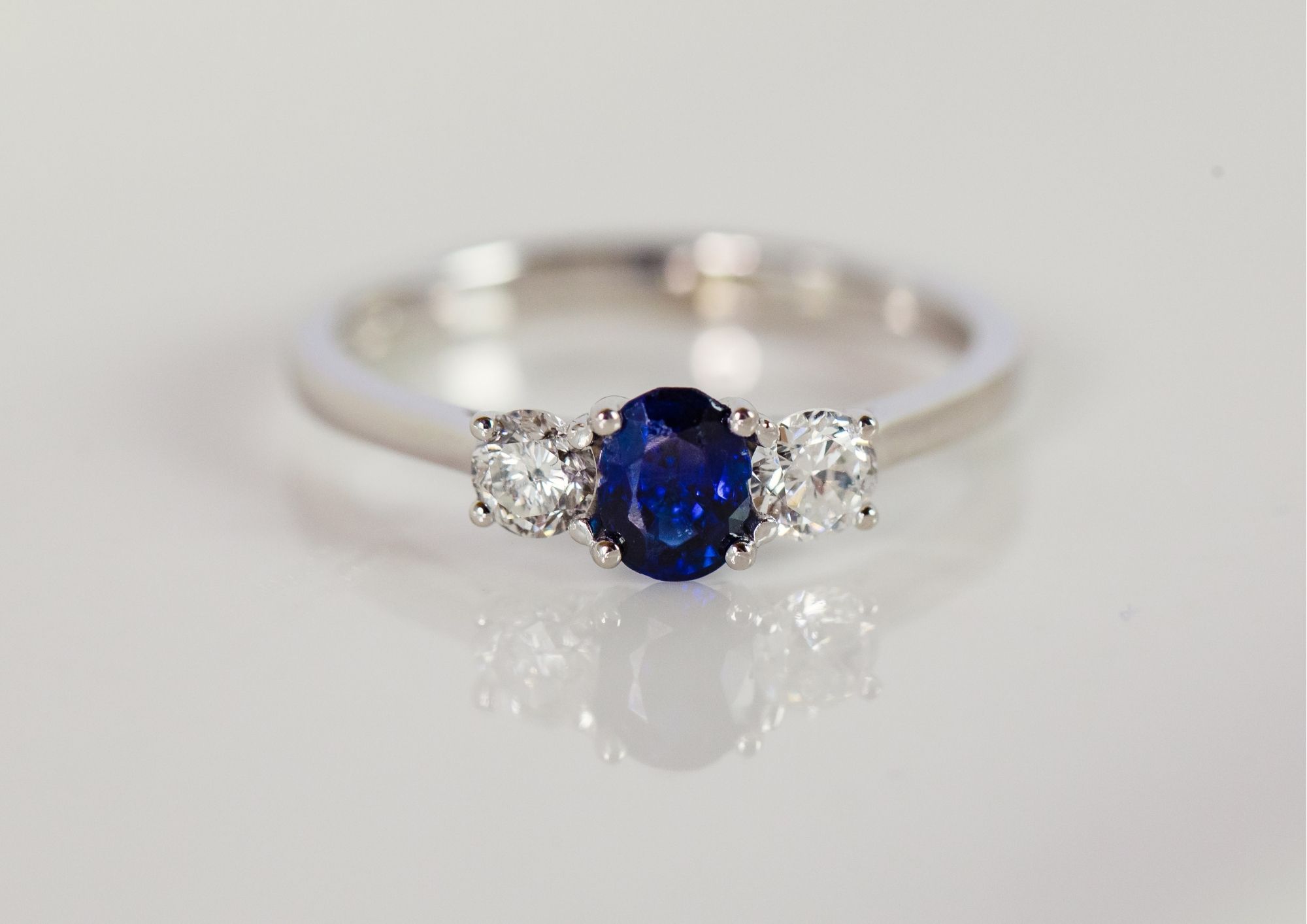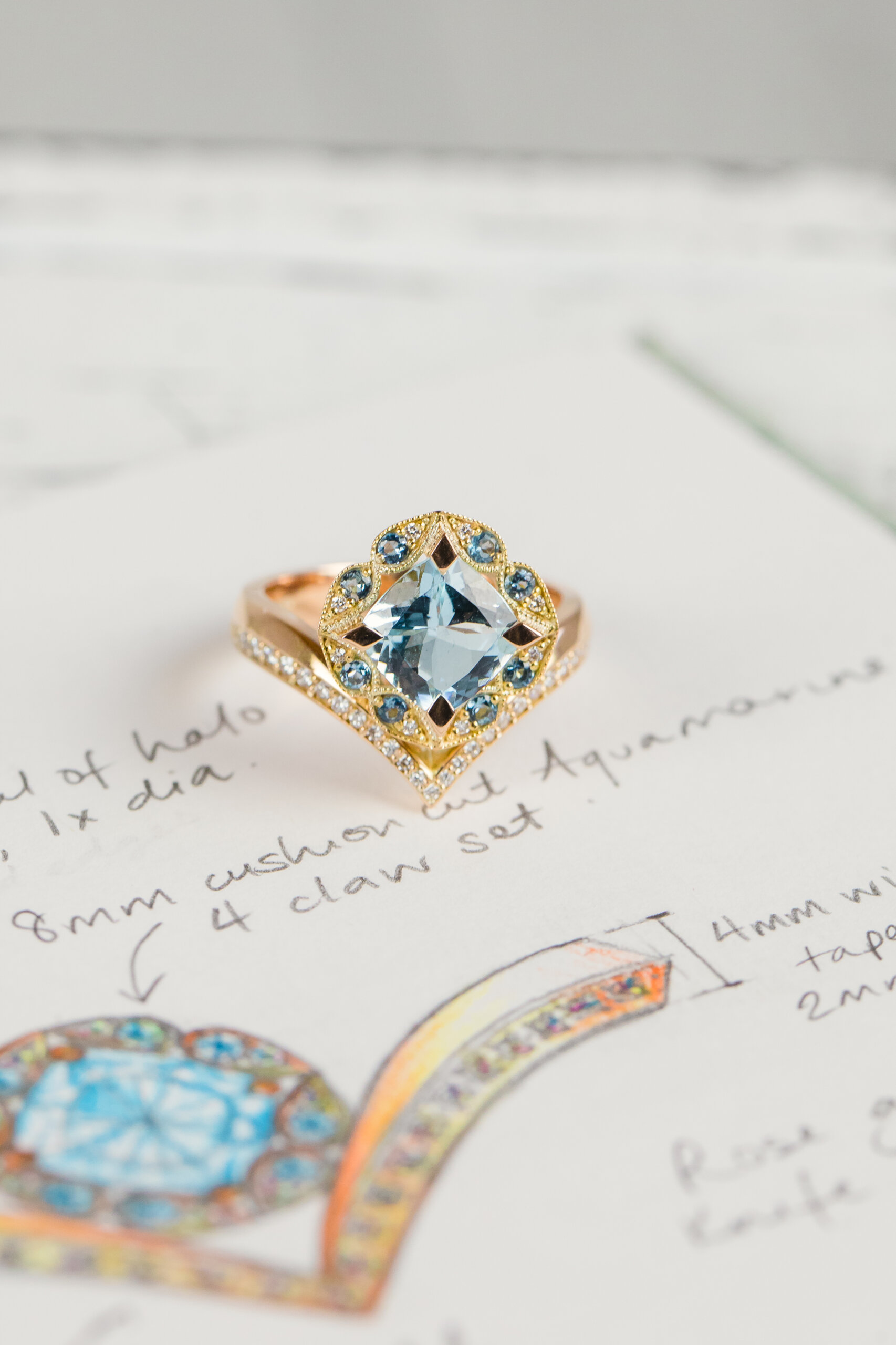 The piece is a surprise - what happens if the recipient doesn't like it?
We work with you to ensure the design is perfect. Our designs are always personal, unique, and beautifully crafted.
If you would rather play it safe, we have several options for you:
Gifting a gemstone
We can source a gemstone for you to gift as the starting point of a bespoke piece. We will present it ready for gifting, and can provide a sketch of a proposed design to go with it. This could also be set into a simple silver 'proposal' ring should you wish, before we re-set it into a design you create together.
Gifting a sketch
Jodie will produce a sketch you can gift to the recipient. This could be framed or boxed ready to present to the lucky recipient. The final details of the design can then be decided upon together.
Do you have another question we haven't answered here, or do you want to discuss how we can help you with your jewellery project?