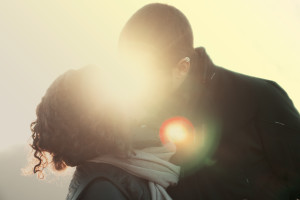 So you've decided to pop the question – but then the fear seeps in… how on earth are you going to find a ring a) that fits perfectly, and even more scarily, b) that she likes?! Is the fear of picking out the perfect ring putting your proposal on hold? In this article I am going to discuss several alternative proposal ideas to inspire you with your romantic gesture and hopefully remove some of the associated stress, because let's face it, getting down on one knee can be pretty daunting!
What I am suggesting is a proposal without the engagement ring.
I know this goes against the grain of tradition, but with so much choice out there, how on earth is a man supposed to get it right? Most women have a strong sense of their own style and a lot of women will have a strong idea of the sort of ring they would like. I am fairly sure I can speak for the majority of womanhood that it would be interpreted as an incredibly romantic gesture that you would want us to be involved in choosing the ring we'll be wearing for the rest of our lives!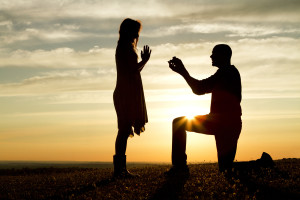 The key counter argument against this method of proposing is that obviously if you were to propose with the engagement ring, it would be a constant reminder of that moment when you asked her to spend the rest of her life with you – romantic stuff indeed! But if it doesn't fit, or if it's not right for her, wouldn't it tarnish the moment slightly? It would be pretty heartbreaking for a woman to have to admit that she doesn't like the ring that you have painstakingly chosen for her.
There's a minefield of issues to be addressed when choosing a surprise engagement ring. Let's begin with the fact that you want your choice of ring to demonstrate how well you understand her style. You may start rifling through her jewellery box to really understand what she wears. But please bear in mind that this is a ring she'll want to wear every day for the rest of her life, so maybe those chunky dress  rings aren't a true indication of her style? A lot of women tend to opt for more traditional or classic engagement rings in comparison to the rest of their jewellery as they want it to suit them for their whole lifetime.
Another consideration is your beau's lifestyle; my mother has a beautiful cluster style engagement ring but she never wears it because the setting gets caught on everything. This inconvenience means it only sees the light of day on high days and holidays. I'm sure you'll agree that this is a shame – jewellery is to be worn and enjoyed.
So how about this for an idea…
Propose with something else that she can keep, treasure and show all her friends and family before you go together to choose a ring you both like? Read on for some ideas on how the engagement ring-less proposal can work:
1. Propose with a placeholder ring.
She will have a ring she can wear until she gets the real thing and will have it as a permanent memento of the proposal that she can wear on her other hand should she wish. There are some really creative and beautiful rings on the market made for this very purpose, some of my favourites are included below:
You could opt for a silver dress ring such these beauties:
Of course, if you have a girlfriend with quirky tastes, you could get a more fun and bright plastic ring that would hopefully last longer than a haribo one!
2. Propose with a different piece of jewellery.
If you're worried about explaining that the ring is a stand-in or don't like the idea of a temporary ring, how about proposing with a pendant or bracelet? That way, she can wear it and enjoy it while you pick something together. There are some beautiful locket style necklaces on the market you can have personalised. Below are some of my favourites:
3.  How about a proposal during a romantic breakfast in bed?
Surprise her with one of the following keepsakes:
You can make your own personalised mug for that 'hand made' touch by using porcelain paint on an existing mug.
4. You could create a journal of your relationship.
This is something she can show the Grandchildren and she will be able to treasure it forever.
Lastly, but by no means least, and in my view, the most romantic option…
5. Have some sketches drawn up for a bespoke ring and then propose with these.
That way you are showing your girlfriend that you have thought through every element of the design for her and want her to have input in it's design – chances are that she'll be so bowled over by the sentiment that she'll not want to make any changes. This shows real creativity and also demonstrates that you're not imposing your ideas on her; you're setting the tone for your marriage by allowing her some design input before it is committed in metal and stones. The sketches are something she can show friends and family and keep forever as a reminder of just how romantic you are!
If you've been inspired by any of the ideas and would like to discuss a bespoke design of your very own for a proposal ring, necklace, bracelet or sketches for an engagement ring, do get in touch.