Lee got in touch to design a surprise bespoke eternity ring for Karen for their 10th wedding anniversary. We had two things against us – her engagement ring is a twist shape so required a fitted eternity ring to fit nicely against it, and we did not have enough time to get a ring made for their anniversary.
We decided to proceed with designing the ring, and that he would gift her his favourite design as a sketch on their anniversary. He wanted to include sapphires that matched the colour scheme of royal blue on their wedding day, which was such a lovely touch!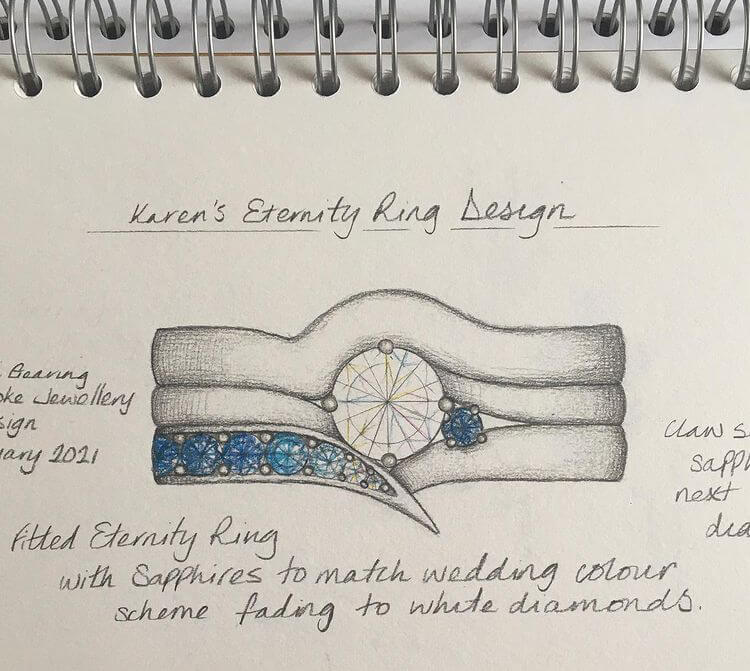 Lee chose the most interesting and unusual of my designs and Karen fell in love with it! We borrowed her ring for a short time to 3D scan it so we could model her new eternity ring around it using CAD technology.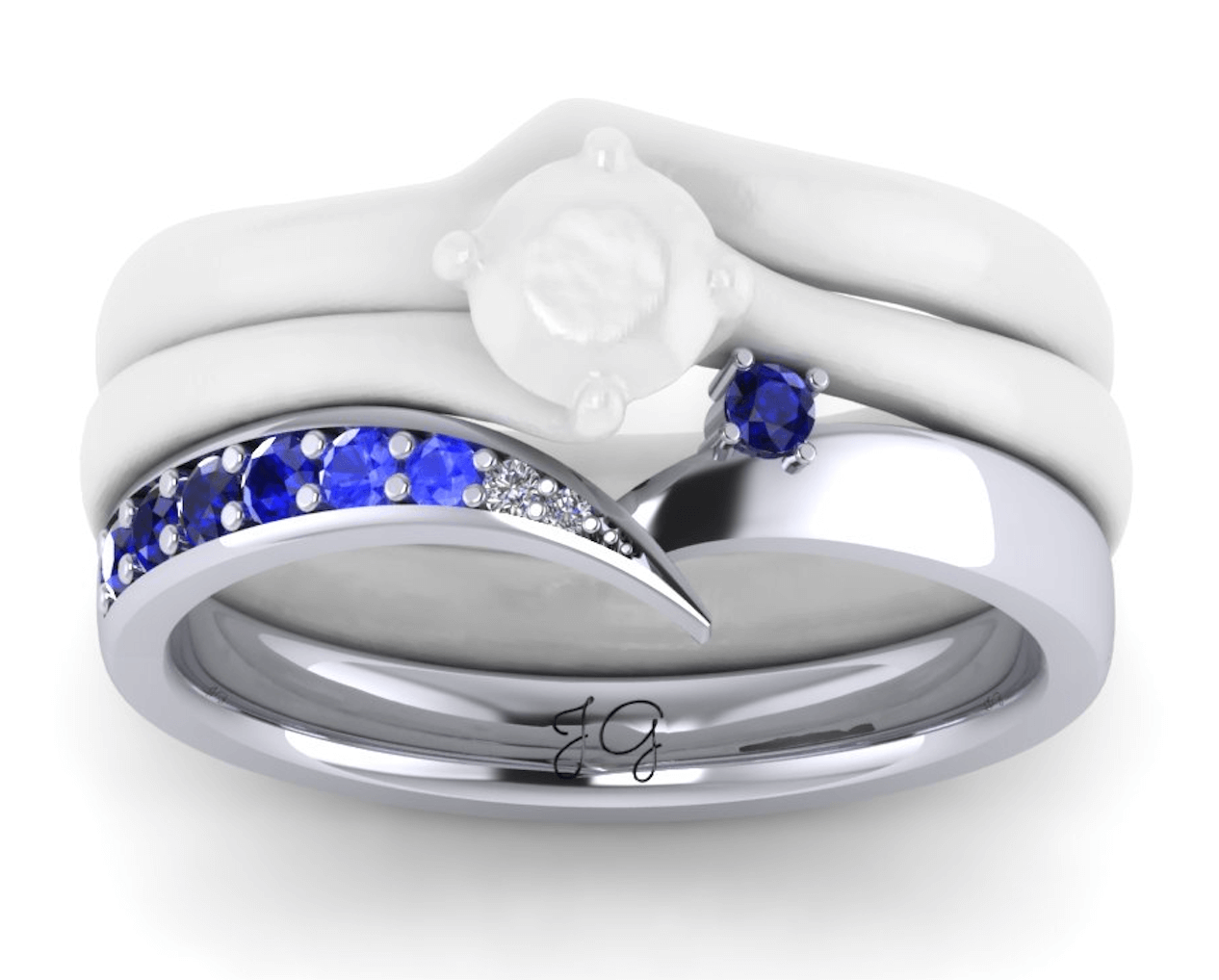 After Lee and Karen approved the CAD renders, we create a 3D print she could try on with her newly polished up engagement and wedding rings to check the fit and size. This is a really nice stage in the process, where you can truly imagine the design on your finger, and is a real benefit of going the CAD route – we do a mixture of CAD and more traditional hand construction and will advise you on which method best suits your project.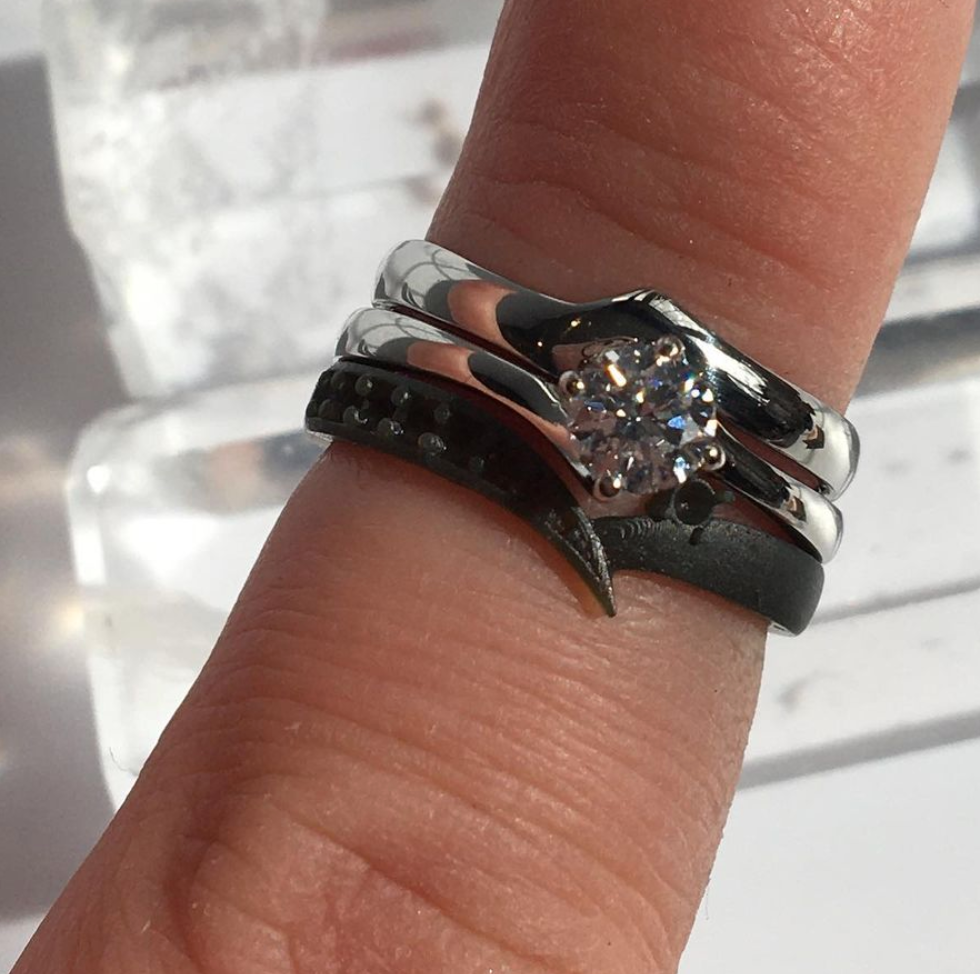 The design features a claw set royal blue sapphire, which nuzzles next to the diamond in Karen's engagement ring. The opposite shoulder of the eternity ring is pavé set with sapphires starting at a deep royal blue, fading to mid and then pale blue, before finishing in the point with white diamonds.
The shape of the eternity ring is an extended wishbone, which elegantly tapers down to a point.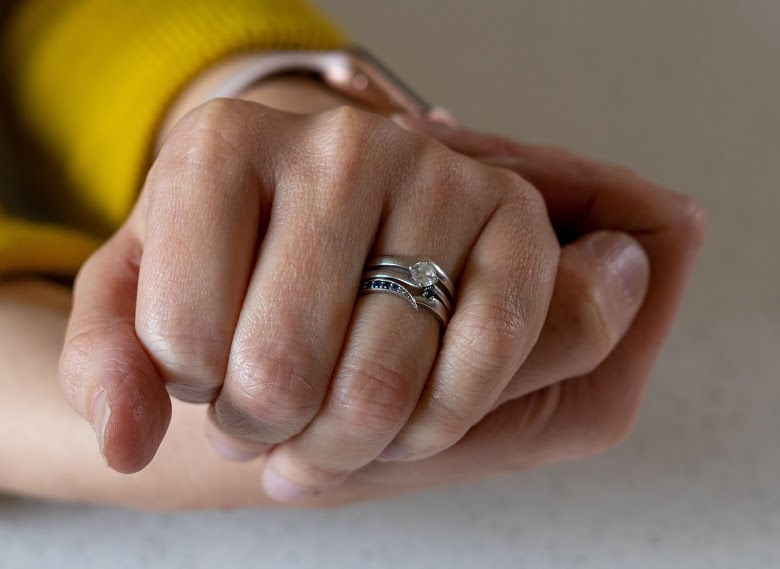 Lee and Karen sent me this gorgeous photo of the ring in place. It was so lovely to be given creative freedom with this bespoke design and I was so chuffed when they selected my favourite design.
If you have a shaped engagement ring that requires a fitted wedding or eternity ring, there are so many options for you – get in touch to discuss your project!