T got in touch for her third bespoke project with me to remodel her engagement ring. Her brief was to make it more 'wow' and to utilise the wasted princess cut diamonds from her unworn eternity ring.
Combining the square princess cut diamonds into a more eye catching design was a bit of a challenge – I immediately thought of stepped graduating size shoulder stones to give the ring an Art Deco feel, but we both felt this wouldn't make the most of the square diamonds and it wouldn't have the desired 'wow' factor.
I love to research different ring styles and so my social media and Pinterest feeds are chocker-block with inspiration. One design that had caught my eye and stuck in my memory was the ballerina halo style of ring. The concept of a ballerina halo engagement ring is that it looks like a tutu when viewed from above. They usually include a range of different cuts and often undulate to replicate the folds and form of a tutu. Whilst we didn't want an undulating halo for T's ring, the halo form with mixed cuts would work really well with the stones we were working with.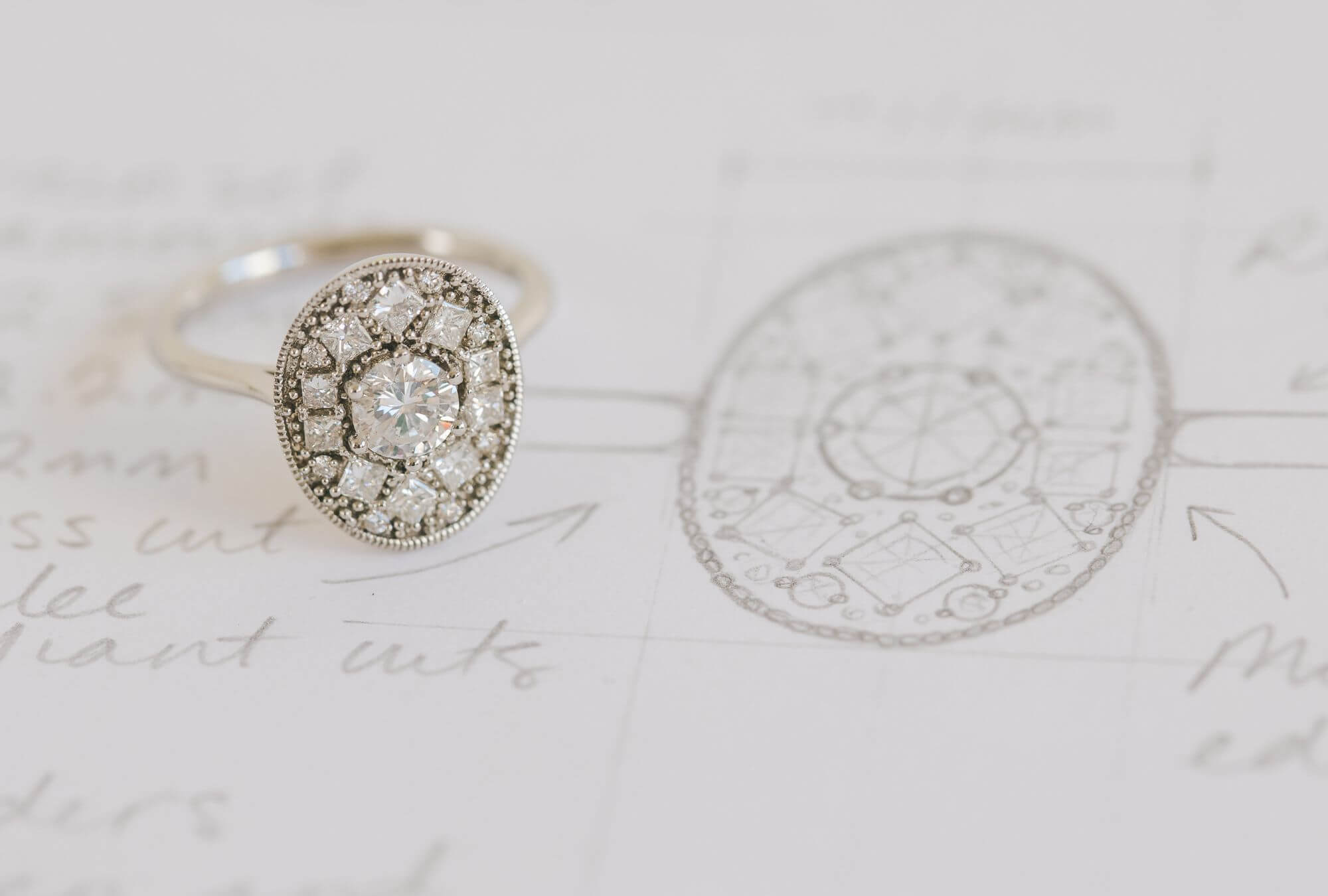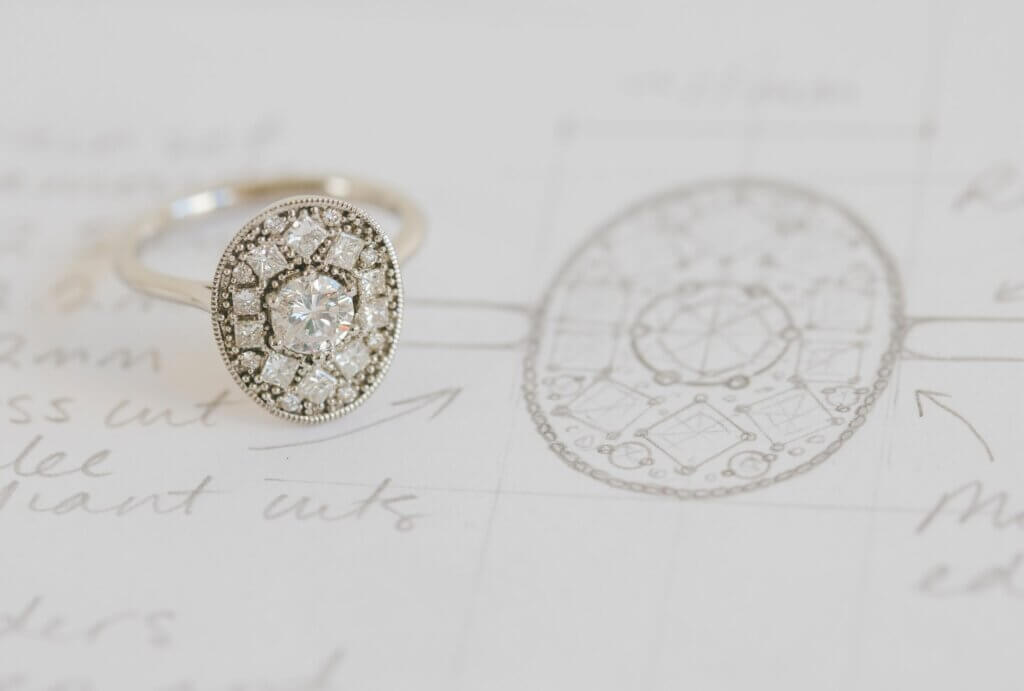 To fit all the princess cut diamonds around the central diamond, the halo naturally became an oval shape, which lent the design a vintage and elegant look. The larger princess cuts are at the top and bottom of the oval with the smaller ones at the side. We added some new small brilliant cuts into the larger gaps for all over sparkle and shimmer.
The surface of the halo is grained to give an all over sparkly effect between the diamonds. All finished off with a millgrained outer edge to the halo, which emphasises the vintage feel.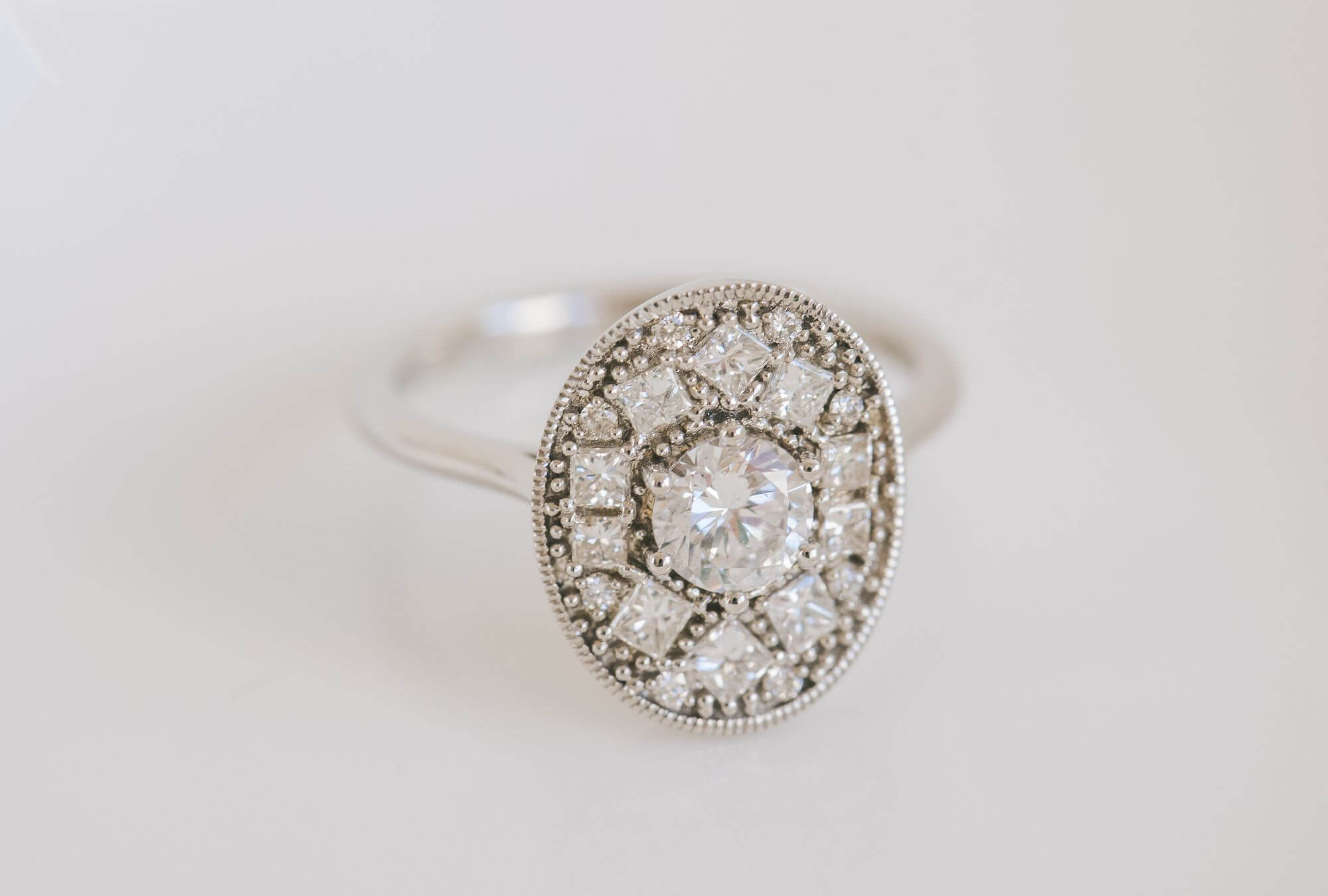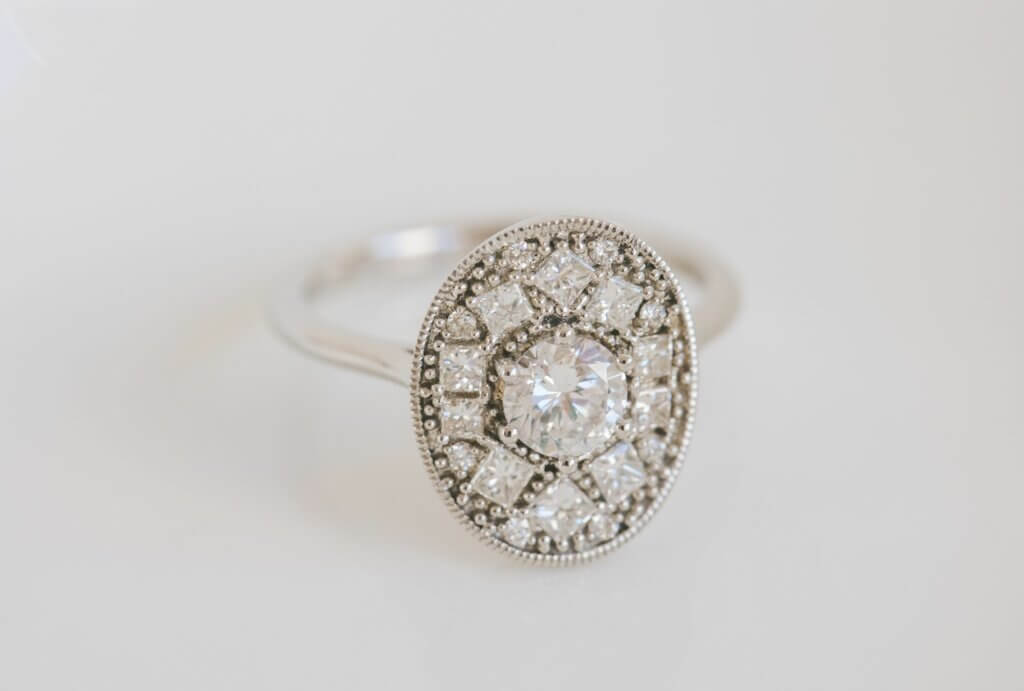 The overall ring head is quite large, which gives it the WOW factor T wanted, but it was also important that the ring was wearable and not at all catchy or sharp – unlike her original solitaire engagement ring! We curved the oval to follow the shape of the band, which when combined with the split and deepening shoulders, makes for a smooth ramp from band to setting. The central diamond is set low in rounded claws to keep it nice and smooth and unobtrusive.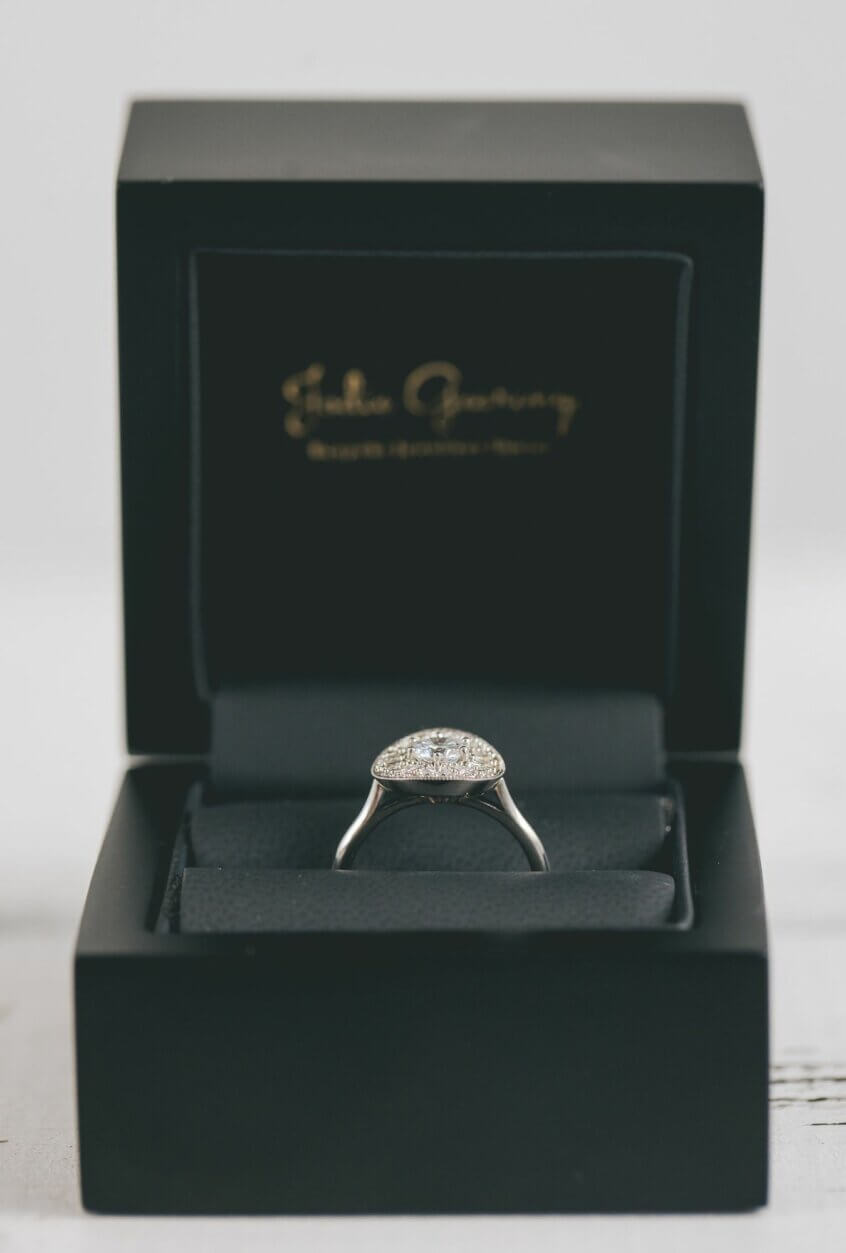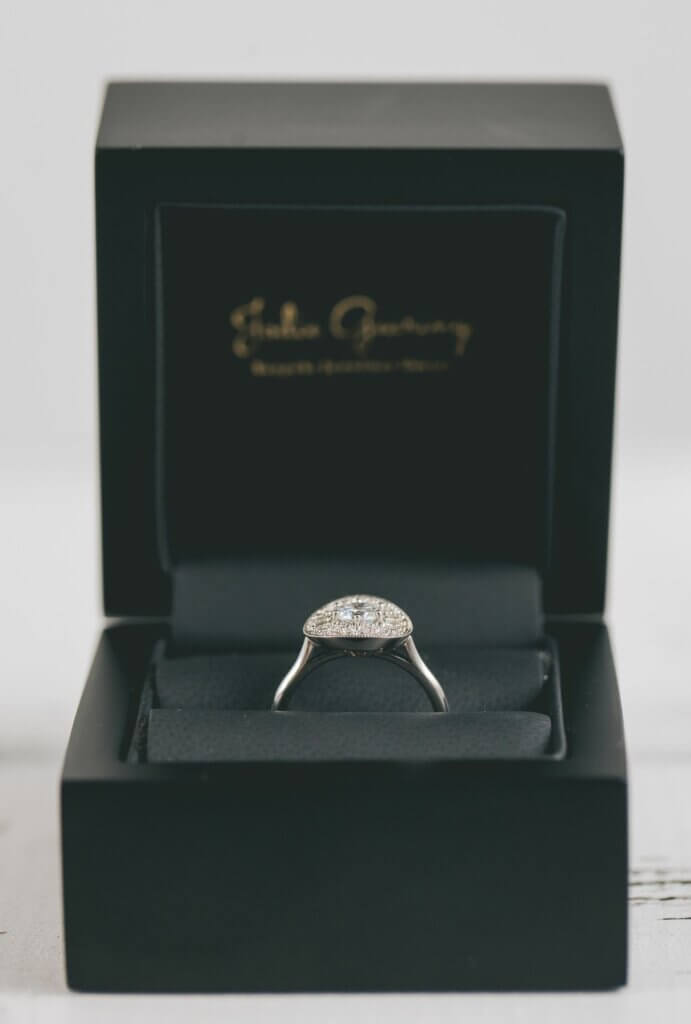 We made sure the design was 'wedding ring friendly' – that T's diamond set wedding ring would be able to comfortably slot underneath and sit neatly next to the engagement ring band with no wear and tear on either ring.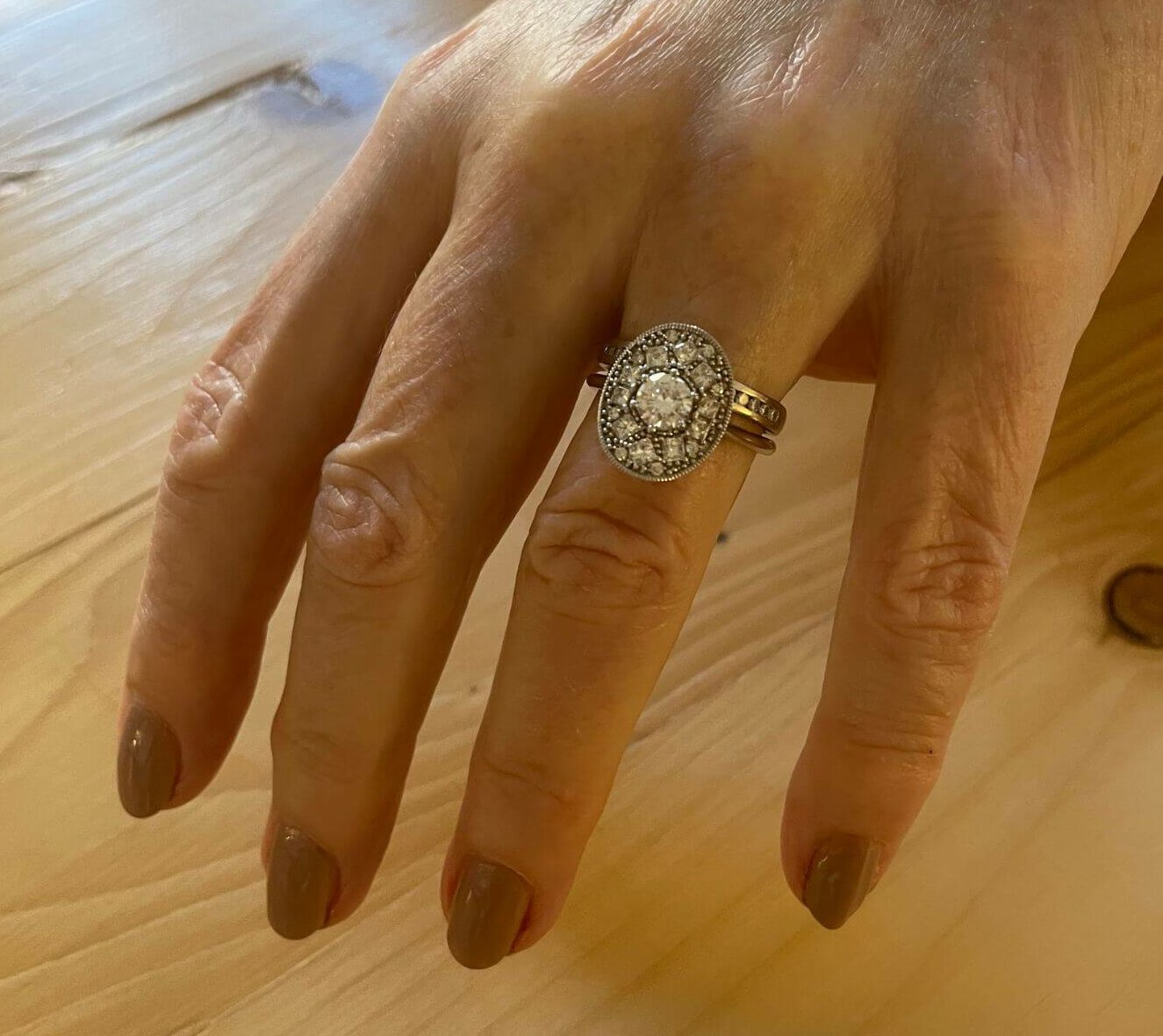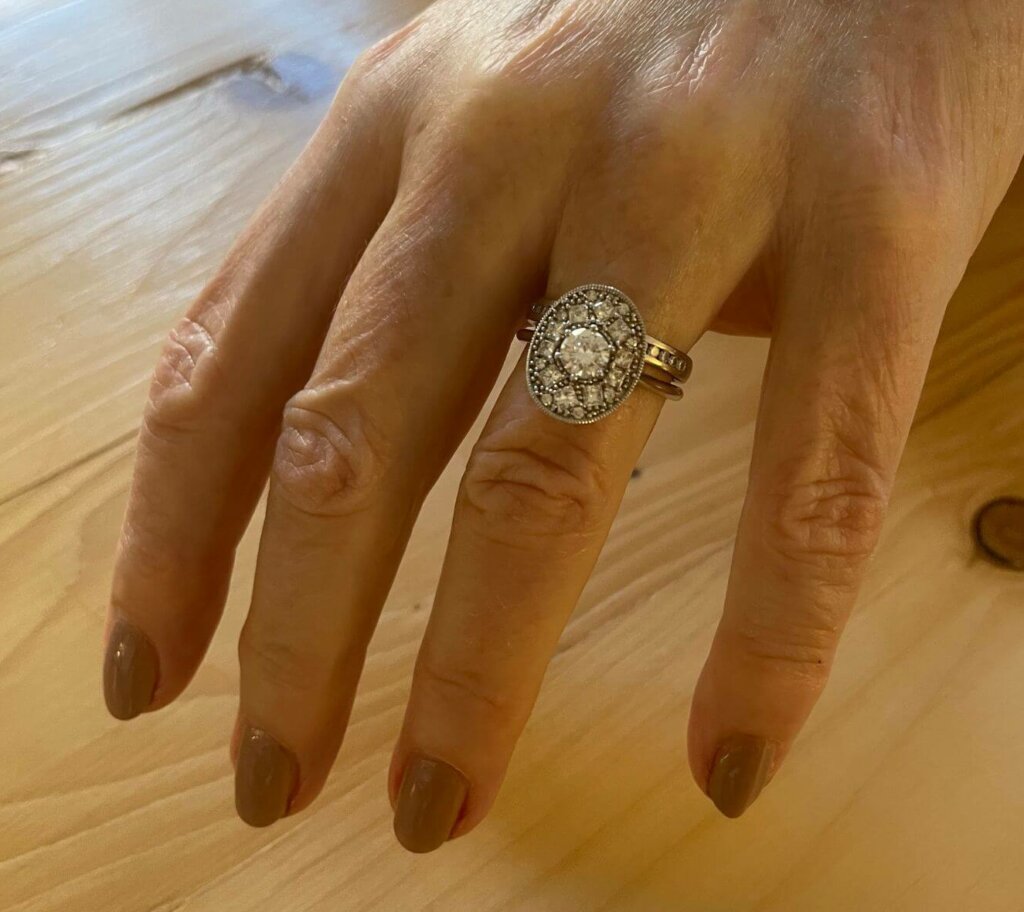 This design suited the CAD method of production – instead of making it fully from scratch by hand, we modelled the ring using CAD technology. This is where a CAD technician accurately draws up the ring in three dimensions on computer software, which then enables us to view the design from multiple angles and render it to look like a photograph of the finished piece. From this, we can then also produce a 3D print for the customer to handle and try on – a real bonus of this method! Instead of going from flat sketch to finished item, CAD renders give my customers some extra comfort that they love every angle and detail of the piece before it comes to life.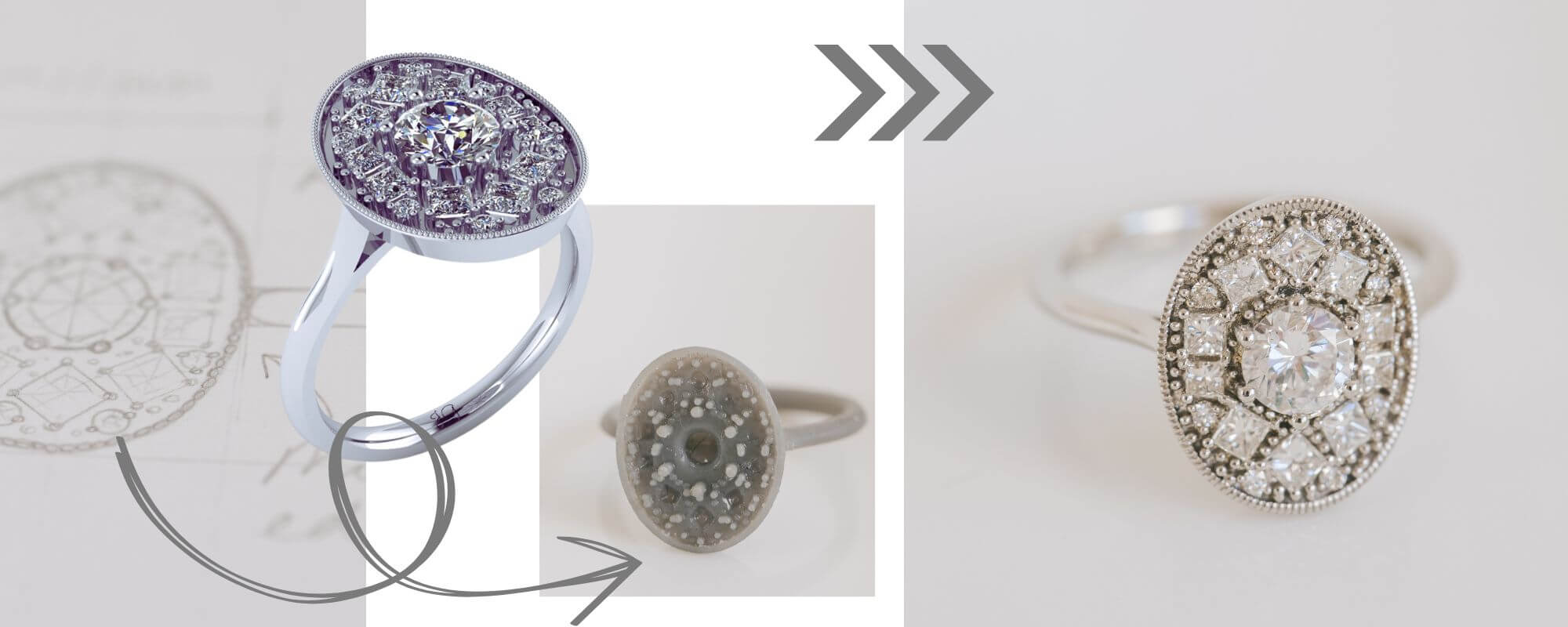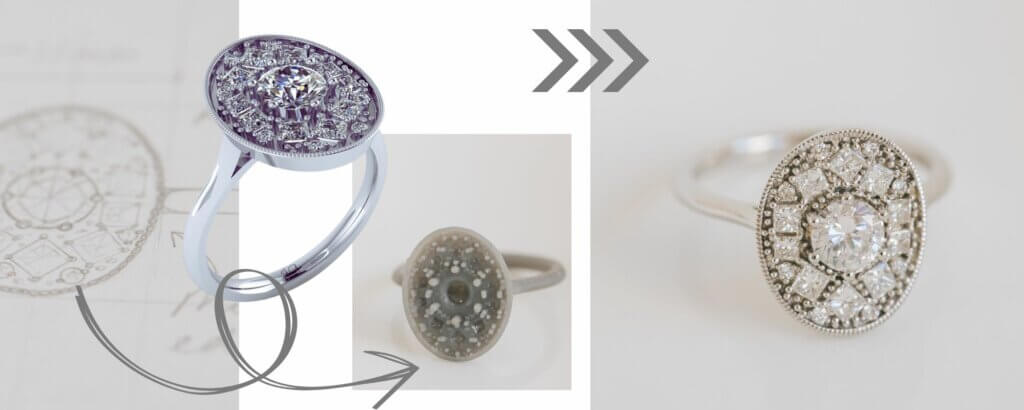 Not all designs suit this process, and some people prefer to know that their piece is made from scratch fully by hand. But for some customers, this route is invaluable to help them visualise their dream piece of jewellery.
Neither oval shaped nor halo engagement rings are going anywhere soon – they are popular for obvious reasons. The oval shape is so flattering on the hand – it elongates the finger and the curved form suits the female hand. Halos add scale and sparkle to a design – a contemporary twist on the classic cluster style.
This ring is a true sparkle fest and was yet another design I struggled to hand over as I fell completely head over heels with it!
To see some more photos of this gorgeous ring, take a look at it in my galleries.
Pro photographs by Red Peacock Photography