So, you have decided to go the bespoke route for your jewellery project. This could be because the perfect piece does not exist on the high street, or you want to incorporate some sentimental metal or gemstones into a handmade piece. Or you simply want a high-quality, completely unique piece with a story and a journey.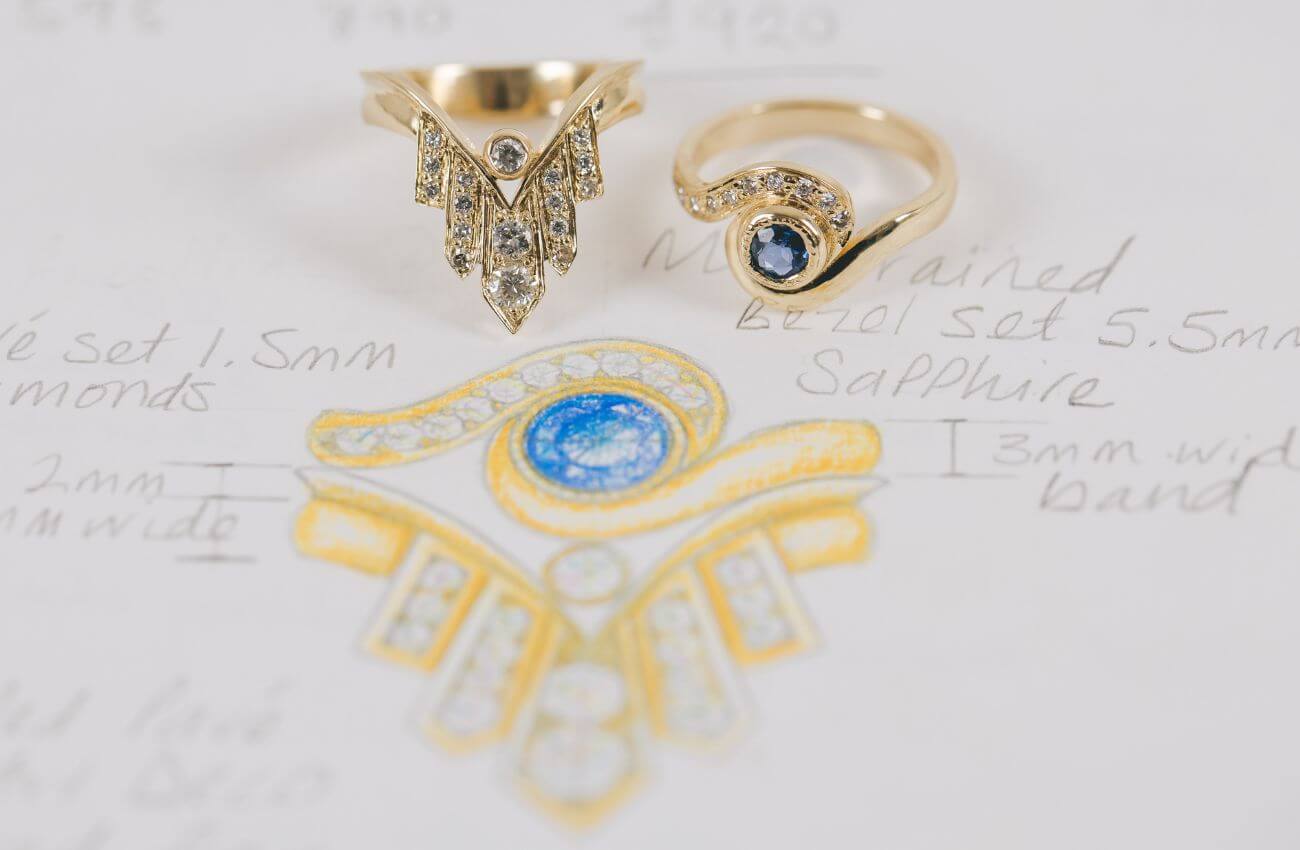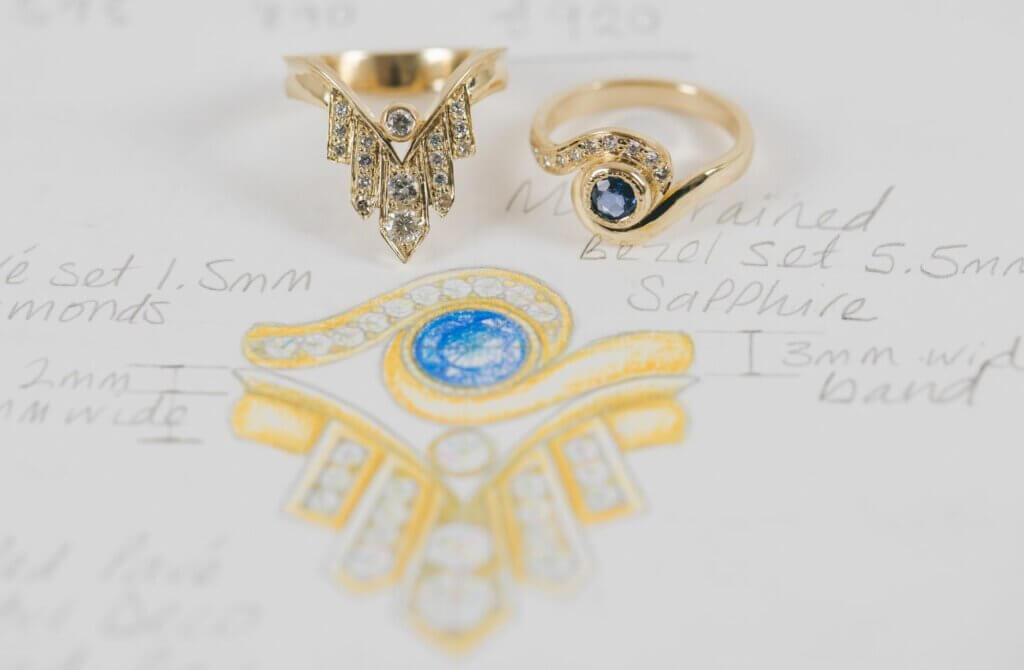 With this in mind, you need to find the right person to design it for you.
Finding the perfect designer might feel a little overwhelming, and you may not know where to start. Here are some things you will want to consider when choosing the right jewellery designer for you and the piece you have in mind.
---
Search For Designers Who Catch Your Eye
You may have a particular design style in mind, so you could discover the perfect jewellery designer while searching online for inspiration. You might see one of their previous designs through a search engine, Pinterest, Directory, Bridal magazine, social media, etc., and fall in love with their style. If you have a specific look you are after, you'll probably find them based on their previous designs, and the internet makes this so easy.
Some jewellery designers have a signature style that they translate to all their designs. Others, like myself, have a broad skill set, meaning they can interpret your ideas into something perfect for you.
A good designer will make suggestions based on their expert design eye, but they won't inflict a design style on you that you don't like.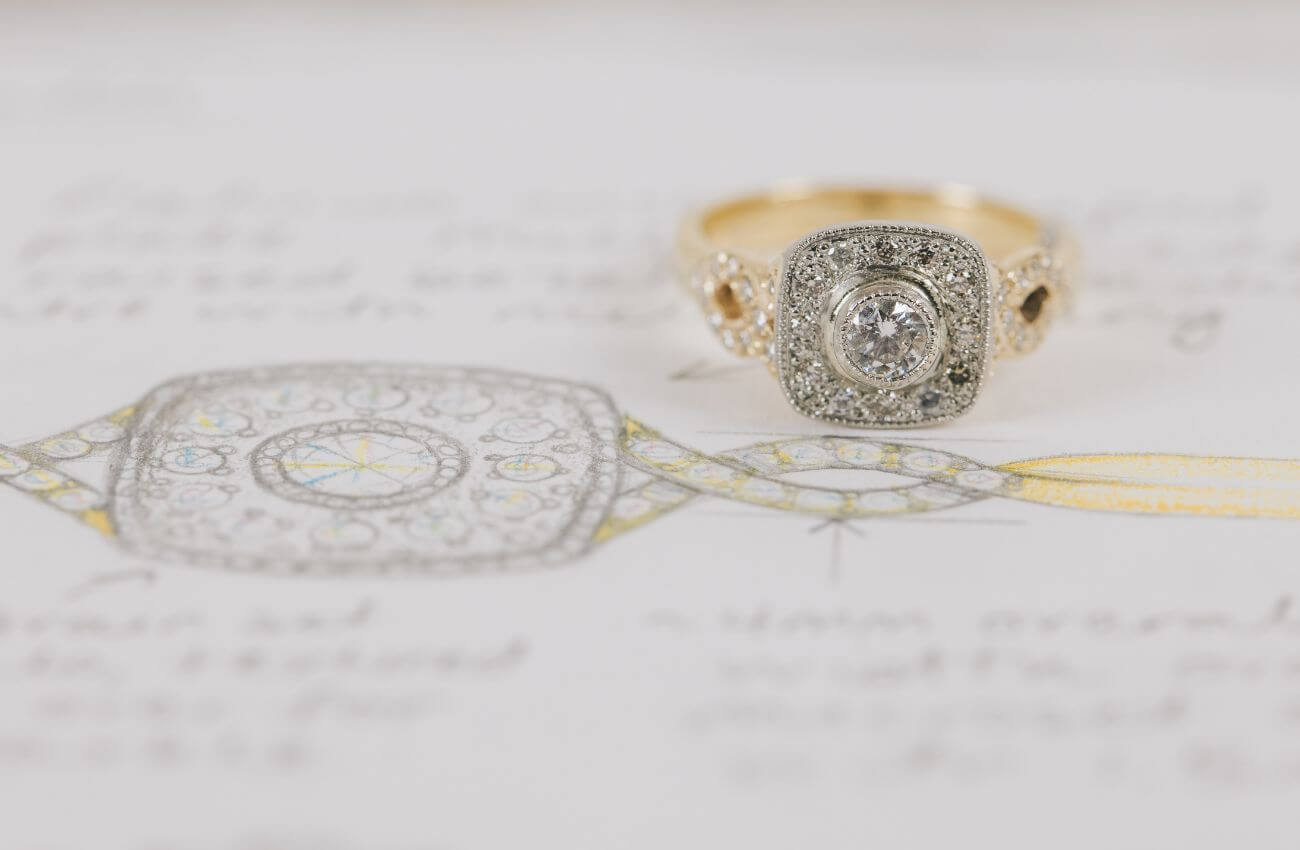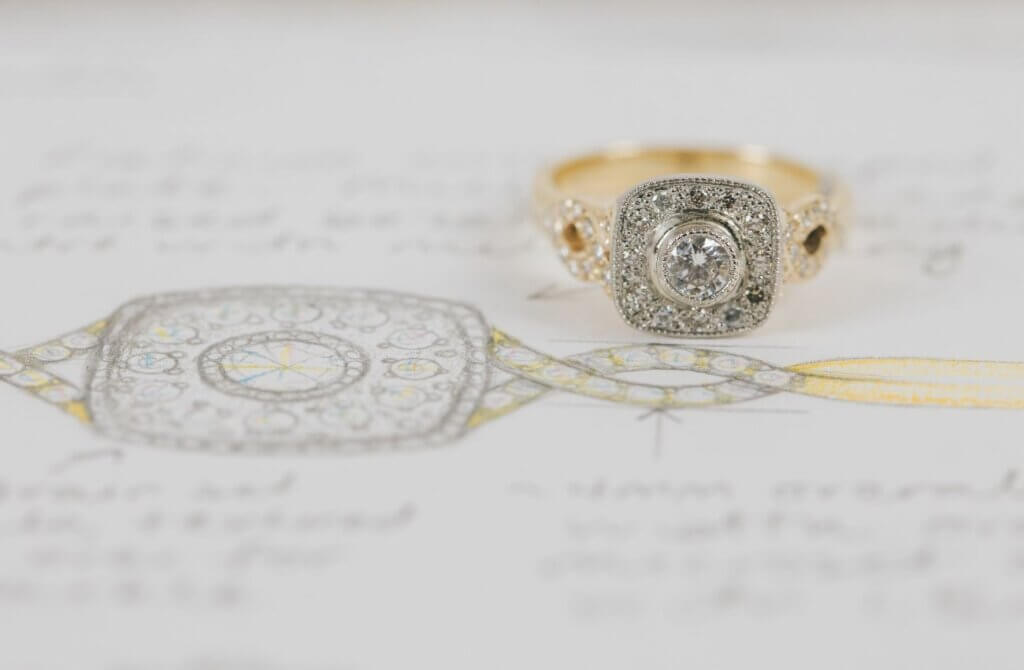 ---
Credentials
You need to feel 100% confident that you are working with someone who has the backing of an authority in jewellery standards and a history/education in the field.
Like an architect designs a building based on a fundamental understanding of how the structures will work, a good jewellery designer has bench experience and so understands the 'architecture' of jewellery; they can advise you on the most practical options based on real, applied knowledge. 
Like an architect, they usually don't build their designs themselves, but they have a solid background in goldsmithing to inform their designs. 
I am registered with the National Association of Jewellers, which means I abide by their Code of Conduct based on honesty, integrity, and professionalism.
The awards I have collected also provide reassurance that my service is excellent. I am particularly proud of being crowned the East of England Regional Winner in The Wedding Industry Awards 2023. This award was judged on real client feedback and a gruelling application by a panel of industry experts.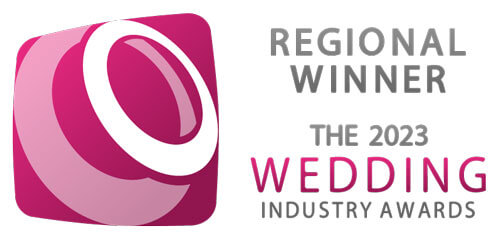 Do you feel confident that your designer is an expert in their field? Does their website showcase a portfolio of work and any FAQs and general jewellery information? 
My website has filterable galleries for you to gain inspiration from and judge the quality of my work. My blog section is full of articles on interesting jewellery topics and is updated and added to regularly.
I write editorials for local and national magazines like The Bedfordshire Oracle, The Hogsty End Directory, and Your Herts and Beds Wedding.
---
Ethical attitudes
You want to know that the jewellery you are commissioning is ethically sound. If your jewellery designer doesn't shout about their ethical suppliers and attitudes, then I suggest you look elsewhere.
I only work with gemstone suppliers who can guarantee the provenance of their stones. The precious metal I use is recycled, and you can specify that we use fair-trade gold.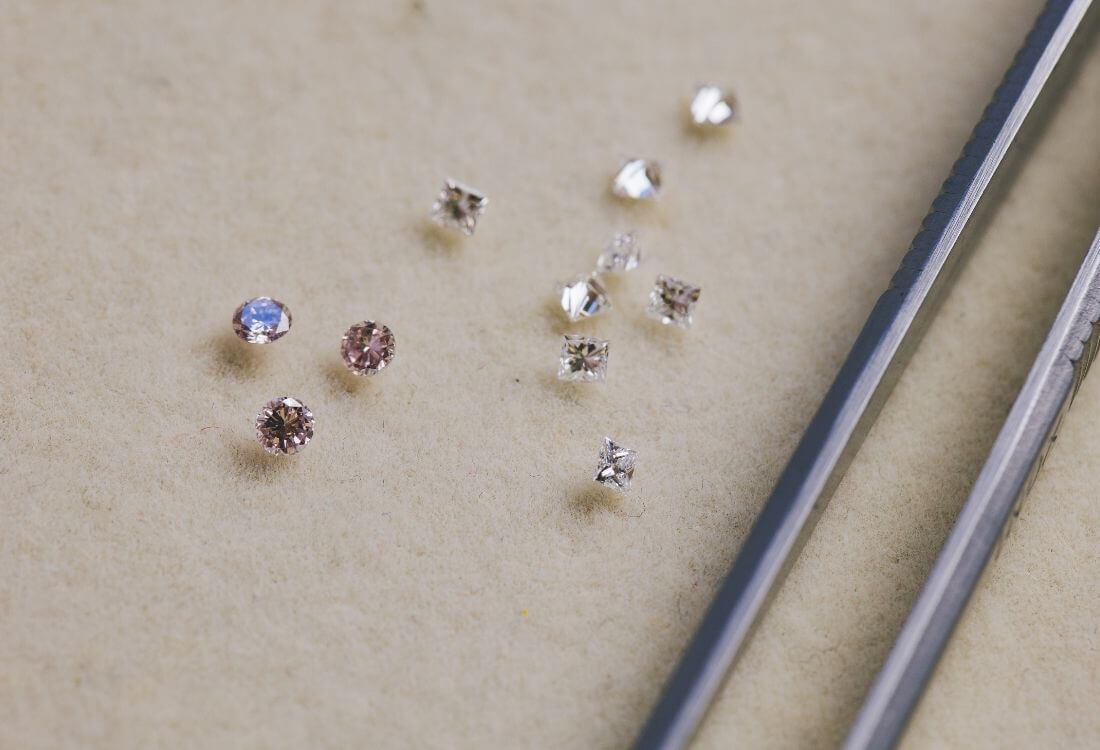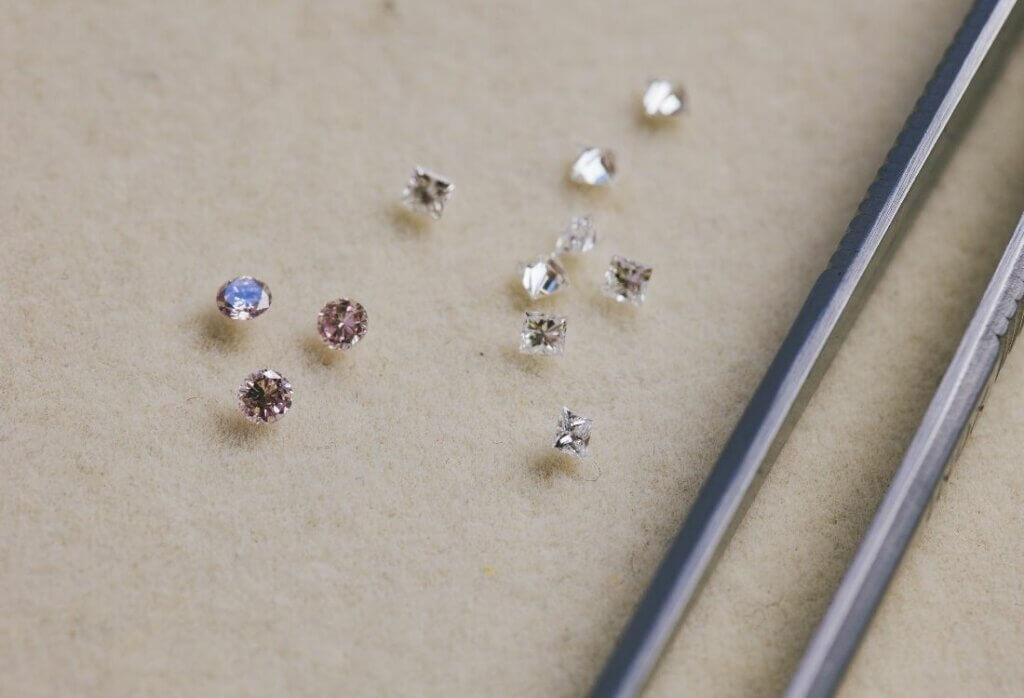 ---
Process
Does the jewellery designer you've contacted outline the process to you at the start? Does the given timeframe and journey to finished piece work for you?
My projects always start with a conversation, and the stories and people are central to my designs. Take a look at my galleries and social media page to read some of the stories behind my recent pieces for inspiration.
If you're local to me and can meet me in my Bedfordshire-based studio, then that is wonderful. We can meet for an informal and really relaxed design consultation to discuss your wants and needs, take measurements, thrash out your ideas and sketch up some plans.
Very often, we reach the finished design in this consultation, but I will carry on sketching until the design is perfect. If we can't meet face to face, I schedule a call or video call, or we can work entirely over email, sending sketches and images back and forth until it is right.
I work with a range of Master Goldsmiths, and on selecting the goldsmith right for the job and discussing your project with them, I will put together a quote and timescale for you.
What happens next depends on the project. If the piece is being entirely hand constructed, I draw up detailed making instructions, and we begin work. Where possible, I send progress photos so you can see the journey your piece has made.
If stones are needed to be sourced first, then I will arrange for you to view them either in person, or via my photos and videos. This way, you can select the right gemstones for you.
If the piece is being made using CAD and cast technology, you will receive photo-realistic renders of the piece from multiple angles to approve. Once approved, we can supply a 3D print of the item for you to see and feel in the flesh before we head into metal.
Under usual circumstances, my bespoke pieces take between 6-10 weeks, depending on the complexity of the design and the number of processes involved. For example, having gemstones custom cut—or engraving added—can add to the length of time to produce the finished piece.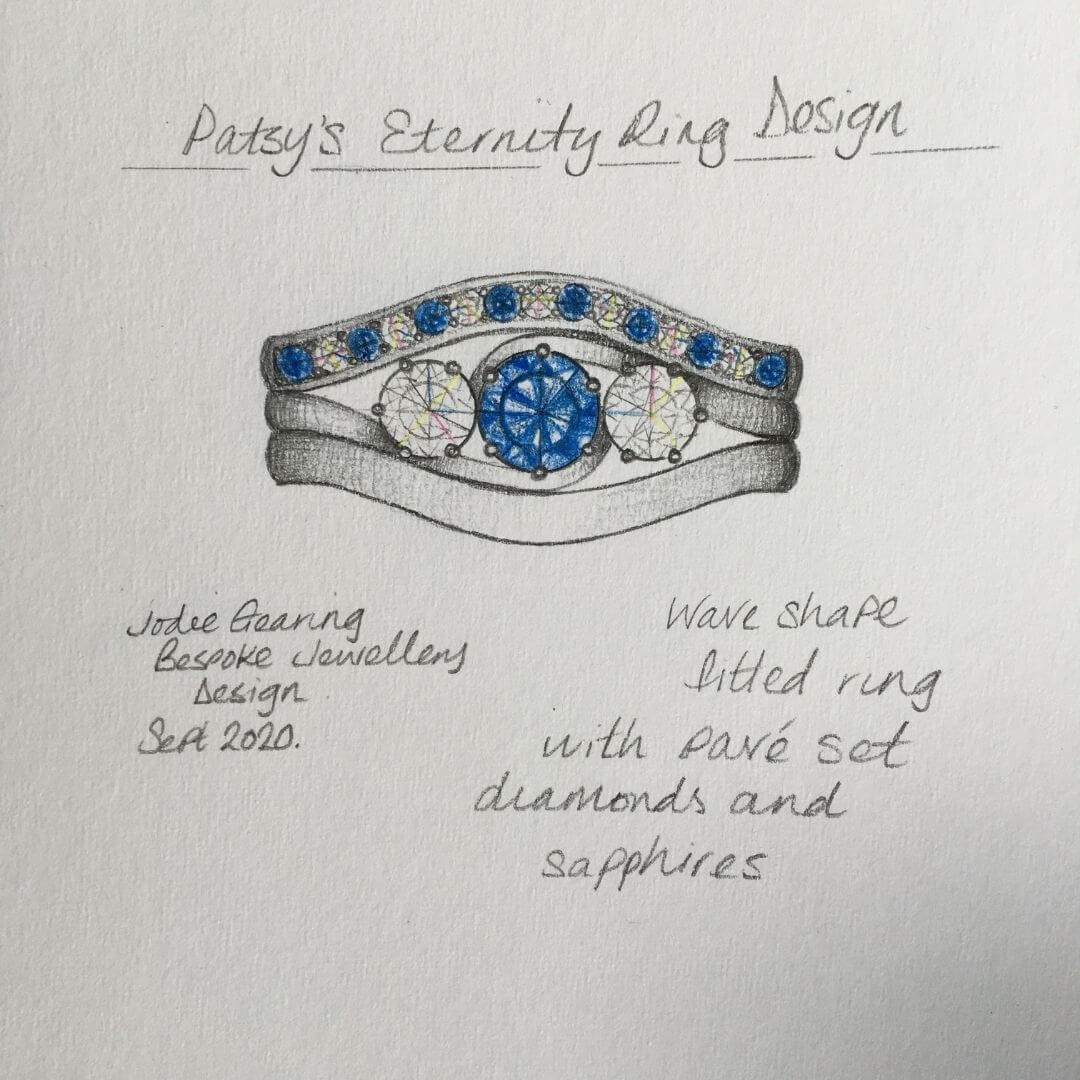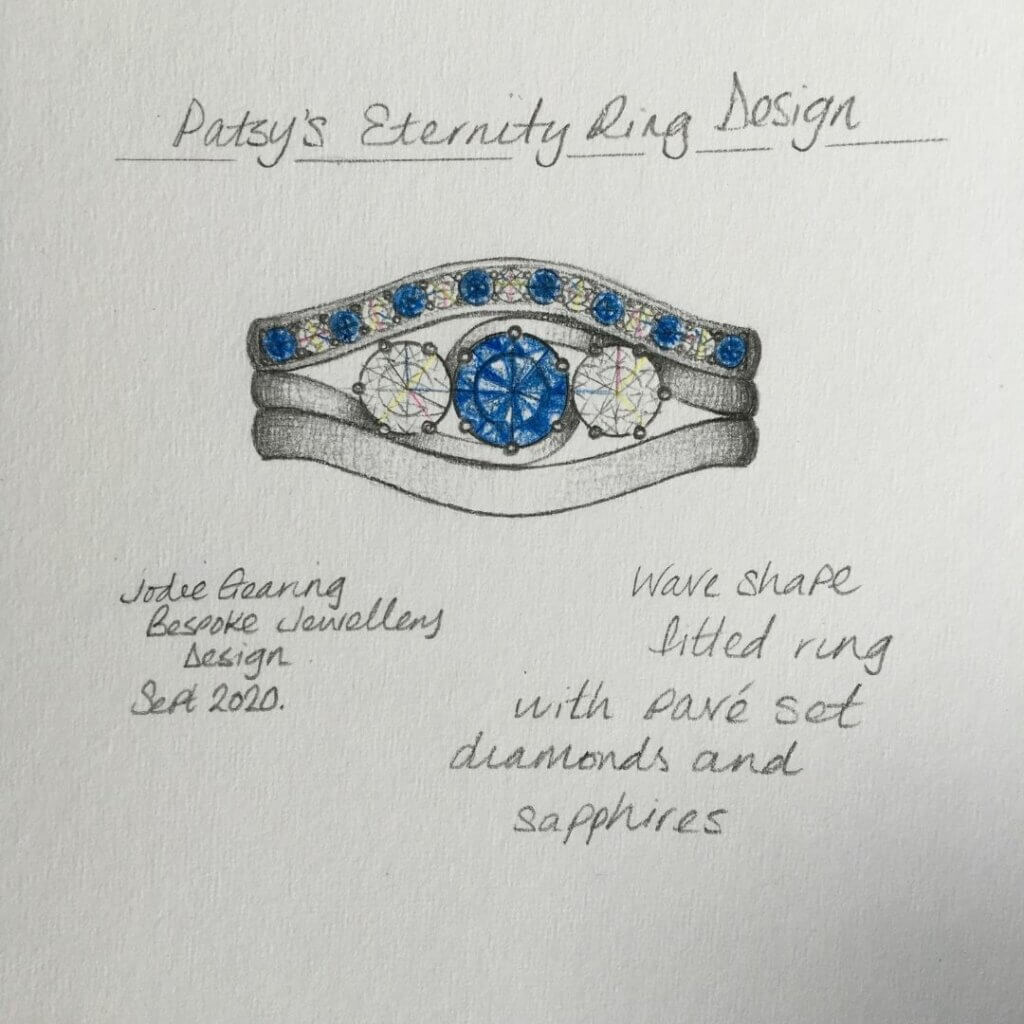 If time is against us and you need a piece more quickly, we can start with readymade components or order pieces made for trade as a starting point. A popular route I offer is a presentation sketch that you can gift your loved one on the special day while you wait for the finished item.
The handover of a finished piece is always my favourite part of the process. By then, I have built a relationship with my clients and their jewellery truly matters to me. I often feel very emotional watching them open the box with their finished piece inside, and I love to be sent photos of proposals, wedding pictures, or just photos of the pieces being worn and enjoyed! 
---
Testimonials
Reviews and testimonials from previous customers are a great way to judge if a jewellery designer is right for you. Do the same things keep popping up in people's reviews, and are those the things that matter to you?
My reviews often mention how I put my customers at ease and make them feel really confident in their decisions. They often talk about how much I care about the projects and how blown away they are by the finished product.
Take a look at my testimonial page to see just some of my happy customers and their projects. 


---
Long term relationship
Once you've chosen your jeweller, bear in mind that you will most likely be starting a long-term relationship, so you need to feel comfortable with them and trust them with your pieces.
You may need to go back to them for cleaning or maintenance, and once you've had one project made, like many of my customers, you might catch the bug and come back for more!
Especially if it is an engagement ring you are looking to design, having the wedding ring made by the same person will ensure consistency between the rings.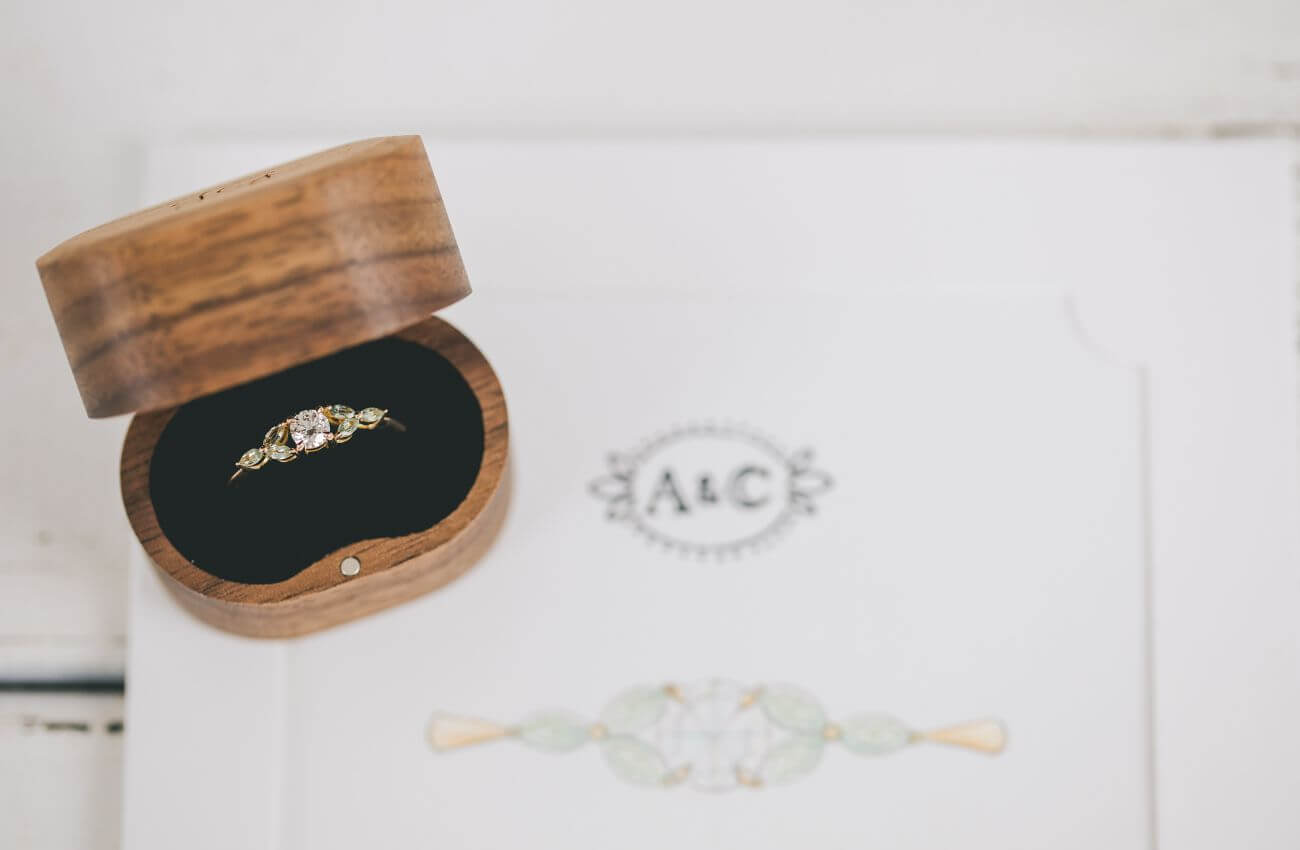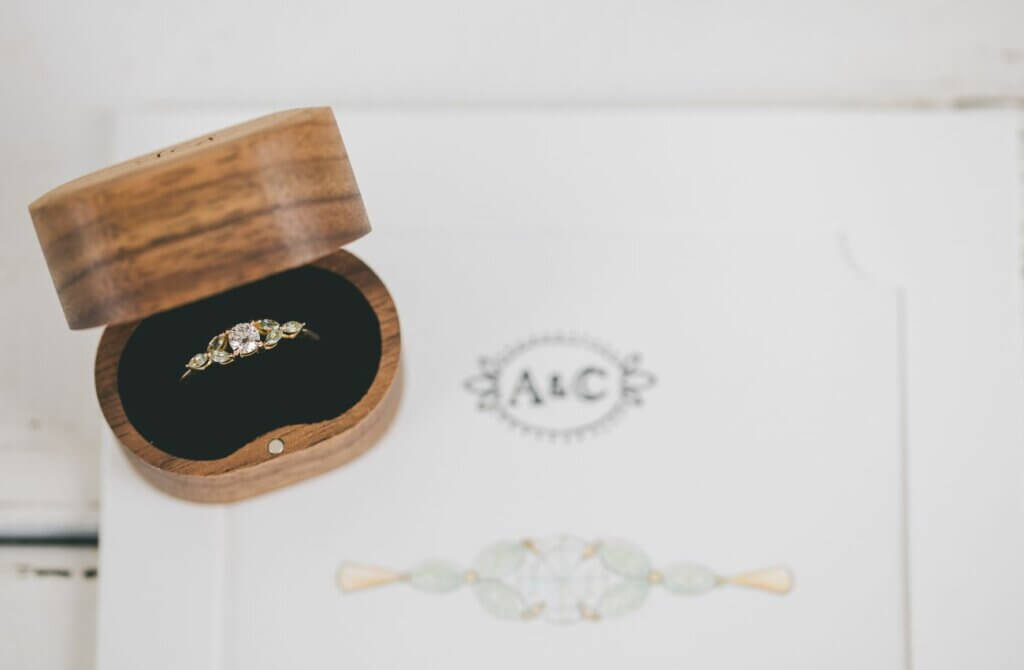 ---
Have I missed anything from my list; is there something else you take into consideration when choosing a jewellery designer? Let me know in the comments.
If you think I could be a good fit for your jewellery project, hit 'contact me' to start your bespoke jewellery journey.