Deciding on the perfect ring size sounds like an easy job, right? Well, sometimes it is, but quite often it can be a surprisingly tricky decision. Ultimately, it is a matter of personal preference but here are my tips and some tricks to get an accurate ring size you are happy with.
What size is right?
Your ring should feel comfortable but also tight enough that it doesn't slip over the knuckle too easily. Some people like their rings to feel fairly tight for security, whereas others prefer them to feel less constrictive and are happy for them to spin on the finger. It can look quite elegant when an engagement ring spins a bit, but if you have a wedding or eternity ring with engraved or stone set detail just in the front, it can be annoying if it spins around.
If you're not used to wearing rings, the feeling of the sides of the rings will feel really alien next to the neighbouring fingers, but over time you'll barely notice the ring is there. Focus instead on how easy the ring is to get on and off – you're looking for a little squeeze over the knuckle ideally without having to really tug.
The best time of day to measure your ring size is in the evening when your fingers are largest. It is best to avoid measuring when you're cold, as fingers are at least half a size smaller.
The thicker the ring, the tighter the fit, so if you choose a ring with a deep band width, you will likely need to go one size up.


The shape of your finger will have an impact on the size you need. My husband is lucky enough to have what I call 'ring fingers' – his knuckles are wider than the fleshy bit of his finger, meaning that the ring fits fairly loosely and comfortably and the knuckle acts as a stopper to keep the ring on. His ring doesn't leave any indents in his fingers when he removes it to play guitar to do DIY (see above). My fingers, on the other hand, are tapered with no bulging knuckle to keep a ring on, meaning that my rings have to fit quite snuggly to stop them falling off. I have some serious ring indents which look as though the rings must be too tight when I take my rings off, but they honestly don't feel uncomfortable. How unfair is that?
How to get your perfect ring size
1. The easiest and most accurate way is to go to a jewellers to get your finger measured. They will use a jeweller's ring gauge like the one below.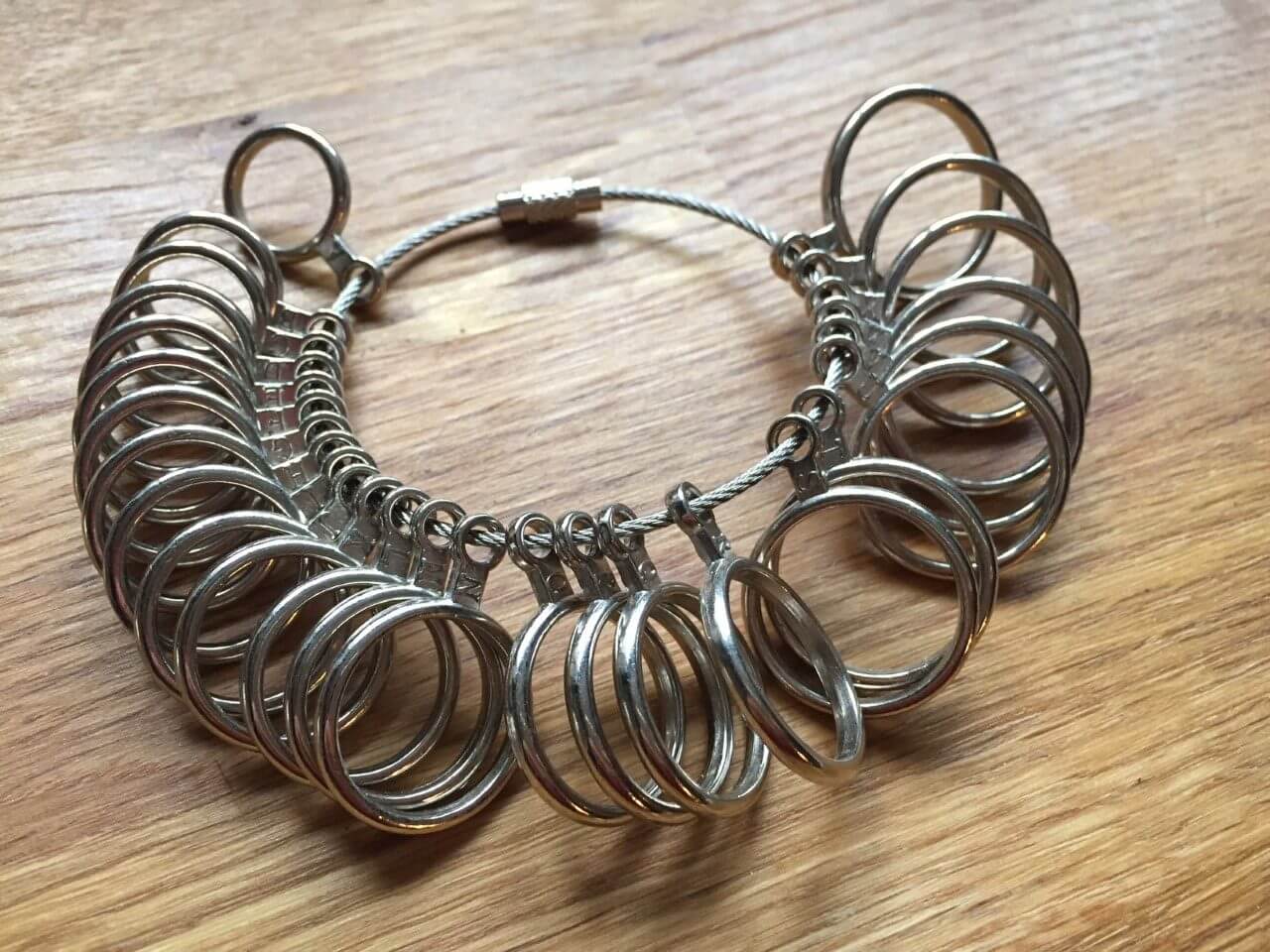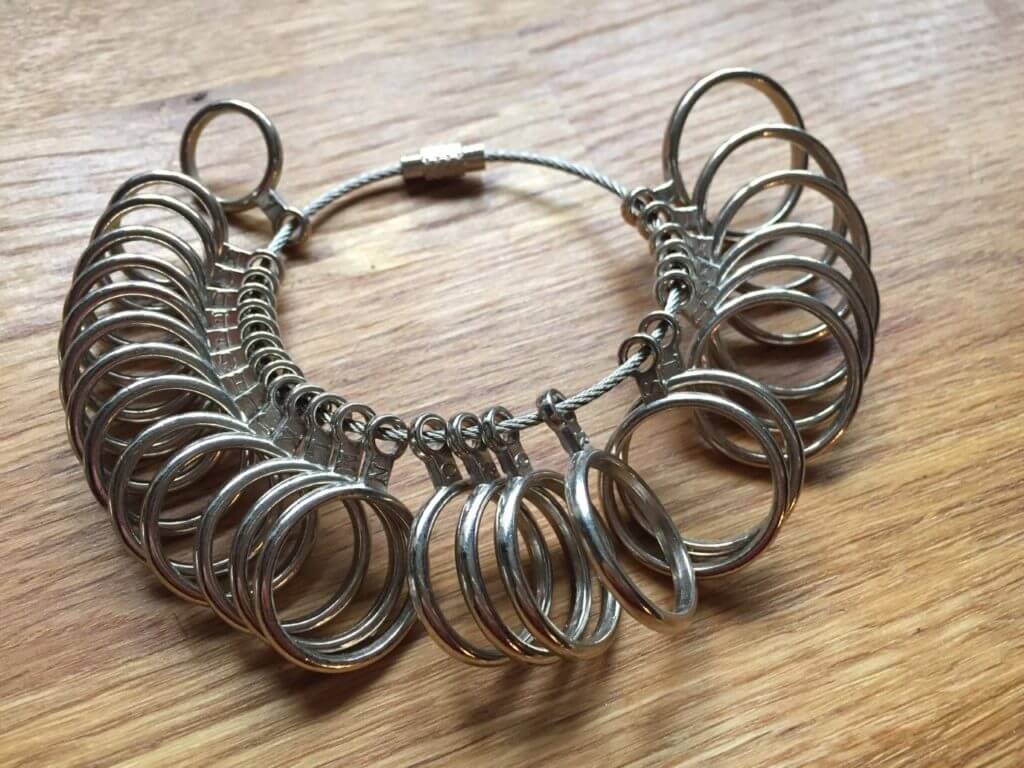 2. If you already have a ring that fits well, ask a jeweller put it on a ring stick for you. This will tell you the size and make ordering a new ring very easy.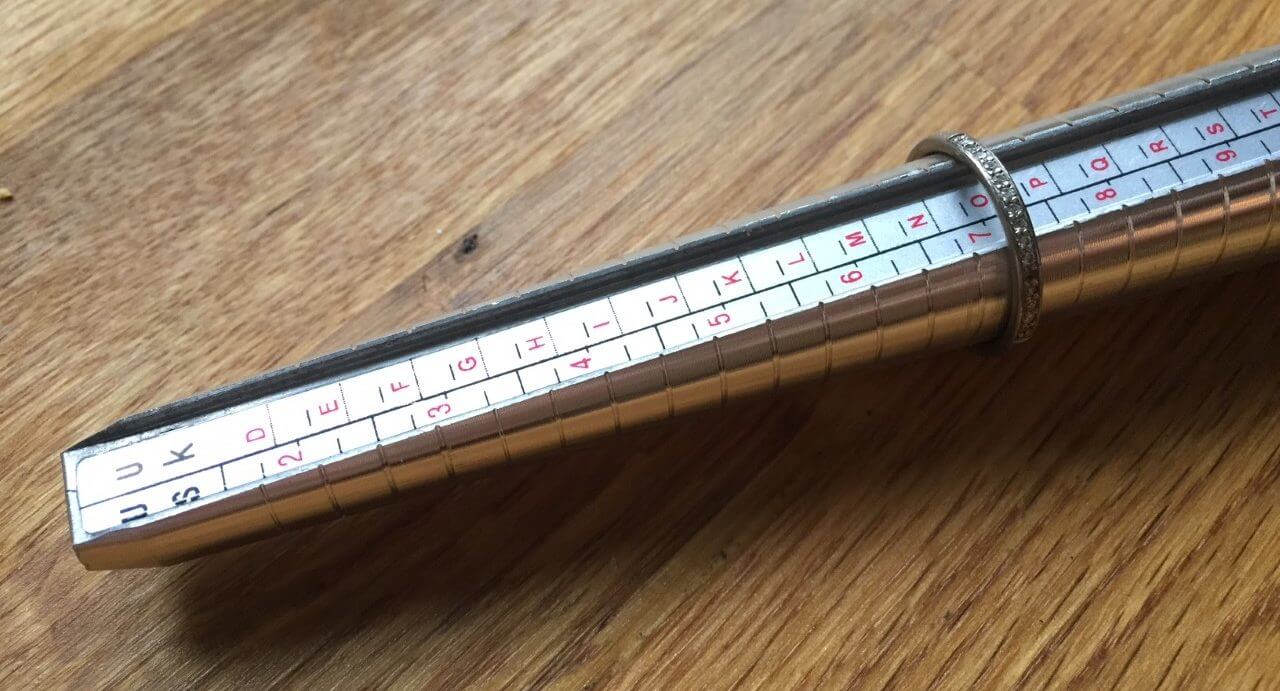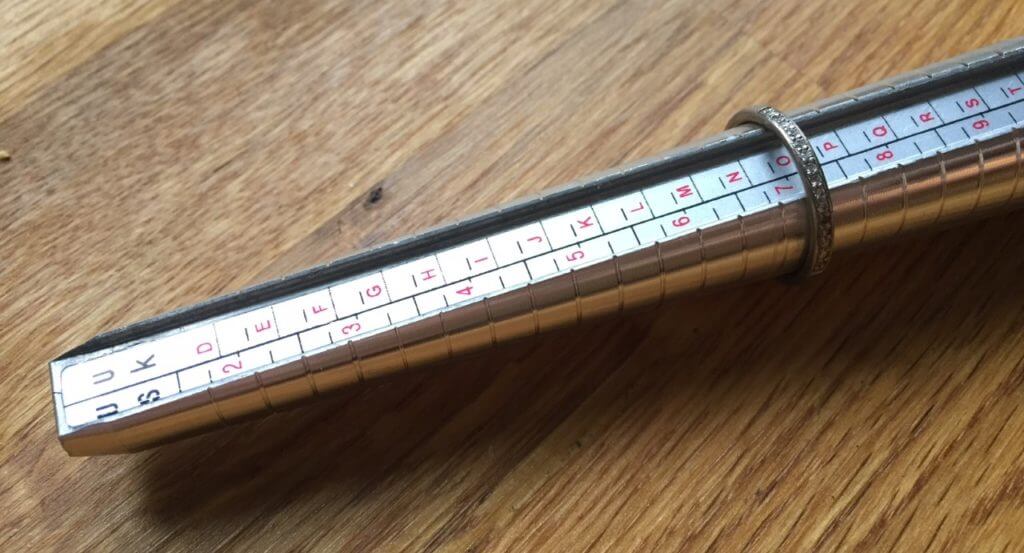 3. Another way to measure your ring size from an existing ring is to measure the internal diameter. Draw around the inside of your ring onto a piece of paper and then measure the diameter. Follow this link to our Ring Size Chart to convert this diameter into your ring size: Ring size conversion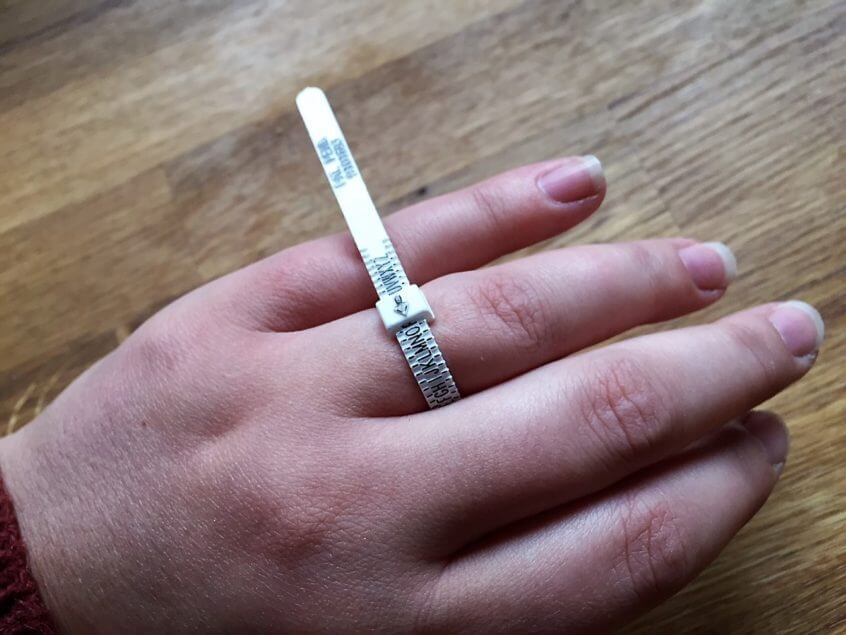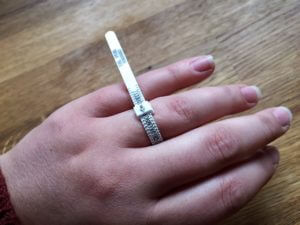 4. Buy a home ring sizer – these plastic belt style sizers are a simple way to get an idea of your ring size. These are not to be relied upon if you want a really accurate size, but they give you a good starting point. You can buy these here.
5. Another way to measure at home is to wrap a piece of paper, non-stretchy string or ribbon around the base of your finger until it feels like the right size. Mark or cut to length and then measure the length to find out the circumference of your finger. Follow this link to our Ring Size Chart to turn this measurement into your ring size: Ring size circumference
I'd love to hear if you've got any other methods for finding out ring sizes, especially ideas on how to get a ring size in secret to be able to buy a surprise engagement ring in the perfect size!