White gold is one of my favourite precious metals and is still a popular choice for bespoke jewellery. However, I worry it is often chosen as a budget white metal option as opposed to Platinum rather than being selected for its own merit. This is because white gold is traditionally Rhodium plated; what you see in jeweller's windows is actually white gold coated in a Platinum-looking layer of Rhodium. This disguises the white golds' natural colour, making it look like Platinum but with a less scary price tag. Those who buy a white gold piece of jewellery will find it soon develops a 'discoloured', 'yellowy' patch where it wears most. This can 'tarnish' (excuse the pun) the whole experience, spoiling the enjoyment of purchasing a special piece of precious jewellery.
What I would like to encourage is Rhodium-free gold!
White gold does not have to be rhodium plated. Historically, white gold was plated in Rhodium because the first white gold alloys were not very successful. However the 9ct and 18ct white golds available are a lovely colour that does not have to be plated to appear white in tone. Yes, if you compare natural, non-plated white gold side by side to Palladium, Platinum or Rhodium plated gold, you will see a difference. But individually, natural white gold will appear white. 9ct white gold has a slightly creamier, golden hue. 18ct white gold is darker, almost gunmetal in tone. Both these warm white tones can suit a lot of skin tones better than the stark, icy cool white of Platinum, so it is always worth trying them all on before making your final decision on metal.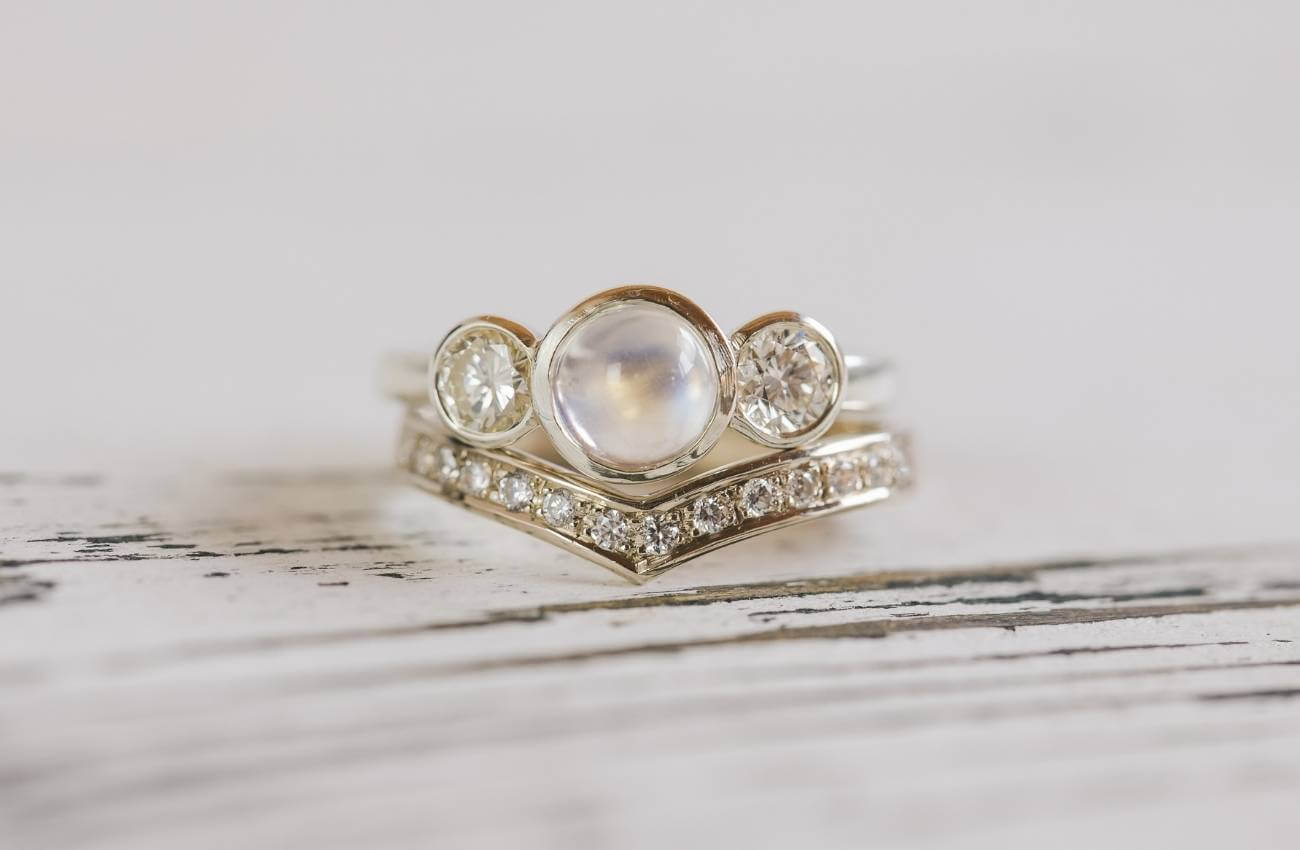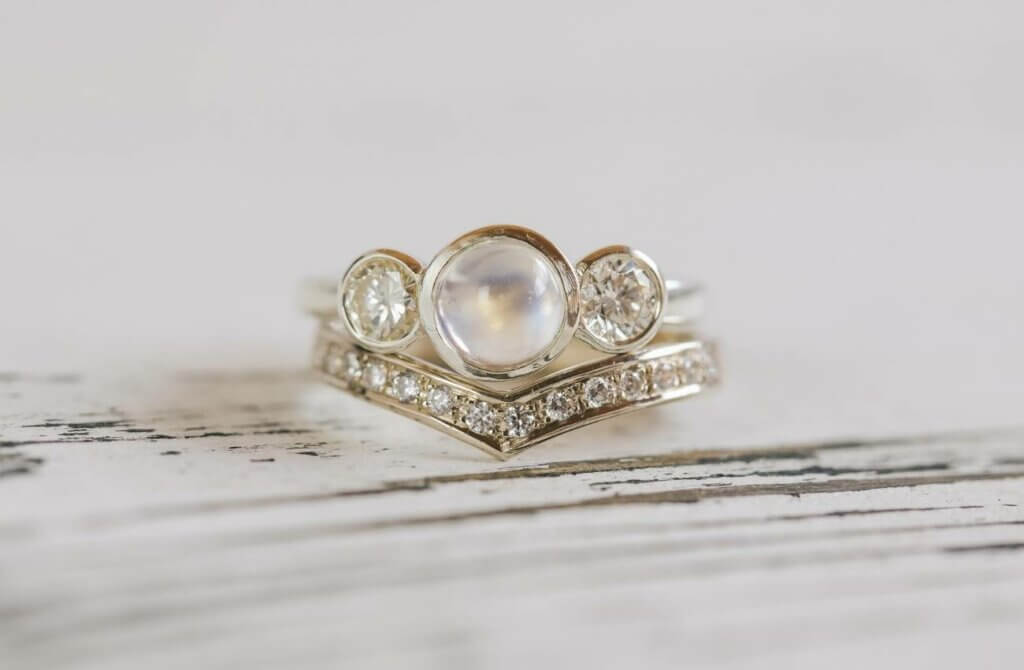 Back to basics
To truly understand the issue of Rhodium plating, you need to understand the make-up of white gold. In its natural form, gold is yellow, period. It is rarely made into jewellery in its natural state because it is just too soft. Gold is discussed in terms of 24 parts (or carats) and is always made into an alloy (a combination of metals), usually seen in 9 or 18ct in the UK. This means that the ratio of the alloy is 9 or 18 parts gold mixed with other metals to ascertain desirable strength and colour properties.
If the other metals in the alloy are mostly copper or silver, then the gold will remain yellow in colour. If the other metals are Palladium in the UK, or a mixture of Palladium and nickel in the US, then the resulting alloy is bleached to a white tone.
As so many people are allergic to nickel, Rhodium plating was introduced to provide a barrier between the white gold and the wearer's skin. It is now forbidden for nickel to be present in modern jewellery in the UK, but this is not the case in the US. This means that white gold jewellery made in the UK is more expensive than the US because the alloy is made up of more expensive, but much less reactive, metals.
Rhodium is the most dazzlingly bright white precious metal that exists; it suits the contemporary taste for bling and chrome-like sparkle. Because the colour of Rhodium is so close to the icy white of diamonds, it is hard to see where diamonds end and the metal begins, therefore making the stones appear larger.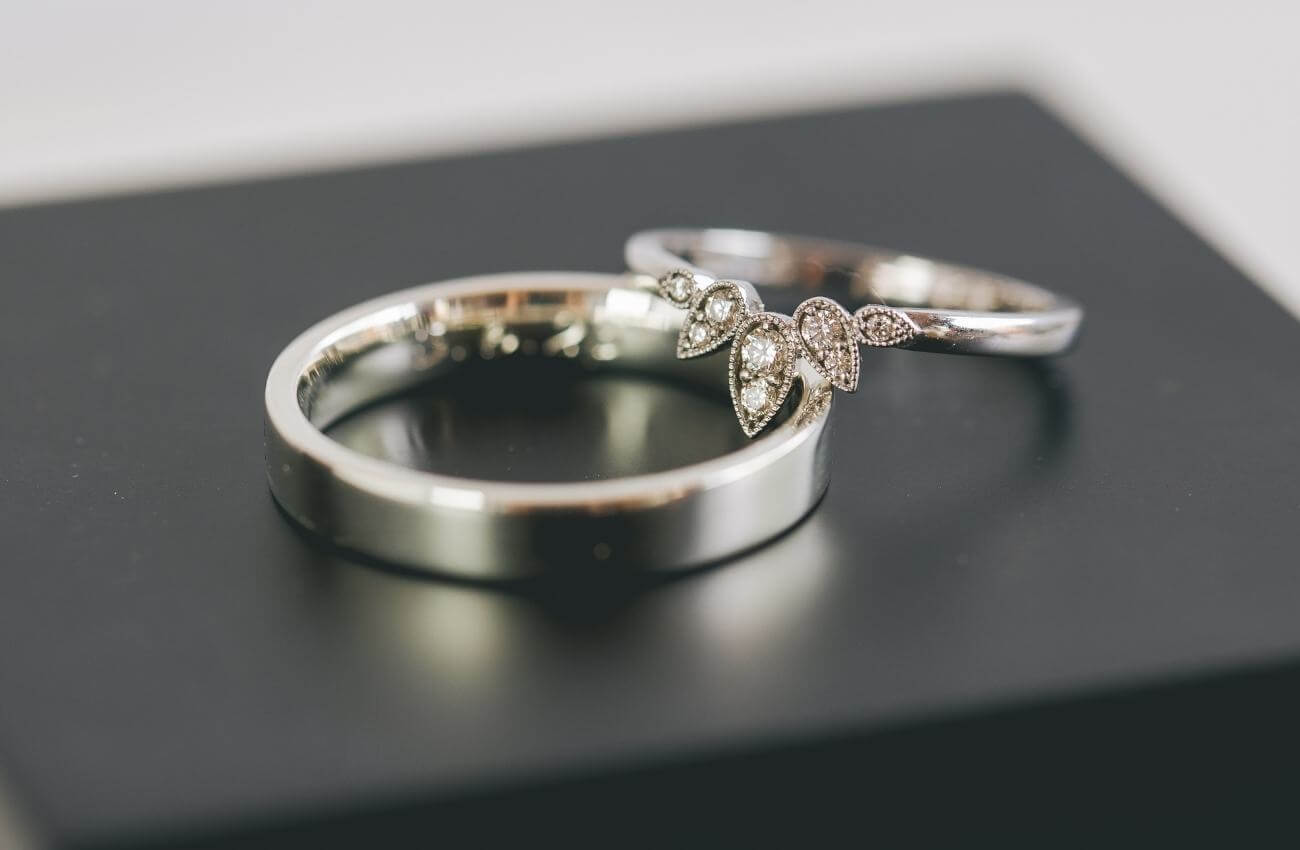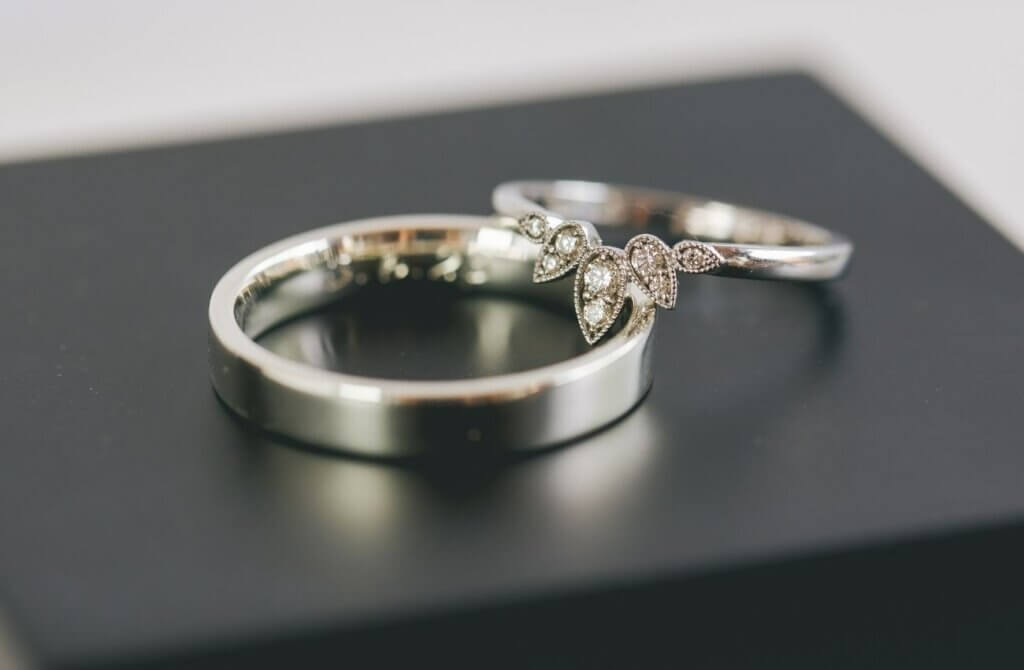 However…
I have three main issues with the concept of plating metals:
Firstly, in my opinion, natural materials age far better than those which have been covered up and altered by man.
Secondly, the process is incredibly toxic to the environment.
Finally, to Rhodium plate gold means regular visits to the jewellers to have the piece re-plated, so you are without your beloved jewellery for however long the jeweller takes to do the process.
1. The ageing process
Rhodium plating is often advertised as a tough coating for your jewellery, which will help to protect it from knocks and scratches. It is true that Rhodium is a tough metal, so much so that it is not considered feasible to make into jewellery because it is so brittle. But let's get this clear: precious metals are not hard wearing or particularly durable, especially not in comparison to manmade metals such as stainless steel. And anyway, plating is only ever microns thick – hardly a protective armour for your beloved jewellery!
Rings are the most at risk for wear and tear as they come into contact with everything your hand does. Door and drawer handles, cutlery, sinks, pots and pans, tools… they are all made of much tougher metals. When your ring hits these, it will leave a mark or wear down the surface of the metal. If the ring is plated, then the plating will wear over time, revealing the true colour of the metal beneath. This 'discoloured' patch, in a side-by-side comparison to the cold white of Rhodium, will look very yellowy.
I think the best analogy for the ageing process of plated metal is found in architecture. Buildings made of natural materials such as stone age gracefully as they soften into their environment. Compare that with a brutalist concrete monstrosity and there is no comparison. Concrete will stain, crack and darken; manmade materials age quickly and far less charmingly.
The same goes for jewellery. White gold will burnish over time, collecting a patina of marks and fine scratches that document the life of the piece. Put plating on it and it will wear in patches where it receives the most knocks, and not in a nice way. The contrast between the true colour of the gold with the bright Rhodium will make the gold look sickly. Leave it natural, and it will look 'white' and age better.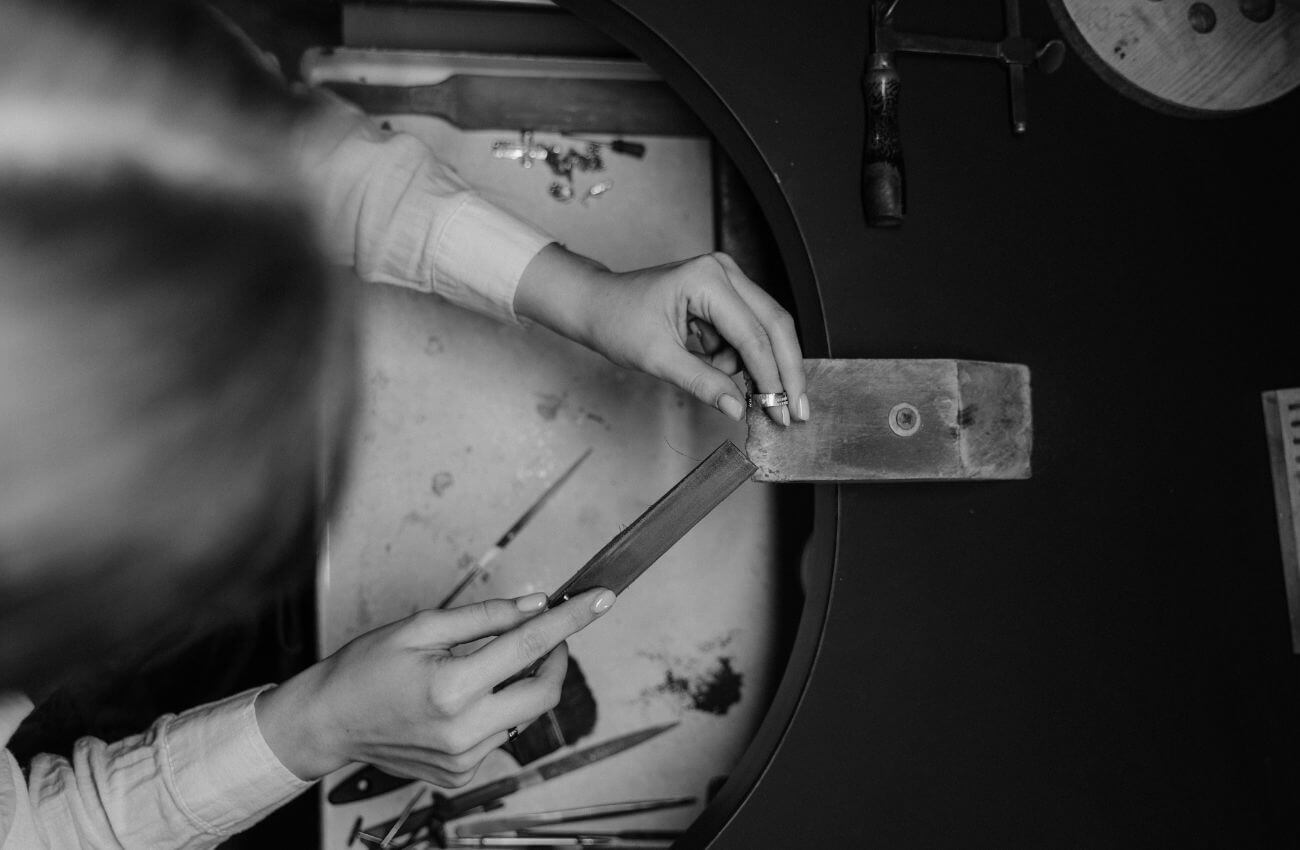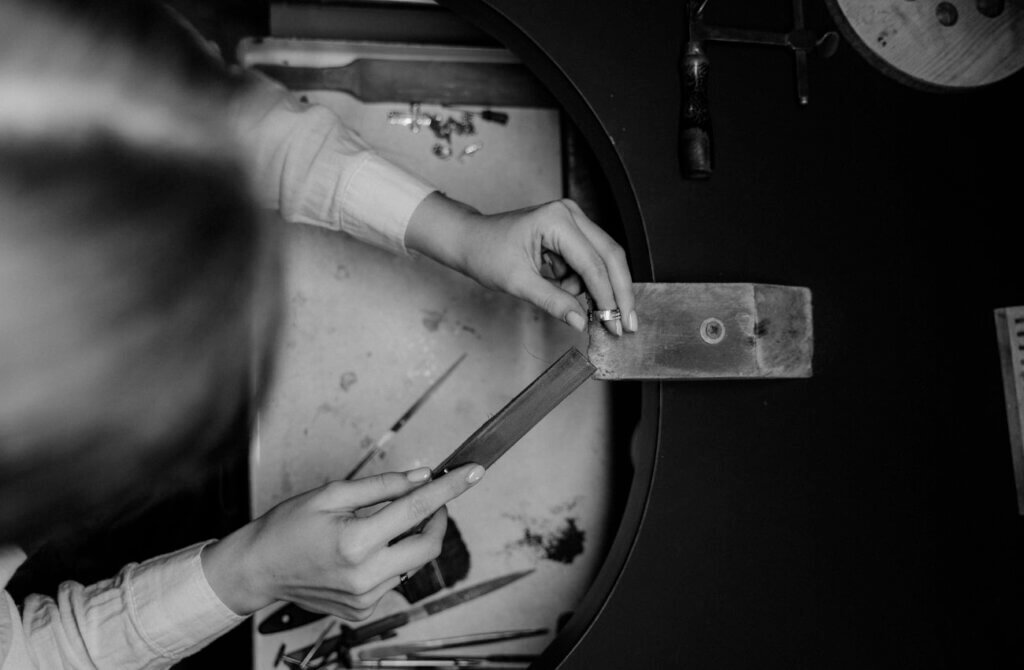 2. The true cost of plating
By the cost, I don't just mean financially, but the value of Rhodium is incredibly volatile. It is a by-product of Platinum mining and, therefore, is priced depending on availability. Rhodium is an incredibly rare and precious metal, which can cost ten times as much as gold if not more! But it can also cost the environment dearly. Most commonly, the electroplating process is used so don't be fooled by the term 'dipping'. This is a phrase high street jewellers are very fond of as it conjures images of your jewellery being dipped into a vat of liquid glistening and bright white metal. While your piece of jewellery is dipped into a liquid, this liquid is actually a heated tank of Rhodium sulphate, sulphuric acid and water. An electric current is run through the jewellery, which acts as a cathode or negative electrode so that the rhodium particles are attracted to it, forming a permanent bond between the metals. The resulting effect is a micron-thick coating on the outside of the jewellery. Does this not raise the question of whether the base metal needs to be gold in the first place? When the solution is finished with, it then needs to be disposed of which raises obvious environmental issues.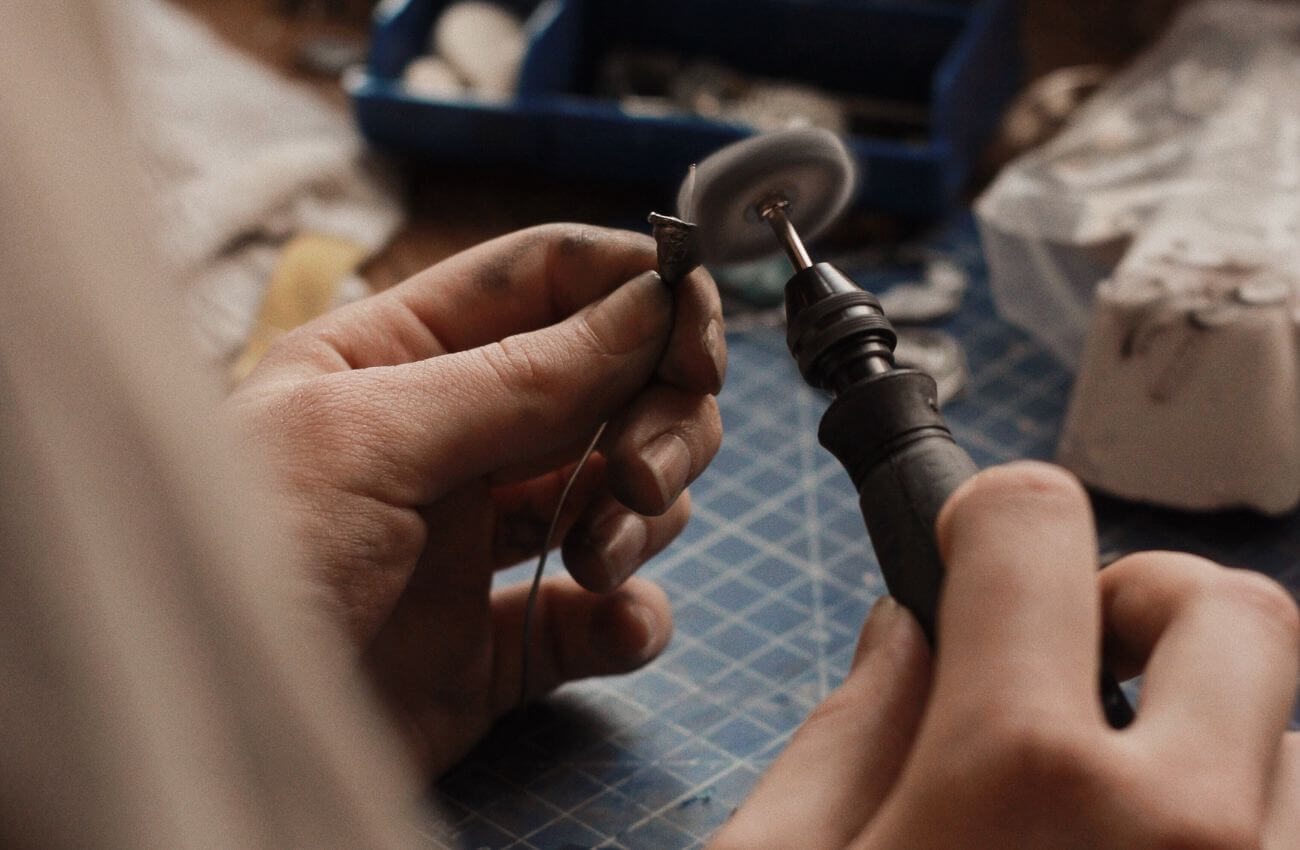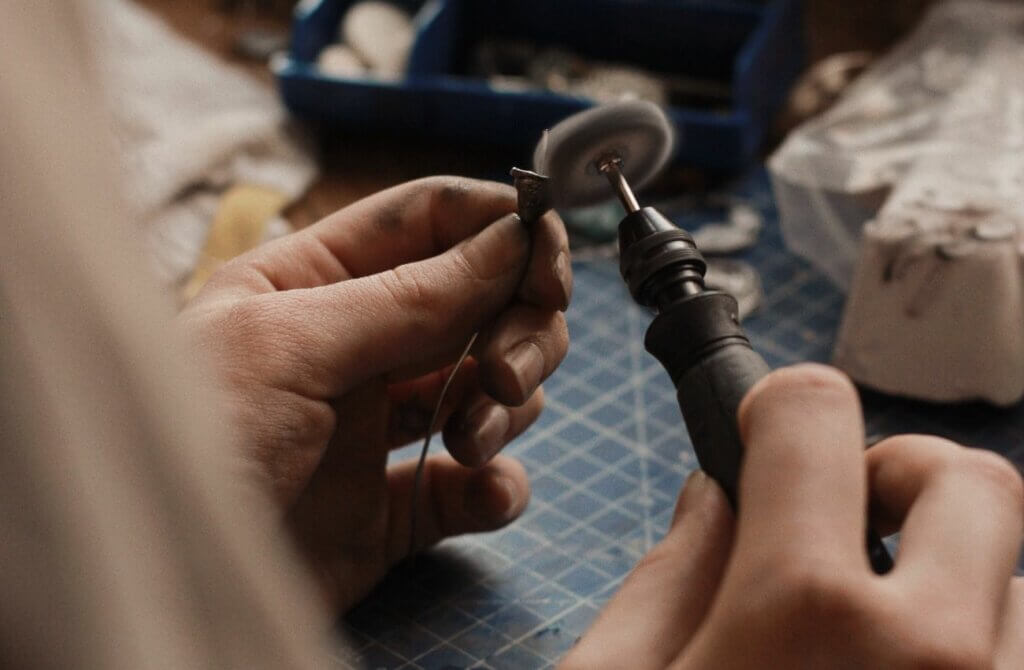 3. Time and inconvenience
So you've been presented with a beautiful piece of white gold jewellery. Do you really want to part with it as a regular occurrence while a jeweller re-plates it for you? It is not a quick process as the piece of jewellery has to be scrupulously cleaned and re-polished beforehand. A worn piece of jewellery will be grubby and so will not plate well. It must be considered that every time jewellery is polished, you will lose metal. To polish metal is essentially to scratch the hell out of it, thus wearing away the surface and gradually thinning it out.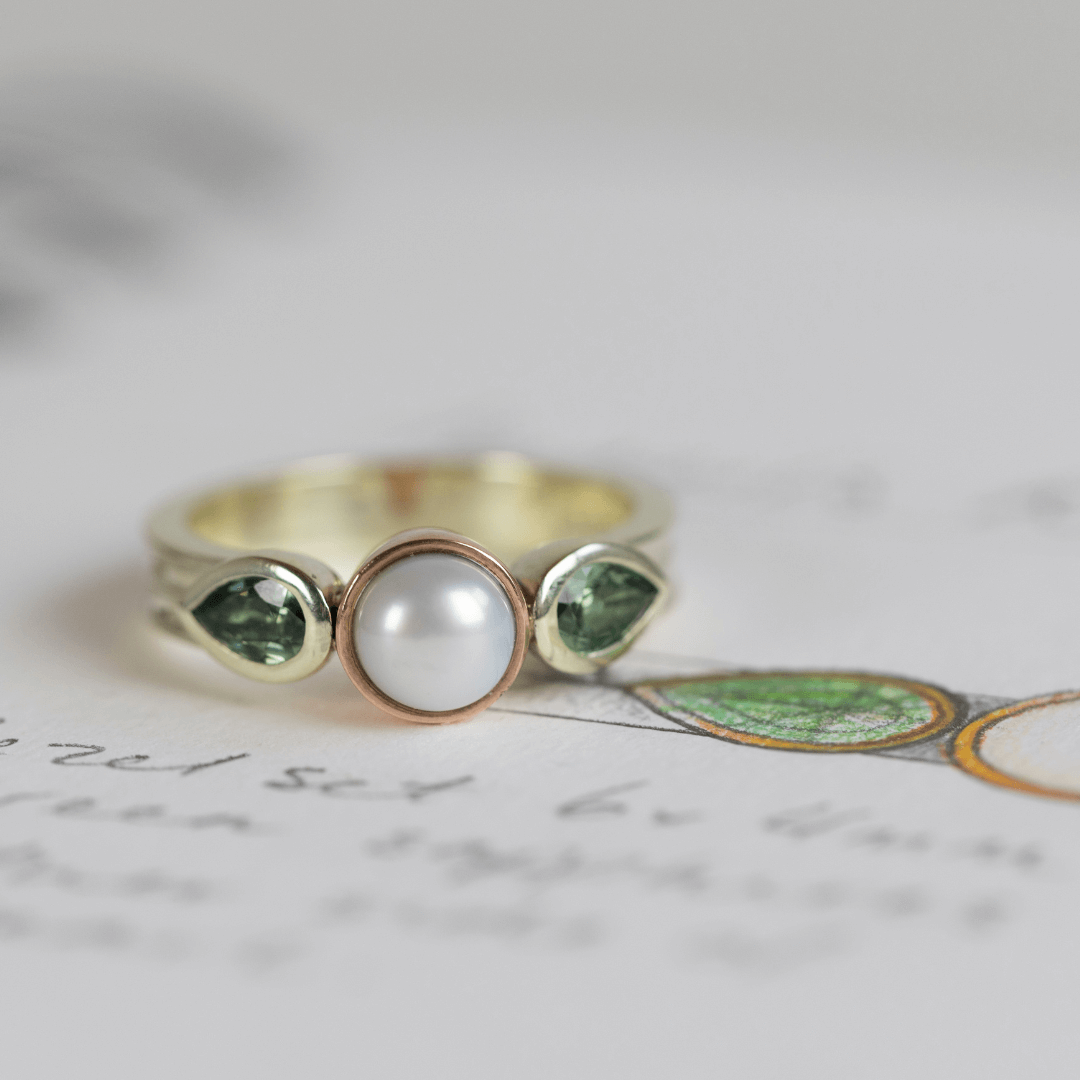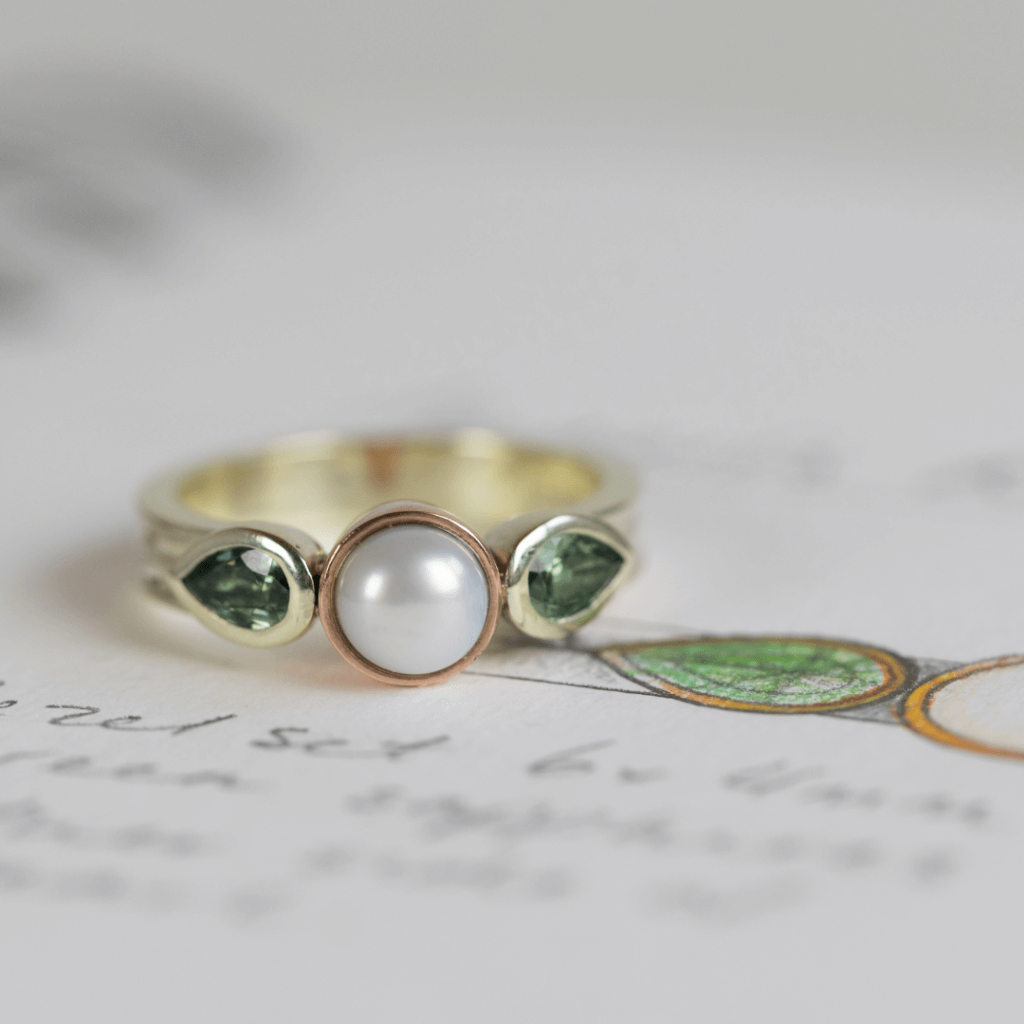 The plating on rings will wear really quickly but pendants and earrings will take a lot longer as they are not battered on a day to day basis with general wear and tear. How quickly it takes to wear depends entirely on your lifestyle; we're talking anything from 6 months to two years. Before opting for Rhodium plated white gold, you do need to think carefully about whether you are willing to take your jewellery in to be re-polished and plated on a regular basis for it to be looking its best.
---
And here is one I made earlier…
Here are some of my designs featuring natural, un-plated white gold in all its natural glory to showcase this beautiful metal.
Tom and Jordan's 9ct White Gold Engagement and Wedding Rings
The crisp, cool whiteness of the diamonds in Jordan's engagement ring stand out from the metal because of the slight contrast in their colour, rather than the stones disappearing into the metal.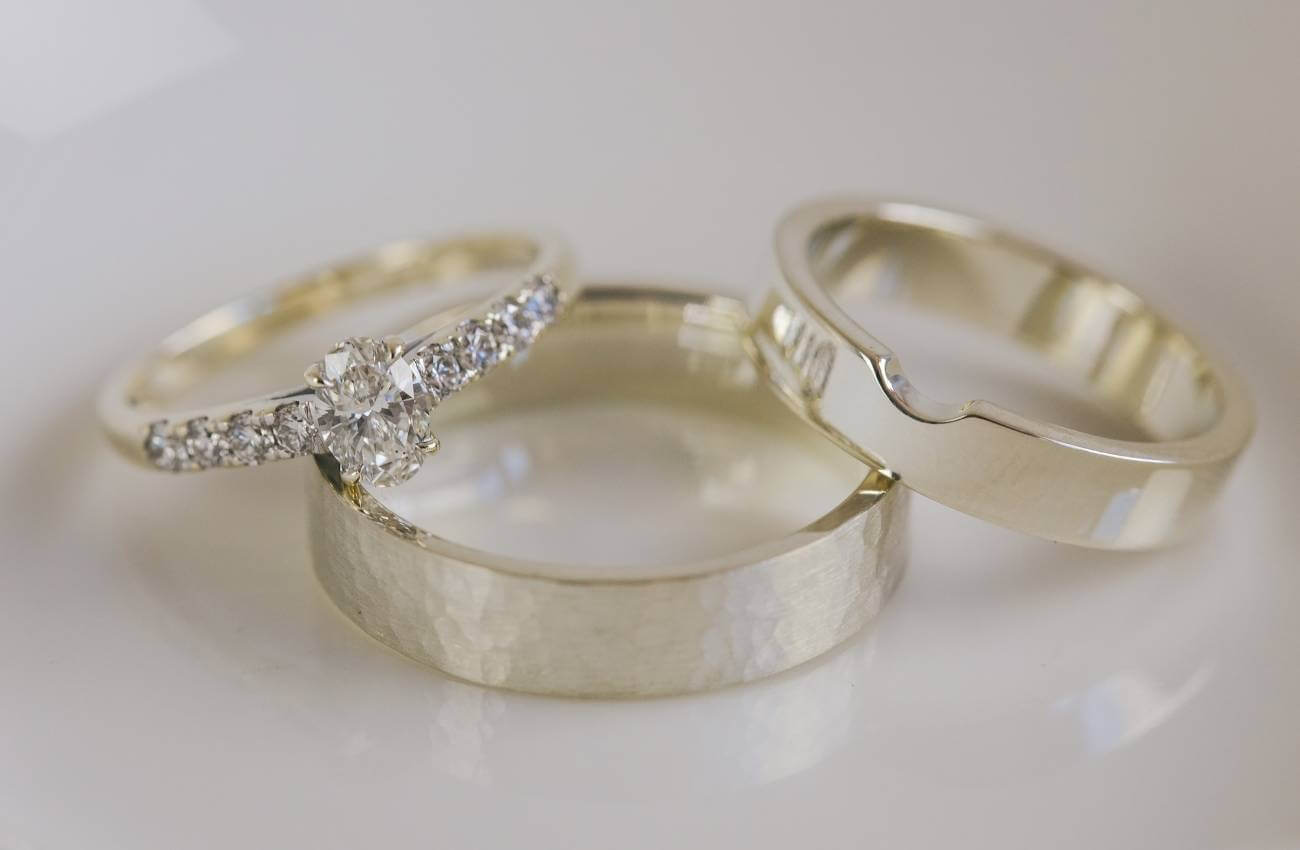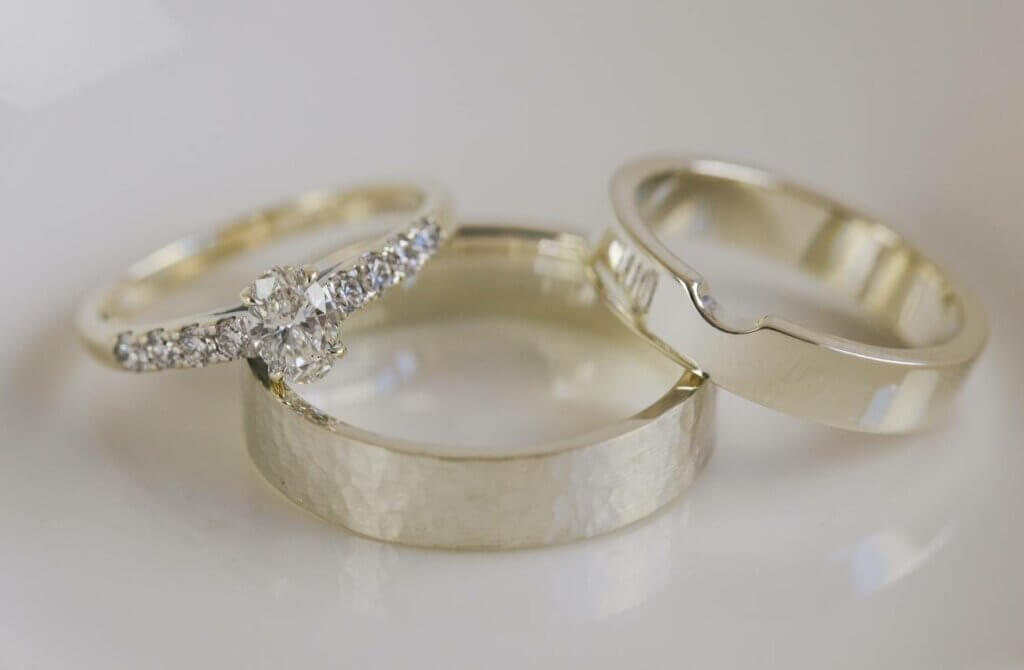 ---
A Sunset of Metals
I worked with the different natural colours of gold in this commission to achieve a sunset graduation effect in this mixed metal wedding ring. The 14ct white gold layer (taken from an existing ring bought in Mexico) sits in the centre of the blue-white toned silver layer above and the yellow gold stripe below, acting as a mediator between the two opposing colours. In its original incarnation, the 14ct ring was Rhodium plated but this had worn away and formed the starting point for this remodelled design.
---
9ct White Gold Heart Dress Rings
These two rings were commissioned for twins as a gift from their mum and she opted for natural 9ct white gold as she liked the warm tone and to reduce the maintenance on them as they wouldn't need rhodium plating in the future.
---
Natural 18ct White Gold Engagement Ring
Jonty had done some research online and discovered a love for natural white gold when looking into finding the perfect engagement ring for Connie. He was disappointed not to find any option for un-plated white gold on the high street, and so bespoke was the perfect route for him.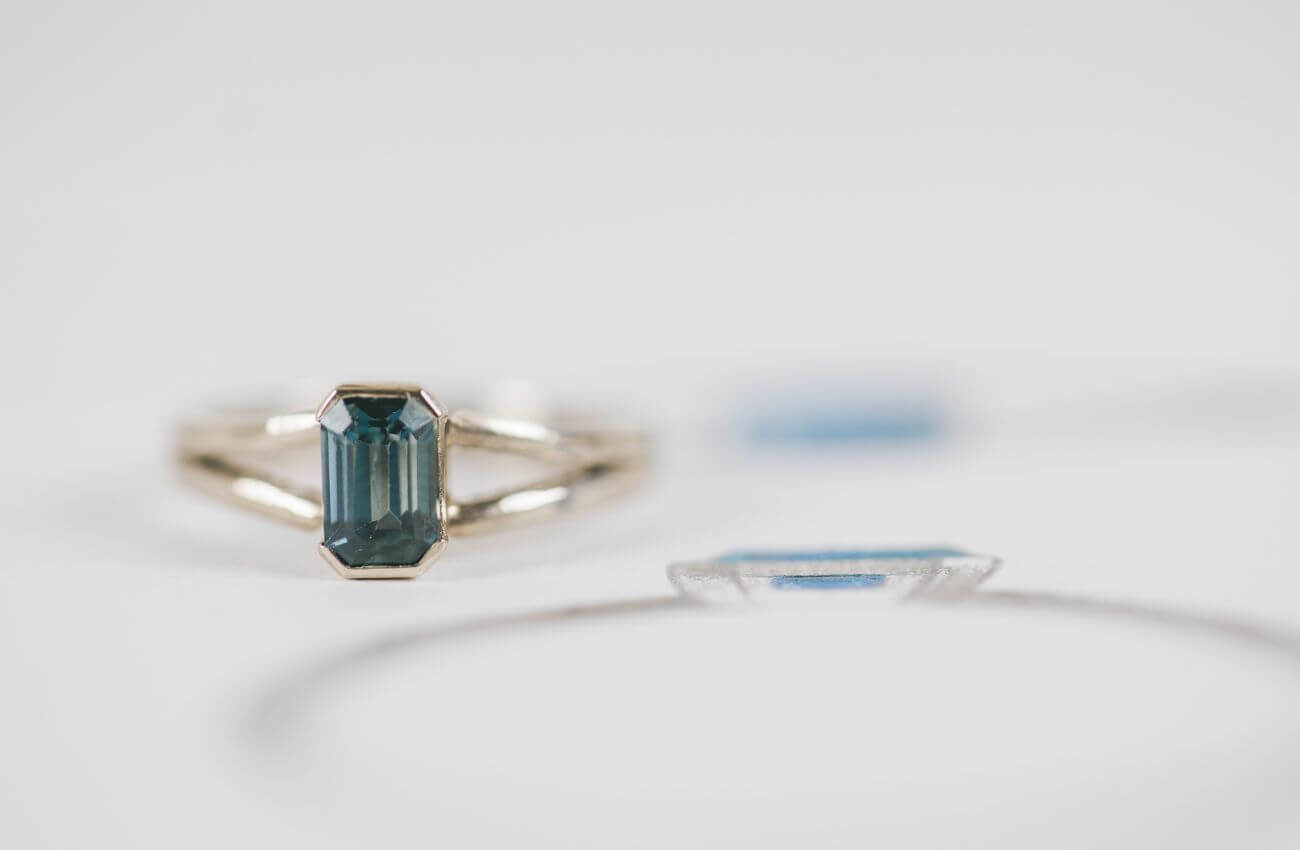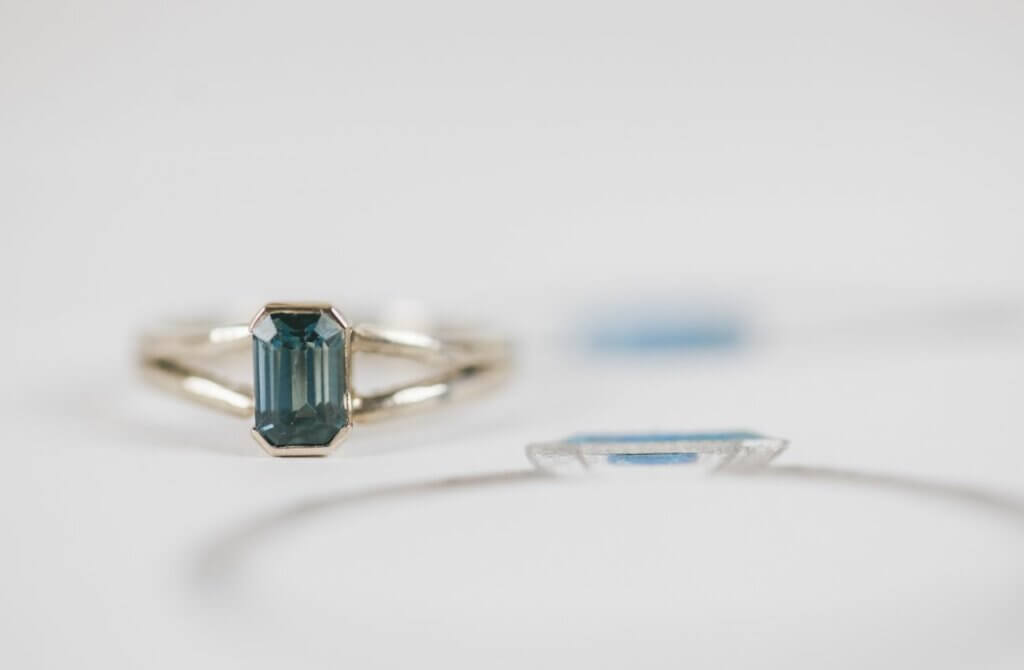 ---
Emerald and Diamond Eternity Ring
Sarah's eternity ring is made from natural 18ct white gold to complement her wedding and engagment rings where the rhodium had worn away over time. She loved their natural warmer tone and so embraced this with her new ring.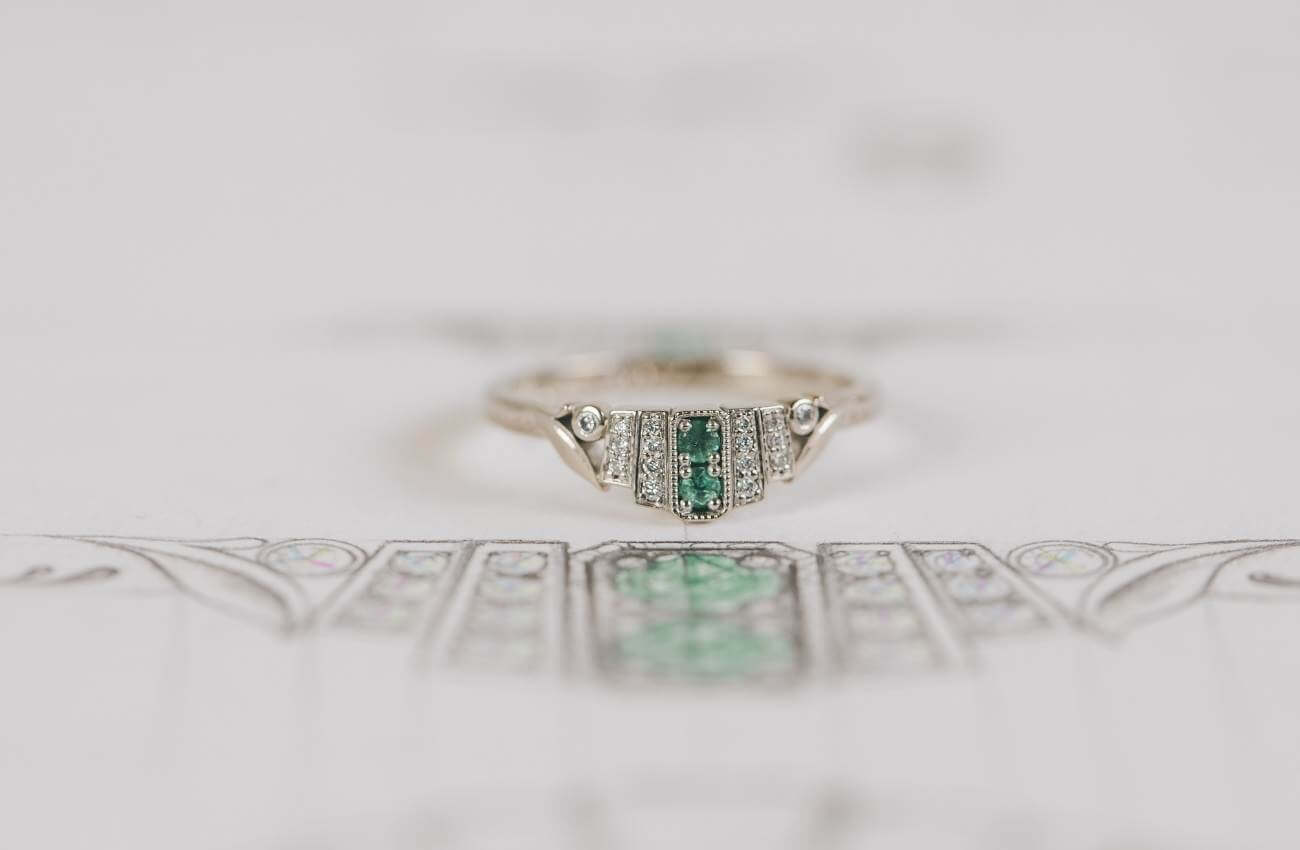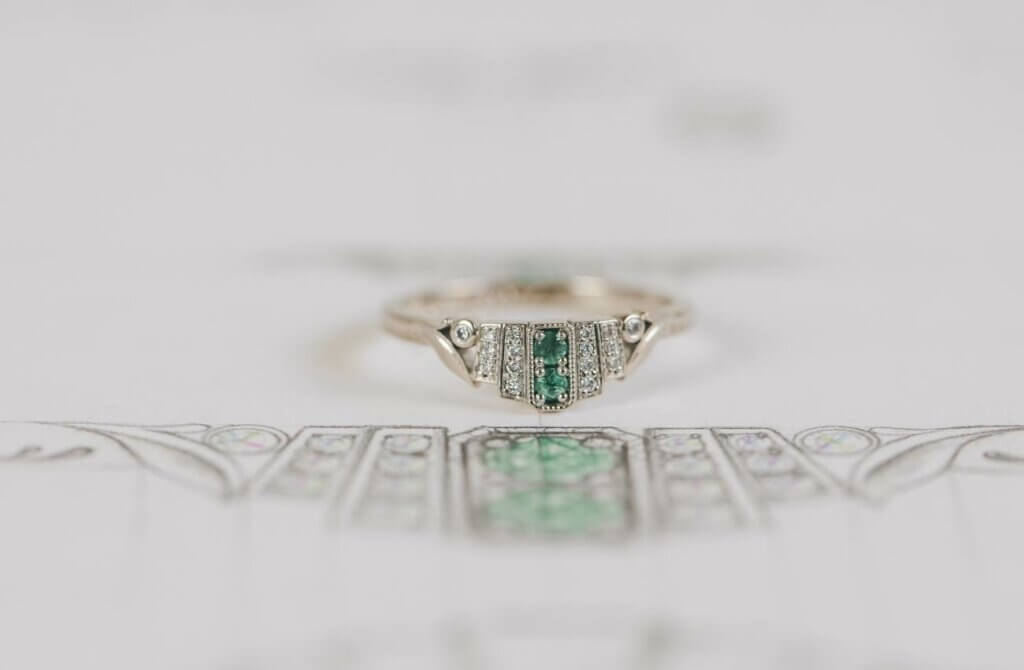 ---
Art Deco Inspired 18ct White Gold Eternity Ring
The warmth of the white gold complements the greyness of the old cut diamond in the centre. It also contrasts slightly against the white diamonds along the band and grain set in the fan details. When worn on the hand, this ring looks white. It would only appear different if worn next to a silver or platinum ring.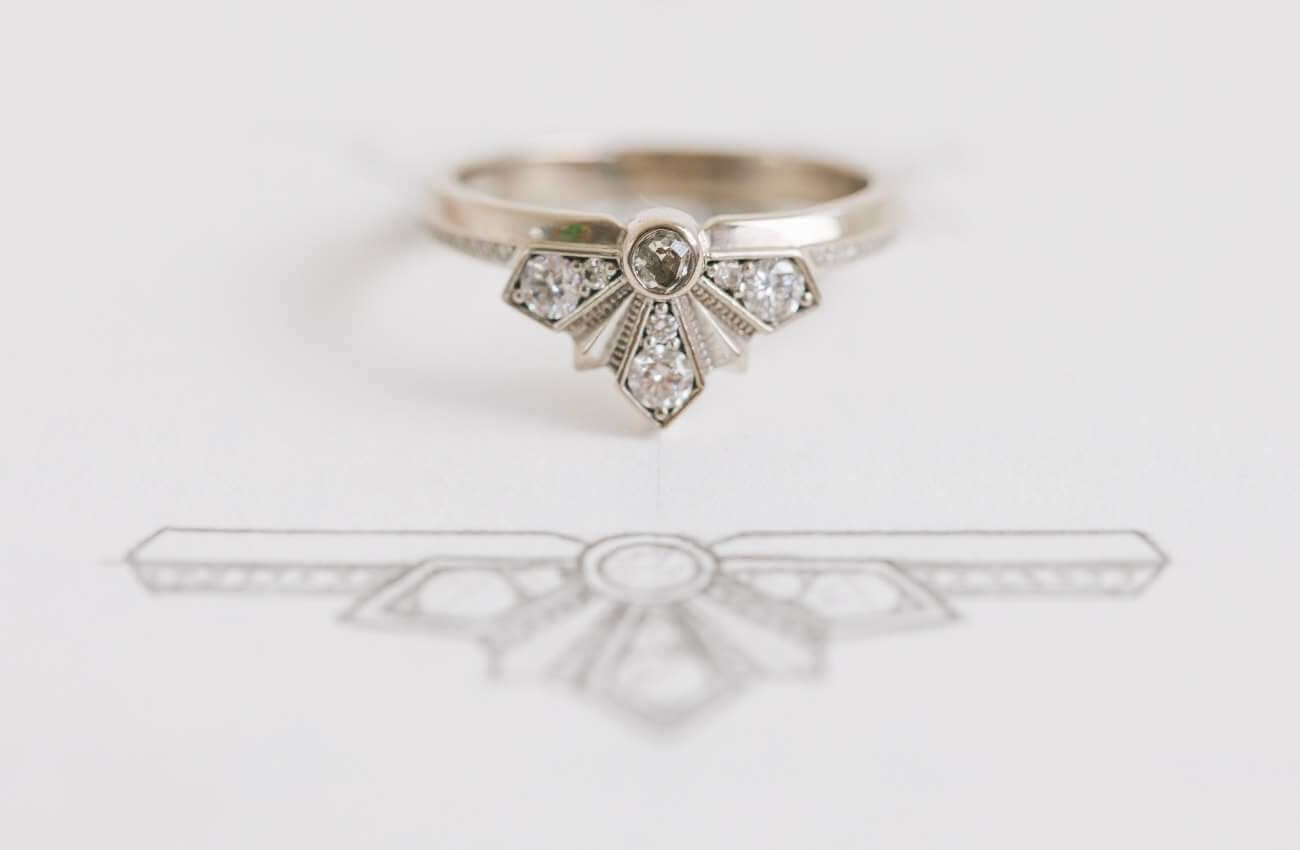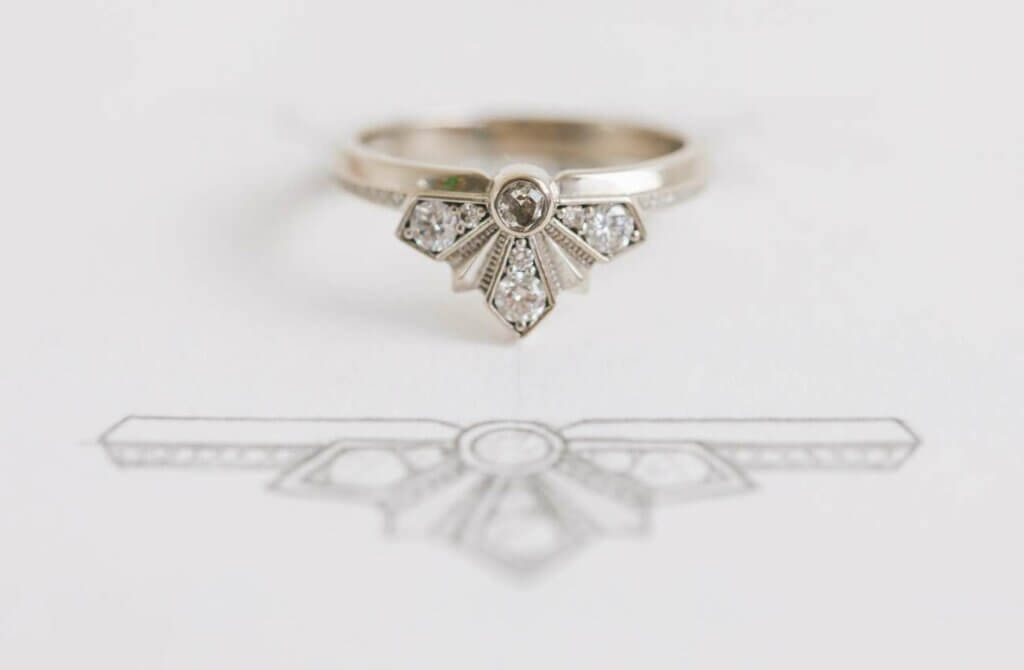 ---
18ct White and 9ct Rose Gold Wedding Band
The warmer tones of natural, un-plated white gold can often complement other coloured metals really nicely. This wedding ring is a combination of white and rose gold, and the earthy tone of white in the white gold just looks beautiful next to the rose.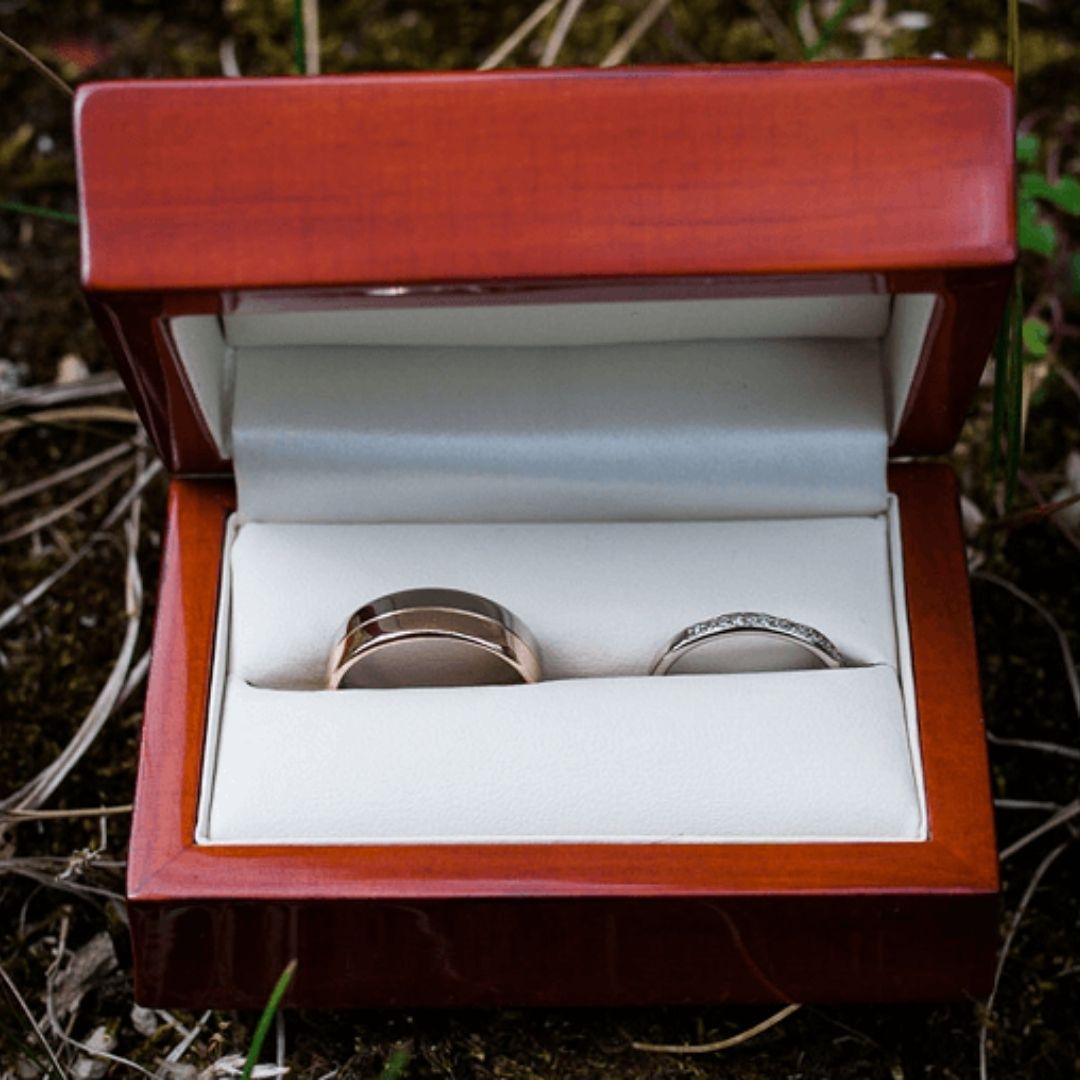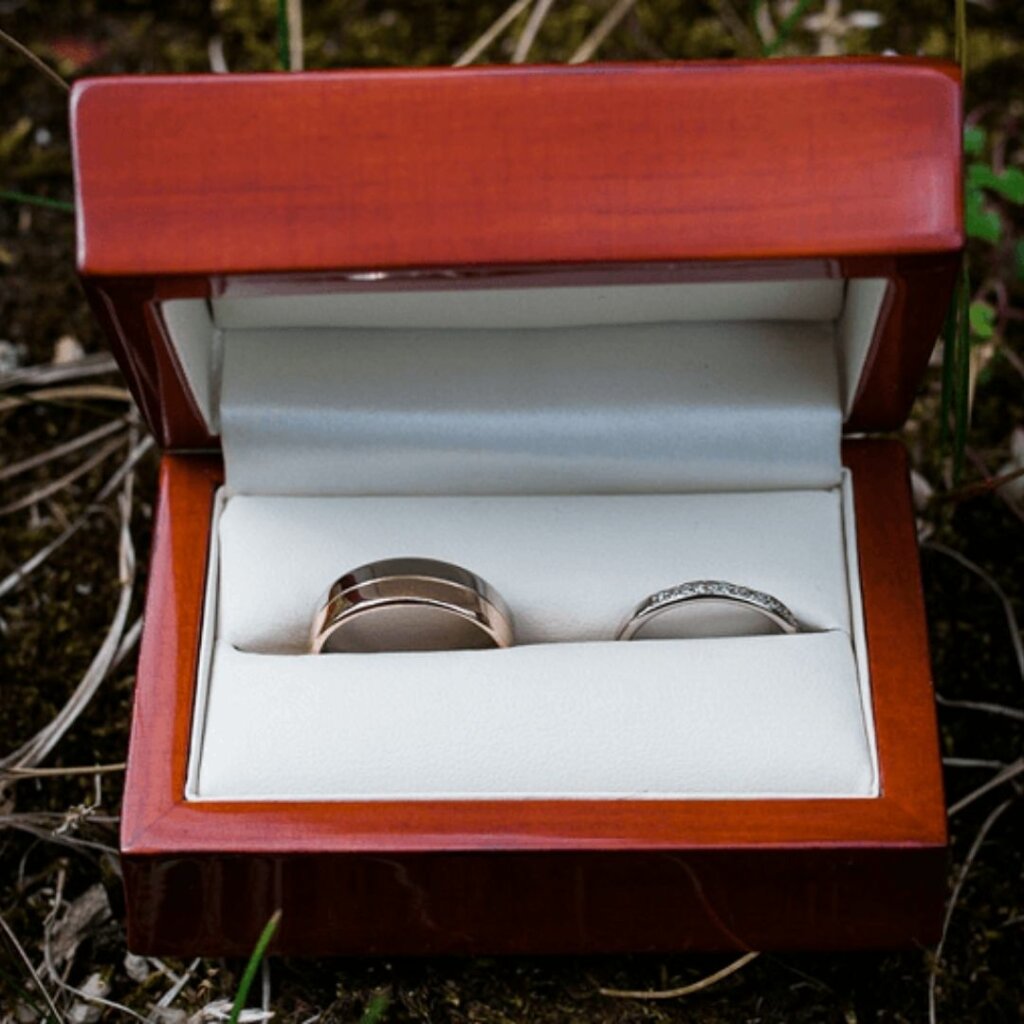 ---
So to conclude…
In my opinion, white gold should be left in its natural state. But most importantly, I think the consumer should be given the choice to plate it and they should most definitely have the opportunity to see it in its natural form without the plating. Who knows, more people might learn to love the warmer, darker colours of un-plated white gold like I do!
Leaving white gold au naturel would give more of a rainbow choice of white precious metals when it comes to bespoke jewellery. Clients can select which metal suits their skin tone; the colour of any stones included in the design, and of course, their budget.
I believe that everyone should have the option to make their own decisions on plating rather than it being thrust on them as a matter of course. There is simply not enough education available to general public on the high street and it frustrates me that so many people are left feeling negatively towards the jewellery industry. They may feel they have been deceived when the plating on their jewellery starts to wear and the true colour of the metal is slowly revealed. I say let's move away from this bling-tastic culture and let's give consumers the right to make their own decisions based on the facts.
---
How do you feel about Rhodium plating?
I'd love to hear your thoughts on the topic below in the comments, and if you're in the market for a bespoke jewellery design made in natural white gold, do consider getting in touch. I work closely with my clients to design bespoke wedding rings, bespoke engagement rings and all other manner of beautiful jewellery. I can also help remove the rhodium from your existing pieces if you'd like to strip off any remaining rhodium. Get in touch via the contact page to see how I can help.