Ryan came to me to design Caity's engagement ring last year. As he's based in Canada, we did all the designing via email and Skype. He had a good idea of what she liked so was confident to design it as a surprise. The end result was this stunning platinum, and 18ct rose gold ring with a diamond cluster setting, as photographed by their photographer during their engagement shoot.
Caity wanted me to design a complementary wedding ring to match the 18ct rose gold elements on her mixed metal engagement ring. We picked up on the teardrop-shaped overlays on the shoulders of her engagement ring for the shape of the band. We have also replicated the mill grained edges from her engagement ring to make them a complementary pair. Often this style of ring has the shaped element all the way around the band, but we kept the back section unshaped to allow for easy resizes in the future. The mill grained edging follows all the way around this.
Ryan wanted his ring to complement the colours of Caity's rings, so went for a combination of white and rose gold. One of my favourite features of his ring is the scratchy brushed finish that gives a unique style to his ring. It gives it a masculine feel and gives his ring a unique quality. He wasn't worried about matching the platinum of Caity's engagement ring so kept costs down by opting for 9ct white gold. He also chose white gold because he likes the warmer tone of it compared to platinum. I really respect that he decided to leave the white gold natural and un-plated. This means it is the natural colour without the rhodium plating that High Street jewellers apply by standard to all white gold (you can read more about rhodium plating here). Rhodium wears with time and needs re-plating, so not only does Ryan's ring look great, it requires no maintenance. The warm tones of the two colours of gold look great and will suit Ryan's skin tone really well.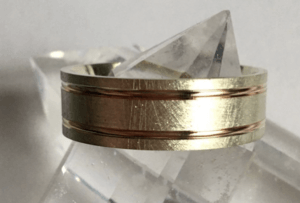 If you've been inspired by Ryan and Caity's rings and you would like to discuss some ideas for your own wedding rings, get in touch here.