The birthstone for September is sapphire – one of the 'big three' precious coloured gemstones (sapphire, emeralds and rubies).
Although you see sapphire jewellery in every high street jeweller's window, you rarely see any colour other than blue. It is a common misconception that sapphires are just blue – they come in every colour under the sun! Colours other than blue are known as 'fancy' coloured sapphires, but red sapphire is actually ruby as they are the same stone.
The colour that a sapphire presents is linked to the minerals around it while it forms, for example iron deposits for an orange-toned sapphire, or titanium for blue-coloured sapphires.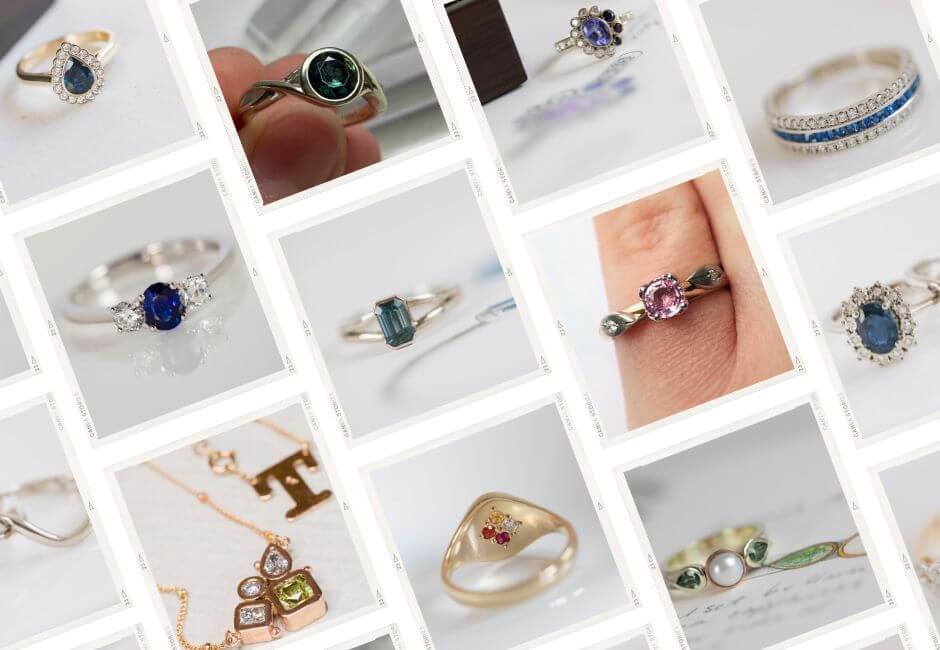 Sapphire Facts
Sapphires are from the Corundum family of minerals, the same family as ruby.
---
Sapphires measure at 9 on the MOHs Scale of Hardness (diamonds measure at 10), which makes them an excellent choice in terms of durability and longevity in jewellery.
---
In its purest state, corundum is actually colourless. Colourless (white) sapphires were once popular diamond imitations. However, white sapphires are rare – most corundum contains colour-causing trace elements. When the trace elements are iron and titanium, the corundum is blue sapphire. Only a few hundredths of a percent of iron and titanium can cause the colour, and the more iron the corundum contains, the darker the blue.
---
The deeper and more consistent the colour, the more valuable and prized the stone is. 
---
Green sapphires are often made up of layers or stripes of yellow and blue sapphire, which, when cut in the correct orientation, seemingly mix together to create green.
---
Some sapphires exhibit colour-changing properties, most often going from blue in daylight or fluorescent lighting to purple under incandescent light.
---
Due to their crystal structure, some cabochon cut sapphires (and rubies) display stars where the light hits them. This star effect is called asterism.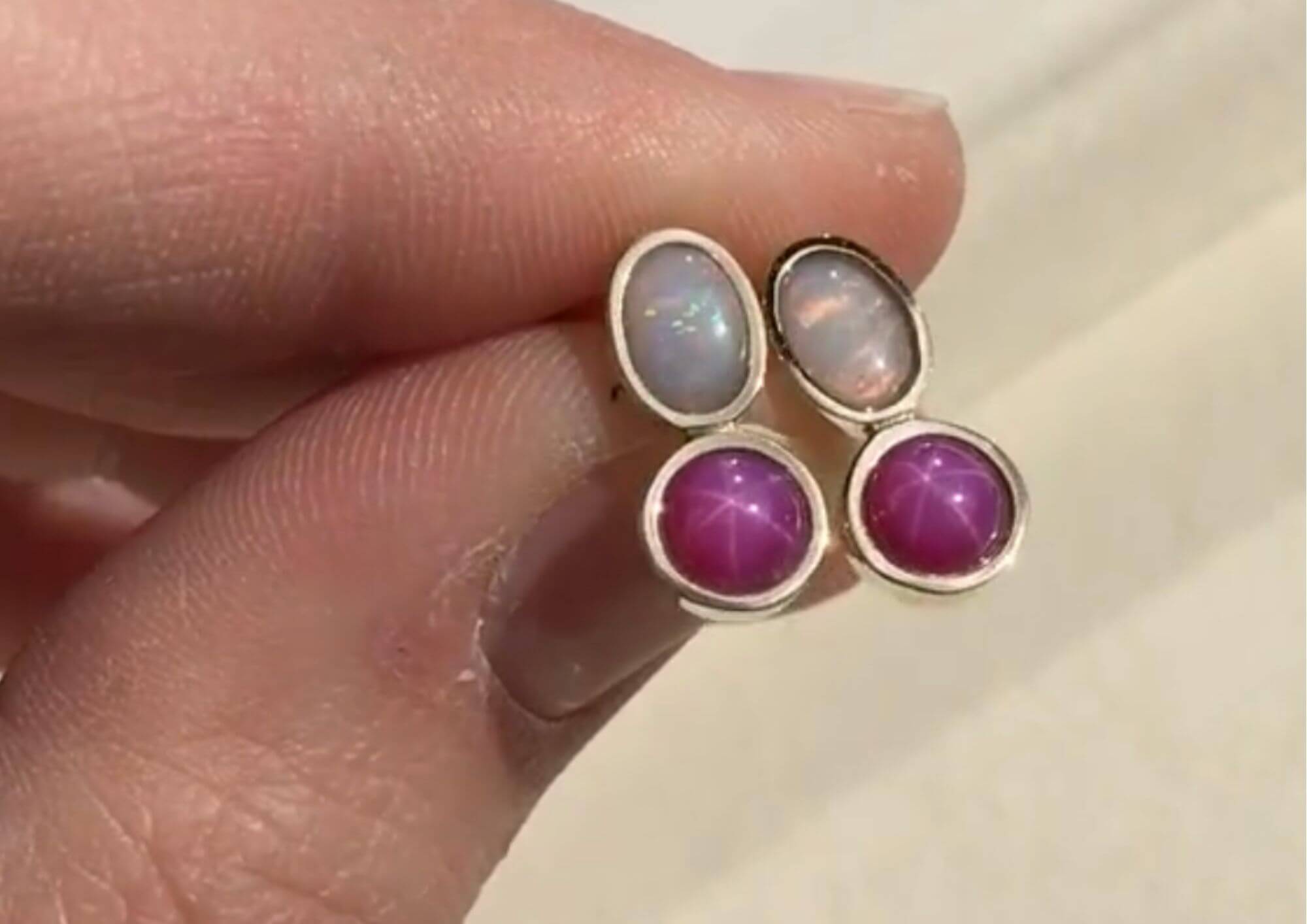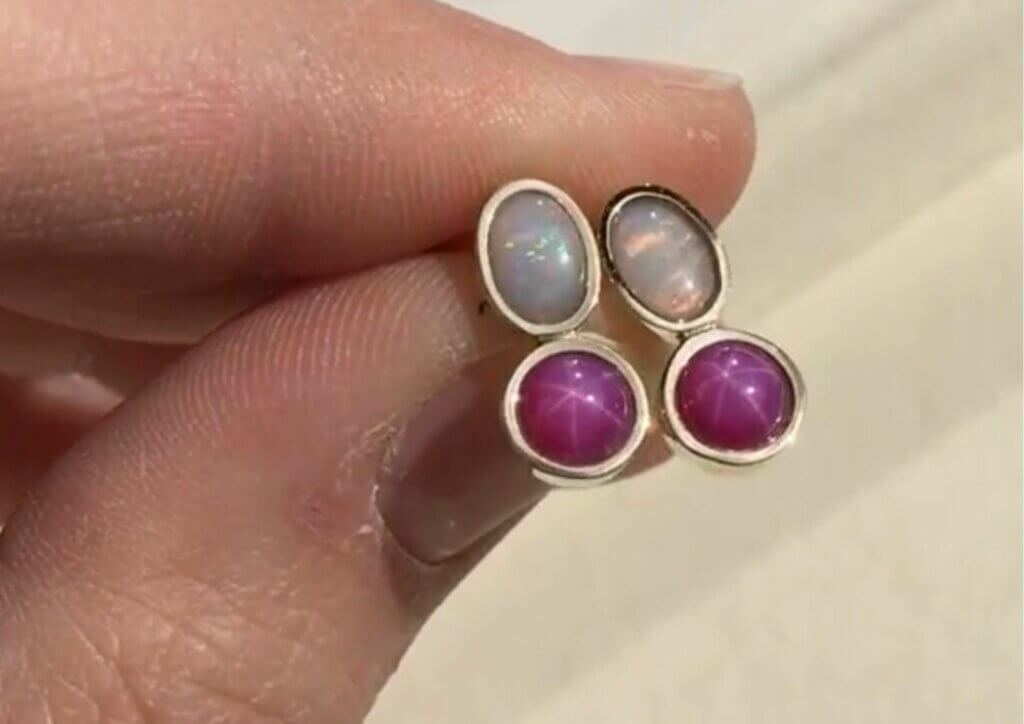 ---
Parti sapphires, also known as polychrome sapphires, display more than one colour in a single stone, making them a bi-coloured stone. The most common combination of colours is yellow and green/blue.
---
Sapphire Designs
Sapphire jewellery has been popular for a long time and for good reason. The durability, colour choice and lustre make sapphire an excellent choice for a piece of jewellery. Famous classic examples like Princess Diana/The Duchess of Cambridge's sapphire and diamond cluster engagement ring still capture our hearts, but these incredible and hugely varied gemstones make incredible centre pieces in more contemporary jewellery designs as well.
Here are some of my favourite that I have designed.
Pink Sapphire Engagement ring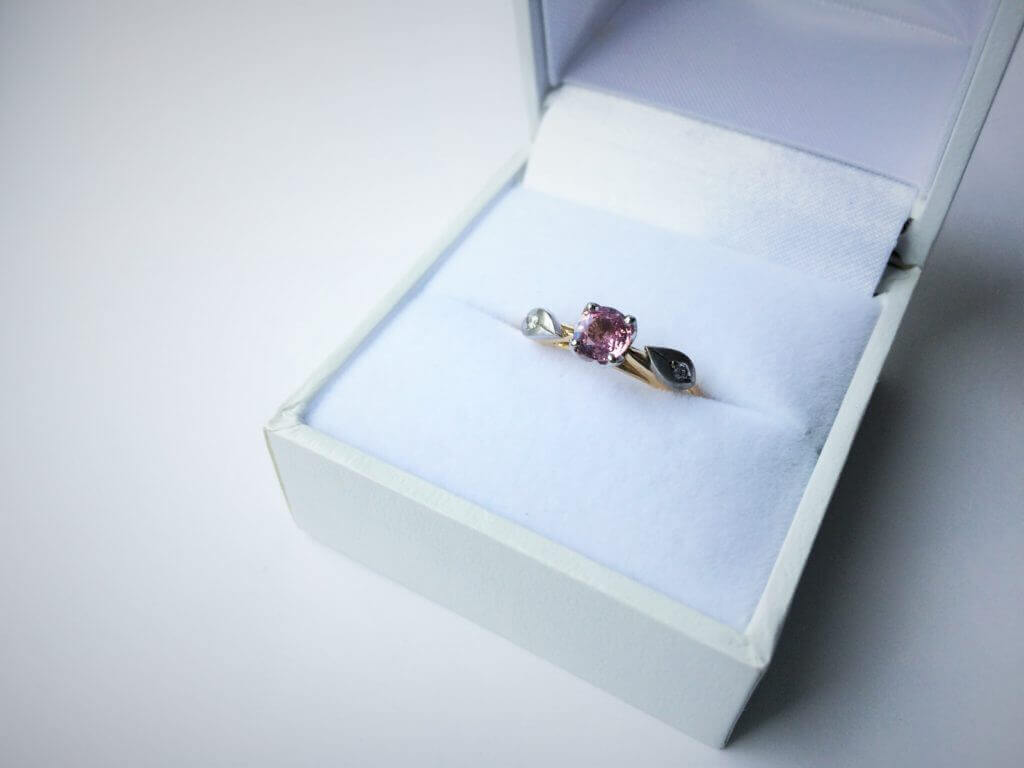 This pink sapphire ring was the first engagement ring I designed and made! Sarah wanted a girly pink stone in the centre, set in white gold but with a yellow gold band. We added white gold leaves to the shoulders with grain set diamonds to add some subtle sparkle. Pink sapphires come a range of tones, but are most commonly this vibrant shade. Click on the image to read more about this design and to see the stone before it was set in the ring.
---
Green Sapphire dress ring
Green sapphires are well and truly one of my favourite gemstones. I love their earthy tone – more subdued than a peridot and therefore easy to wear with other colours. It really suits being set in the creamy tones of natural white gold (no rhodium plating). Abby wanted a ring that included both her and her mother's birthstones, but her favourite colour is green, so she was so pleased that she could have the symbolism of the birthstone without it being blue as she had expected.
---
Deep Blue Sapphire and Diamond Scalloped Halo dress ring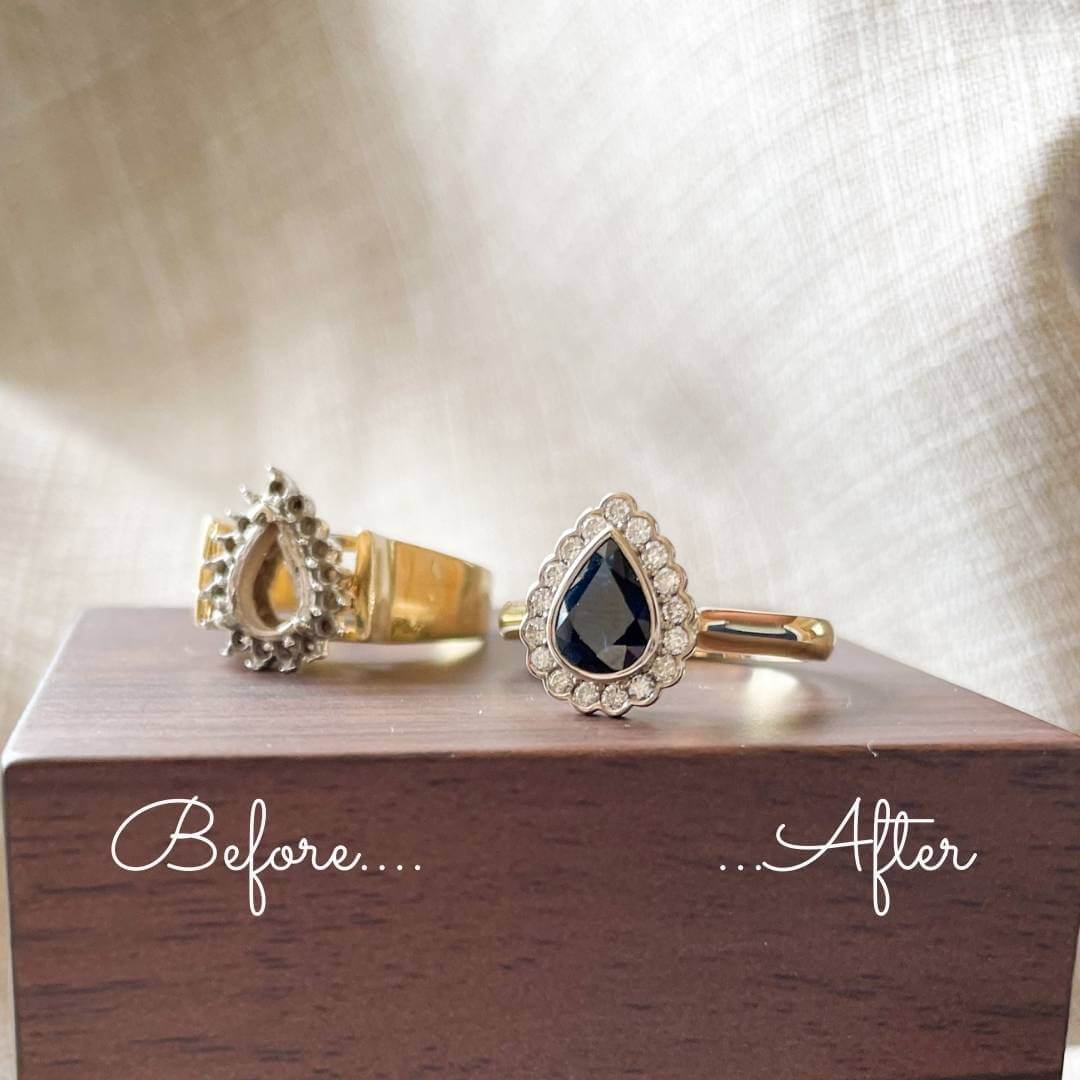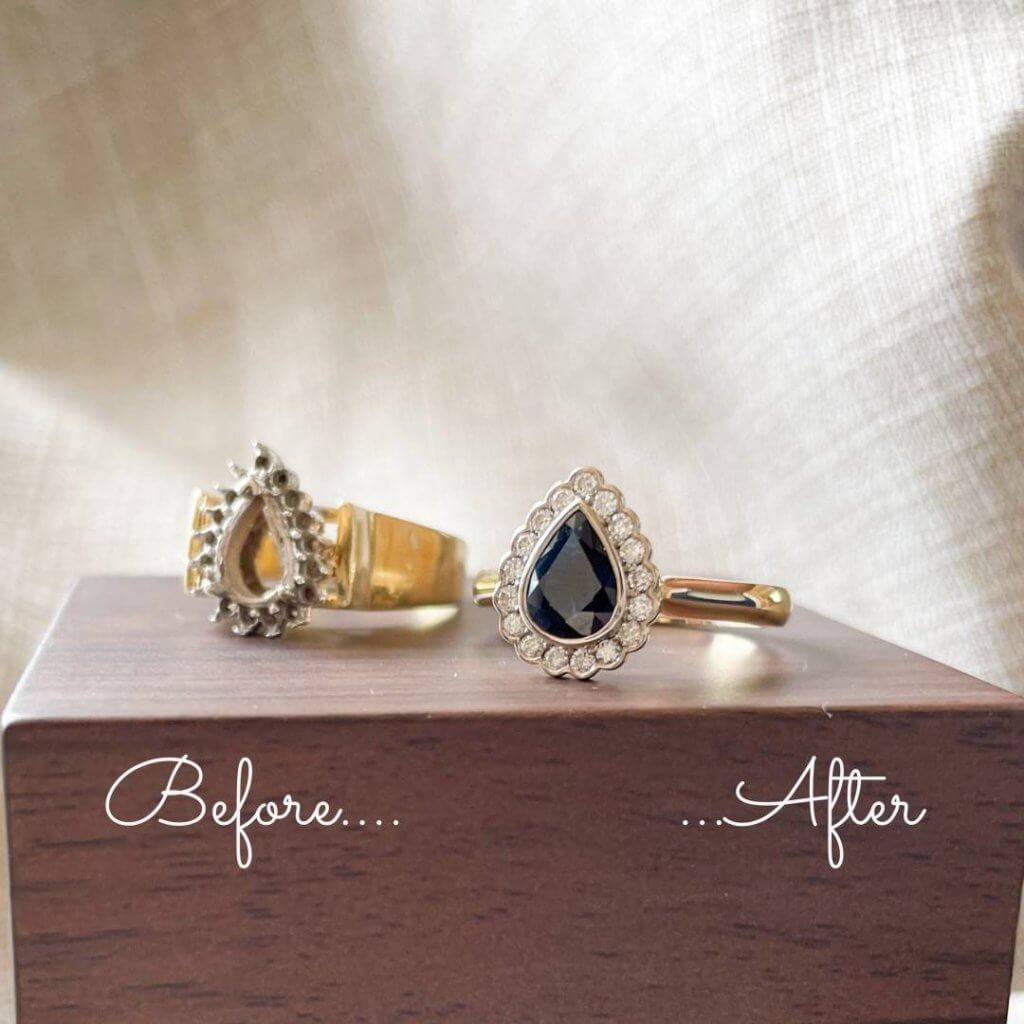 This customer had a very dated sapphire and diamond cluster ring that she wanted to update. We switched up the catchy claw settings for a low key and practical bezel setting for the pear cut sapphire, and framed it with a scallop shaped halo for the diamonds. Dark sapphires can suffer from a lack of light when bezel set, so this one is an open-tip style, meaning light can get it from the side of the setting to keep the stone from looking black. Click on the image for some more photos.
---
Teal Sapphire
Caroline and John sourced their own teal sapphire, which became the centrepiece for this organic twist style ring. The stone sparkle with yellow, blue, green, turquoise and teal flashes as it moves with the wearer.
---
Orange Sapphire Birthstone
I recently surprised my husband Marc with this signet ring to represent our family. The outside is hand engraved with a monogram of our initials, and inside the signet head are our family birthstones. I am represented by the diamond (April), and the ruby (July) and citrine (November) represent our daughters. For his September birthday, I chose an orange sapphire to complete the autumnal colour palette and to represent my auburn haired husband!
---
Cornflower Blue Sapphire and Diamond Eternity Ring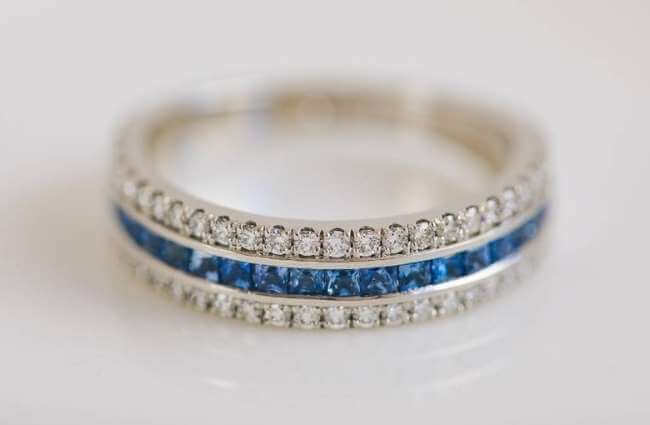 Katie wanted a classic but contemporary three row eternity ring. She was torn between sapphires or emeralds, but I sourced her some of each to select from in the flesh. I had both traditional dark royal blue sapphires and these stunning cornflower blue stones, and she chose these. She wears a lot of mid-blue so these suited her perfectly, and felt much more wearable than the deep blue of traditional sapphires. Stones always darken when set, especially when channel or bezel set, so that is always worth bearing in mind when selecting your stones.
---
Octagonal Cut Sapphire Engagement Ring
This stone has a beautiful spot of yellow when it hits the right angle – hard to capture on camera, but a totally unique element for this bespoke engagement ring. Instead of a full bezel setting, we opted for an end only with windows on all sides to flood this unusual stone with light and maximise the bi-colour element.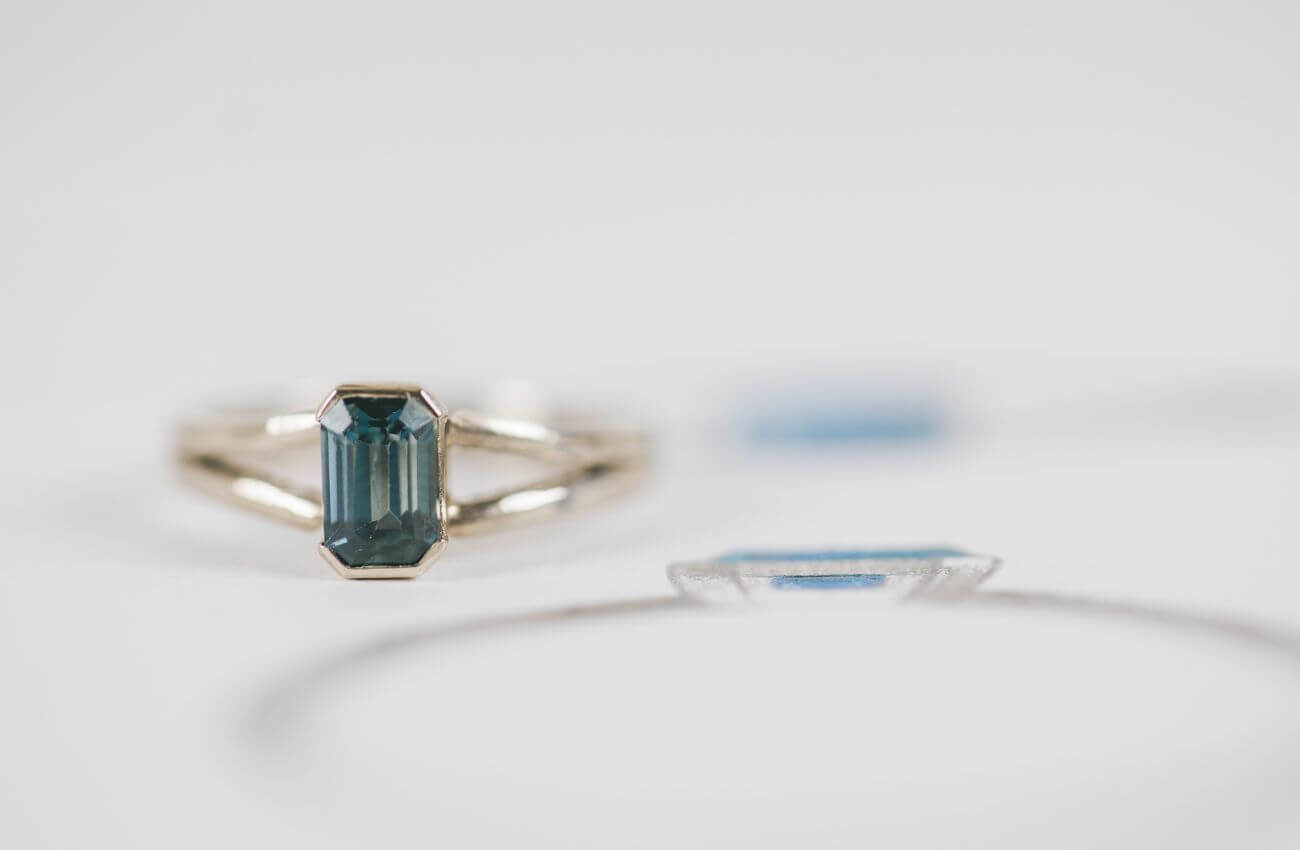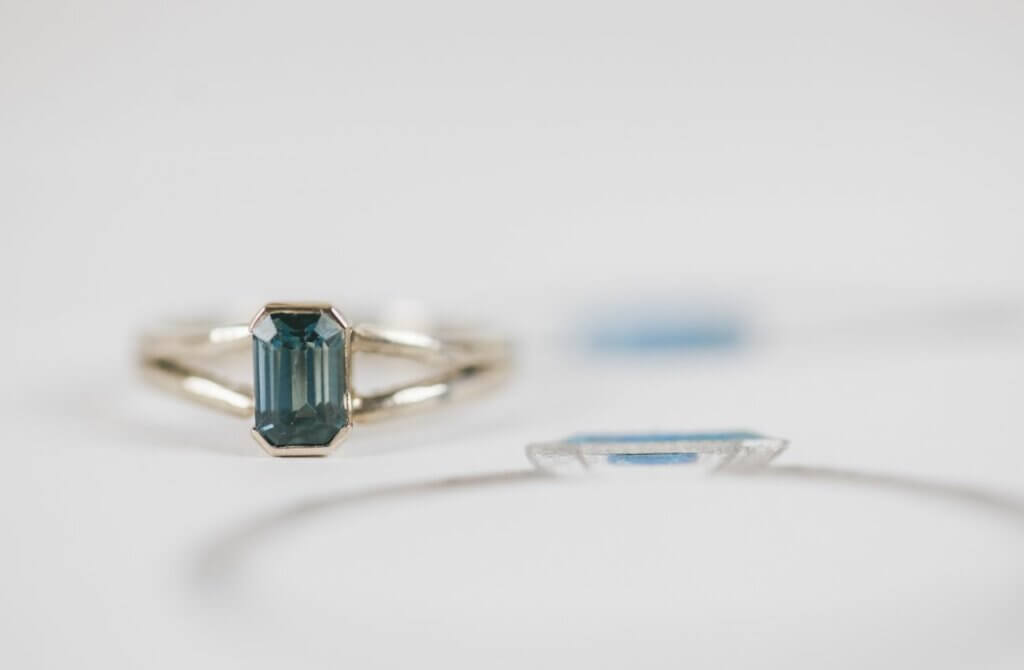 ---
Yellow Sapphire Birthstone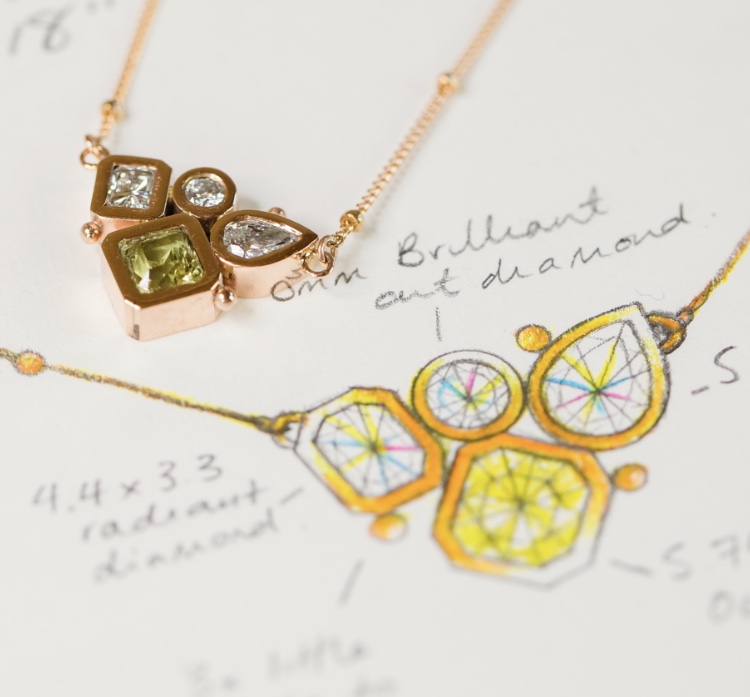 Tracy's special birthday trip to China was cancelled during the pandemic, and so she decided to go for a bespoke pendant instead! She wanted to cluster some of her favourite cuts of diamonds along with a yellow sapphire in rose gold, suspended on a satellite chain. We added a T shaped charm that her mother had given her many years ago to the back of the chain.
---
Spectacular Sapphire
I'd love to hear from you if you've learnt something new about sapphires, and I would love to help you create a unique and really special bespoke piece of jewellery utilising this incredible stone. I work with the best and most ethical stone suppliers in Hatton Garden and can usually provide you with a selection of stone options to hand-select from my Ampthill-based design studio. Get in touch here.