Alix and Tom approached me to design them a pair of unique wedding rings using metal and diamonds from inherited jewellery.
Tom wanted a simple gold band for his wedding ring, but he didn't want to simply buy a high street ring – he wanted it to be made from gold he had inherited from his late mother.
We looked through her jewellery and selected some rope chains he had strong memories of her wearing and melted them down to form this beautiful band. His ring has a chunky feel and solid weight, but is a classic 6mm wide, with a flat outside profile and comfort curve inside.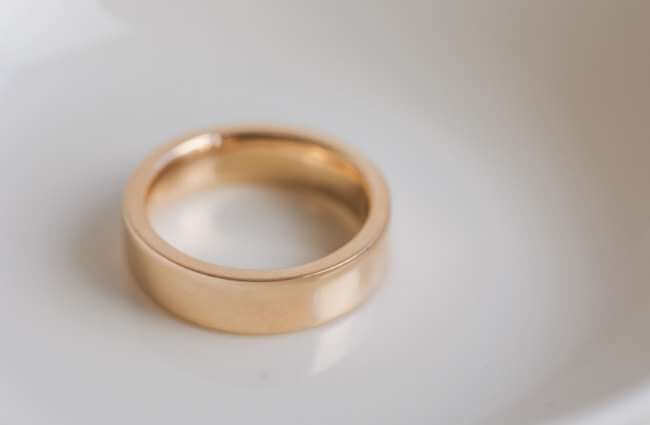 Because of the high level of solder in the chains, we weren't able to hallmark this ring for Tom, but the most important factor for him was knowing that it was his mother's gold that made up his wedding band.
Alix's ring was a real joy to design – she gave me total design freedom around her idea of something asymmetric. Taking diamonds from a family brooch that Tom had inherited, we arranged them in this irregular yet balanced design that sits like a frame around her beautiful oval halo engagement ring. It is what we call an 'enhancer' wedding band. This means that it sits either side of her engagement ring, with slim bars at the back holding the two wedding bands in place. Her engagement ring is slotted in between these two bands while they are off the hand.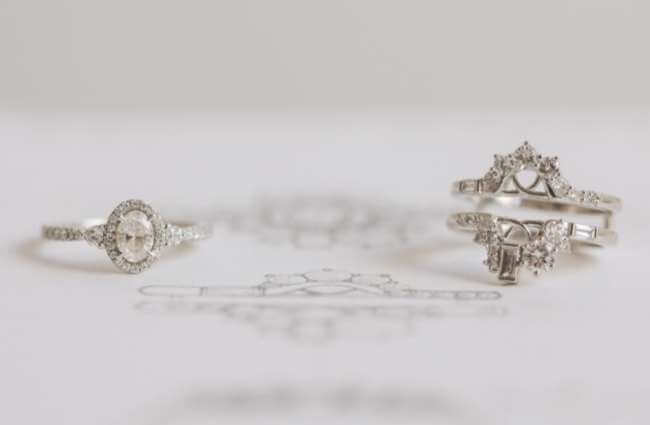 There is a mixture of brilliant cut and baguette diamonds, with the brilliant cuts set in delicate claw settings and the baguettes in end only settings. These diamonds have amazing family history from Tom's side, so it felt like a real coming together of the two families to create this unique wedding ring.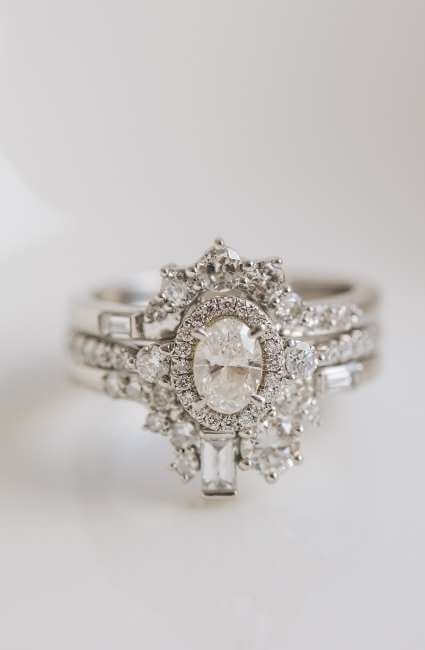 The couple were wed in August at Hedsor House in Buckinghamshire, and received many comments on their unique wedding rings on the day.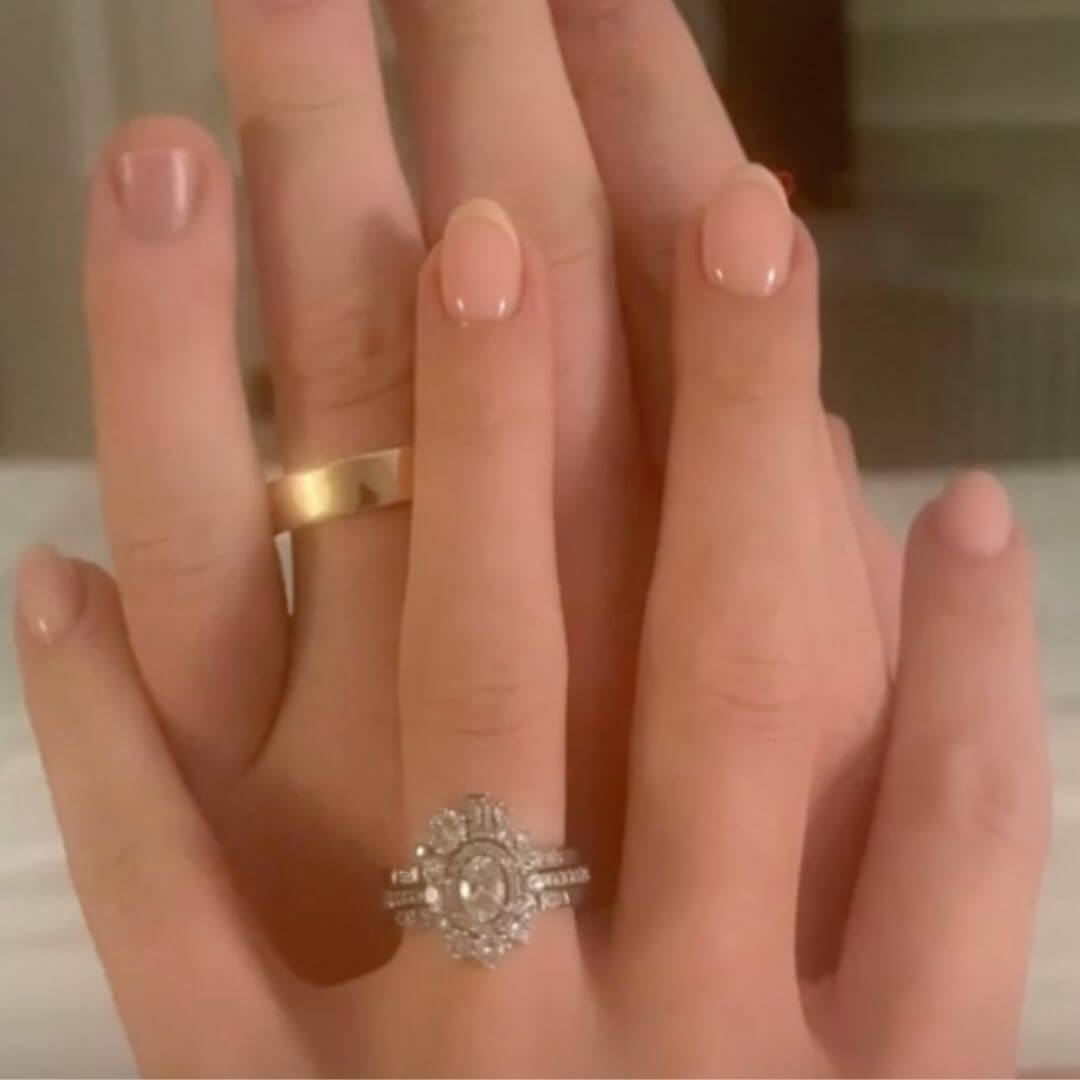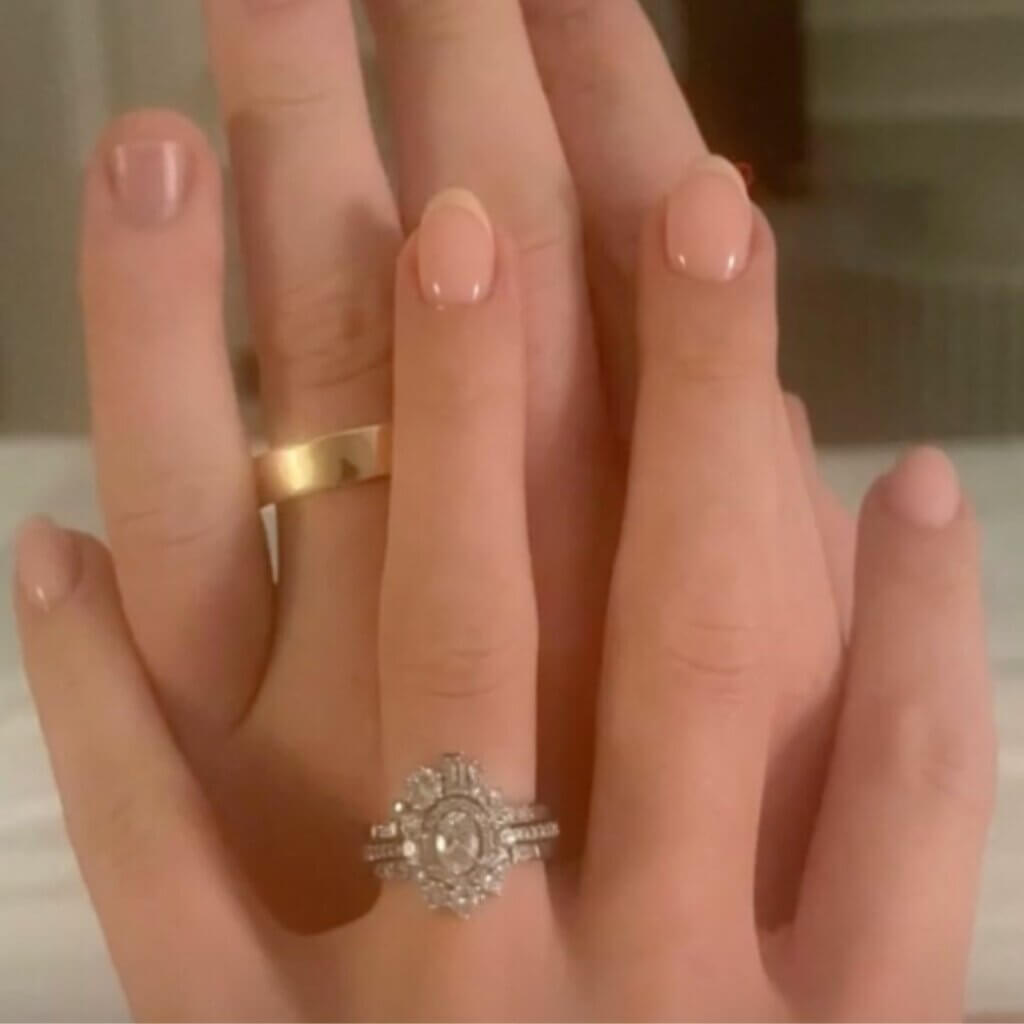 Both rings are beautifully hand engraved with their wedding date inside the bands as a hidden sentimental detail.
Alix is a patisserie chef, so won't be able to wear her intricate wedding ring while working. She plans on having a plain yellow gold band using some more of Tom's mother's jewellery as an everyday wedding ring that she can wear all the time.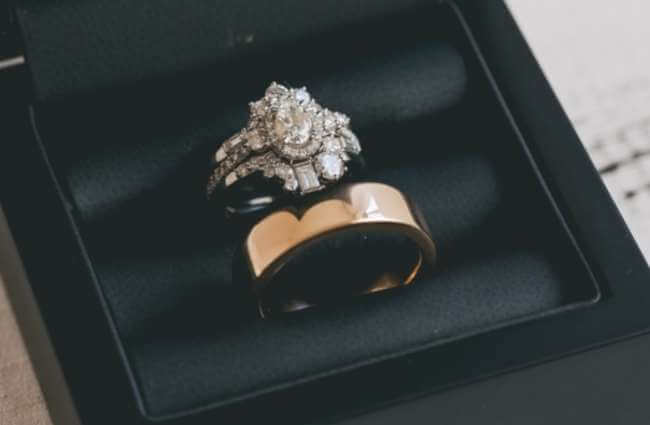 Enhancer style wedding rings work really well if you want symmetry (or asymmetry in Alix's case!) and balance with a wedding ring on either side of your engagement ring. Enhancer wedding rings also work really well if the front of your engagement ring is very long. Take a look at Alix's ring in more detail as well as another enhancer style wedding ring we have made in our wedding ring gallery – select 'Enhancer' in the 'Fitted Style' drop down list.
Utilising sentimental metal and/or stones in your wedding rings is a hugely powerful and symbolic decision. All wedding rings are special and carry a huge sense of sentiment, but the history behind these rings add something incredibly special.
Learn more about the benefits of recycling old jewellery, here. Or view our section on jewellery remodelling and discover how we can reimagine your unworn treasures.