I absolutely loved working with Diana and Al. I so enjoy hearing my client's love stories and translating those into unique wedding rings, but Diana and Al's story and their resulting wedding ring designs were really unique.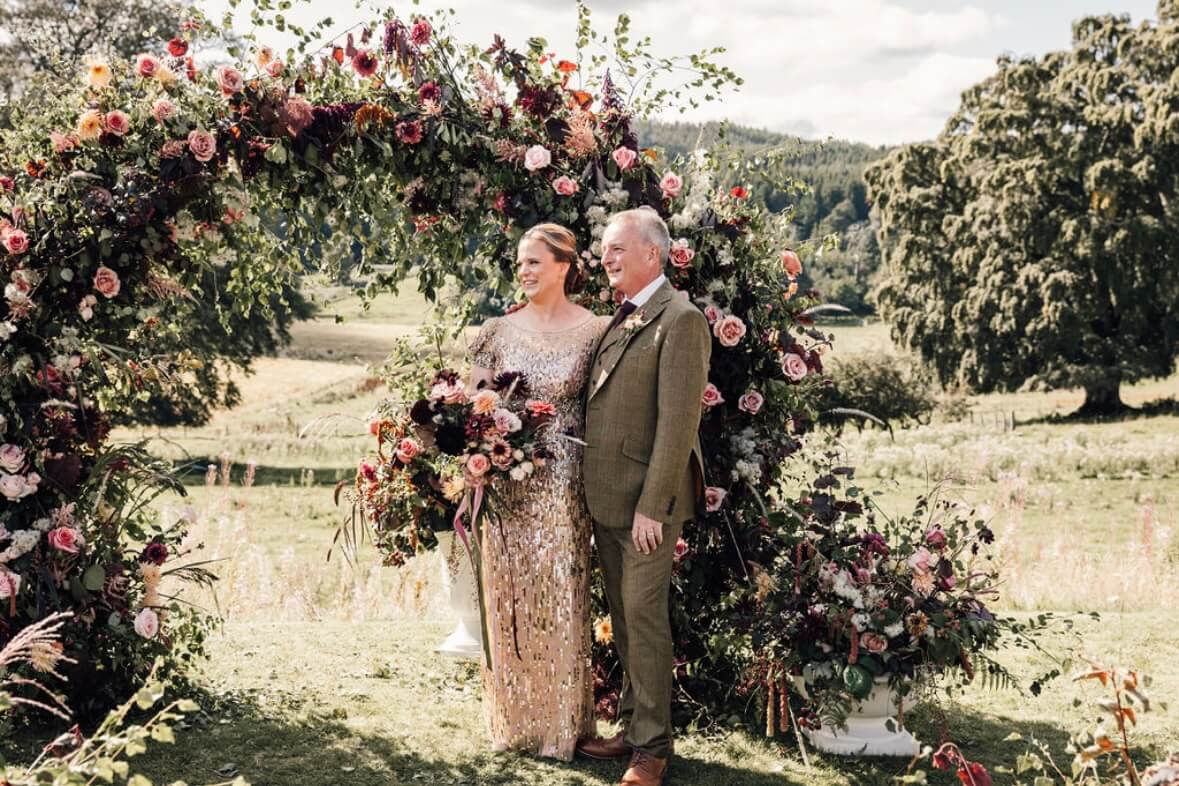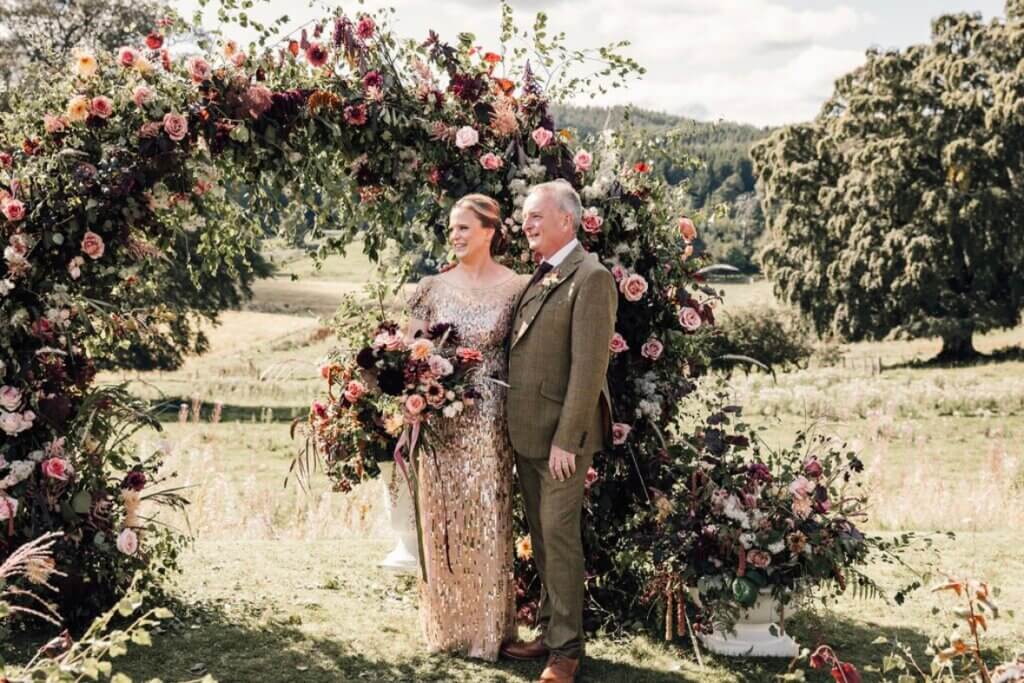 Let's start by rolling back the years to when Diana and Al first met – they were high school sweethearts in their motherland of Scotland. They ended up going their separate ways and having families of their own, but 27 years later, their paths crossed again and their circumstances had changed – fate brought them back together! After a second 'first date' at a sailing club on the River Dee, they got back together.
When they began planning their wedding, they found me online when researching rhodium-free wedding rings. They travelled up from London to meet me at my studio for a design consultation.
As Al had proposed with a banana skin of all things, they had plans for a super sparkly combined engagement and wedding ring for Diana using a stunning pear cut brown diamond she had sourced herself. Although tempted to include a reference to the banana skin proposal, (and they did bring along some sketches of some banana themed ideas!) we developed this elegant twist ring with the pear cut diamond set in the East-West orientation.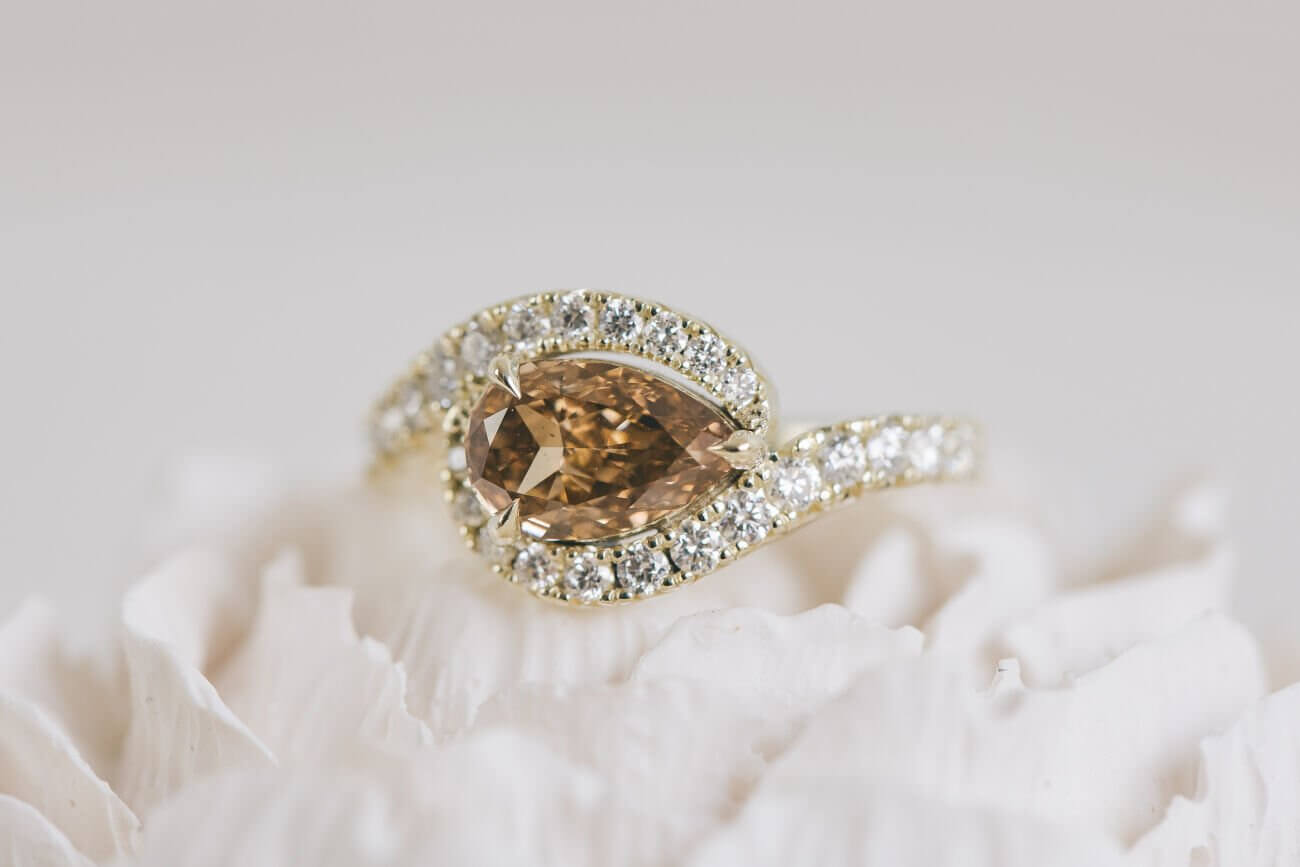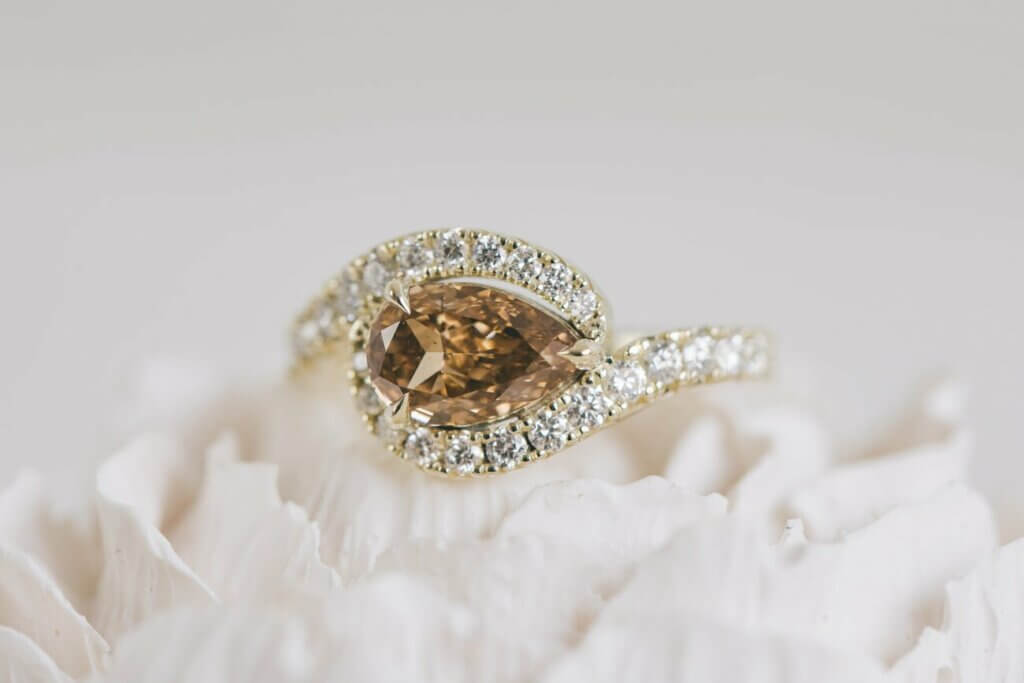 The shoulders are set with a total of 27 ice white brilliant cut diamonds in tapering sizes to represent the years until they re-connected. The contrast between the brown and white diamonds is just gorgeous, especially when set in creamy natural white gold.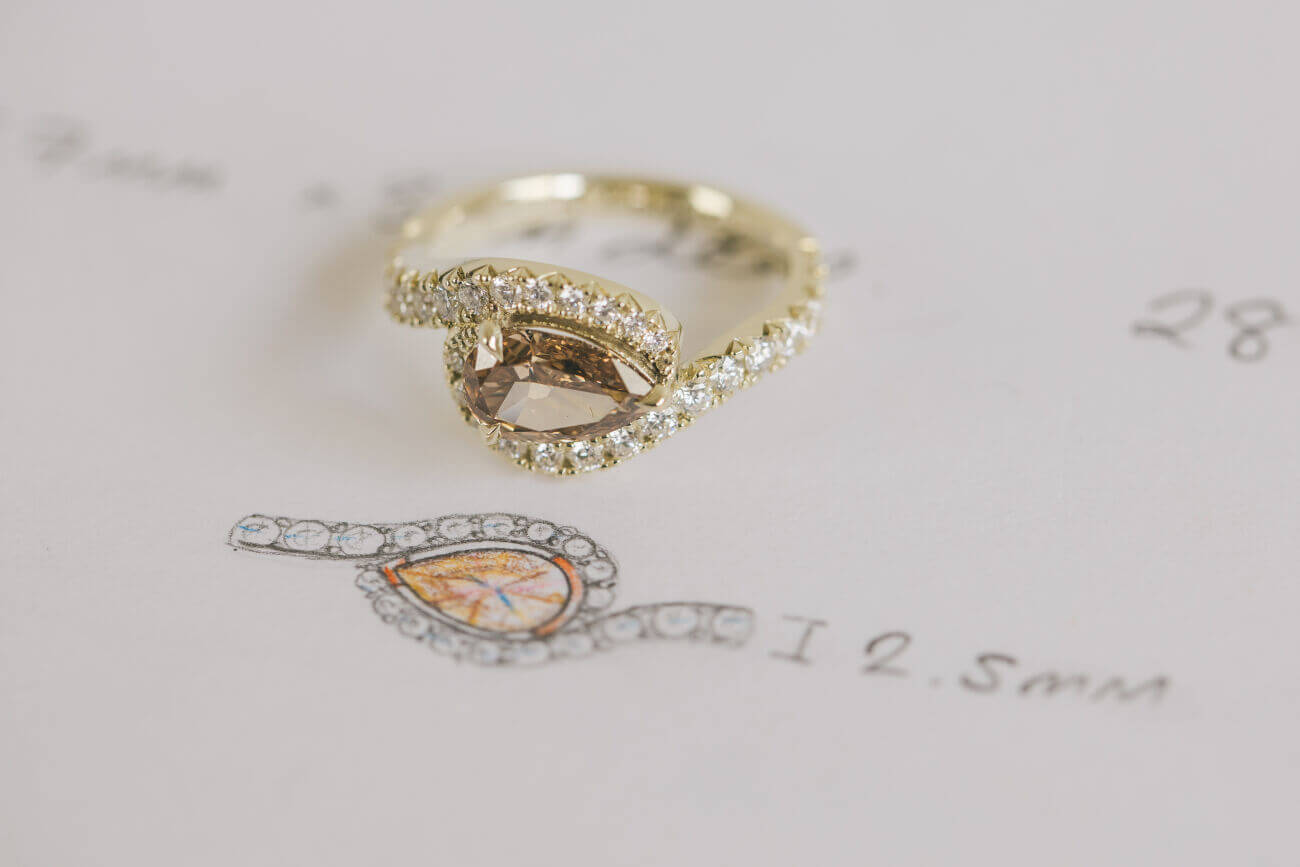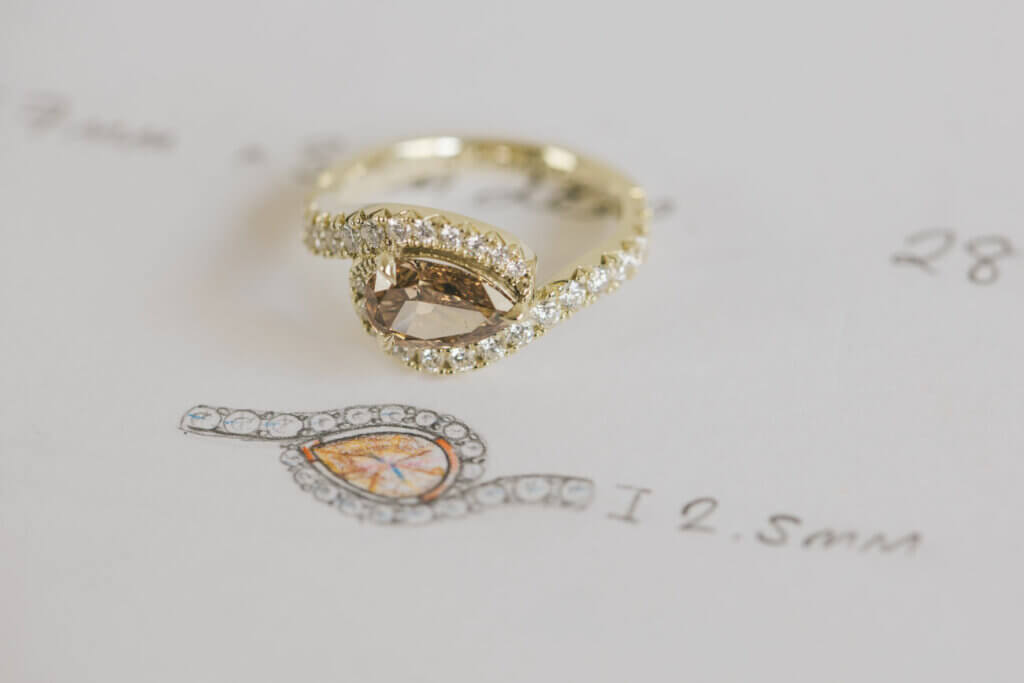 We originally planned to set the pear cut diamond in contrasting rose gold in an end only style setting, but after seeing the renders of the ring and trying on a 3D print of it, she decided to flood the stunning stone with more light by switching up to talon shaped claws.
As this would make the ring a little less easy to wear on a day to day basis, she decided part way through our project that she would like an 'everyday' wedding ring too, based on the same design as Al's! And this is how I came about to design three wedding rings for this pair.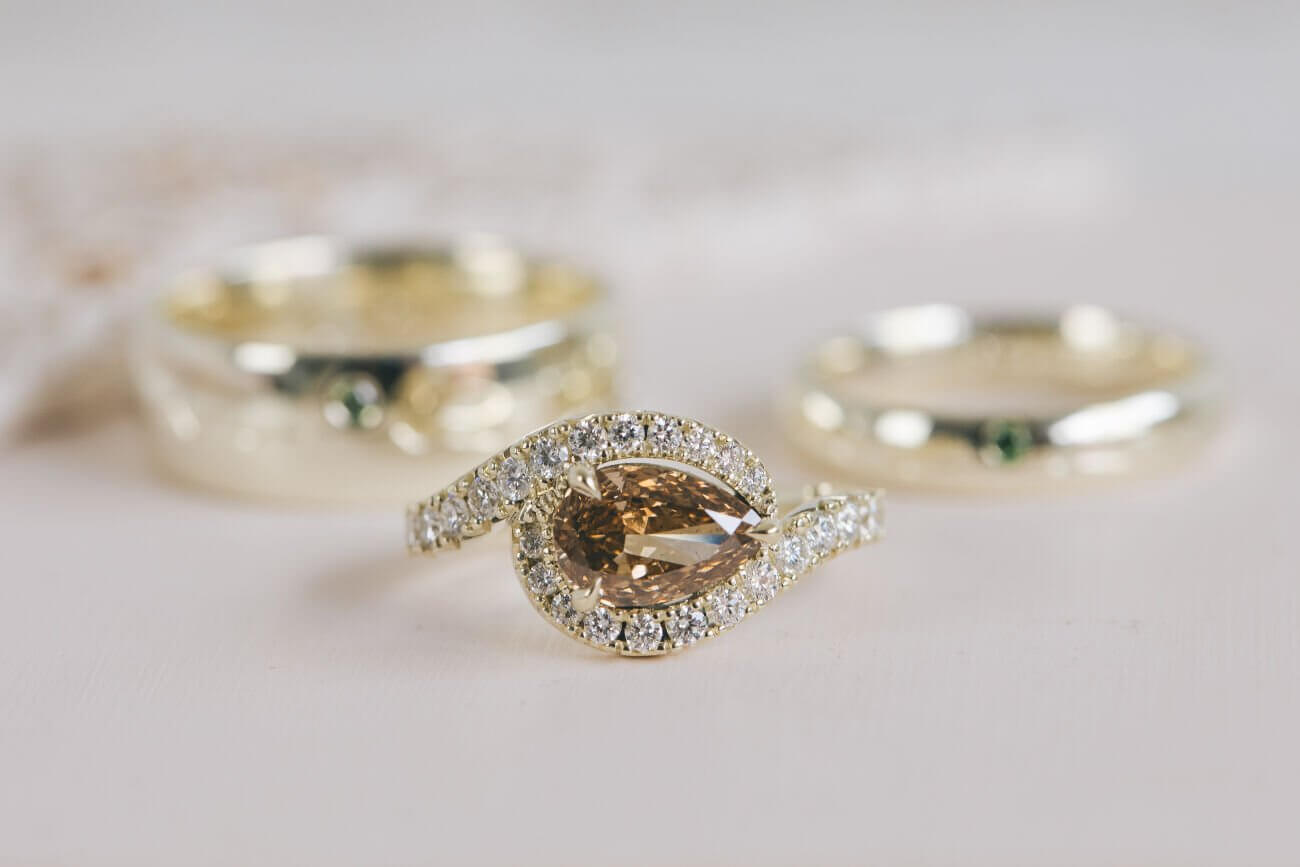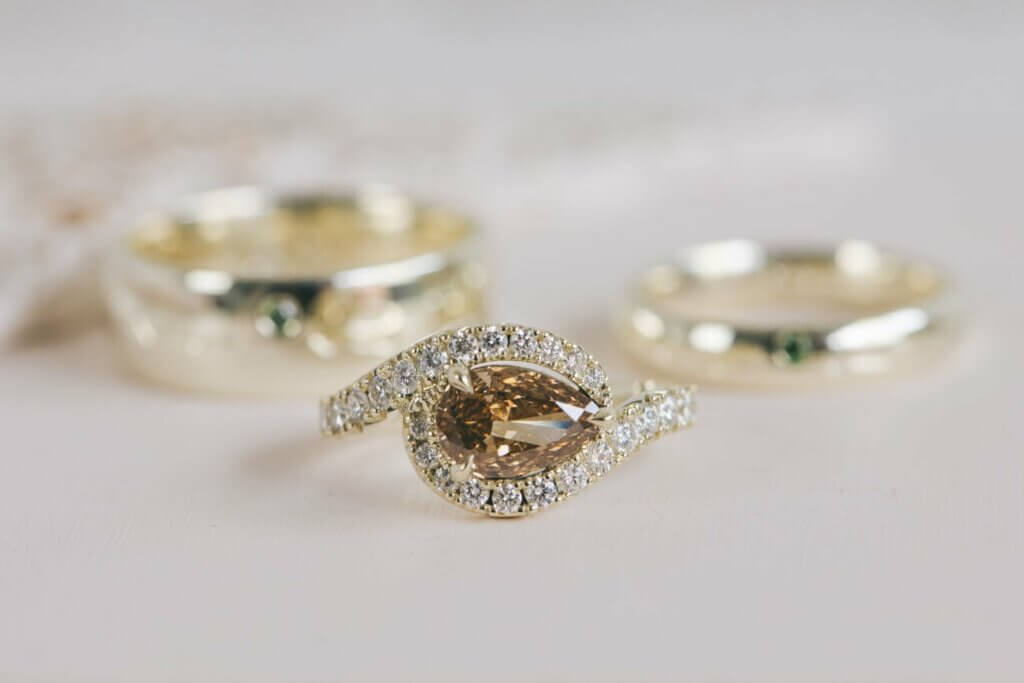 Once we had pinned Diana's ring design down in our consultation, we moved on to Al's ring. He didn't really have any thoughts about his own ring at this stage, so we started from scratch beginning with trying on some of my silver sample rings.
He was drawn to wider bands as he wanted his ring to be bold and visible as he was so proud to be marrying Diana! He settled on a 8mm wide band, and they felt the soft curve of a rounded profile worked best. We looked at some of my recent commissions and more unusual wedding ring designs, and after seeing a gents wedding ring I designed with the skyline ironically of the Scottish Highlands separating two tones of gold, he loved the idea of featuring a landmark that meant something to him and Diana. They decided that the River Dee, beside which they had their first date at a Sailing Club, would make the perfect design feature for his ring, with a gemstone set at the point along the river where their date took place.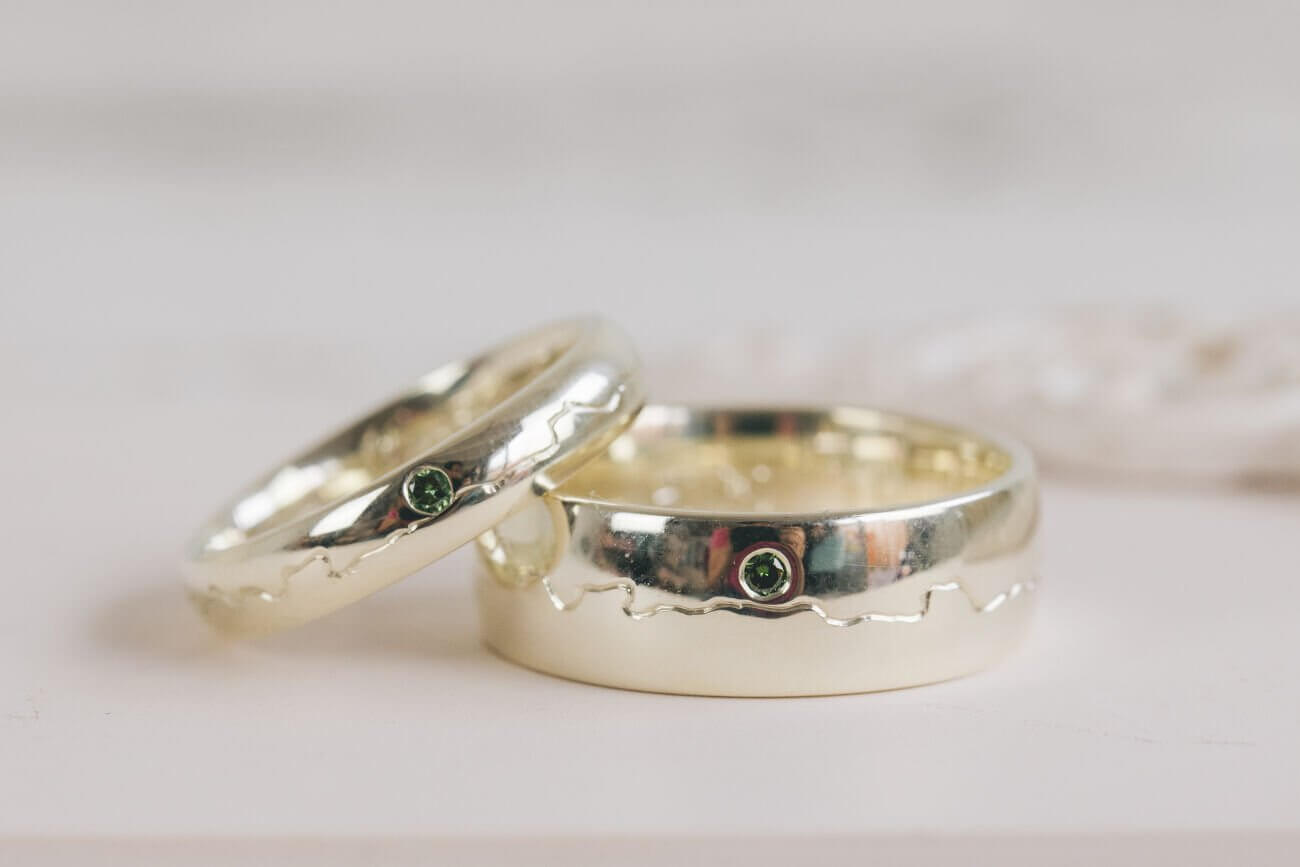 We invisibly set a green diamond at the point along the river as a marker for a subtle but very romantic nod to their new beginning.
When Diana decided to have a matching ring with the same design, we made her a matching band in a 4mm width and court profile, with the same hand engraved river and green diamond.
But it doesn't stop there!
Not only were the outside of the rings deeply symbolic and meaningful, but the couple also included some beautiful sentiment inside their rings too. Each of them sent me a secret inscription to have engraved inside the other's band for them to see for the first time on their wedding day. When they visited the studio to collect their rings, we had to be careful they didn't see inside them!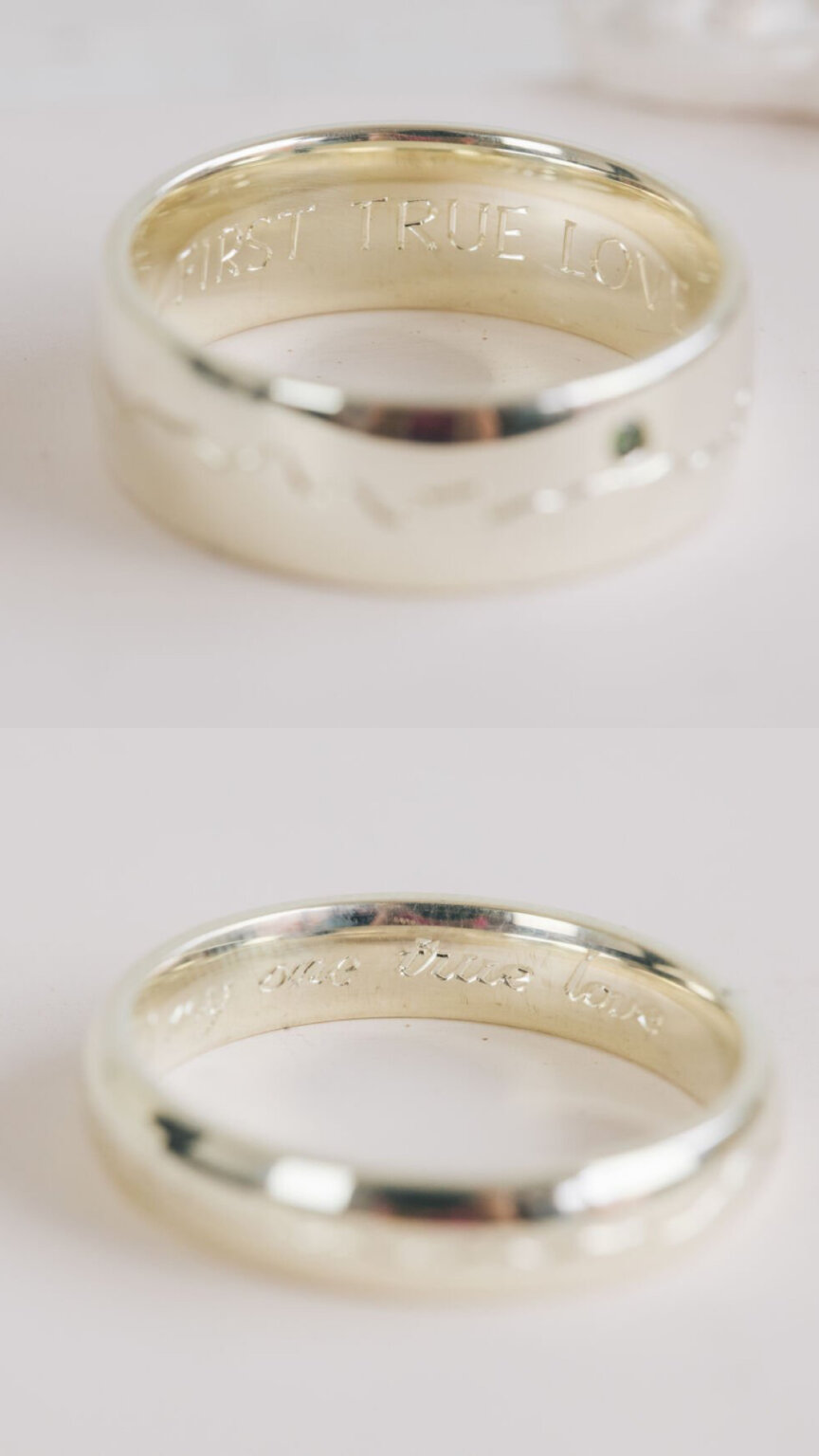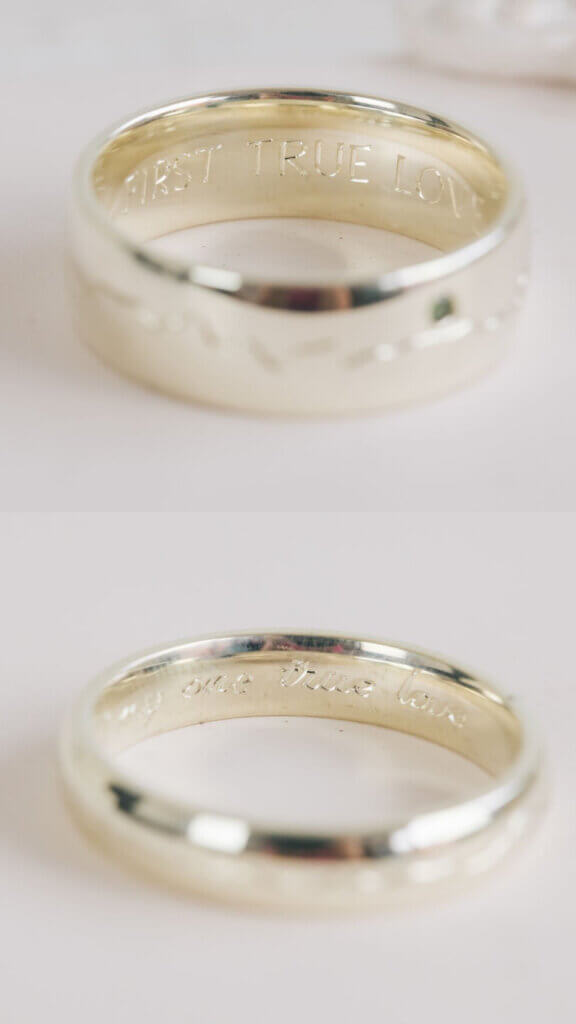 The lovely thing is that their sentiments were the same, with slightly differing wording. Al's ring reads:

The hallmark separates the beginning and end of the phrase perfectly. Diana even selected this font which The Cambridge Hand Engraver beautifully replicated.
Diana's ring reads:

True soul mates.
I was so pleased to receive some their beautiful professional photographs after their beautiful outdoor celebration. Diana looks resplendent in her sequinned dress that sparkles almost as much as her wedding ring! The flowers are just insanely beautiful, and the view is stunning. I am so pleased the weather behaved and they were able to have their dream wedding day in a stunning venue.
Wishing this wonderful couple a lifetime of happiness together.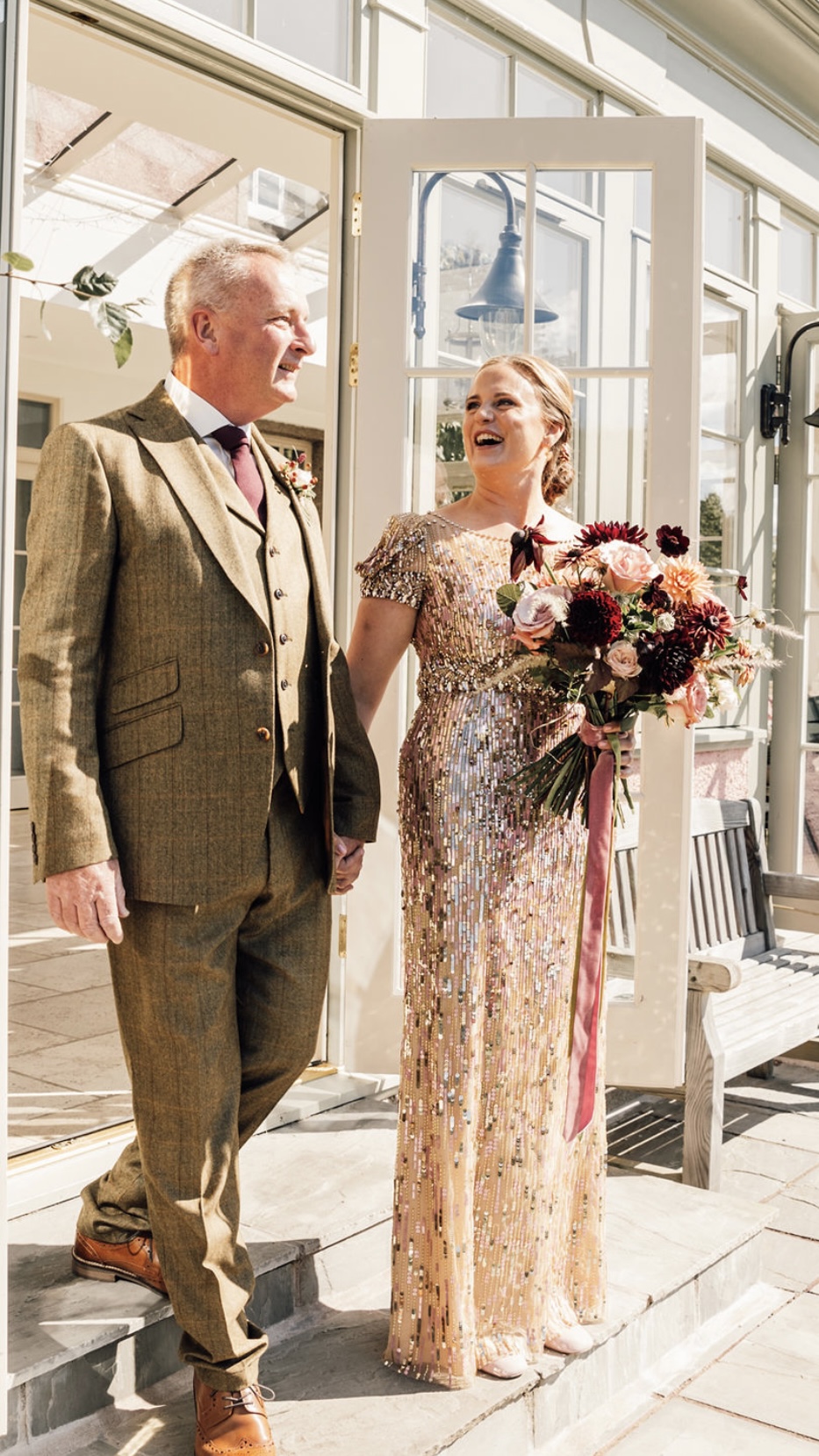 Venue: @ballogieestate
Flowers: @flowers.by.lilybet
Hair @simone_mua_saint
MUA @nataliefearnley
Wedding day photography: @ck_weddings
Close up ring pics: @redpeacockphotography85
Ring engraving: @thecambridgeshirehandengraver