Bespoke is a word often bandied around by companies, but what does it actually mean? The word has an interesting history as discussed in this article.
Initially, the word bespoke was "a past participle of the verb 'to bespeak' which meant 'to exclaim or call out', then it changed to describe 'to discuss, decide upon' and lastly became 'discussed in advance', hence its use to describe tailor-made garments," says Cormac McKeown, of Collins dictionary.
This explains why it was used initially for tailor made suits on Saville Row and is exactly how we understand the word at Jodie Gearing Bespoke Jewellery Design. We will work with you to hand-design a unique, one off, hand made piece of jewellery exactly to your specifications, just like a custom made suit. You want a pendant with your initials pierced out of the metal? You got it. You want a specific font to be used? No problem. You want the letters to overlap in a particular way? Of course. The choice is yours because we design our jewellery from scratch.
So you see? By going bespoke, you can have a design totally tailored to your requirements. The bespoke journey is a collaboration between you and the designer. They will take your ideas, inspire you with numerous variations you had never even considered before and then come up with the perfect design using their knowledge of what will work best for you within your budget.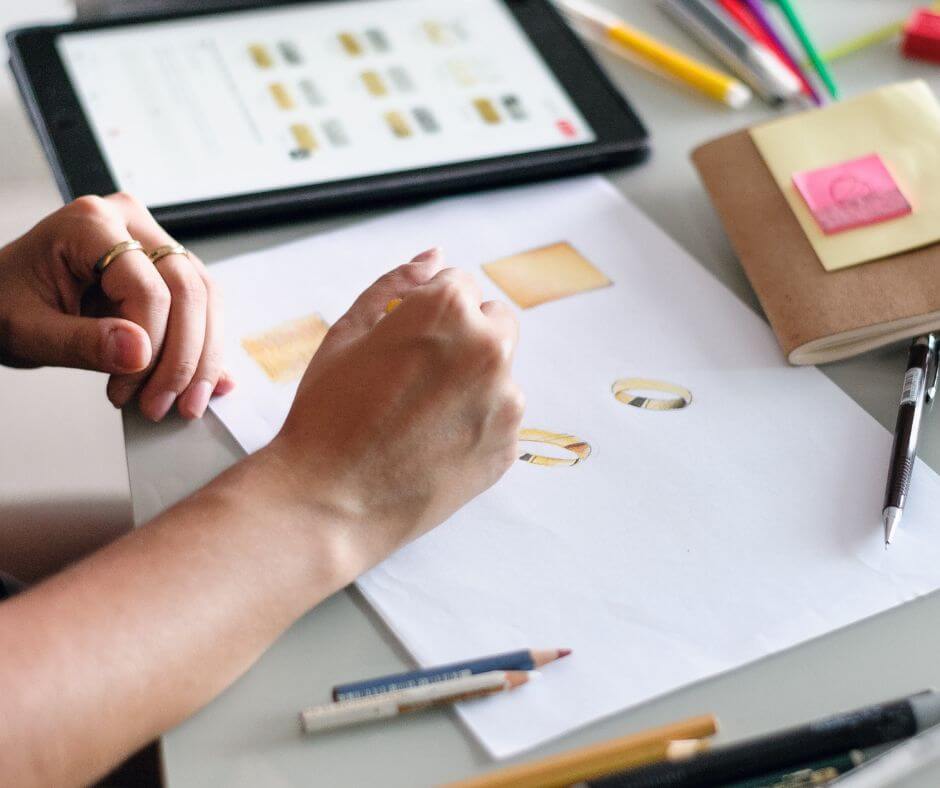 The source of confusion with word bespoke in the jewellery industry comes, once more, from the high street. If you've read my articles on white gold, you'll understand the myths and misconceptions surrounding rhodium plating. The same goes for bespoke design where a lot of jewellers will provide their customers with a list of pre-determined components to assemble into a piece of jewellery. You will sit with a designer at a computer screen and select a style, stone, setting and metal. This is customisation rather than a truly bespoke, one-off piece and multiple other people will choose the exact same combination. You do not have total control as you'll have a limited choice of cast parts. To us, this does not, as by the definition above, constitute a one-off design. This type of customisable jewellery production has its place but here, at jodiegearing.com, we start from scratch, giving you total control to create a really special piece of one-off jewellery. We can utilise cast settings, which can help keep costs down, but we will produce a piece made entirely out of ready-made components and call it bespoke.
---
Still need to be convinced?
Here some more of the advantages to going bespoke with your next jewellery purchase:
Time
True, it takes time to produce a hand made piece of jewellery so it may seem the quicker option to select a ready-made piece off the shelf from a high street jeweller than to go the bespoke route. But consider this – trawling the high street for the right piece within your budget can take an inordinate amount of time. Try searching online and you'll get a sea of results but can you really trust that when it arrives, it'll be what you expect? With bespoke, you can make sure the quality is up to your expectations and meet the person making it for you. If you have a tight deadline, we can discuss the options with you to make it happen.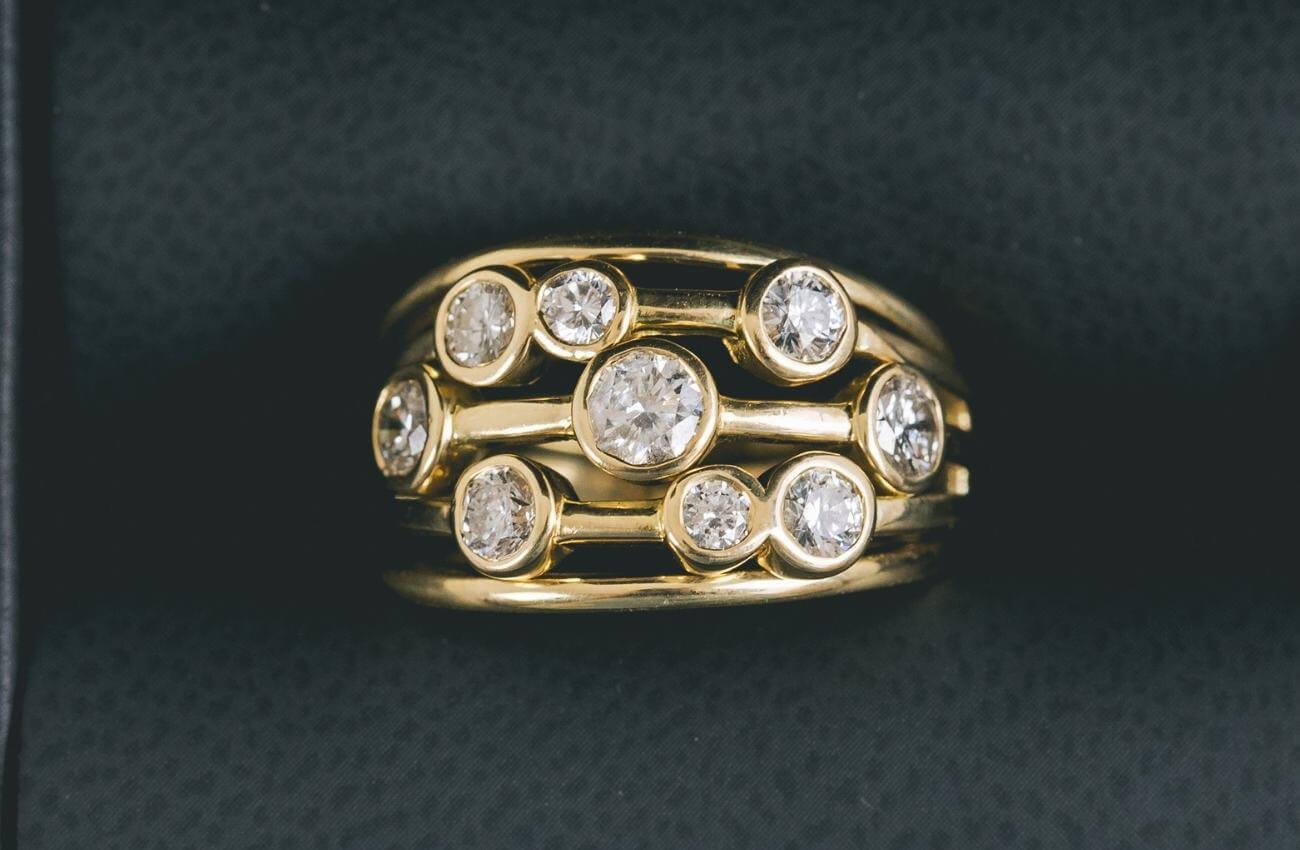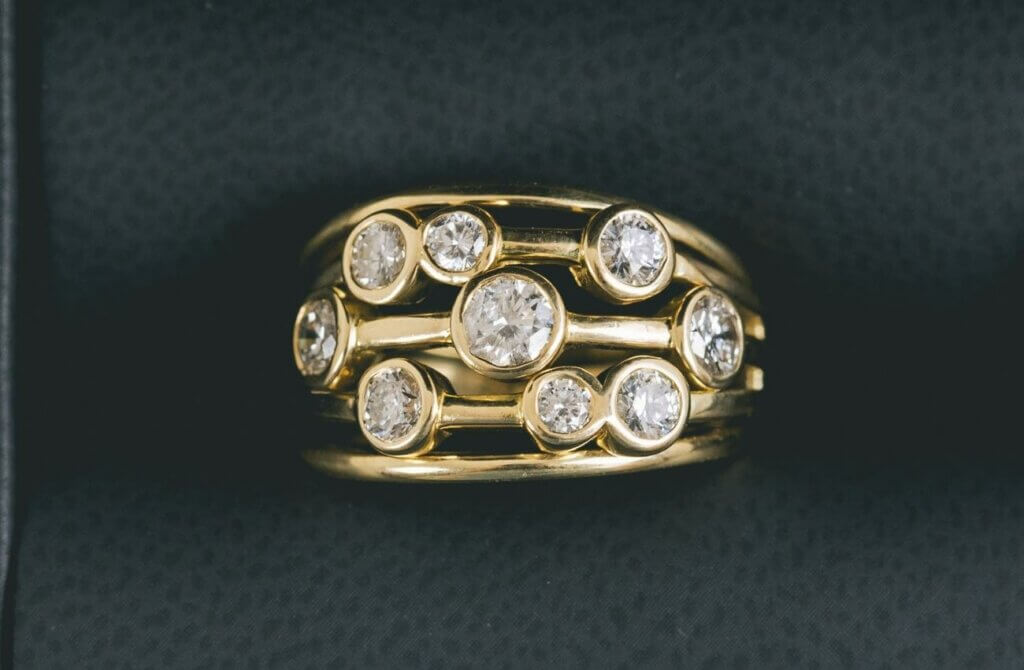 ---
Completely Unique
If you're thinking about a really special investment piece such as an engagement ring or special anniversary or birthday gift, the fact that you've designed something totally unique with the recipient in mind is truly a special gesture. If you're choosing a piece for a really significant occasion or person, wouldn't you rather have something that sums up their personality, is as unique as they are, and that no-one else will have?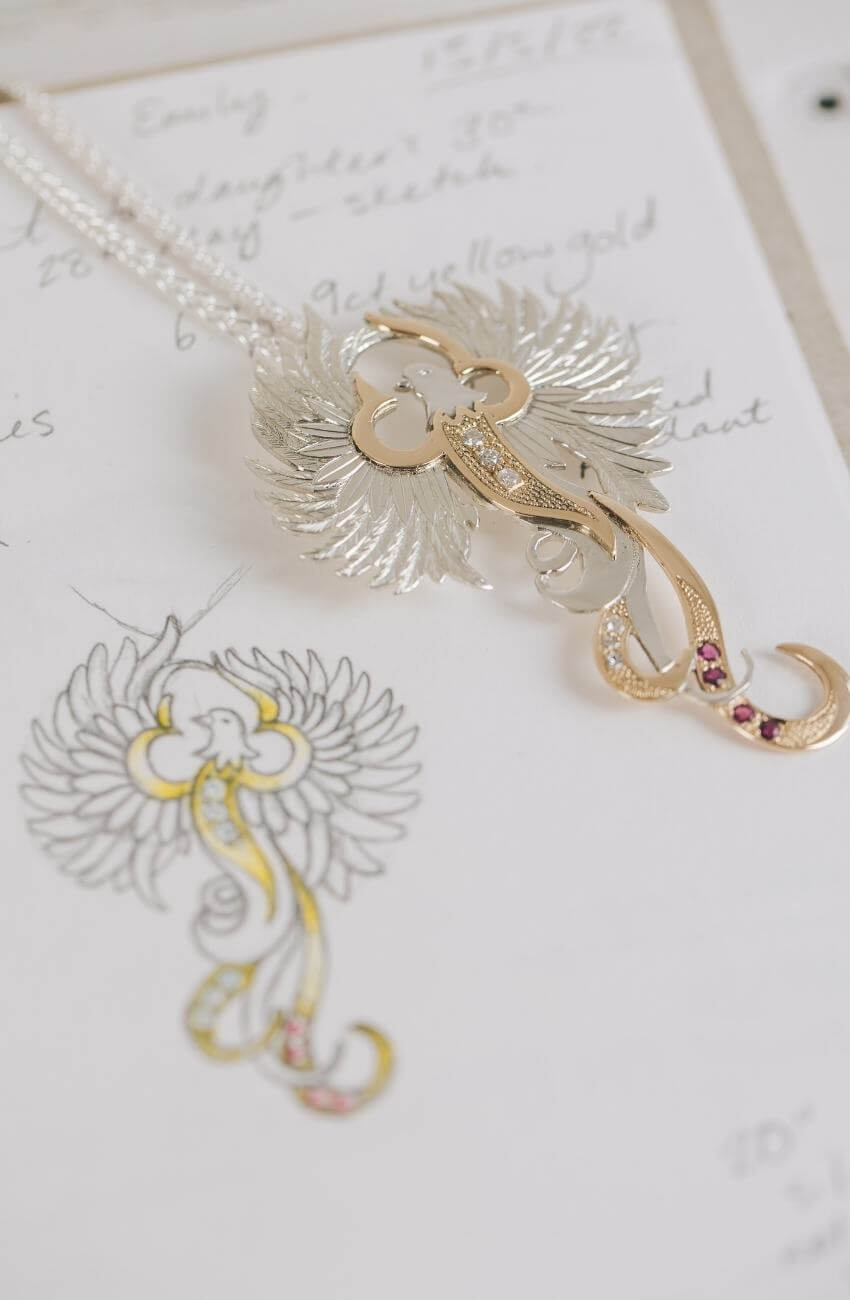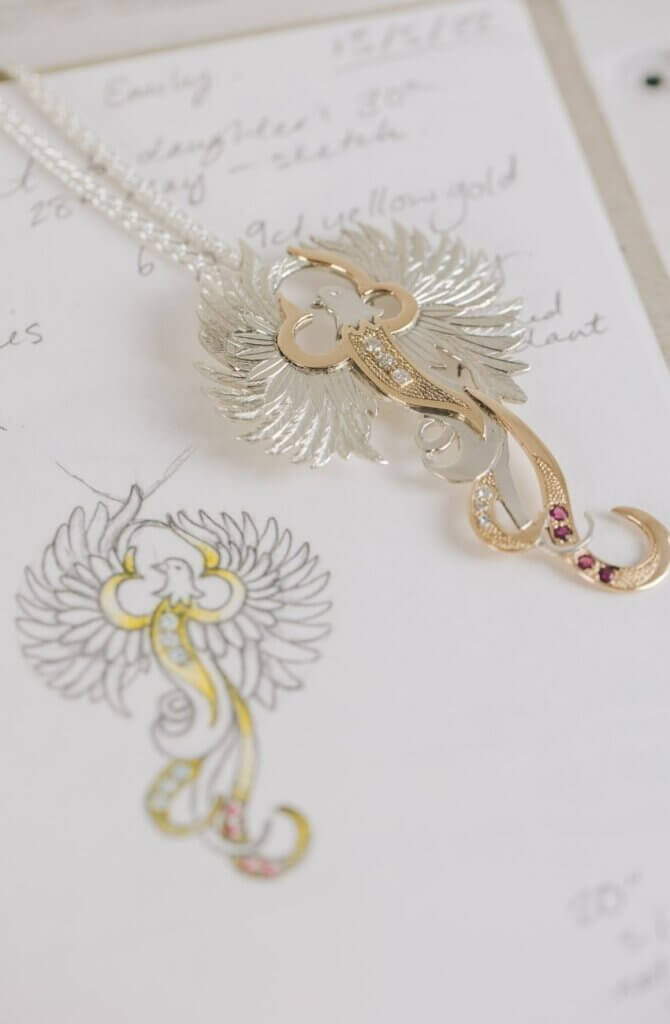 ---
The Perfect Fit
So you have the perfect engagement ring, but finding the idea wedding ring on the high street is impossible. You may have discovered that a flat, unshaped band will not sit nicely next to your engagement ring! Most jewellers on the high street do not talk to you about the sort of engagement ring that will fit next to it so this can come as a nasty surprise. Going bespoke with your wedding bands means you will get the perfect fit. Your wedding rings are the key tangible (and hugely symbolic!) item you will have from your wedding day – they deserve to be well considered and made just for you.
Chloe's engagement ring below is a classic case of this. There was no way she would find a wedding ring ready made on the high street that would work with the shape of her beautiful filagree engagement ring. We designed this enhancer style ring that her engagement ring just slots into that complements her existing ring perfectly. Click on the images to find out more about this design and to see a video of it in action.
---
Total Control
How many times have you gone clothes shopping and found the perfect top, only you wish it was a slightly different colour or made from a different fabric? Jewellery shopping is just like this. You can mix and match elements of designs you like and combine them into the ultimate design that ticks all the boxes.
Some High Street jewellers now offer a 'Bespoke' service, but what you will actually find is it a case of choosing a band style and setting shape from a selection, rather than starting completely from scratch, which only gives you a very small scope for individuality.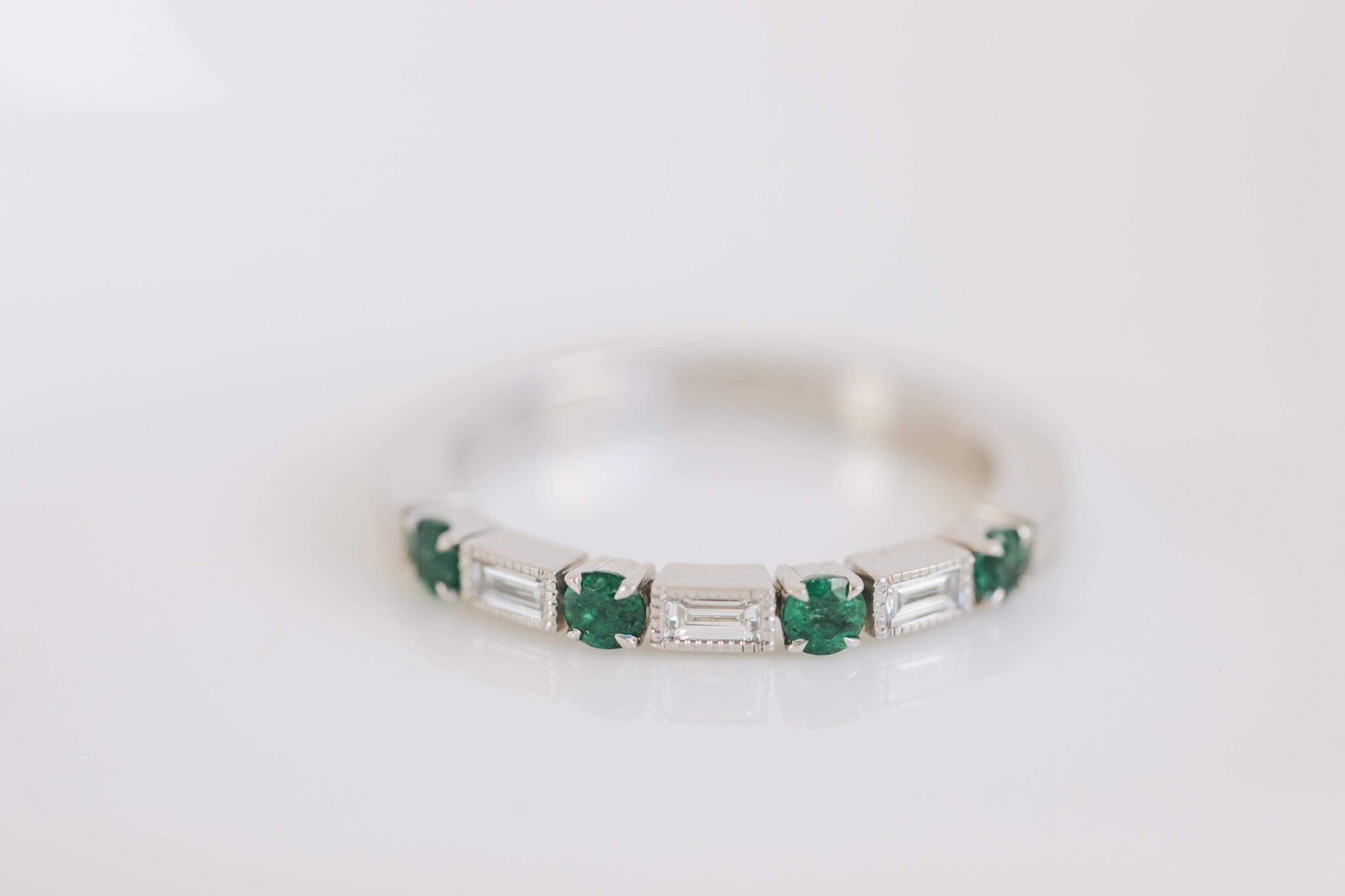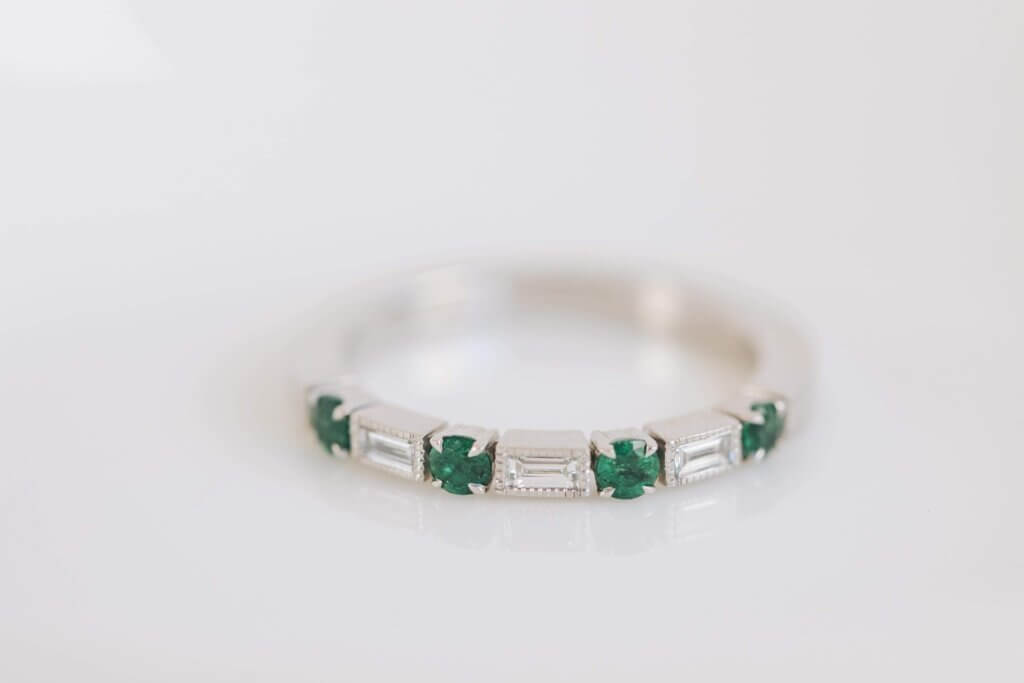 ---
Working to Your Budget
If you have found a piece you like but it is not within your budget, we can look at how we can capture the essence of the design but with some adjustments, make it work for you and what you have budgeted. We might be able to look at the stone type, shape and size, quantity and quality to make it work. Perhaps the metal type or scale of design can be tweaked. We might be able to start with a ready made setting or ring as a starting point that we customise to suit you. All of this is possible when you go bespoke.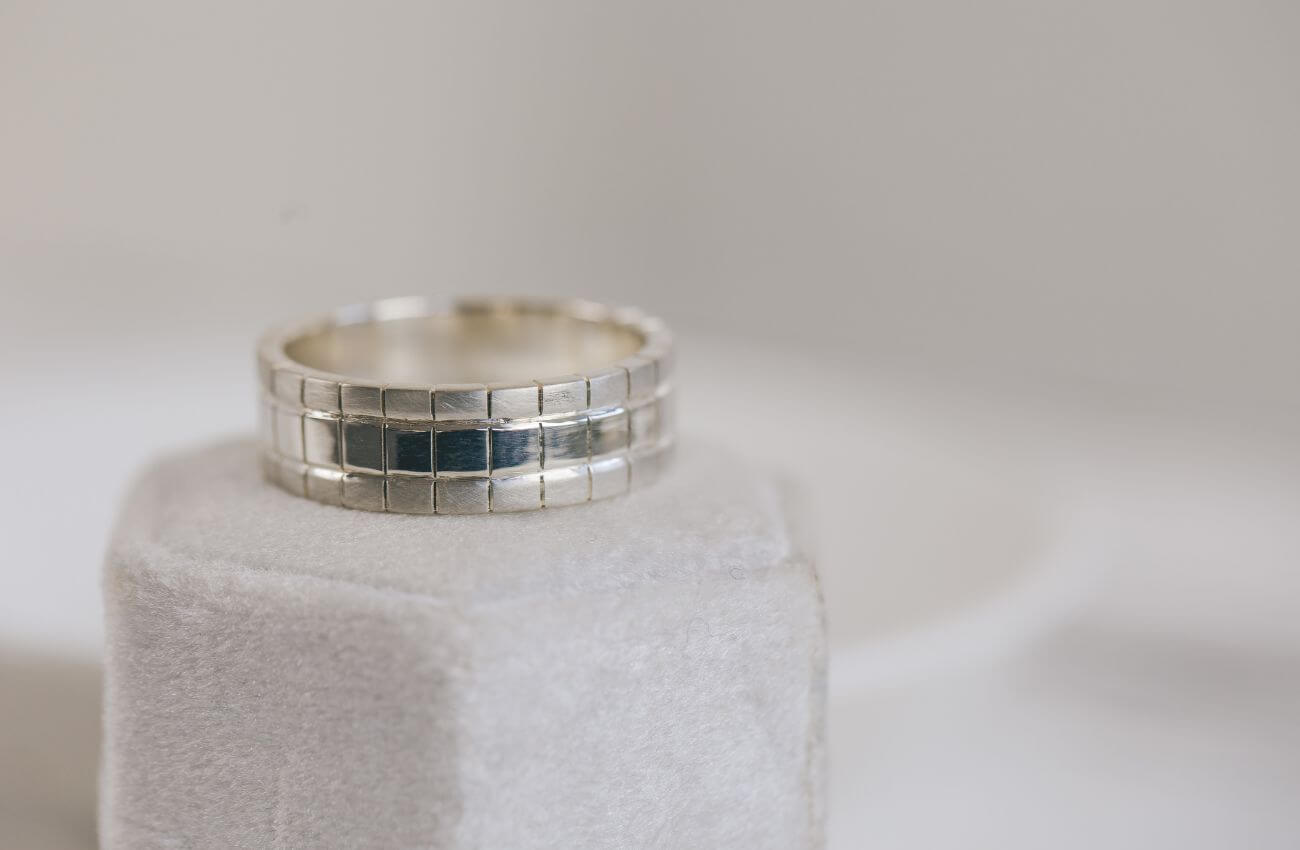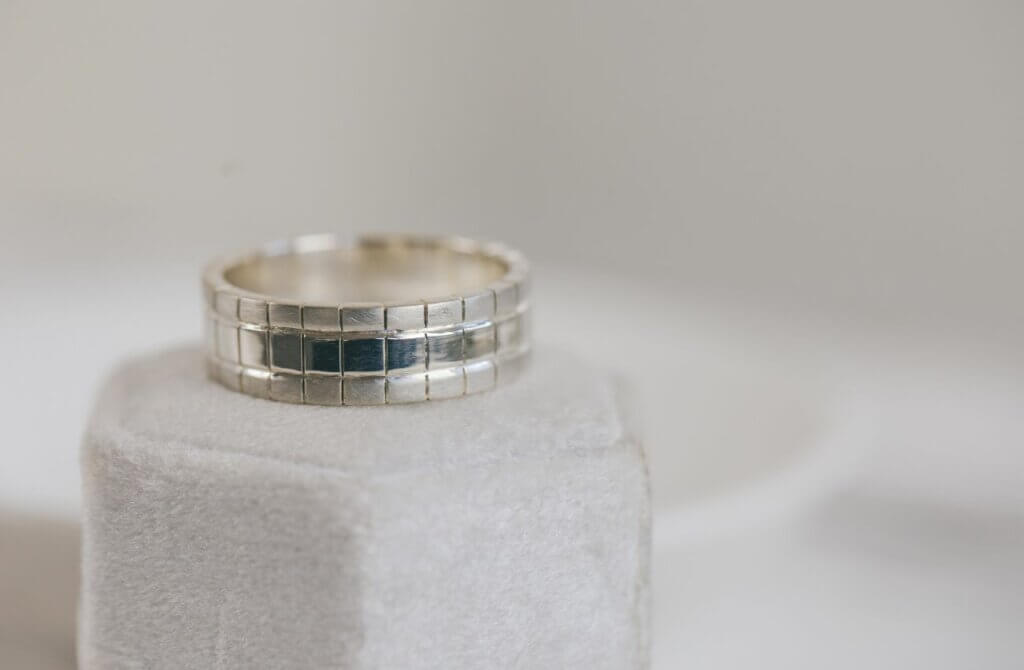 ---
Clarity and Decisiveness
You might have decided to go the bespoke route because you simply do not know what you want, and you need some expert input. Conversely, you might think bespoke is not for you as you are notoriously bad at making decisions! A talented designer will be able to ask the right questions and show you the right samples to whittle down the mind-boggling amount of options for you so that you do not become overwhelmed. My clients are very often pleasantly surprised when their design quickly falls into place when they came into my studio not having a clue what they wanted! Suddenly, you will find at that you do have a strong opinion on which precious metal will be best, and what setting style you like most when it seemed impossible to choose before. No more confusion – you have found the design you have been searching for!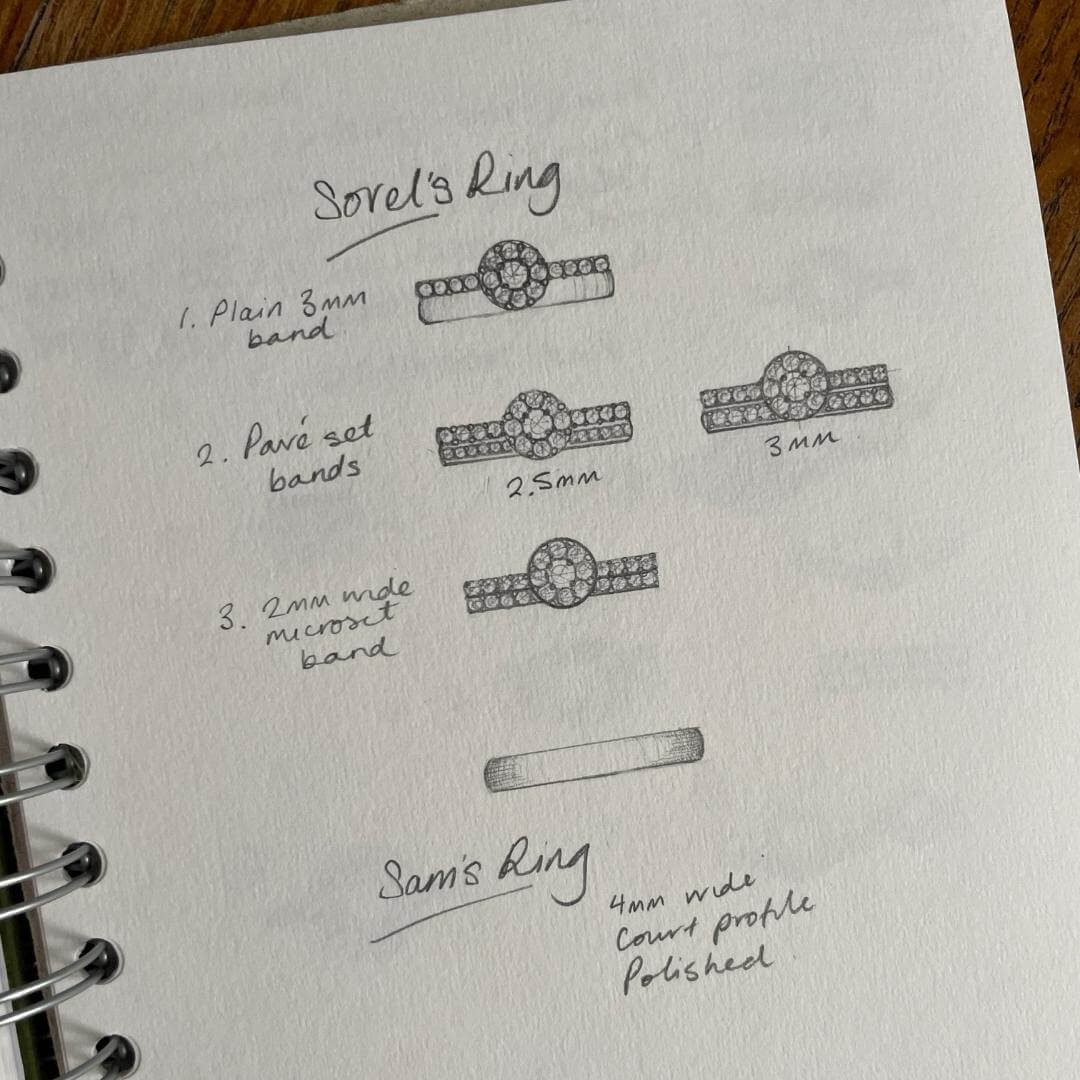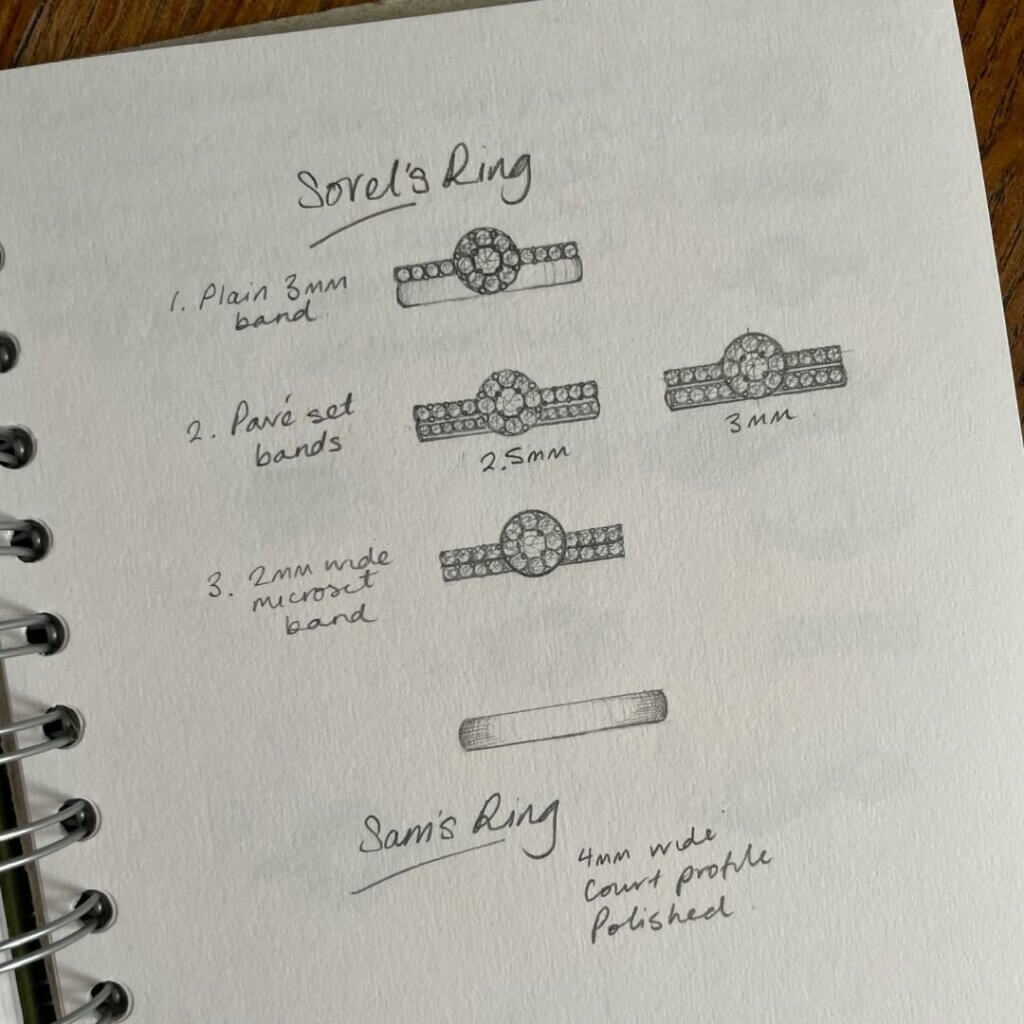 ---
Knowledge and Understanding
Collaborating with a designer to create a piece of jewellery means you are utilising their experience and knowledge to get the right outcome for you. You will learn more about your purchase, making you feel confident about the design choices you make. Designing a piece of jewellery is more than simply coming up with a pretty design – a good designer will discuss your life style with you and will inform you of the pros and cons associated with each setting style, band width and metal choice to ensure you receive an end product that will last a lifetime. A little knowledge about what you are buying makes it a more enjoyable process as well!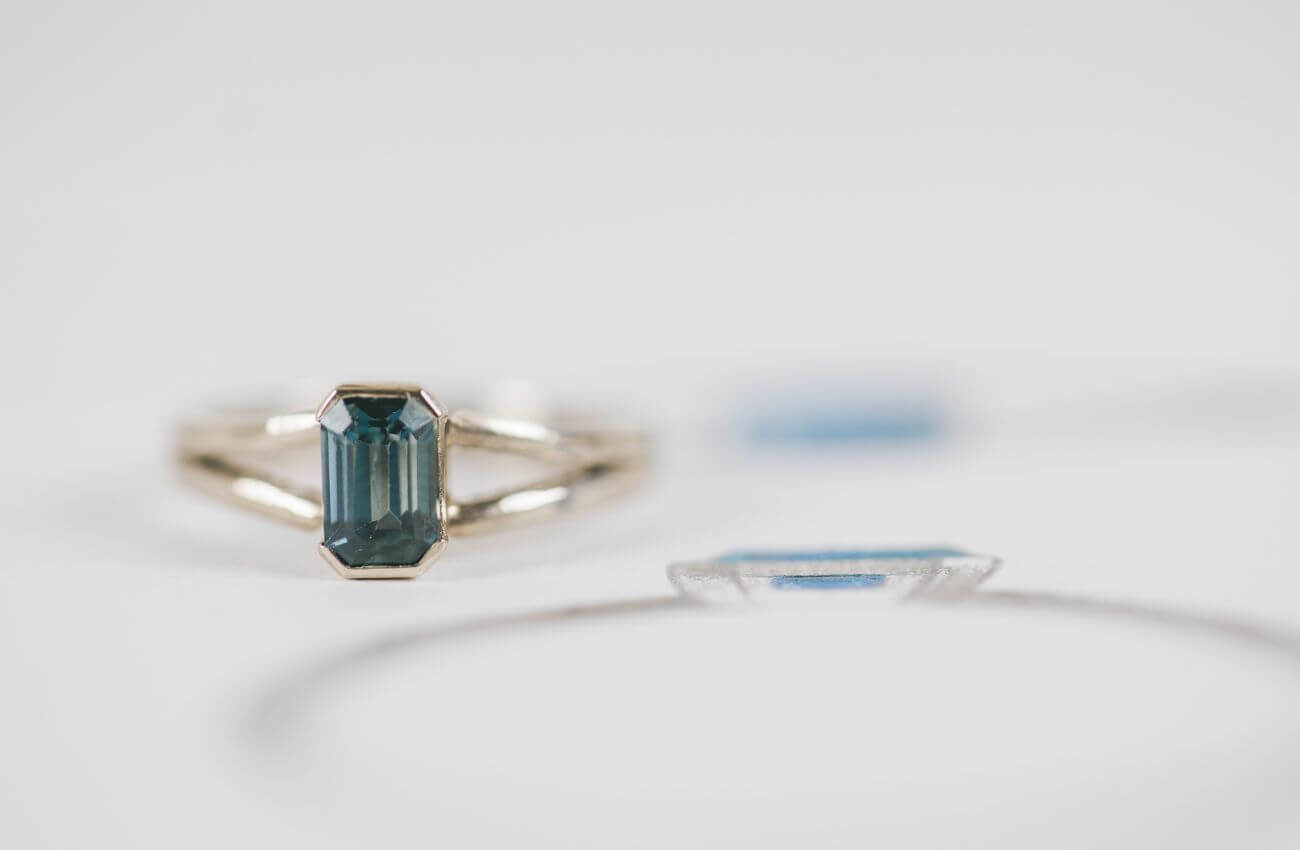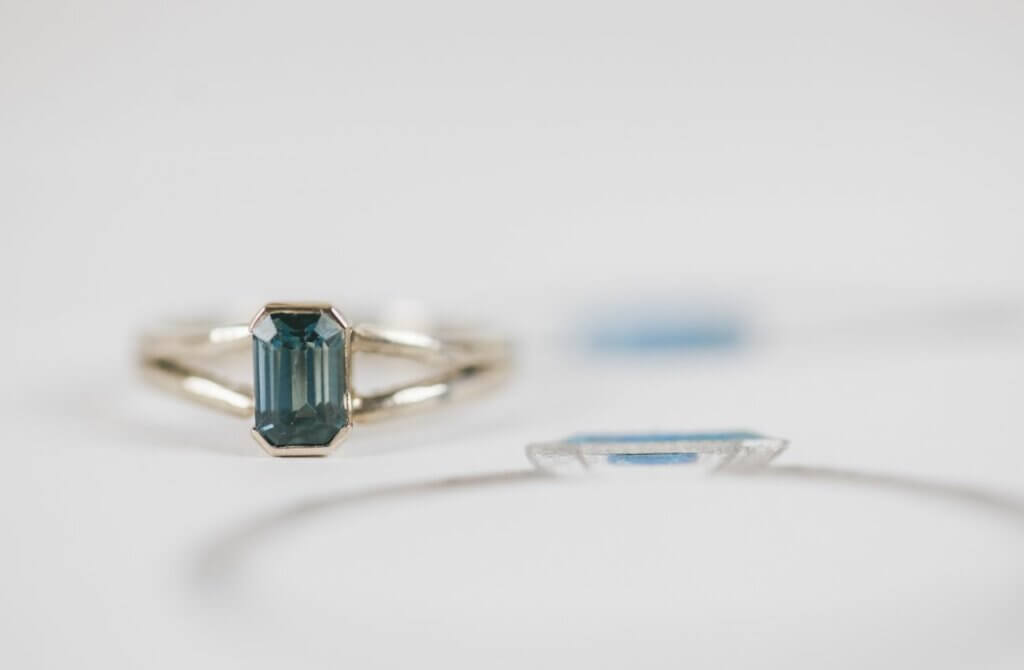 ---
Experience
The experience of working with a designer on a tailor made, totally custom design is fun! A jewellery designer will unpick your creative ideas, which if you find it hard to articular what you would like and will bring your design to life through their sketches. Seeing your ideas be revealed on paper can be really rewarding, especially if you have done into the consultation believing you didn't really know what you were looking for! If you're designing a special piece of jewellery with your special someone, the team effort can be really enjoyable. And let's face it, looking at and discussing beautiful metals and gemstones is not something the average person gets to do on a daily basis; its a real treat.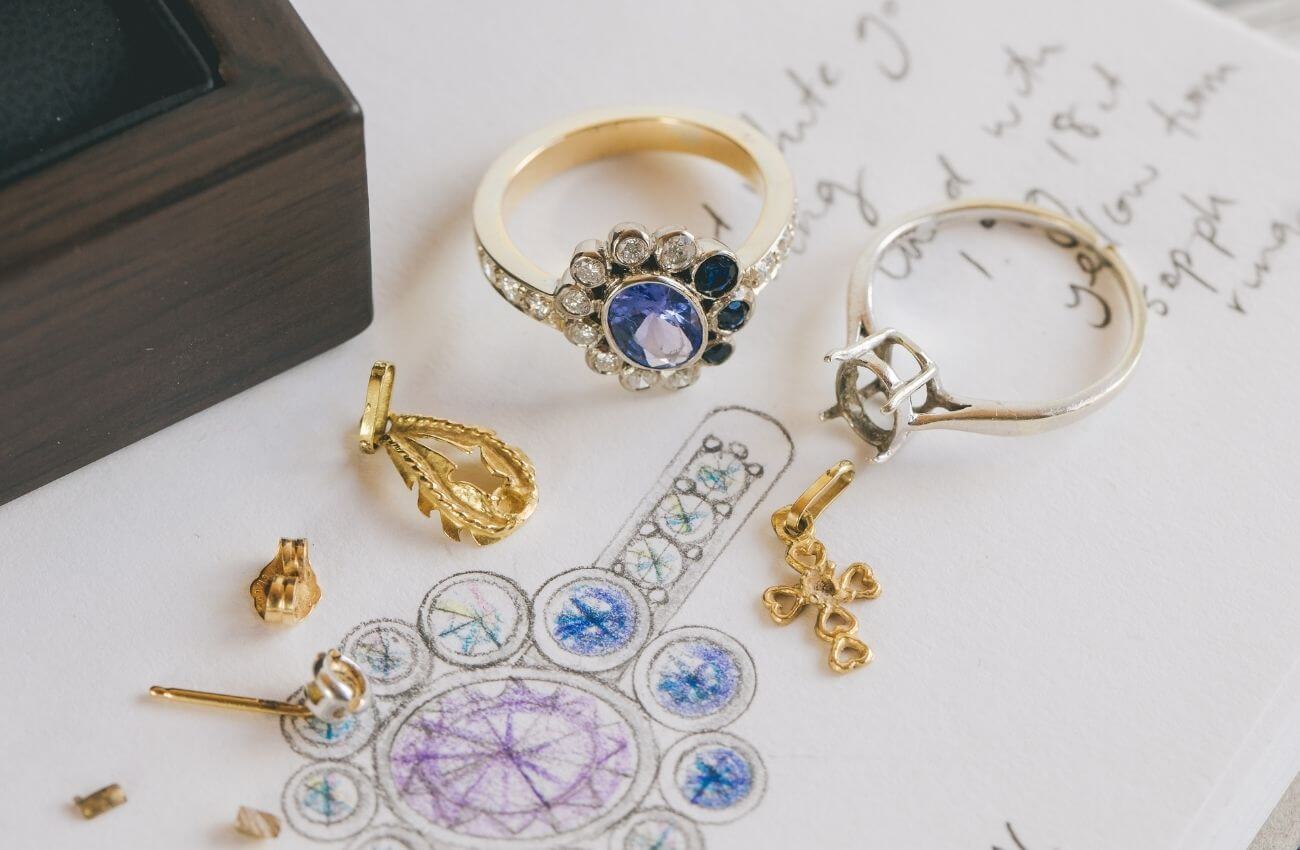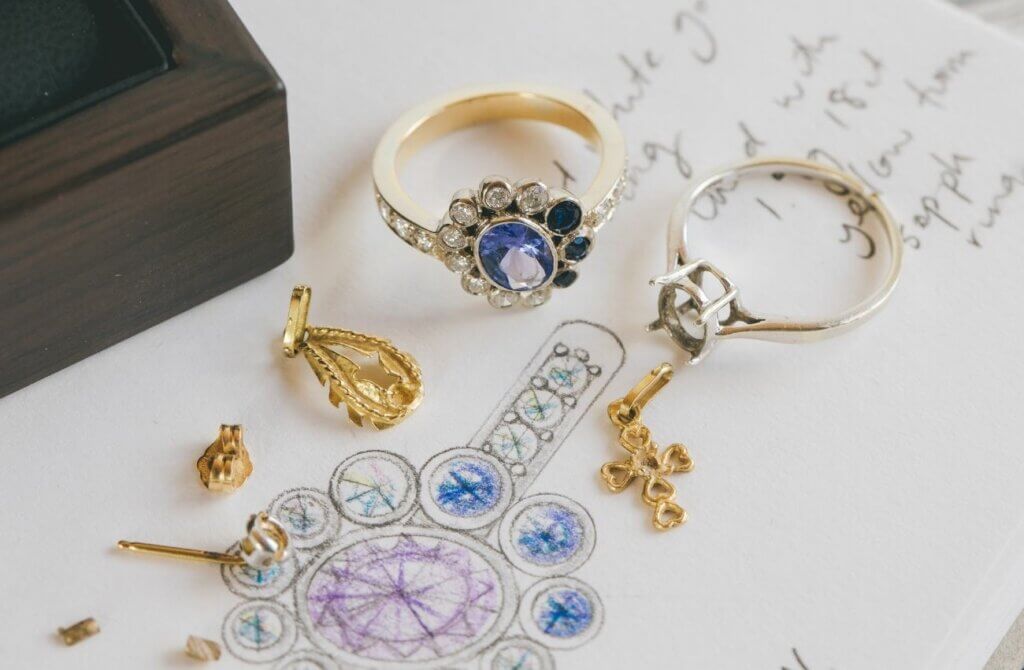 ---
I hope this article has convinced you that going bespoke is a wonderful experience and definitely a route to explore when looking for the perfect piece of jewellery. Why not have a look thought our previous commissions for some inspiration? If you would like to discuss your ideas for a custom piece of jewellery, get in touch via the contact form and let's start your bespoke journey today.