It is more common to be designing a fitted wedding ring to slot around a shaped engagement ring. But we worked the other way around with Larissa's set of rings!
Instead of an eternity ring (or perhaps that can come later…!), Larissa decided she wanted to resolve an issue with her engagement ring to make it sit nicely with her beautiful half eternity style wedding band. She loved her original engagement ring and wanted to retain some of its feel, but the low profile setting meant it did not sit flush with her wedding ring, and long term, she knew that would cause an issue.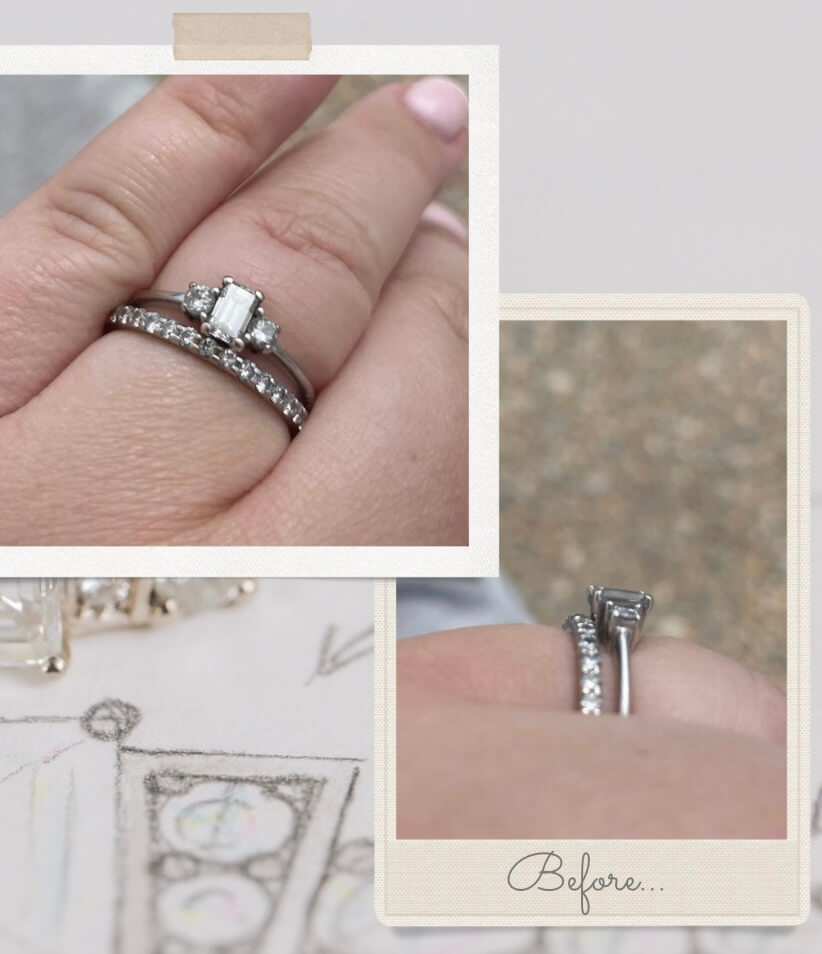 If left, the diamonds and the claws on her wedding band would score into the side of the setting of her engagement ring, which potentially means losing her engagement ring diamonds as the settings lose strength. You can find out more about this issue in my article all about 'Gap Stacks'.
She was inspired to get in contact with me about this remodel after seeing her friend Kirsty's wedding ring redesign that I completed earlier in the year. We re-used her diamonds (and added a few more for good measure) and created the dream wedding ring she wished she had always had, so Larissa knew I could work some magic on her engagement ring to give her the perfect set too!
An obvious route could have been to set the trilogy of diamonds higher up, with undercut settings so her wedding band would slot underneath, but we wanted to keep the settings low profile so they didn't sit too high on her finger.
So we then looked at several options with the three main stones offset from the centre of the band so they would sit neatly against the straight wedding band. It was when we added the dramatic tapered fan shapes either side of the emerald cut diamond that this style of design clicked in to place.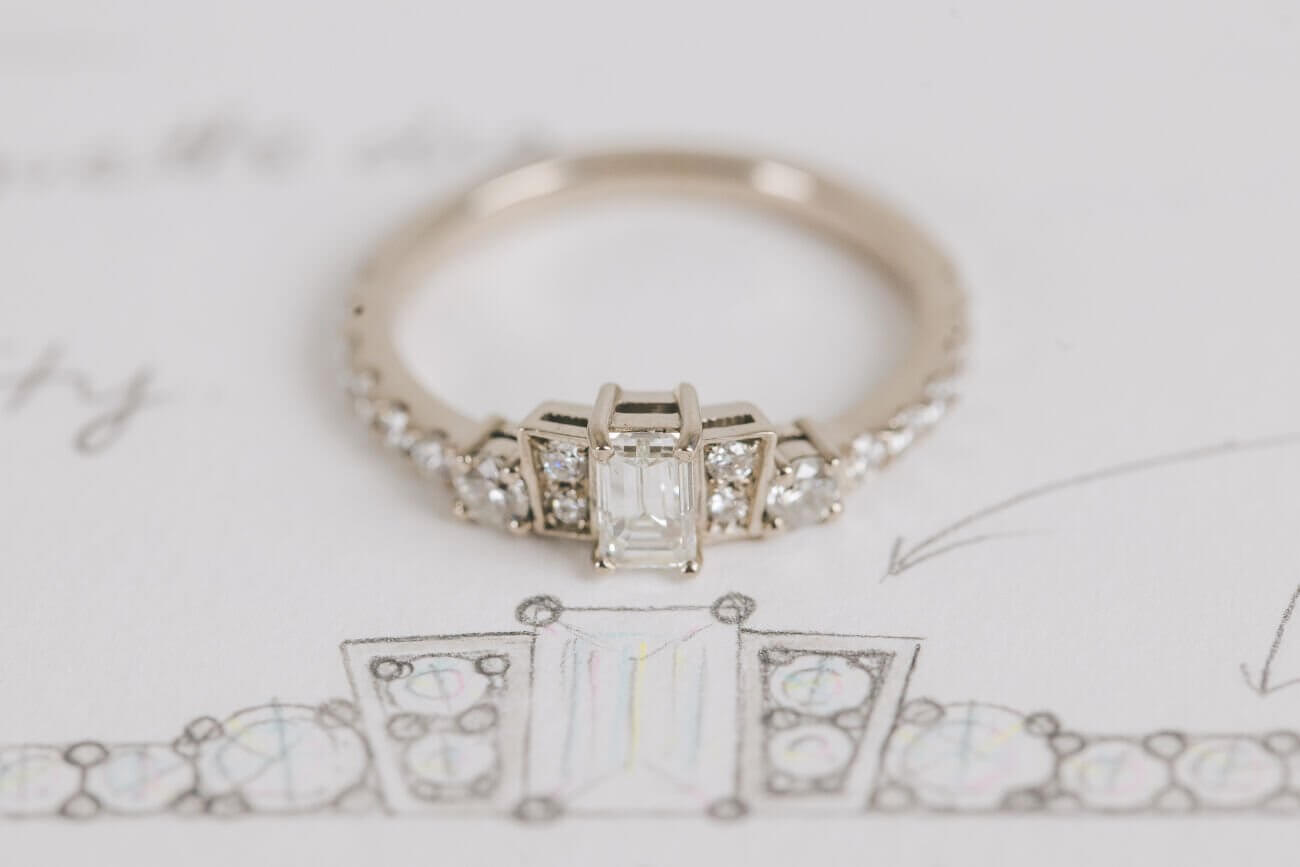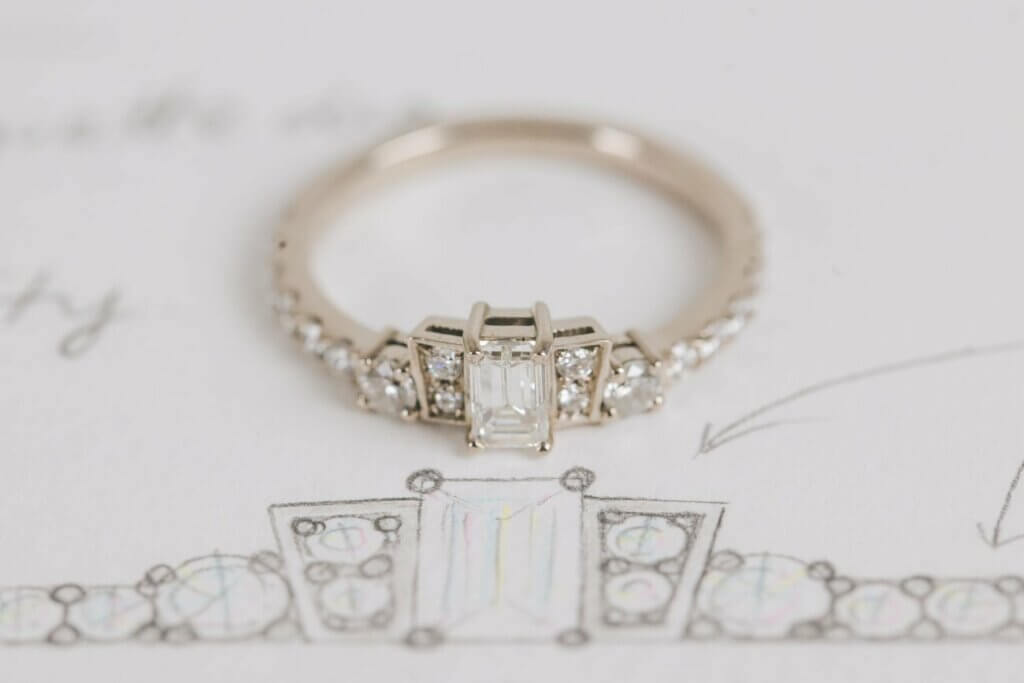 The tapered fan shaped with grain set brilliant cut diamonds either side of her original emerald cut diamond scream Art Deco, and balance of the offset nature of the design perfectly. The graduating size of settings is so elegant and timeless.
We then moved our attention to the band of her engagement ring – instead of keeping them plain metal, we diamond set them in the same style as her wedding ring for a fully cohesive pair.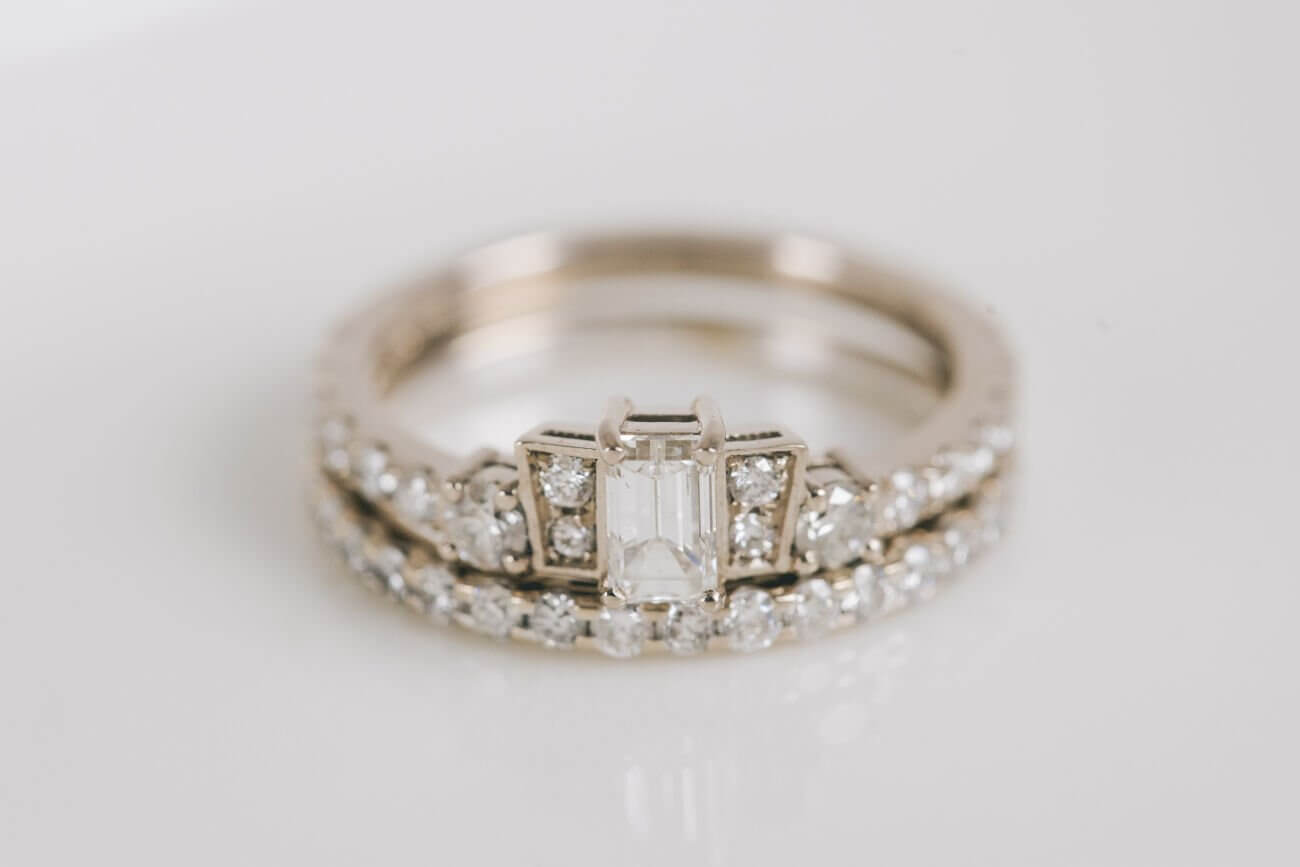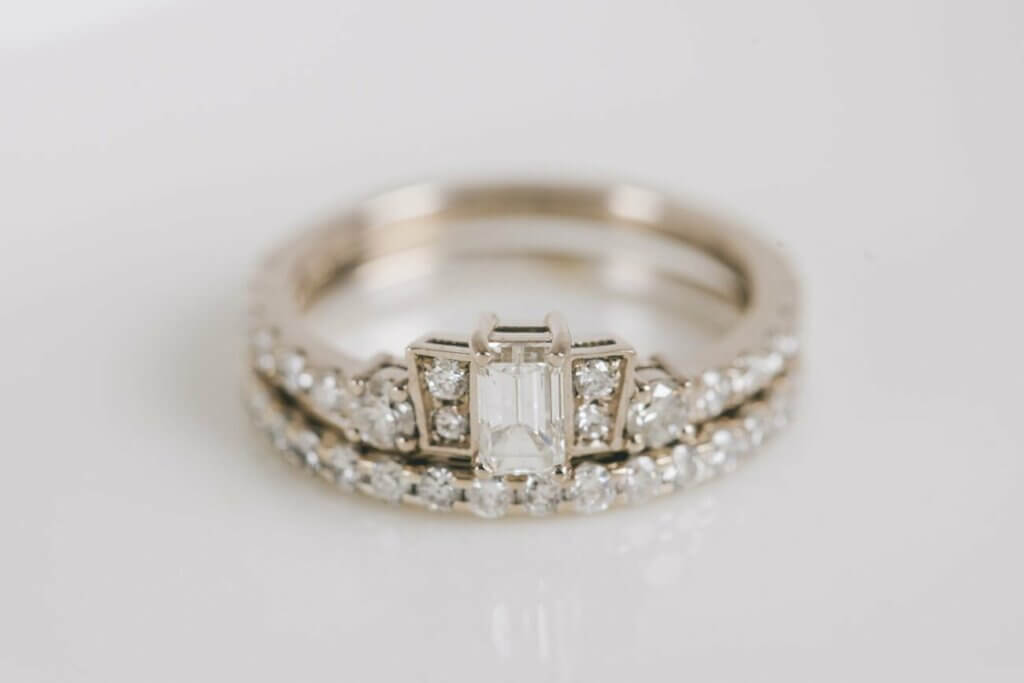 So now Larissa has the engagement ring of dreams – fully matching her wedding ring, and designed in a way that the two rings not only look fantastic together, but they will not cause any damage to the settings of either ring, and she can wear them with confidence for a lifetime! The ring may be new, but the original diamonds and the metal from her original engagement ring are all included to ensure the sentiment and history is taken forward.
I am so pleased she went for this design – I absolutely love it, and judging by the fact that she couldn't take her eyes off it when she collected, Larissa does too!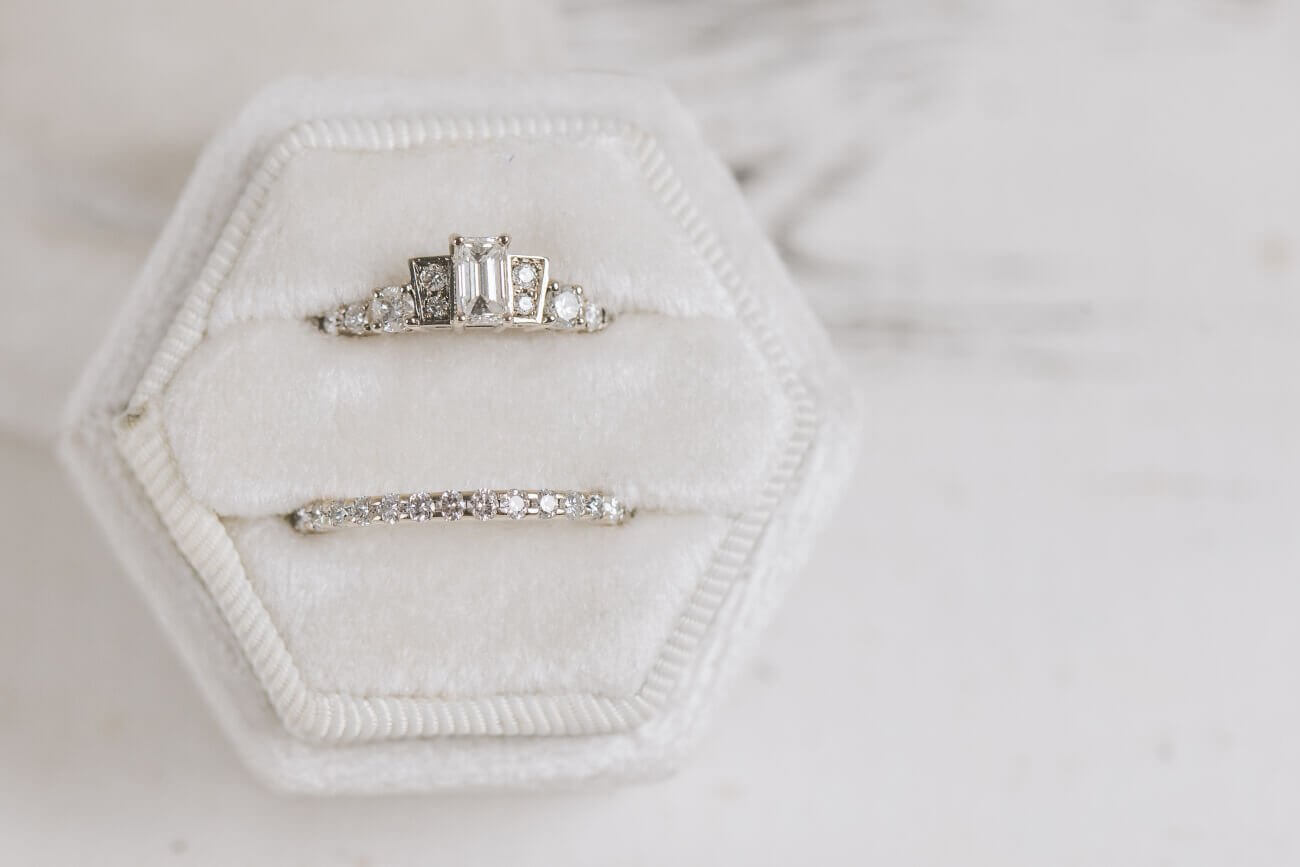 If you have gaps between your engagement ring and wedding ring, I hope Larissa's journey to this dream set has given you some inspiration. I love solving your jewellery problems in beautiful designs like this and feel so good knowing that Larissa's rings are now made to last and can be passed down her family and enjoyed by generations.
"I just love it so so much"

Larissa
Get in touch to start your remodelling journey to achieve the same with your rings!