To fit or not to fit is the question on many brides' minds when planning their wedding ring. So many engagement rings are not wedding ring friendly and require a fitted wedding band, and yet the high street does not stock many options, if any at all.
To be wedding ring friendly, an engagement ring has to be able to sit neatly next to a straight wedding band with no rubbing or rocking between the two rings. A critical point to look at is any protruding setting on the engagement ring – if this rubs against the wedding band, then over time, the wedding band will score into the prongs of the setting and weaken it, possibly resulting in a lost stone.
Wedding ring-friendly engagement rings either have the setting set up above the band of the ring or the base of the setting does not protrude out further than the width of the band at the sides.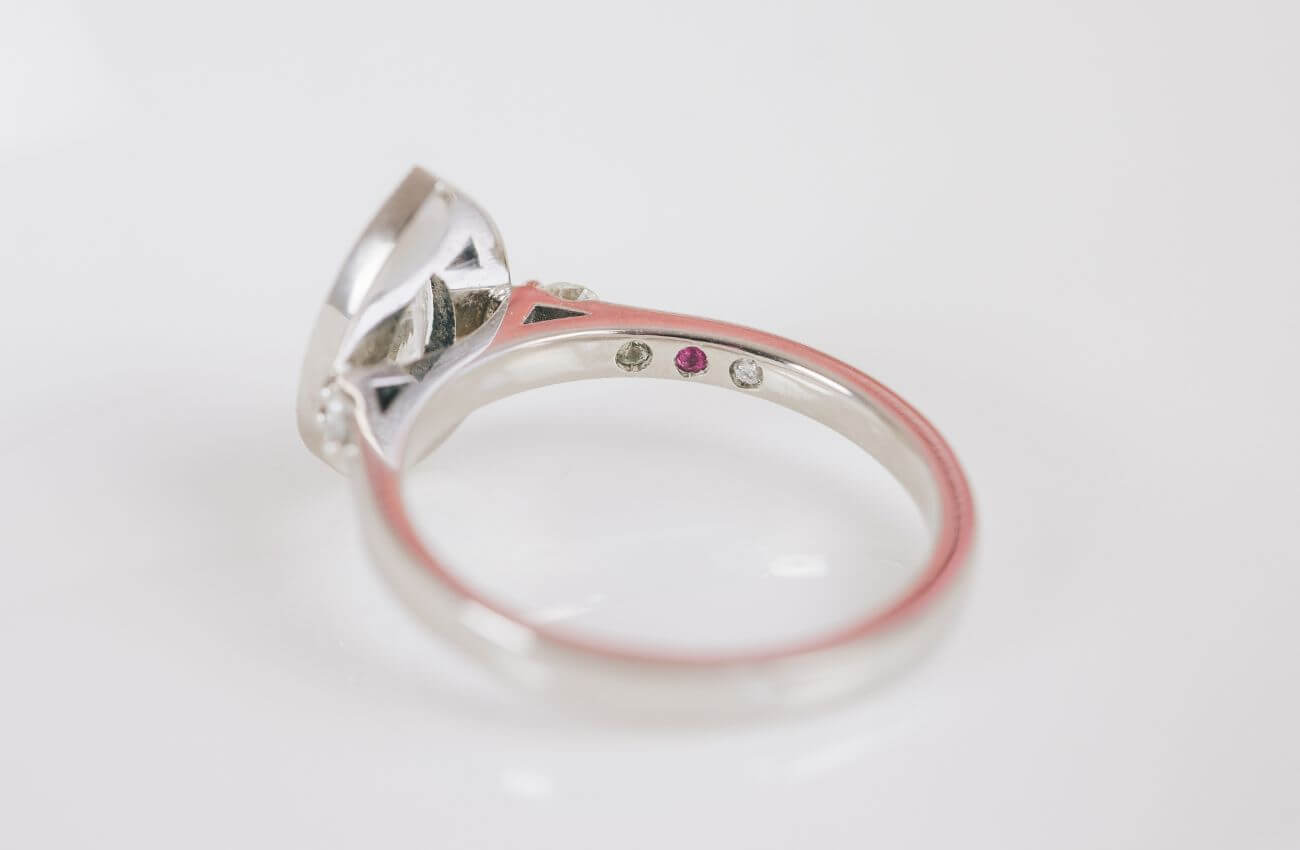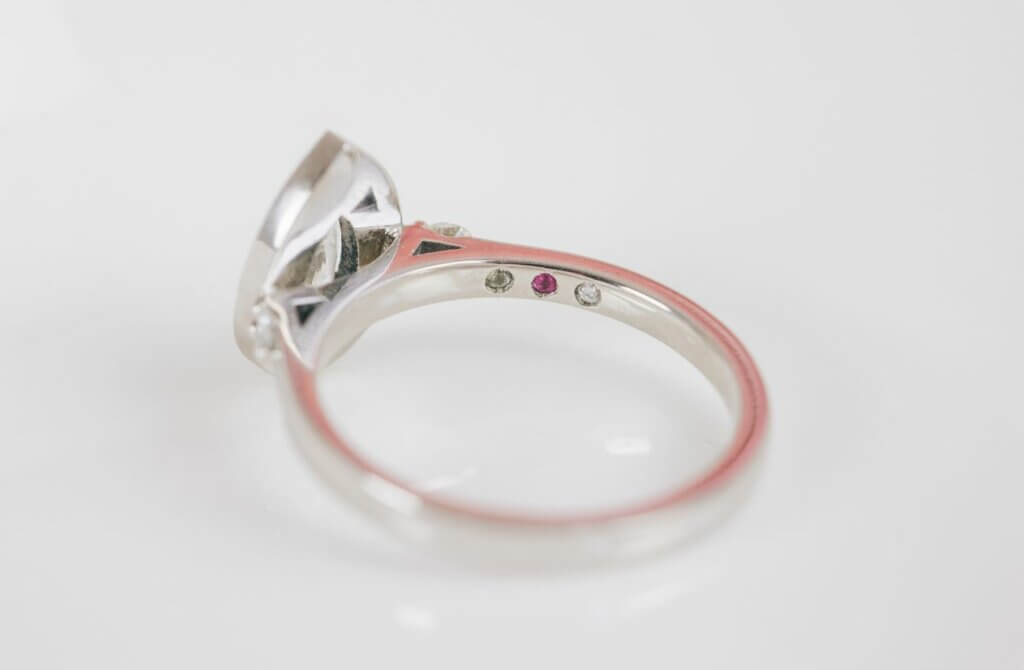 Engagement rings are often designed NOT wedding ring friendly because it means the settings are lower and therefore less catchy and perhaps practical. But this means that for longevity, a fitted wedding ring is a must.
A quick search through Pinterest for ladies wedding rings and I found endless examples of 'The Gap Stack' – a current trend I see all over my social feeds, and also therefore all over the feeds of brides planning their wedding details.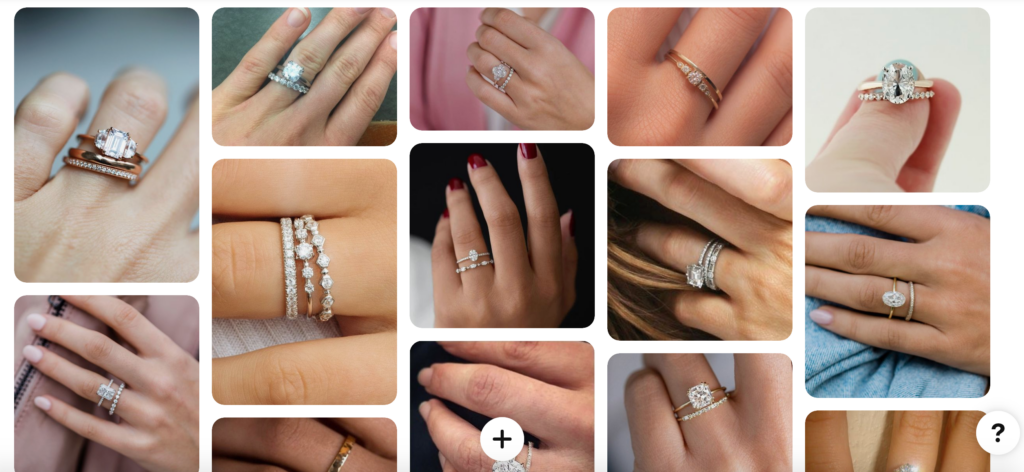 This new trend has several issues:
For the gap to look 'good', the rings have to be too big for the finger. This means they are more likely to be lost, and you'll have lots of issues of spinning bands and the front of your engagement ring going to the back of your hand.
These trendy rings are often incredibly skinny. These are your forever rings; the metal will wear down over time, so do not start with them being too slim, or you'll have to do some maintenance work on them in the not-too-distant future. Re-shanking your ring is not something you want to pay for very often! I do not recommend less than 1.7mm wide and 1.5mm deep, and ideally at least 2mm wide and closer to 2mm deep. These fractions of a millimetre make a big difference when talking about the longevity of your rings. Practicality and longevity are just as important as the look of them.
Where the two rings rub together, you will cause damage to each ring. Long term, this can result in worn away setting prongs and the potential for lost stones.
So What Are Your Options?
All is not lost! There are so many options out there to get the look you are after.
1. Fitted Wedding Ring
There are so many lovely options for fitted wedding rings. The key to a good design for a fitted wedding ring is for the two rings to look absolutely made for each other, like they were bought as a set or designed together. This does't have to mean 'matchy-matchy' – often the best stacks are complementary rather than completely matching.
Going for a fitted wedding ring doesn't mean you can't wait it on it's own – so many designs look great when worn without the engagement ring. Just tell your jewellery designer if this is important to you and they will give you lots of options to consider.
Here are some examples to give you some ideas: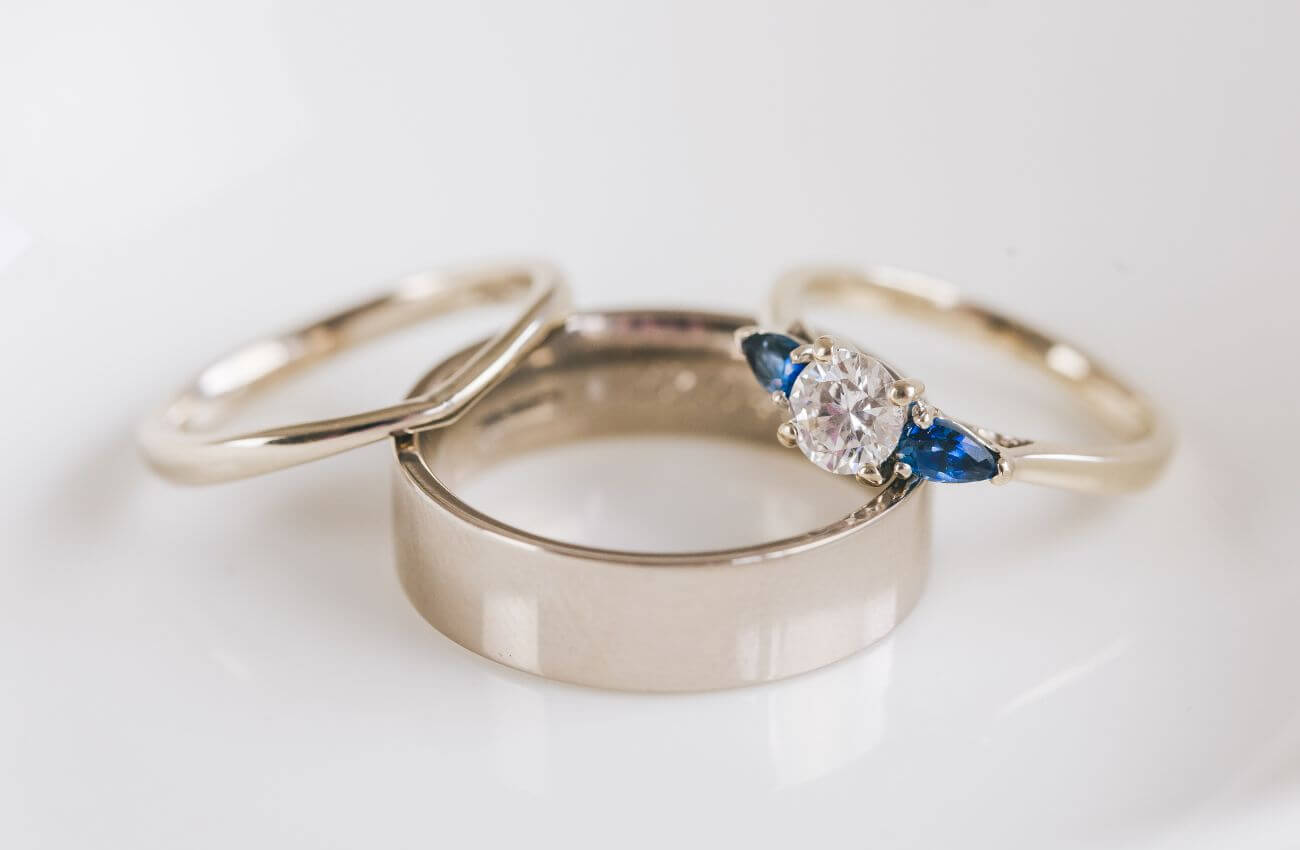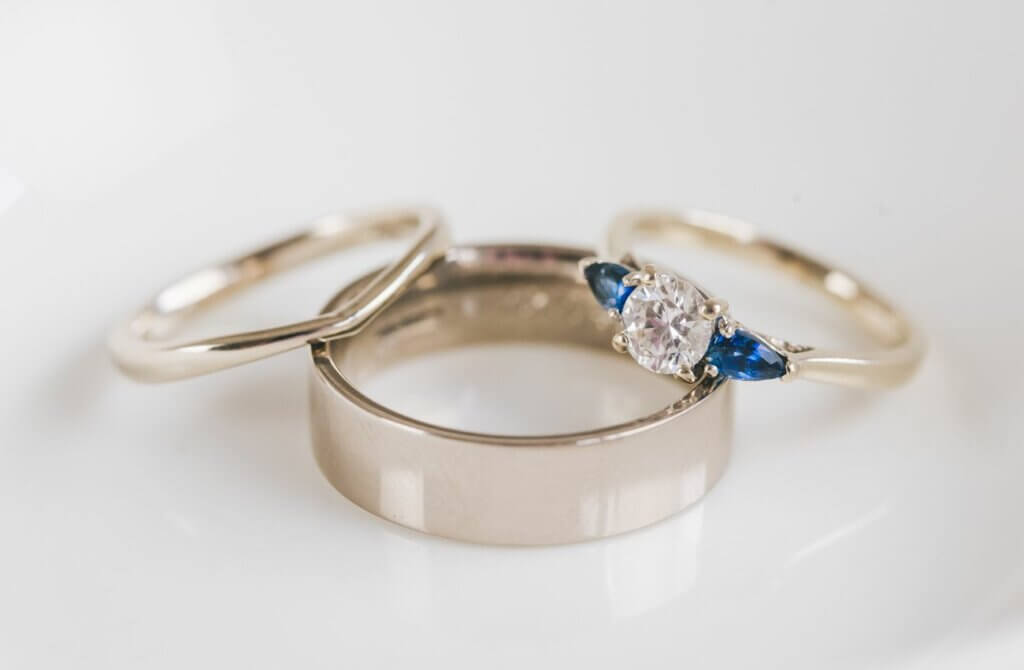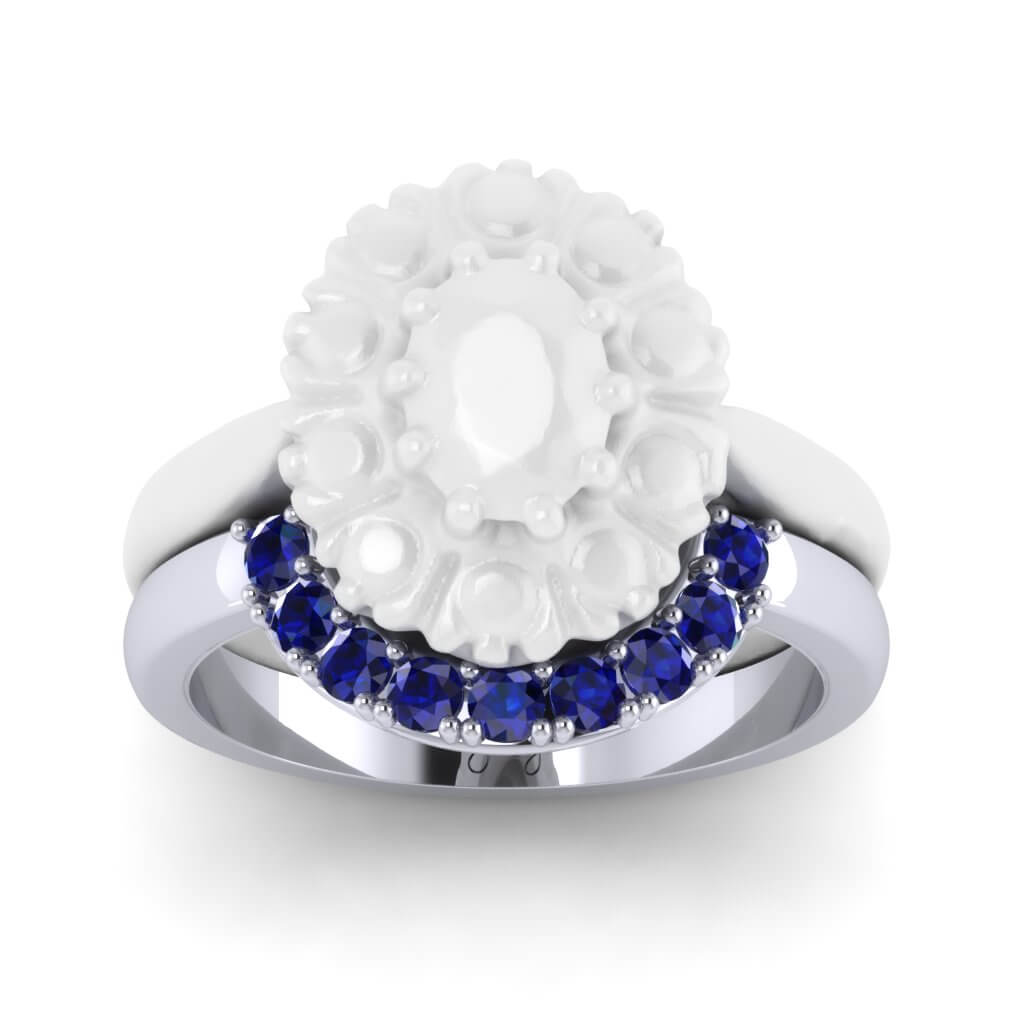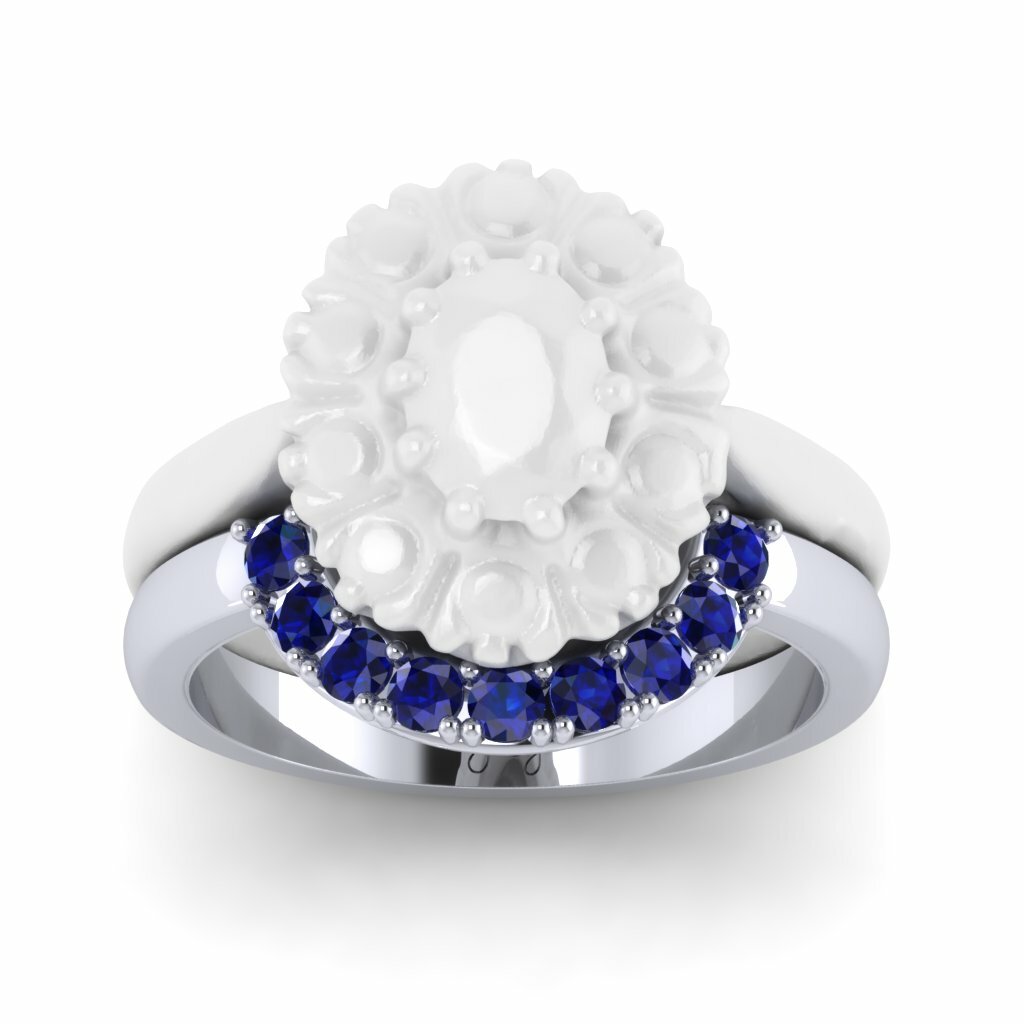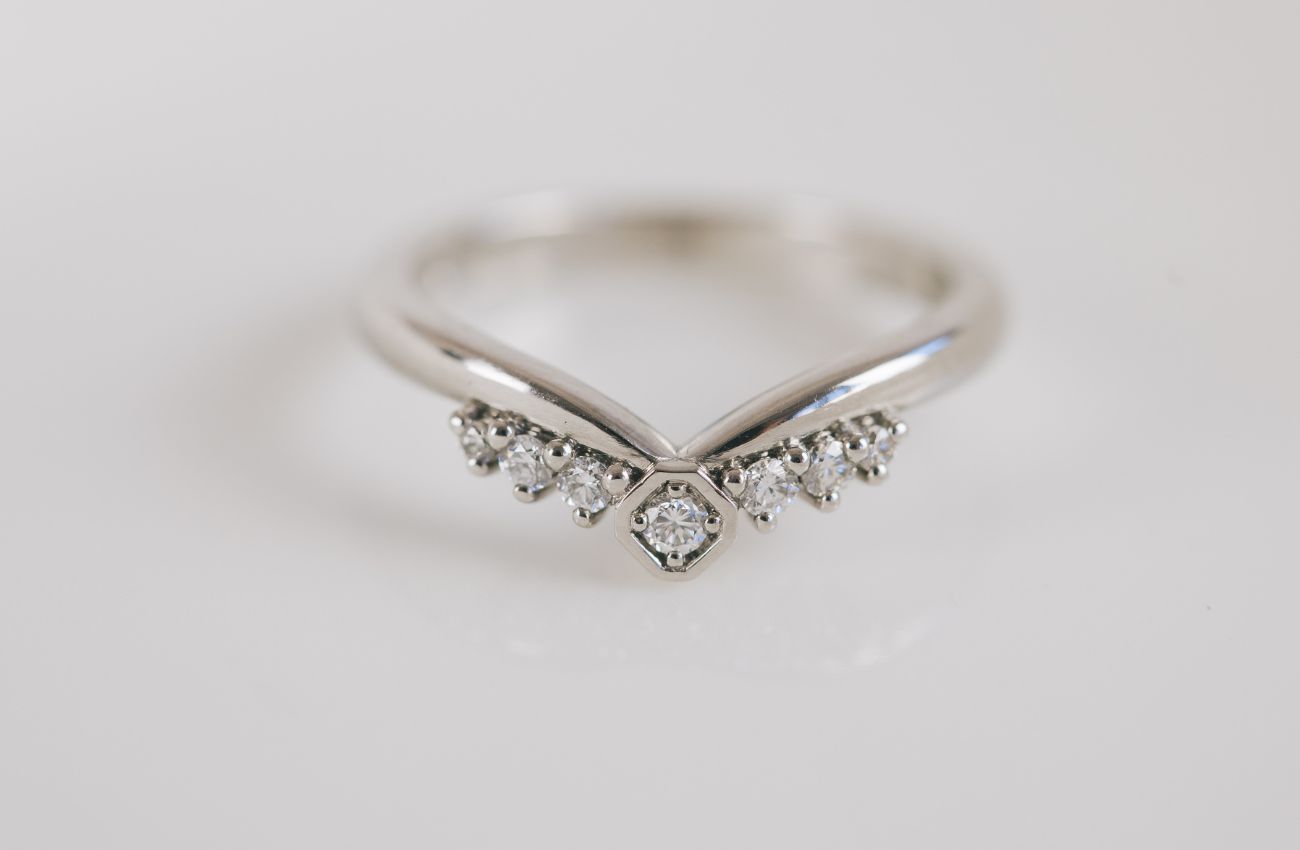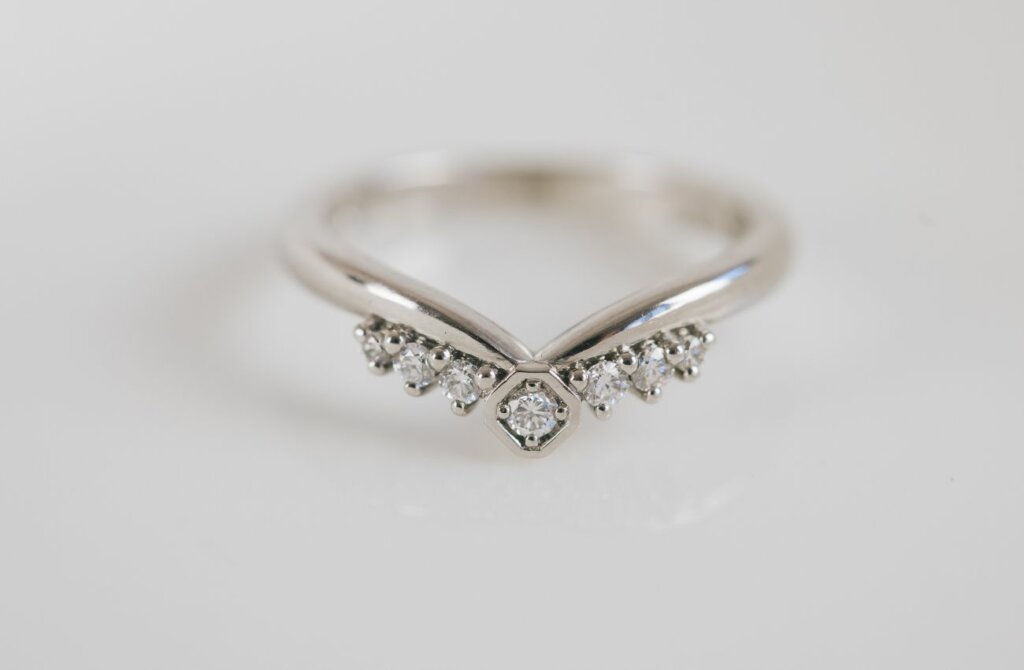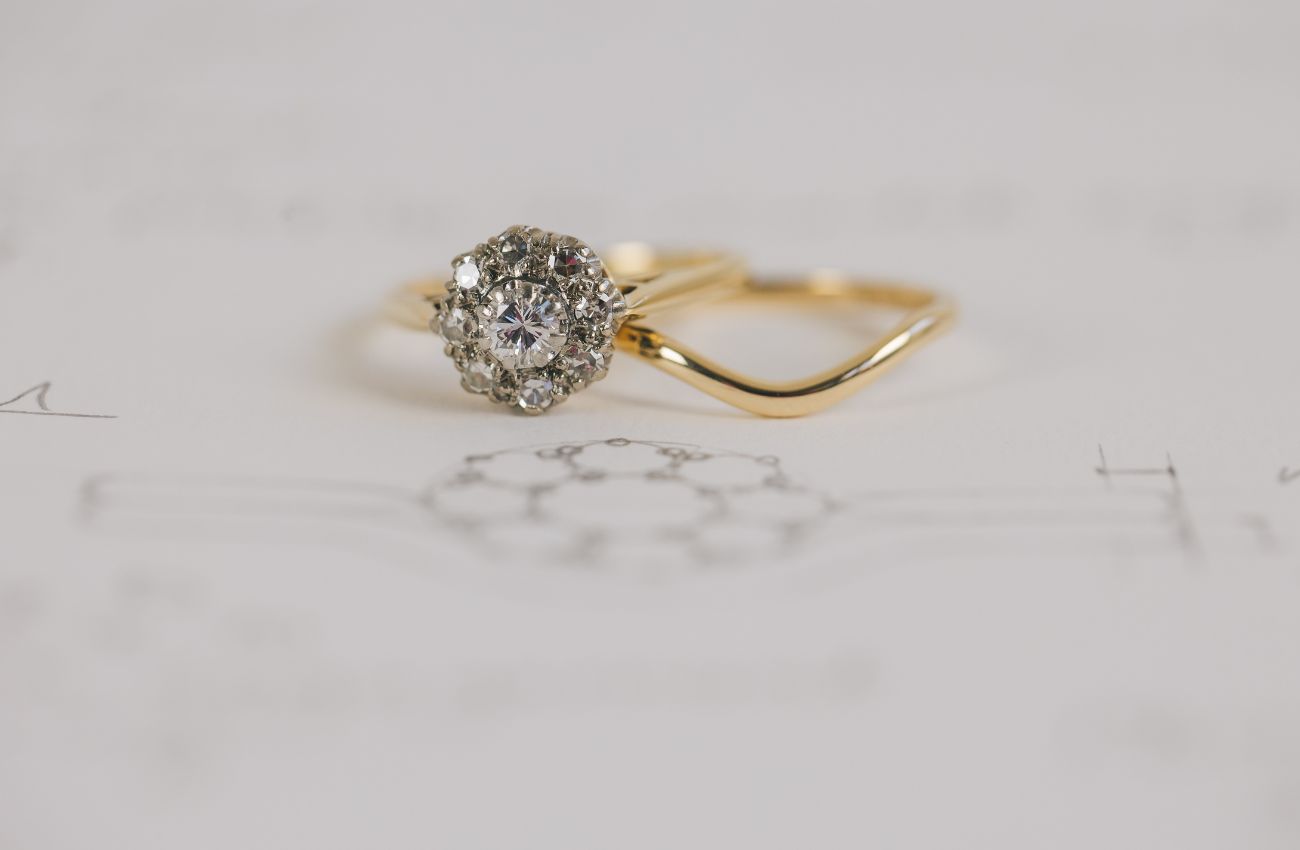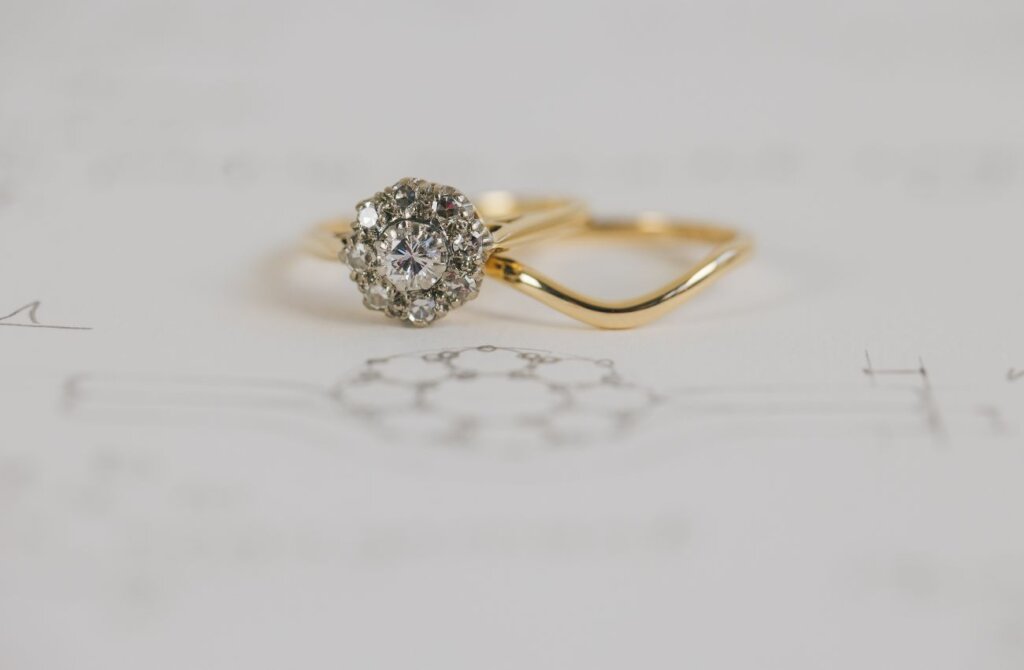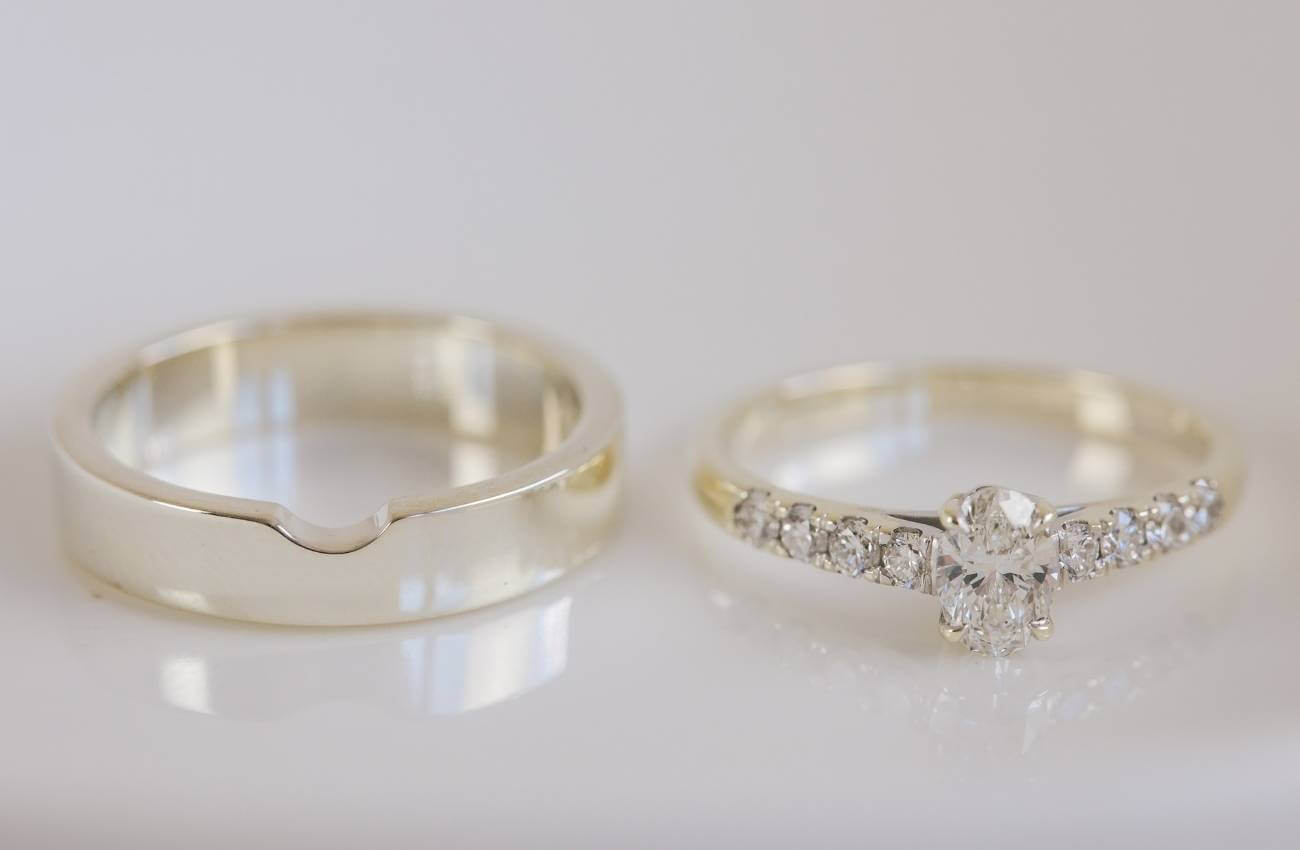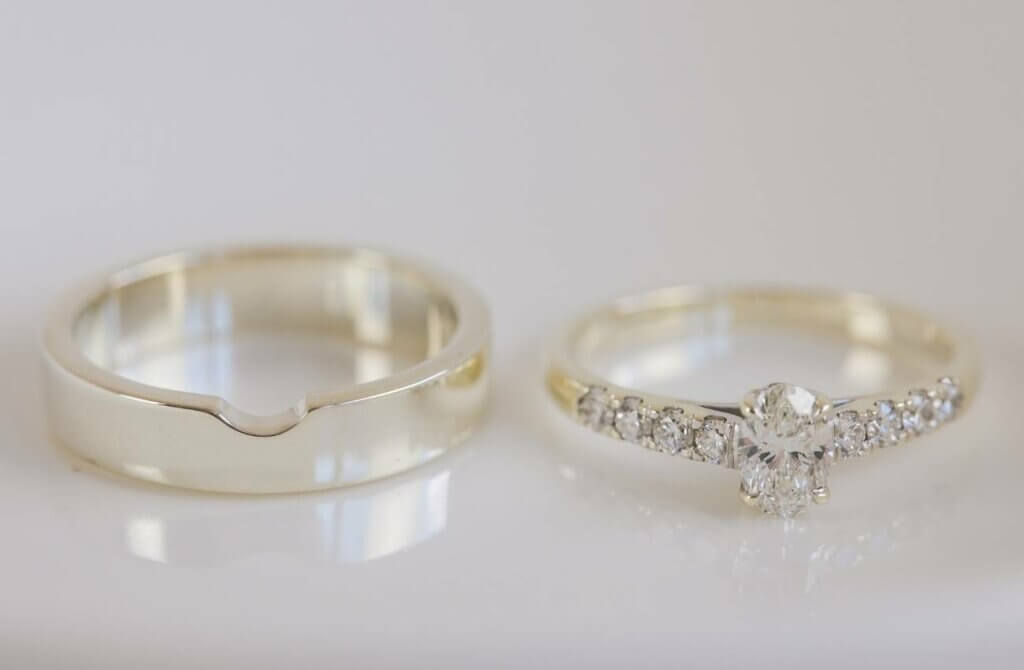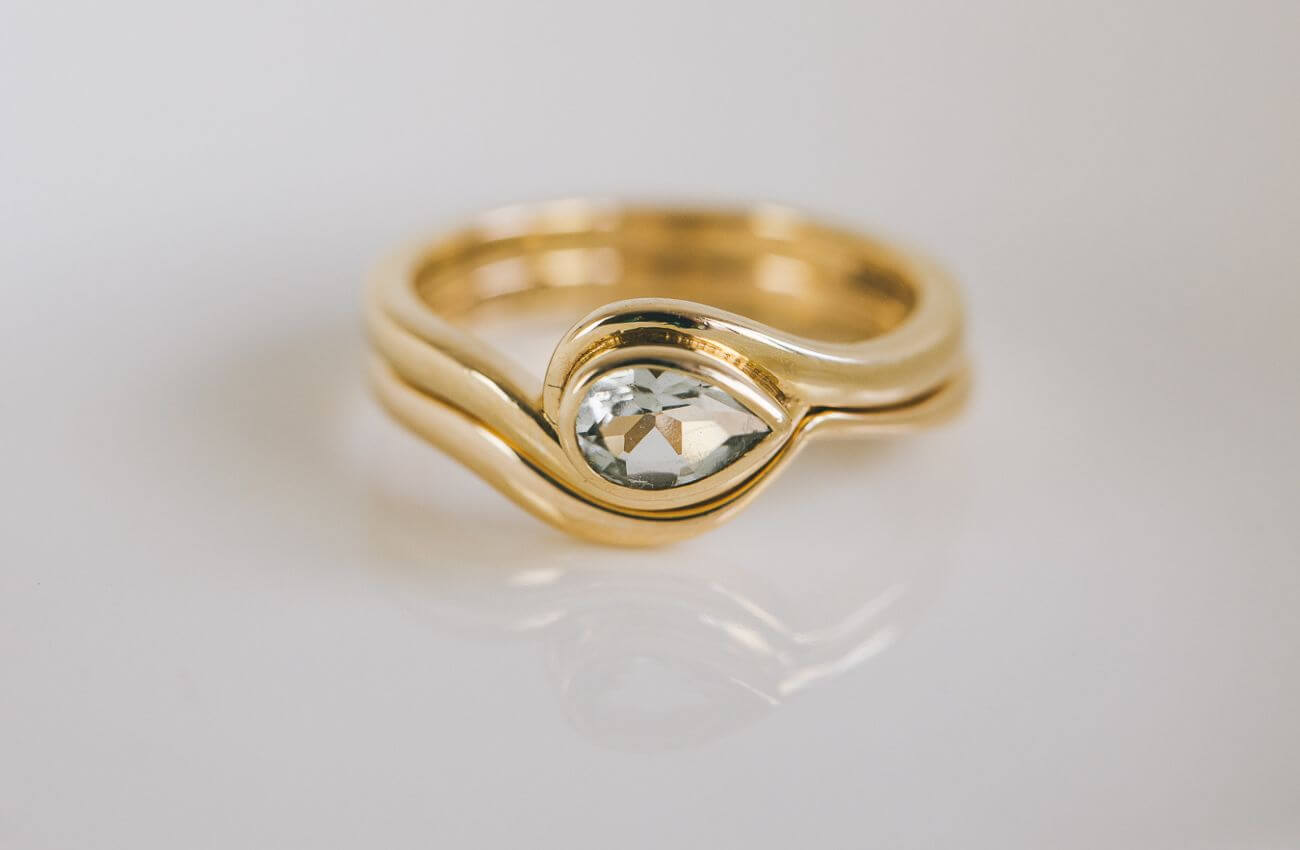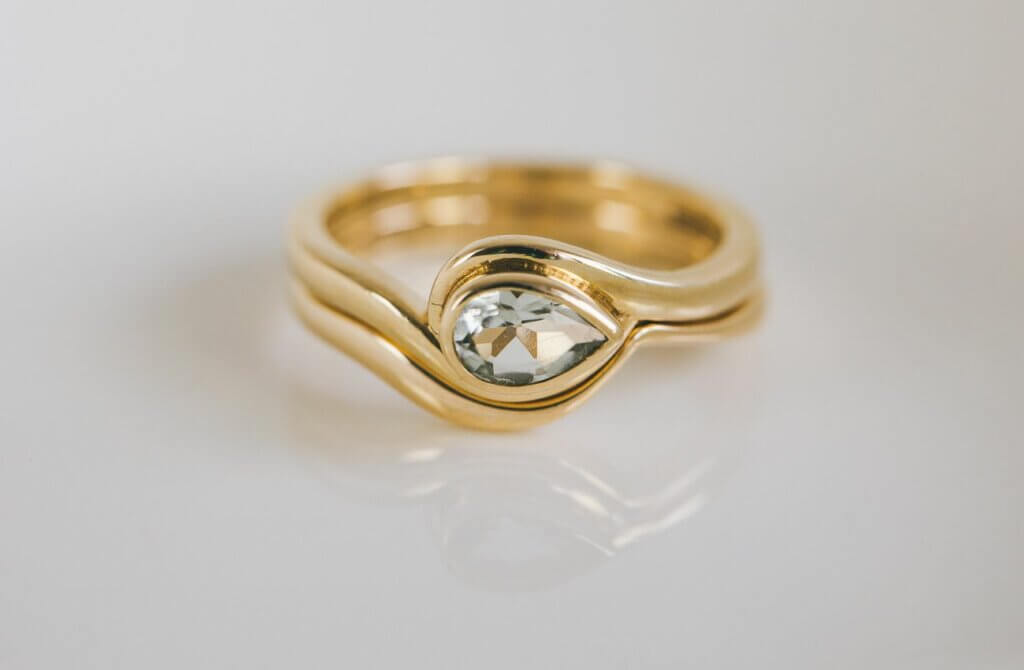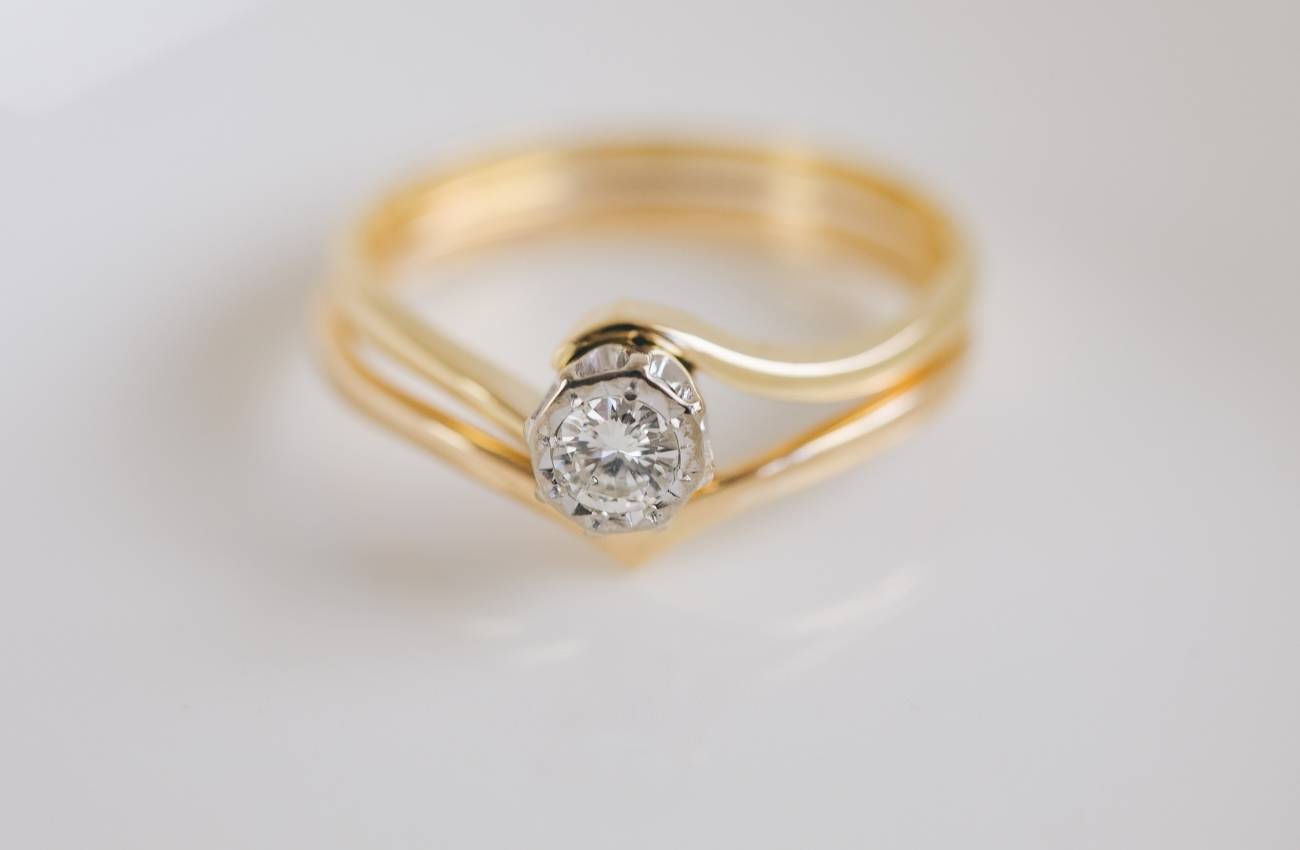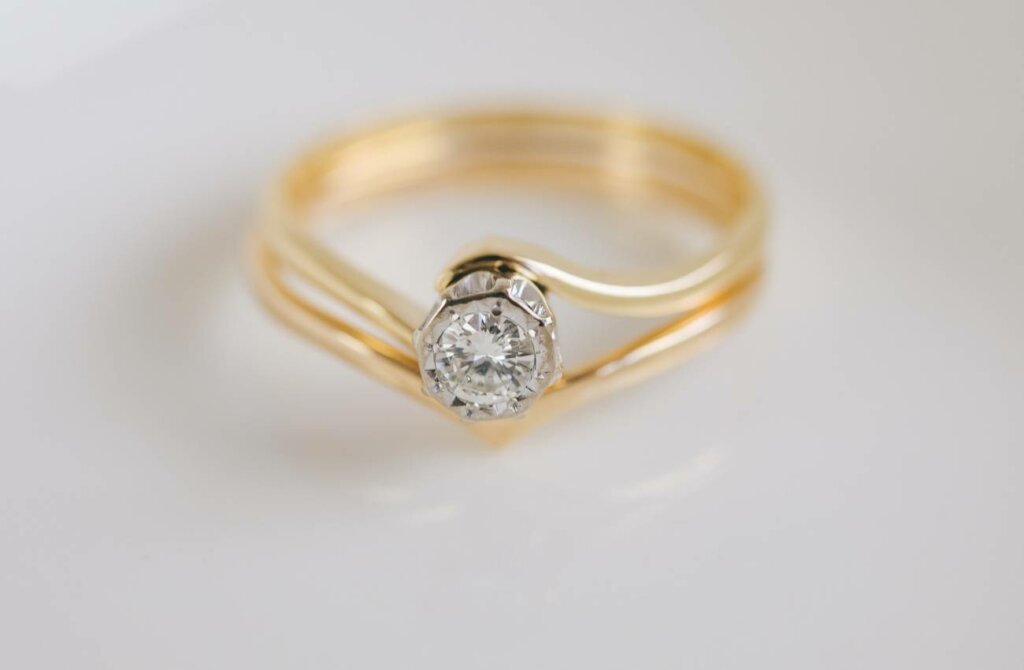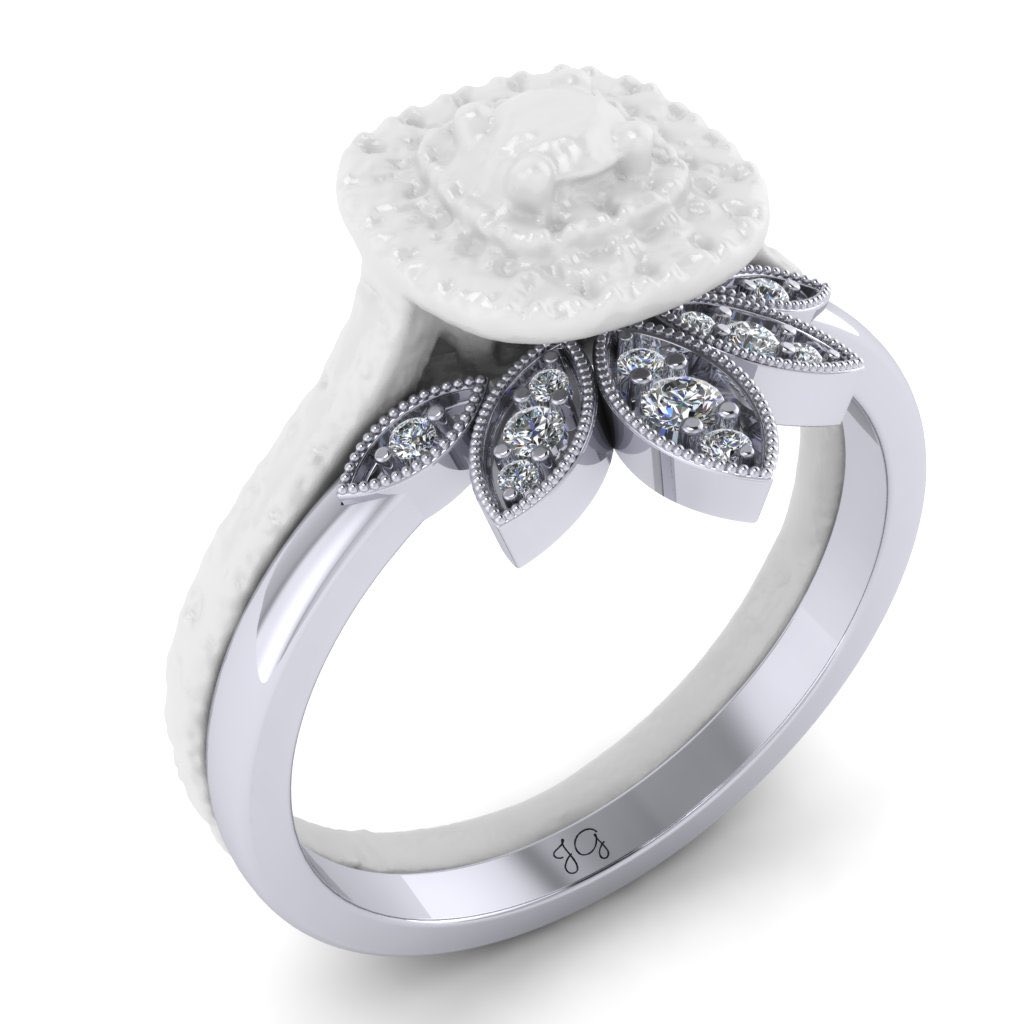 2. A Filler Ring Can Stop Any Wear or Tear
If you're desperate to have a straight wedding ring, a good option is a filler ring. This open band slots around the setting and stops any wear and tear between a straight band and the engagement ring. It is a great excuse for a third ring as well…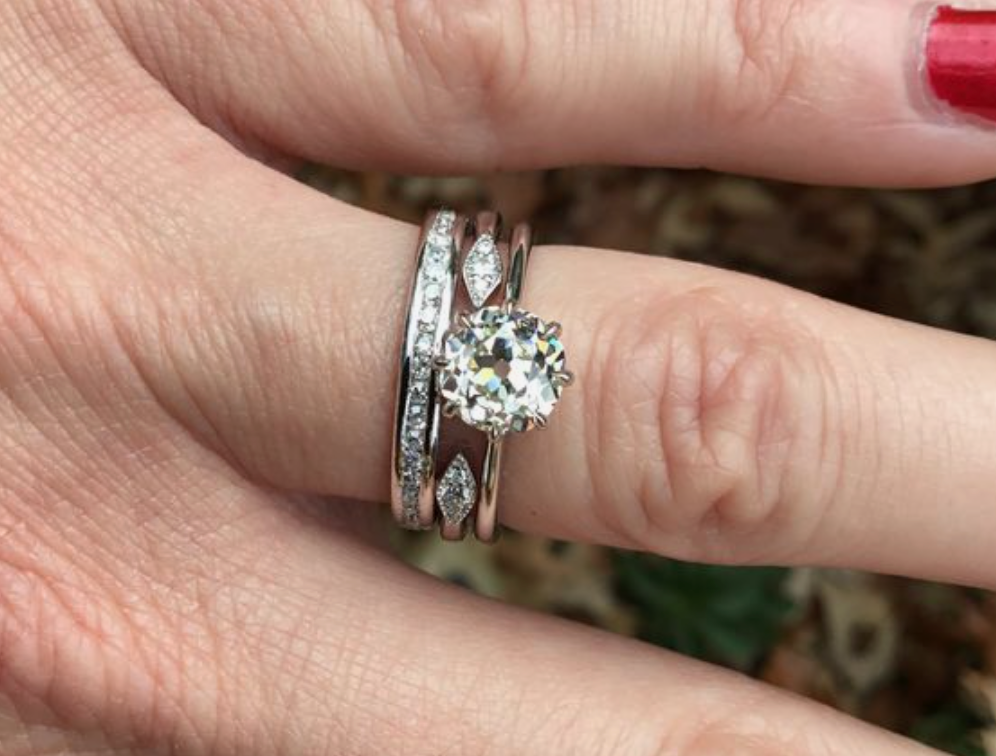 3. Solder The Rings Together
It sounds drastic, but if your engagement ring only requires the smallest of fitting around, the rings can spin apart as they are not strongly slotting together like a jigsaw puzzle. We soldered Caron's engagement and wedding ring together so this couldn't happen, and no wear and tear could occur between the two rings. She always wears both, so this option made sense for her.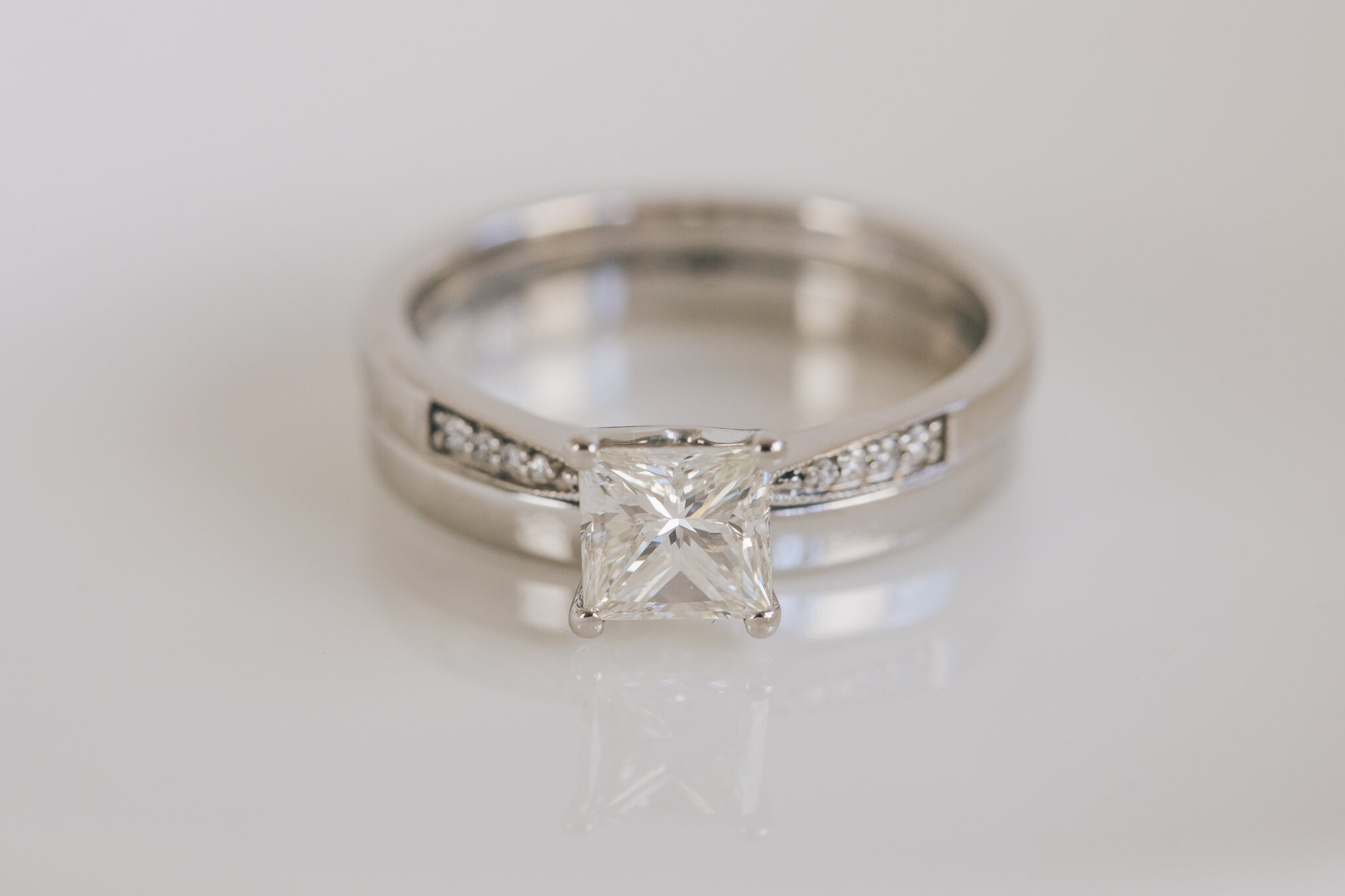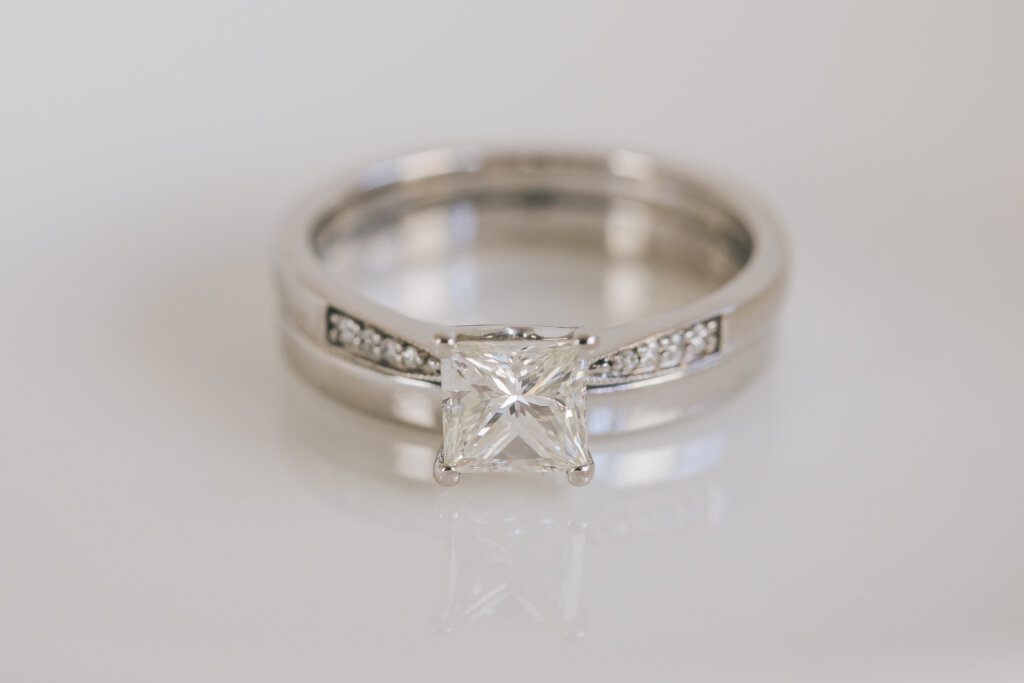 4. Remodel Of Your Engagement Ring
If we can tweak your engagement ring so that it can become wedding ring friendly, then this is another option.
That's exactly what we did to Laura's engagement ring. She initially brought it into the studio as one of the six claws was feeling a bit catchy, but then we discussed how the setting had never been quite right; the 18ct white gold setting had been lifted with the diamond from an existing ring, and placed within a platinum shank. Now that the rhodium plating had fully worn away, the colour difference between the white gold setting and platinum band irritated Laura. Looking carefully at the ring, we could also see that her wedding ring was wearing away the outer prongs of the settings, and especially as the setting had no gallery (horizontal bar that holds the claws in place), this was putting her heirloom diamond at risk.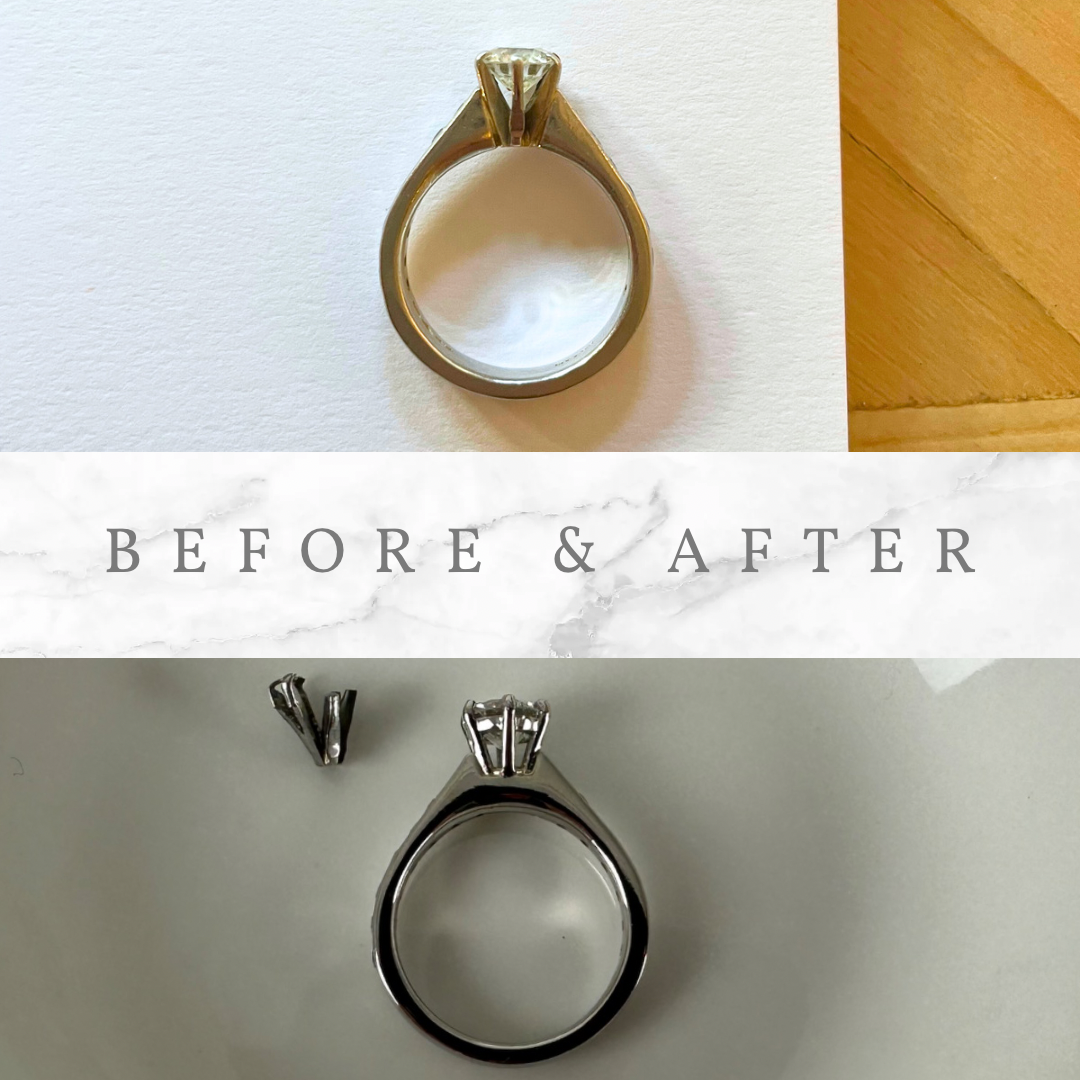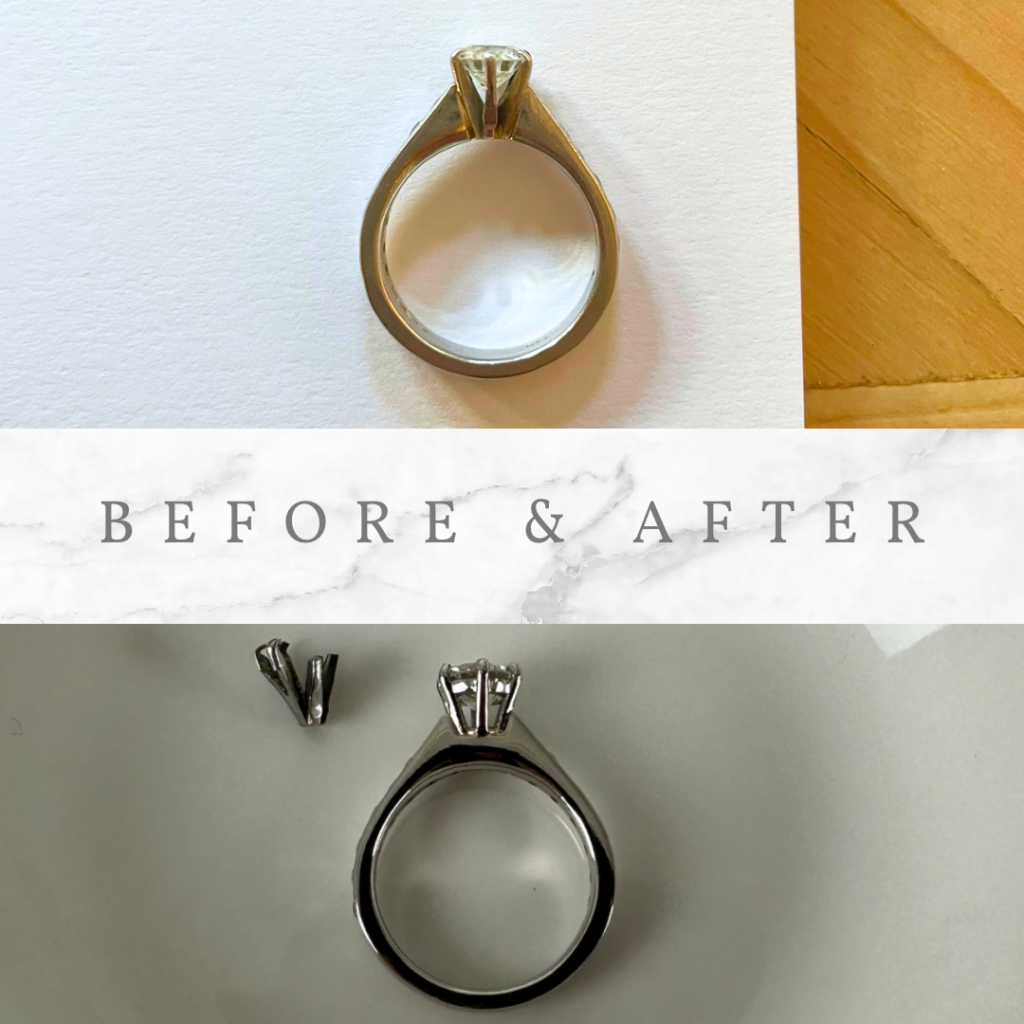 In the 'Before' image, you can see a worn area on the outer setting prong. We replaced the setting with a new similar one, but set it so that her wedding ring would slot underneath it. The look would be the same from the top, but no further damage would occur and her heirloom diamond is now safe and sound for more than a lifetime of wear.
Larissa's engagement ring and wedding set were a classic example of the 'gap stack' …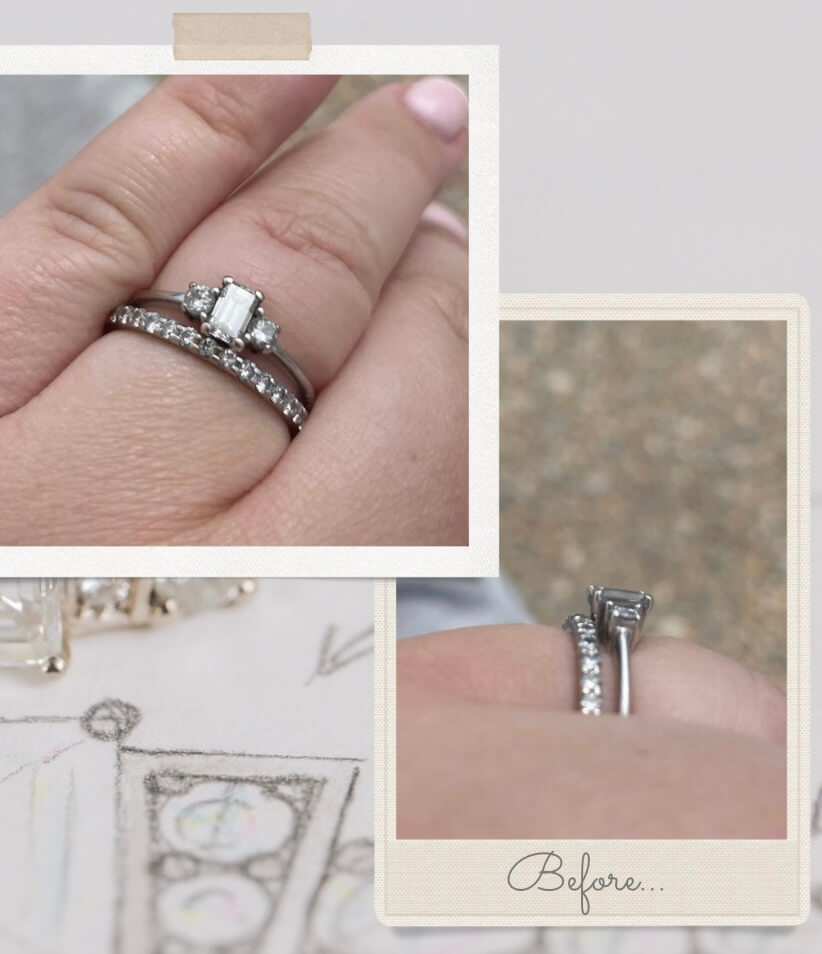 In these before images, you can see a gap between the two rings, and where the wedding band rubs against the setting of her emerald cut diamond. Over time, this was causing scoring on the setting and long term, was heading to a big problem and potential lost diamond.
So we worked backwards on her set and fitted her engagement ring to her straight wedding ring! By offsetting the settings (and adding in some Art Deco inspired tapered fan shapes for good measure), her two rings sit beautifully together and she won't have any further rubbing issues.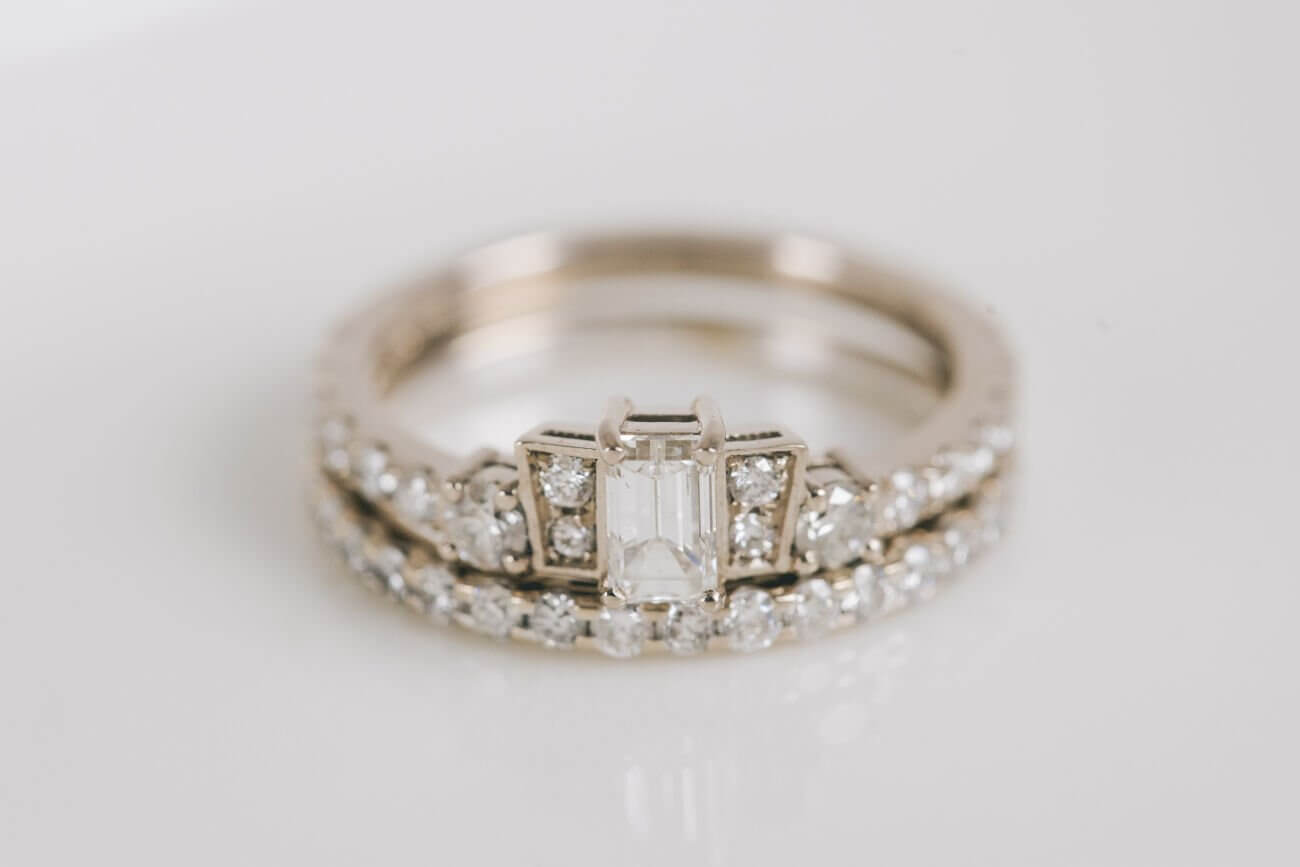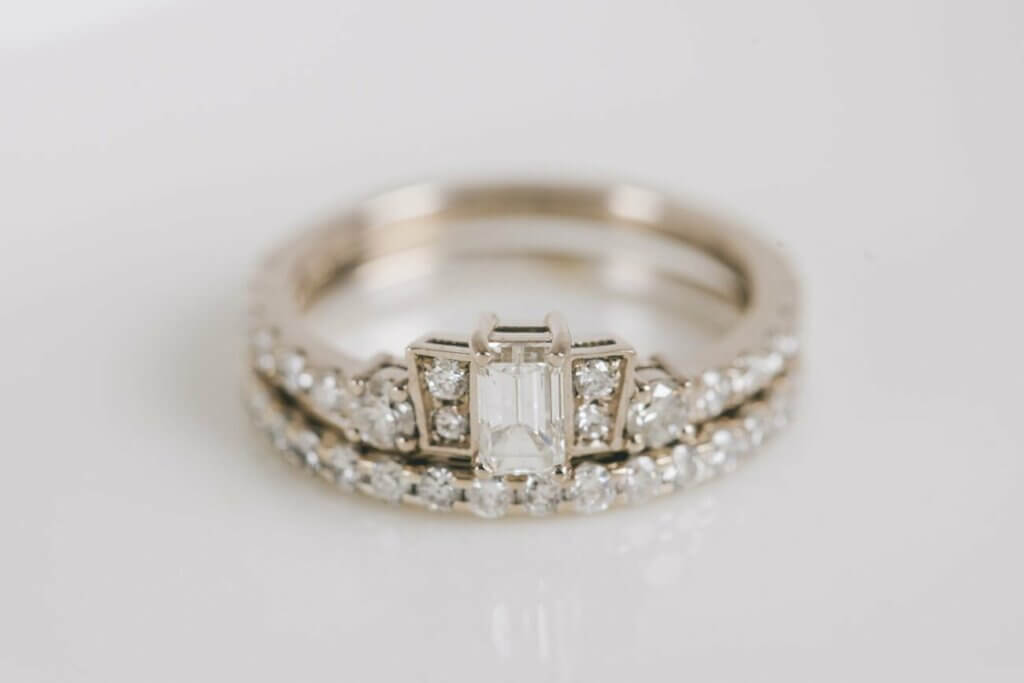 You can find out more about Larissa's remodelling project here.
To Fit or Not To Fit…
I hope that this article has provided you with some inspiration for your own fitted wedding ring. You may struggle to find something like this on the high street, but if you go bespoke, you can have the perfect fit and a beautiful stack that is no way a compromise. You should love your forever rings, and I make it my business to ensure that you do!
The key take away I want to impress is that if your engagement ring is not wedding ring friendly, it is imperative that you explore one of the options in this article for the longevity of your precious rings.
Take a look at my galleries for even more inspiration, and get in touch to start a conversation about your dream wedding rings.