At the end of a wedding ring design consultation (or other design consultation if it feels appropriate), I will always ask my couples if they have considered having any details inside their rings. Having the wedding date hand engraved inside is a traditional hidden detail that couples have been having for years, but there is scope to be really creative and romantic!
More often than not, my couples like the idea of having something inside their rings, but usually are not sure what (hence inspiring me to write this article!). If you're interested in making your wedding rings really unique, then read on for some inspiration!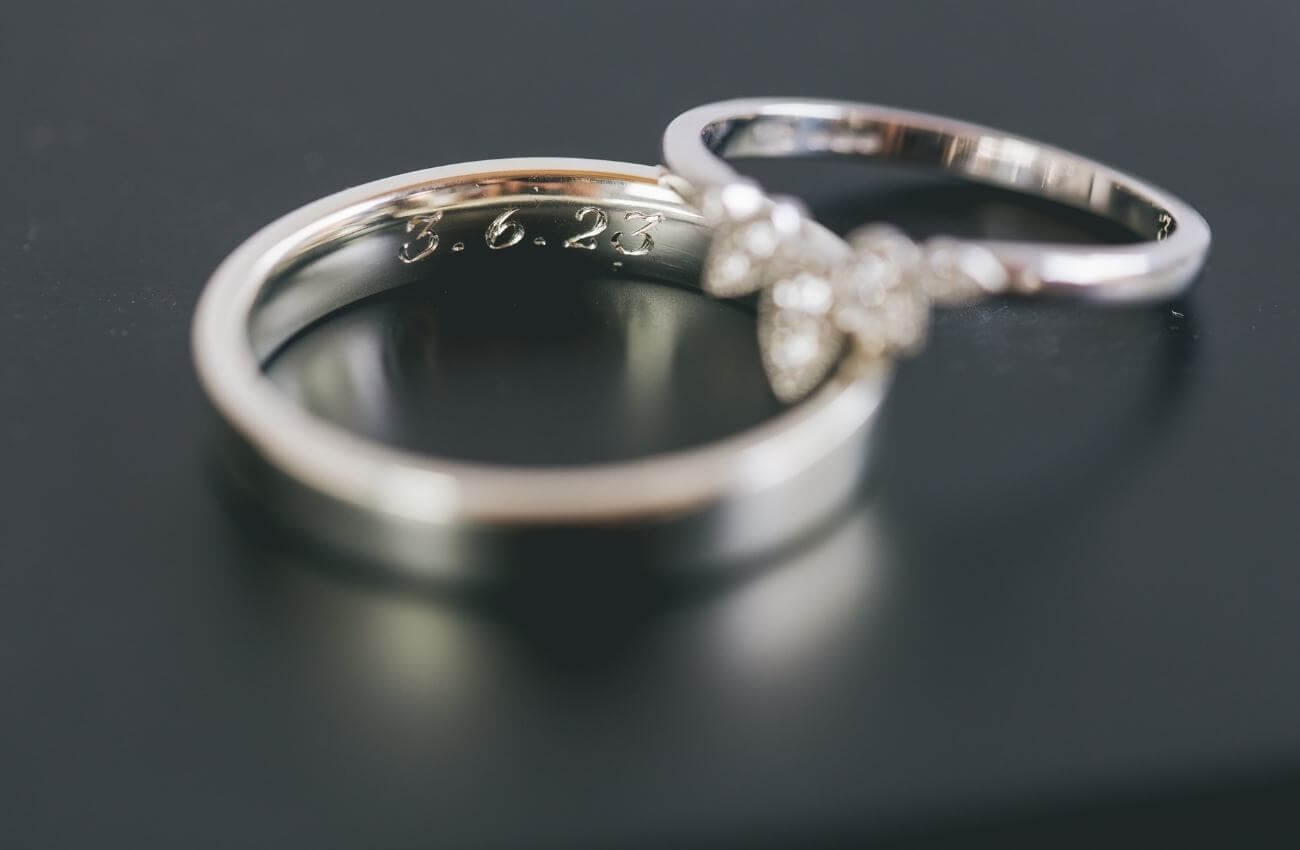 ---
A Date
Your wedding date is the perfect idea for a detail inside your ring. Commemorating the day you placed those rings on each other's fingers is really romantic, and something future generations will enjoy finding when they inherit your rings. It also means you have no excuse to forget your wedding date!
Tom and Andrea arranged their marriage on the anniversary of when they met, so simply had the date engraved without the year so it represented both their meeting and their marriage.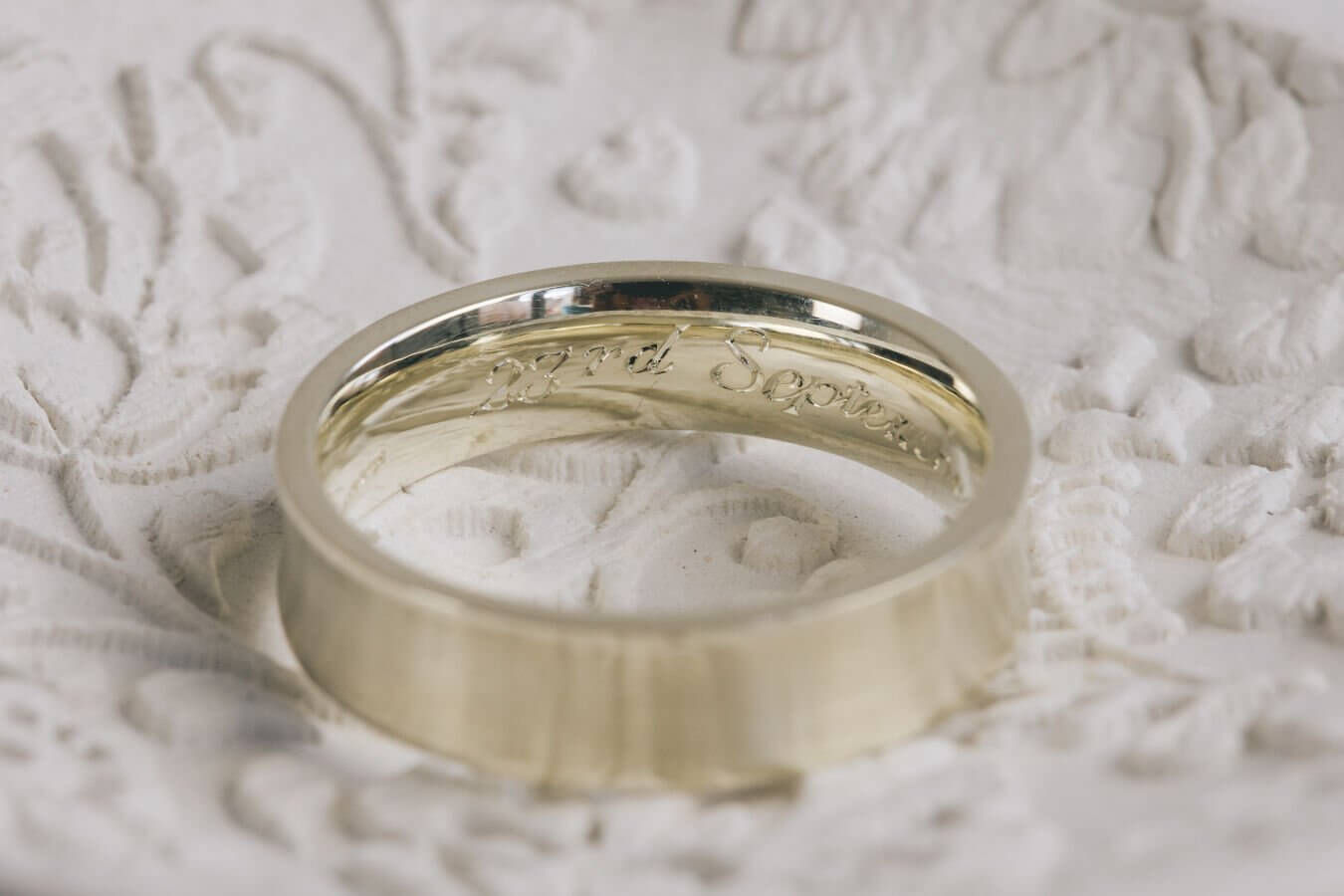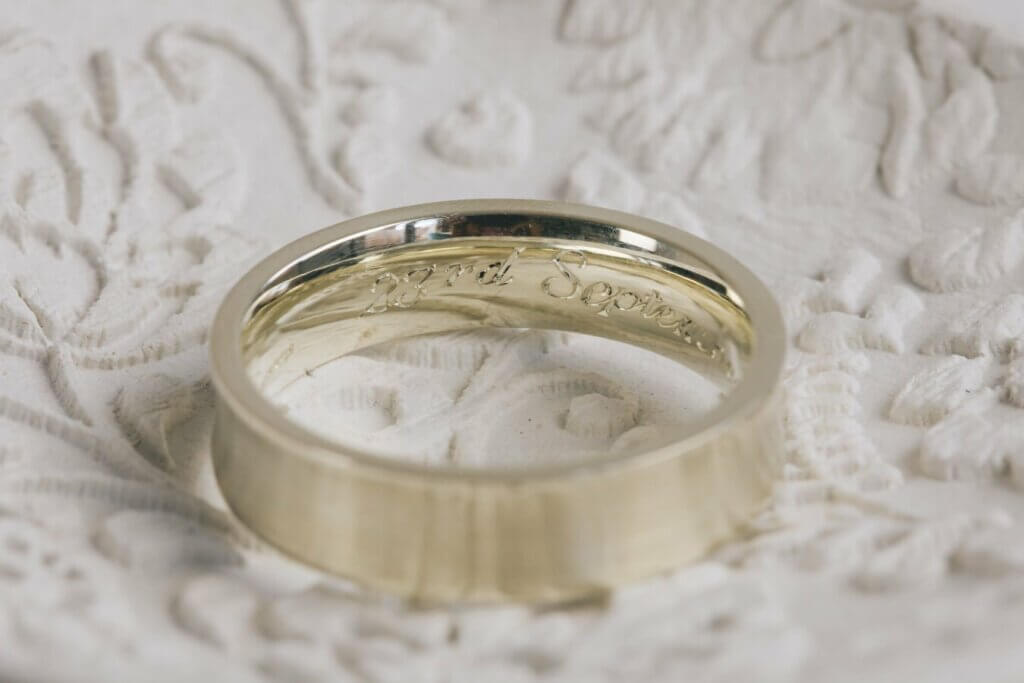 ---
Initials
A gorgeous way to represent two people and two lives coming together is to engrave your initials inside your rings. This could be done as a monogram where the two initials are intertwined, simply engraved together like J & M, or in the case of Chad's ring, either side of a stone inside the band.
Chad opted for a marquise shaped green sapphire inside his wedding ring to reflect the shoulder stones in partner Alice's engagement ring. As a doctor, he can't have any stones or detail on the outside the band, but we can sneak details inside. We added hand-engraved Chad and Alice's initials either side of the stone as the finishing touch.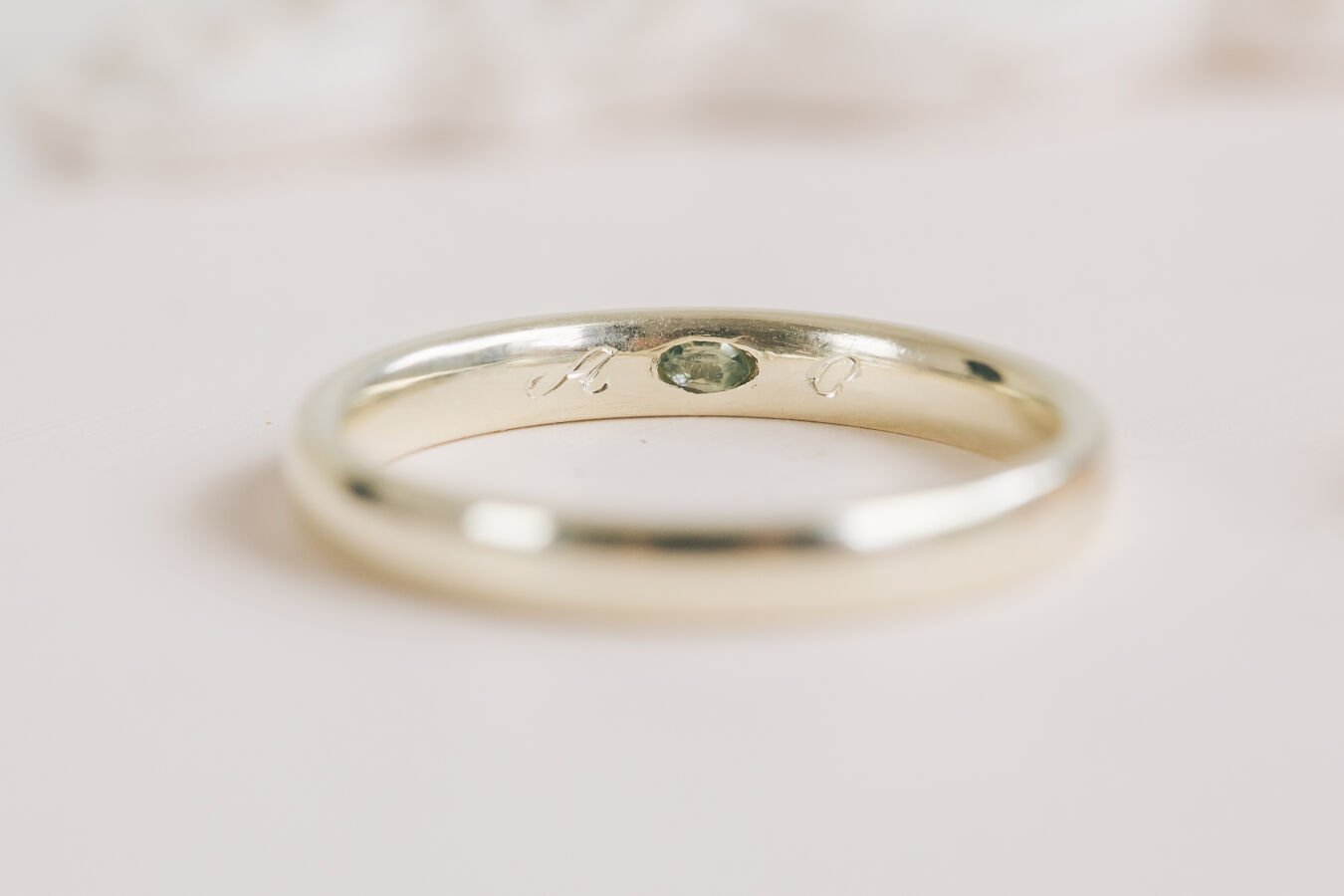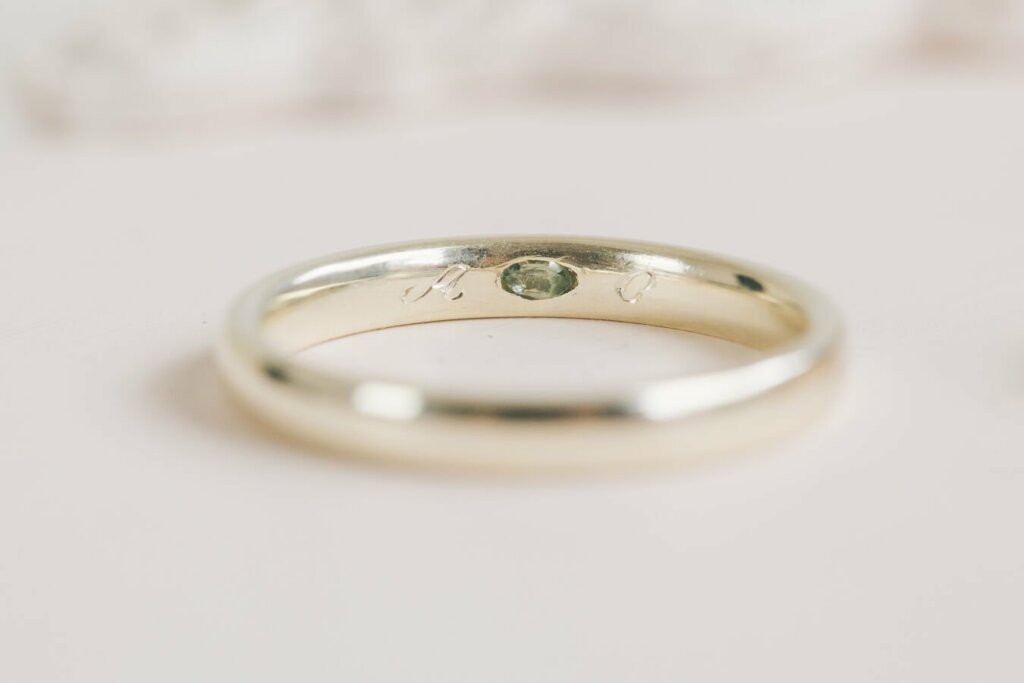 ---
Birthstones
Setting birthstones inside your wedding rings is a really unique way to represent your partnership. Dan packed Cheryl's engagement ring full of sentiment, including his, Cheryl's, and her daughter Chloe's birthstones inside the ring to represent their family. He is going for matching birthstones inside his wedding ring, and any future children will be added in.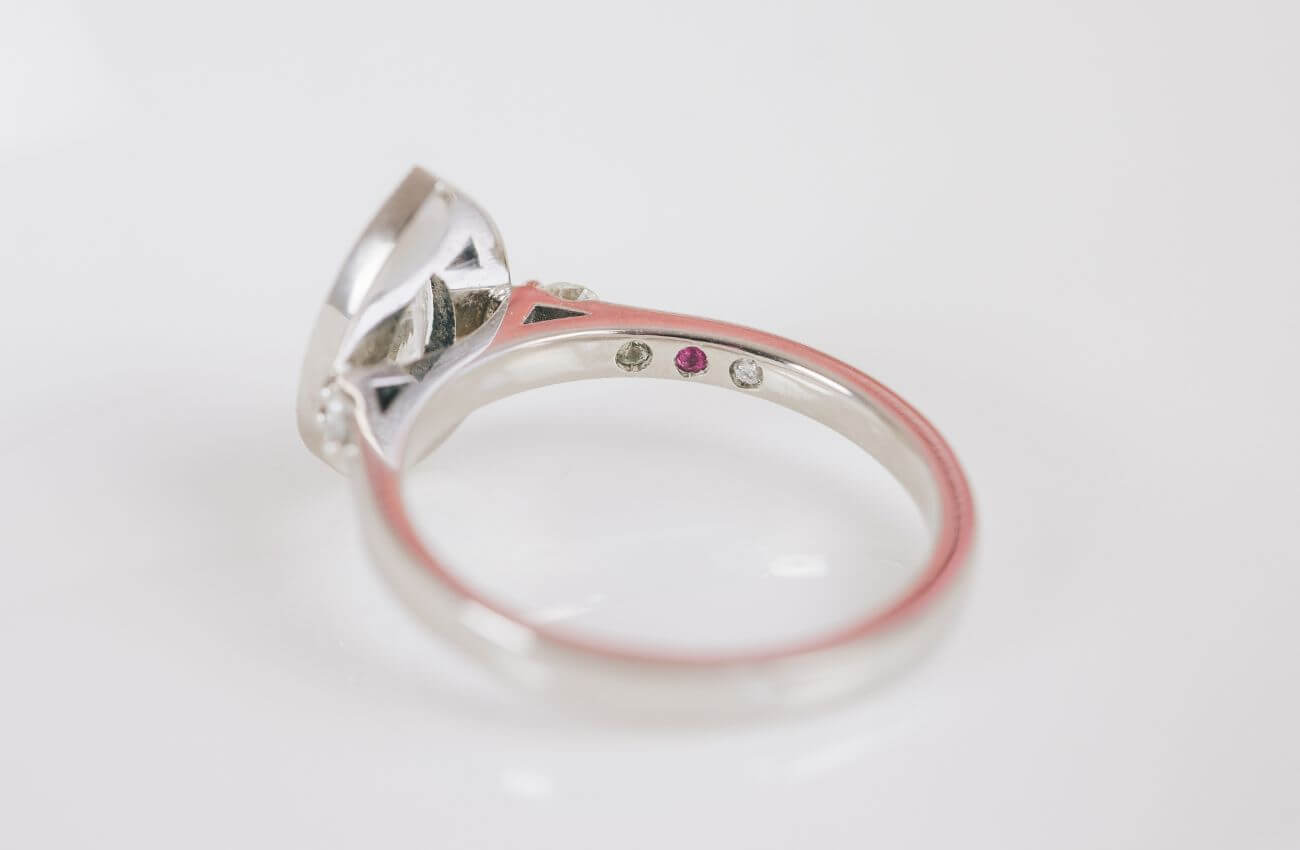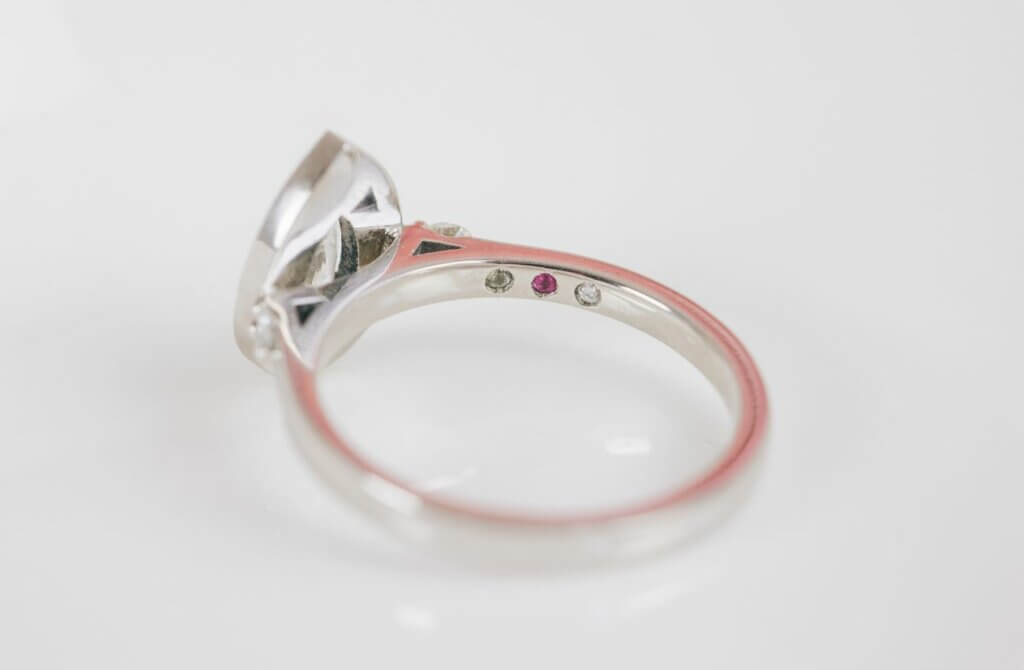 ---
First Dance Lyric
For some couples, the lyrics in their first dance song can sum up their relationship just perfectly. When a song means this much to you, it really is the perfect detail to have engraved inside your wedding rings. Kirsty and Tez opted to have a line from their first dance engraved inside their platinum wedding rings.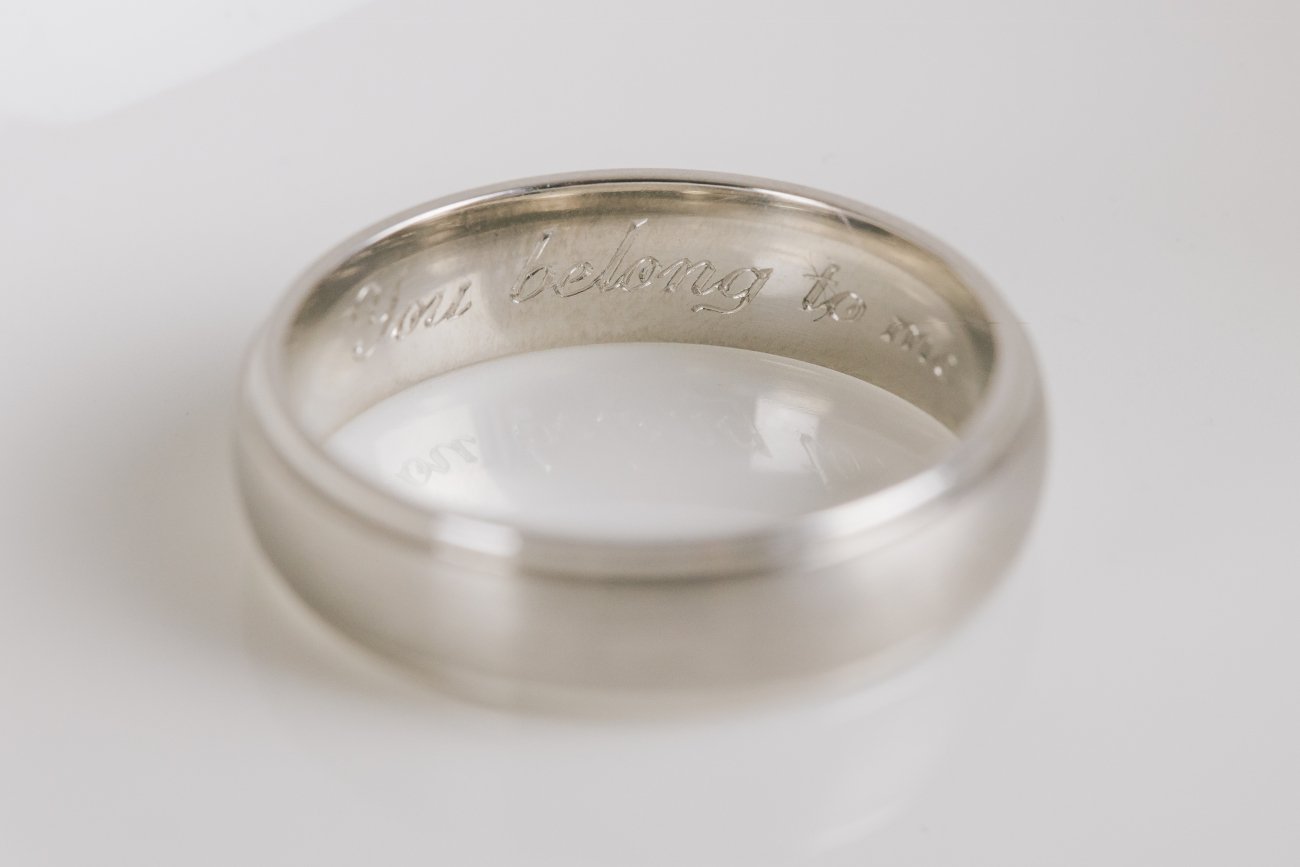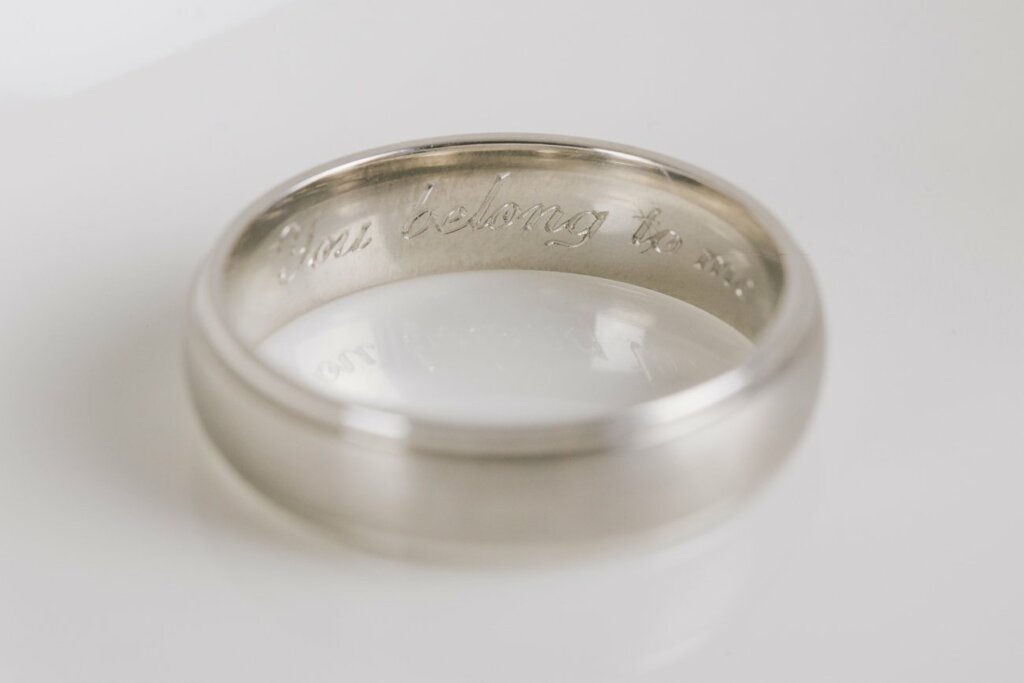 ---
A Meaningful Saying, or your Pet Names for Each Other
Sometimes, you have a phrase or saying you say to each other that means the world and makes for the perfect engraving inside your wedding rings. Tanya and her partner are big Marvel fans and have taken on a line from one of the films as their way of being affectionate with each other – "Love you 3000". To keep it a little cryptic, we have engraved just the number 3000 in acknowledgment of this.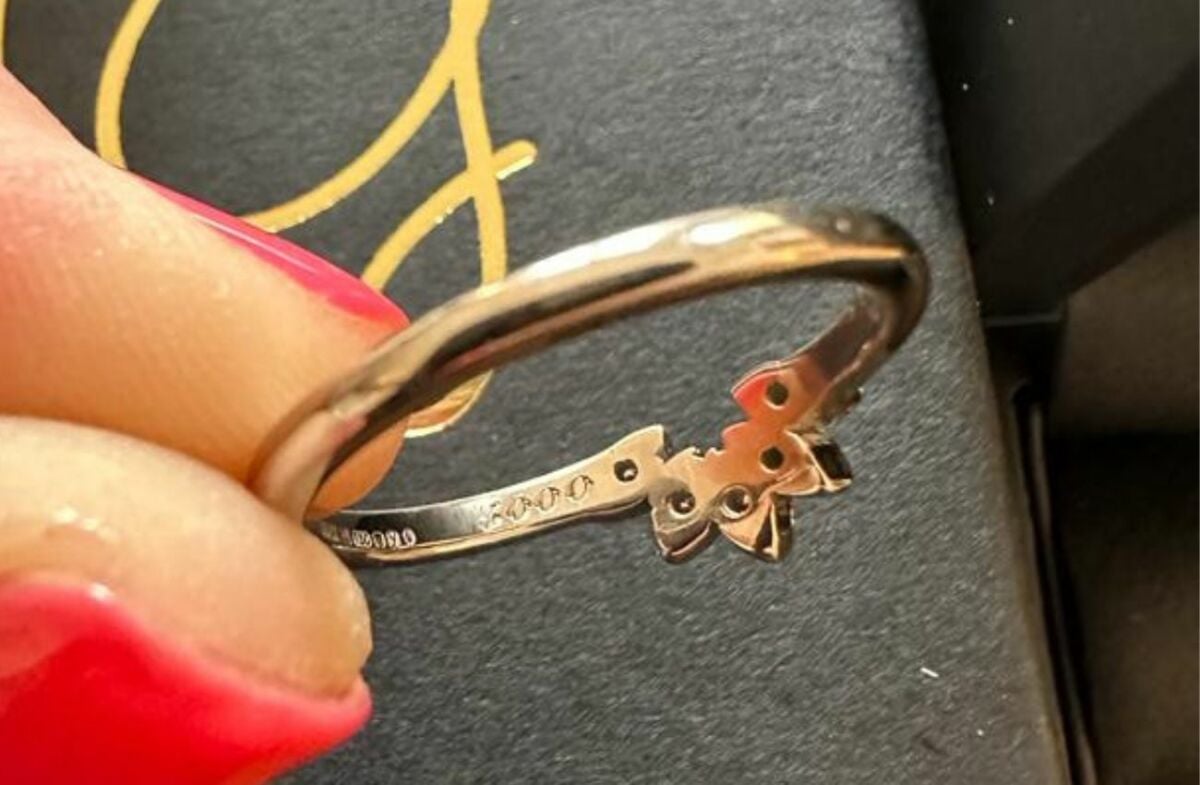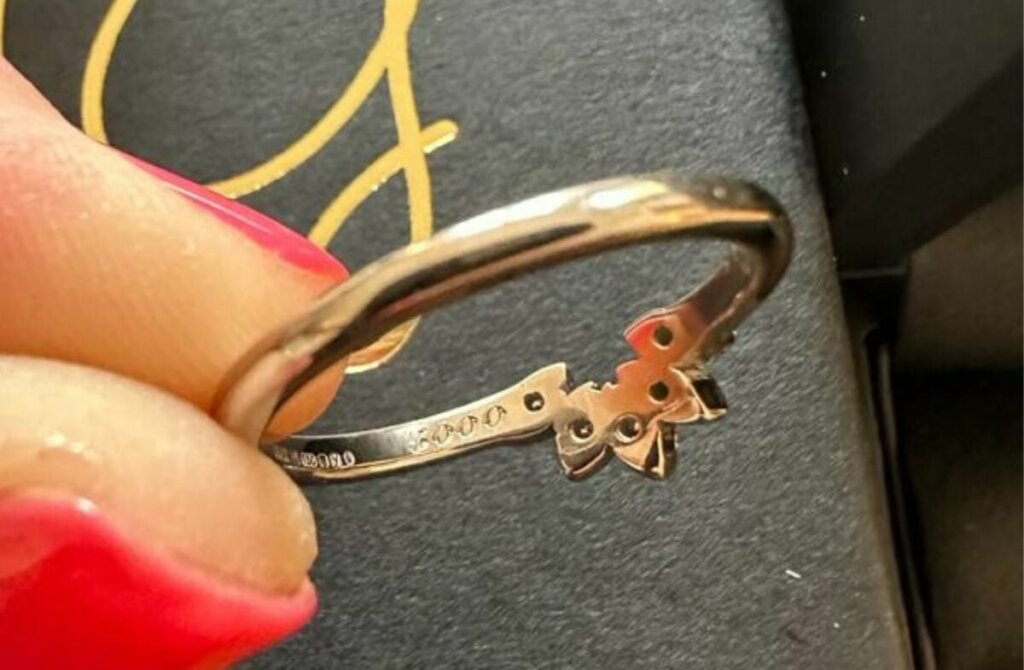 Another ring I am working on at the moment (not a wedding ring, but a birthday gift) is having the recipient's nickname hand engraved inside, which I will add into this article once it has been gifted!
---
Co-ordinates or The Location of Your Wedding
I am currently working with a couple who are getting married in an Ice Castle in Iceland! Because of the unique location of their wedding, they are considering having the co-ordinates of the venue engraved inside their rings. If your wedding location is really special, why not have that etched inside your rings?
Vicky and Bradley got married at Central Park in New York, but couldn't stretch to having any engraving at the time they got married. We added their wedding date and the place they got married whilst we worked on some repairs to Bradley's wedding ring and made Vicky a bespoke eternity ring. You can't see the engraving in these photos, but it was the perfect finishing touch for this lovely couple.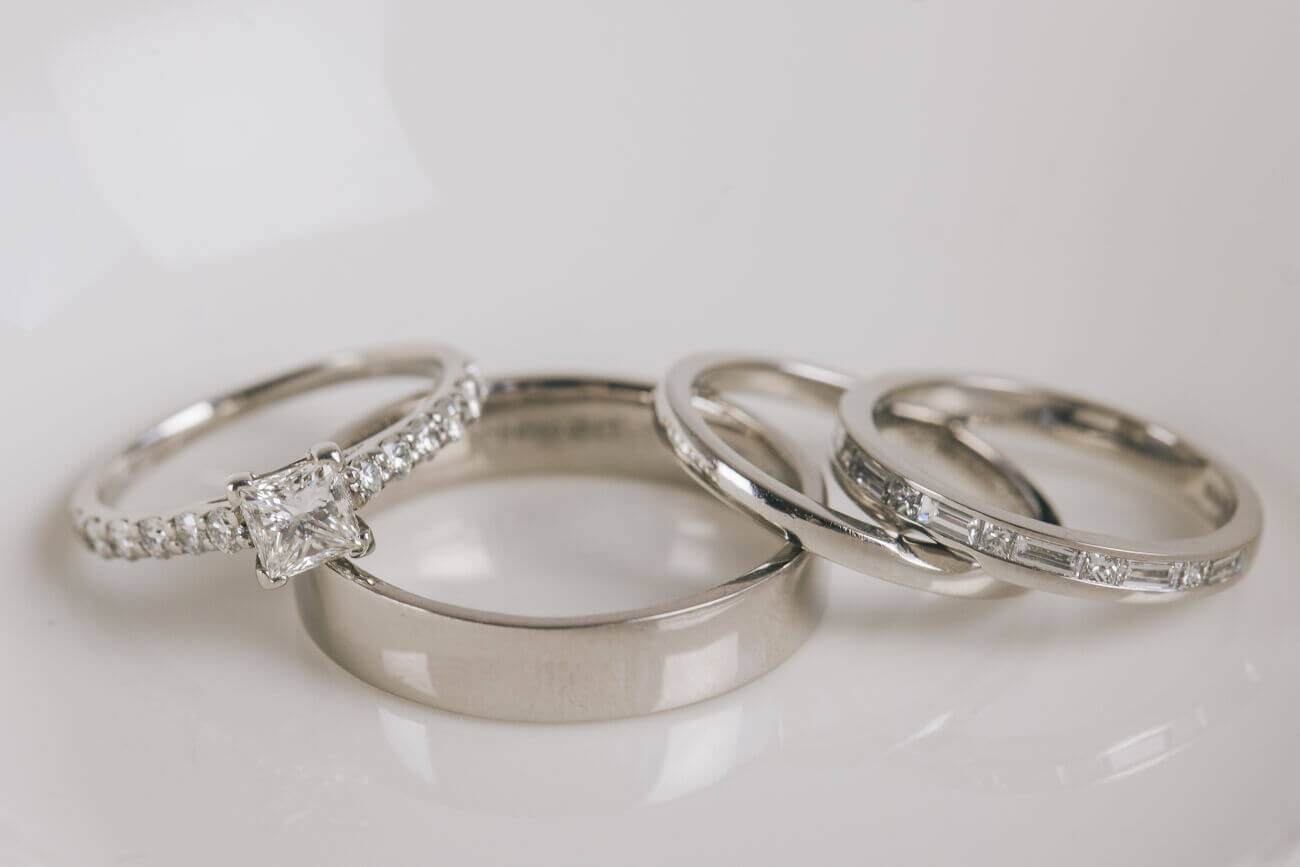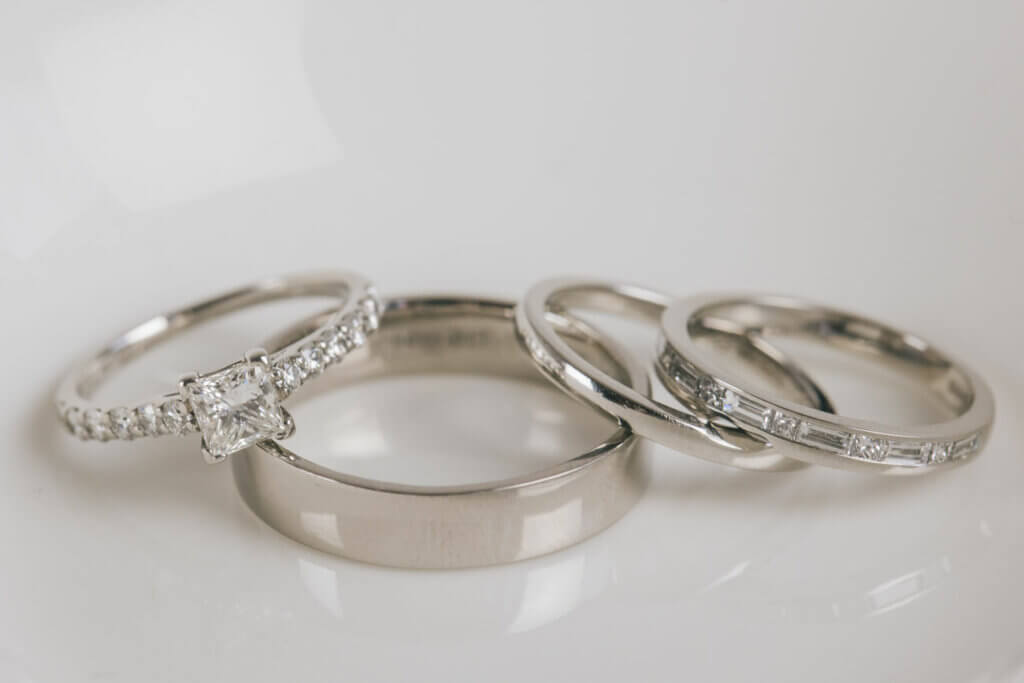 ---
An Image
When Adam was planning Disney-obsessed Rosie's bespoke engagement ring, he organised a trip on a Disney cruise for his proposal. To mark this, we laser etched a Mickey Mouse head inside the ring. He went for a matching image inside his wedding ring.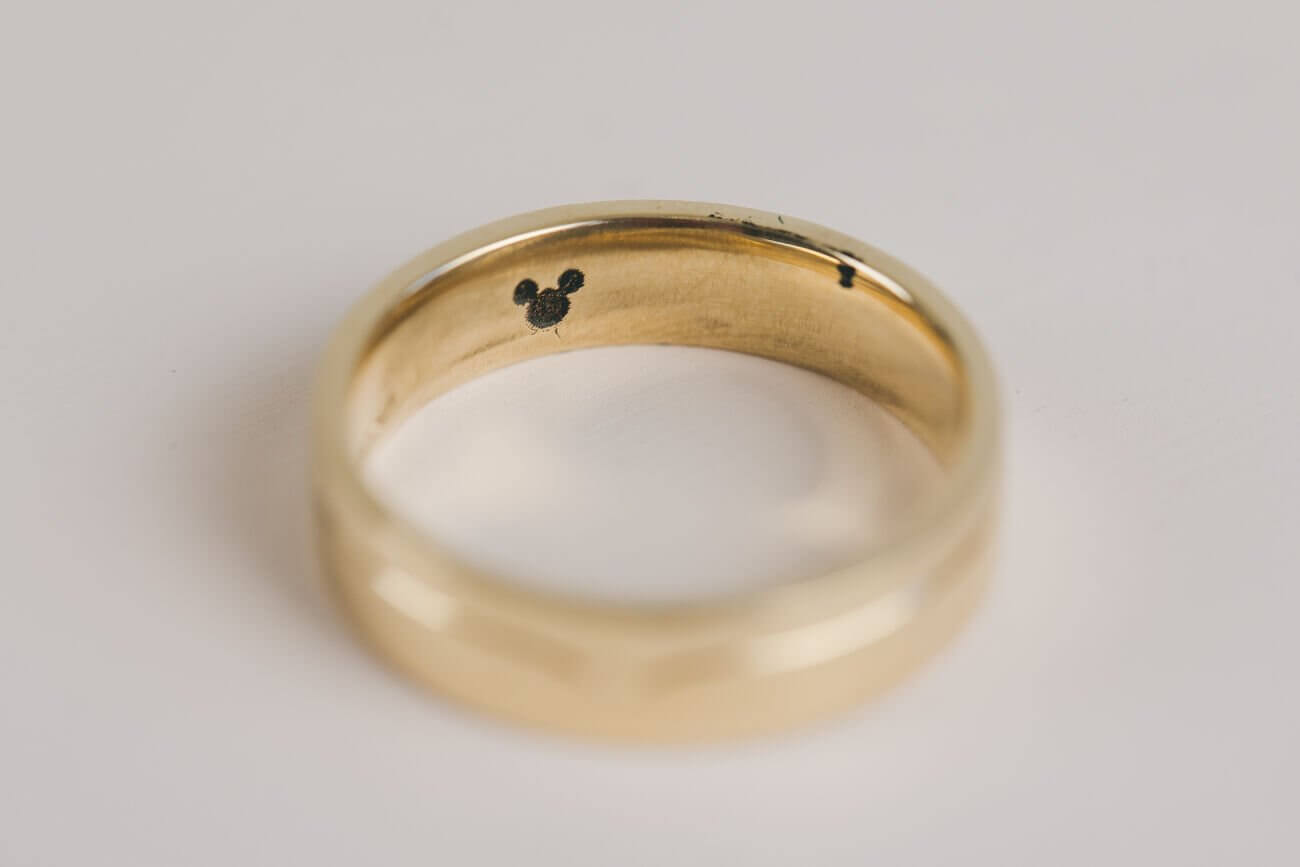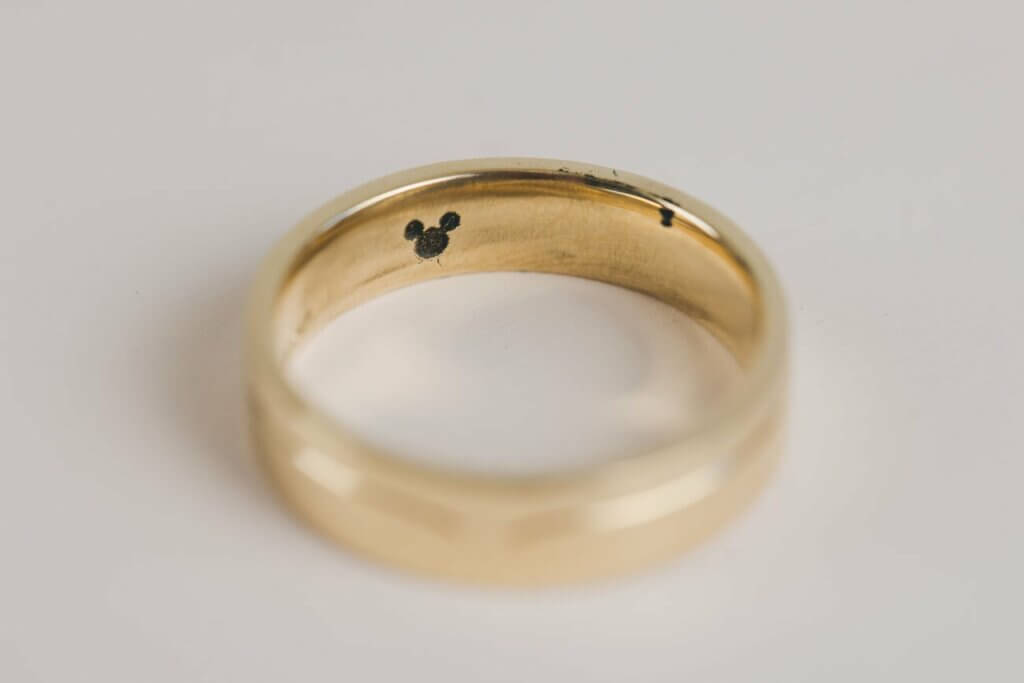 ---
You Complete Me
The symbolism of the never-ending circle of a wedding ring is really powerful, but when you have engraving inside the rings that is only complete when the rings are together? That makes them even more special!
Mikko and Rupert asked for a circle that completes when the two rings are stacked together, along with a phrase they often say to each other spread over the two rings so the sentence is only complete when the rings are together. How romantic is that!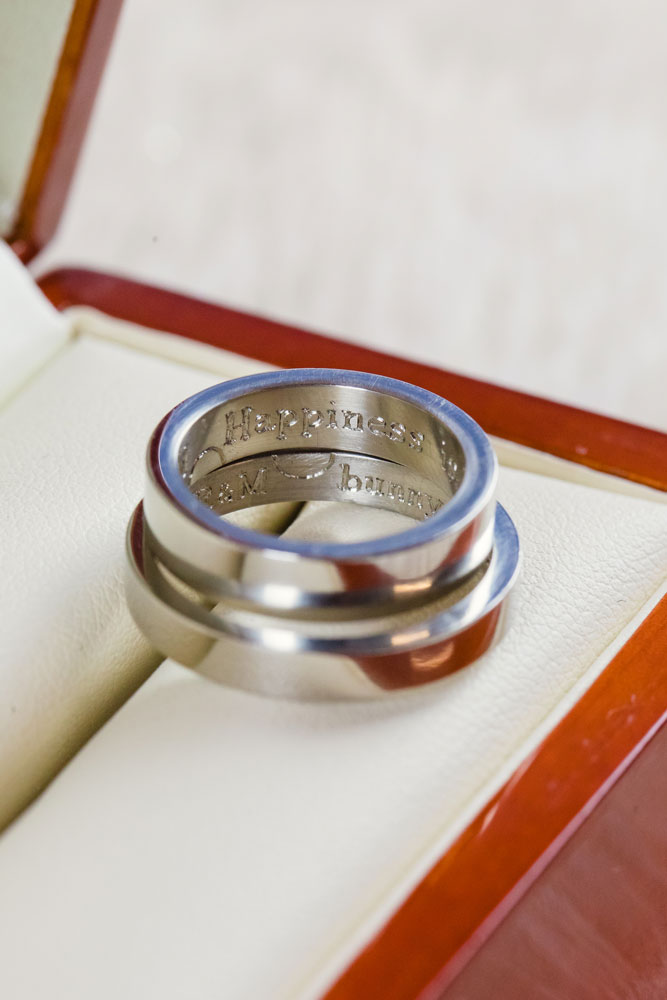 ---
Secret Messages
Diana and Al each sent me a short phrase to be engraved inside the other's ring as a surprise for their wedding day. The inscriptions are really sweet, and I love how the sentiment is the same but in their own words. This couple's story is particularly romantic as they were childhood sweethearts, who re-connected 27 years later.
Al's ring reads, "First true love, last true love" in a lettering style Diana selected. Diana's ring reads, "Together at last my one true love" in a traditional script.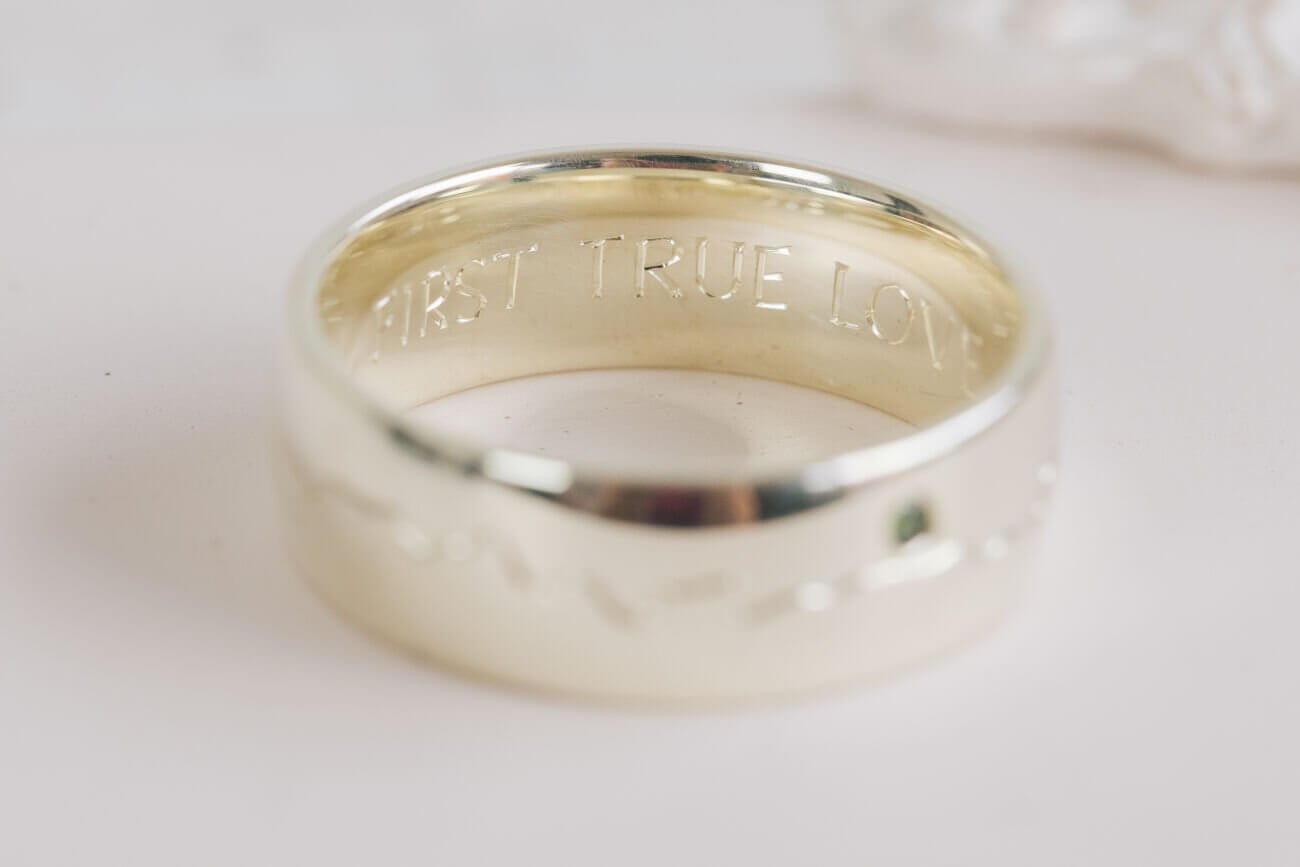 The exterior engraving on the two rings tells more of the couple's unique love story. We have hand engraved a line in the shape of the River Dee, with a green diamond invisibly set to mark the spot where they had their first date!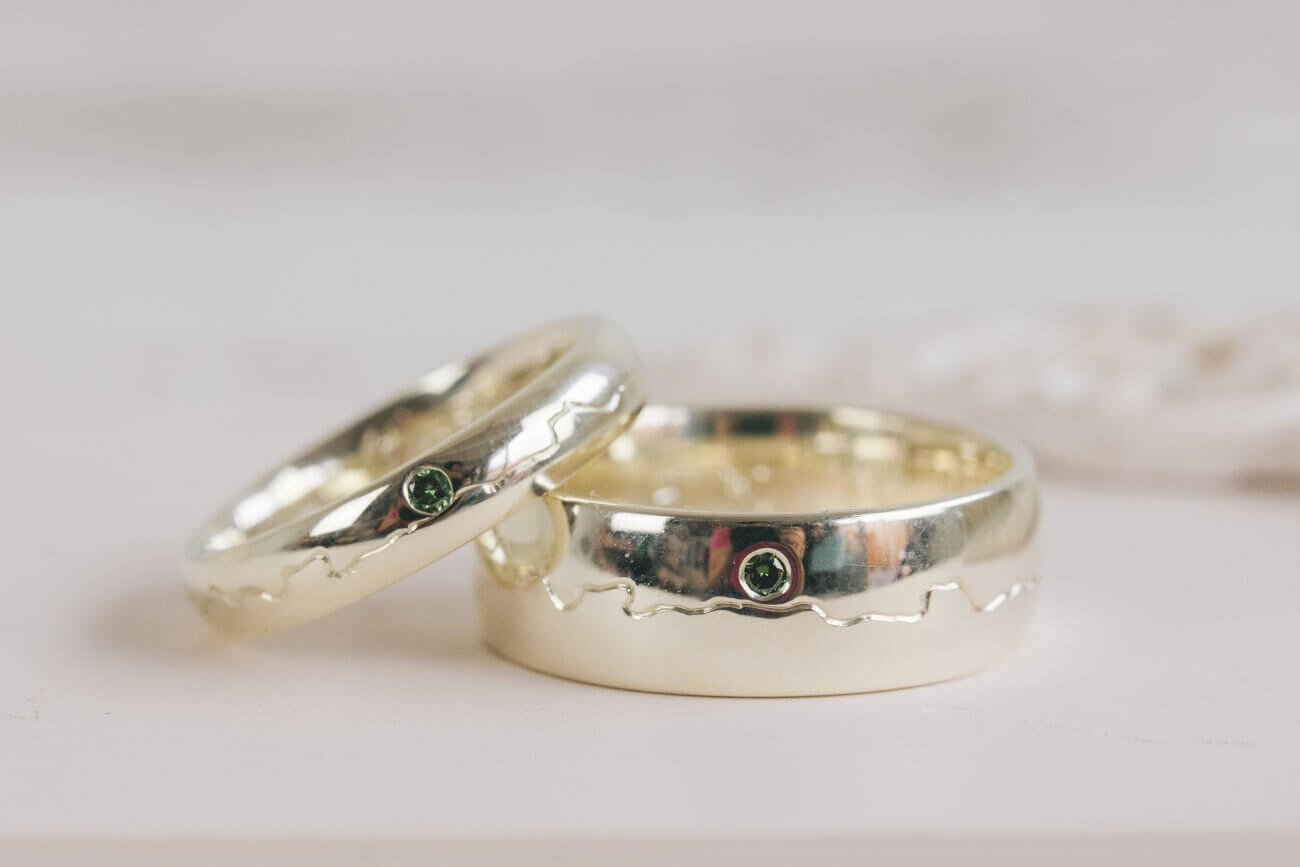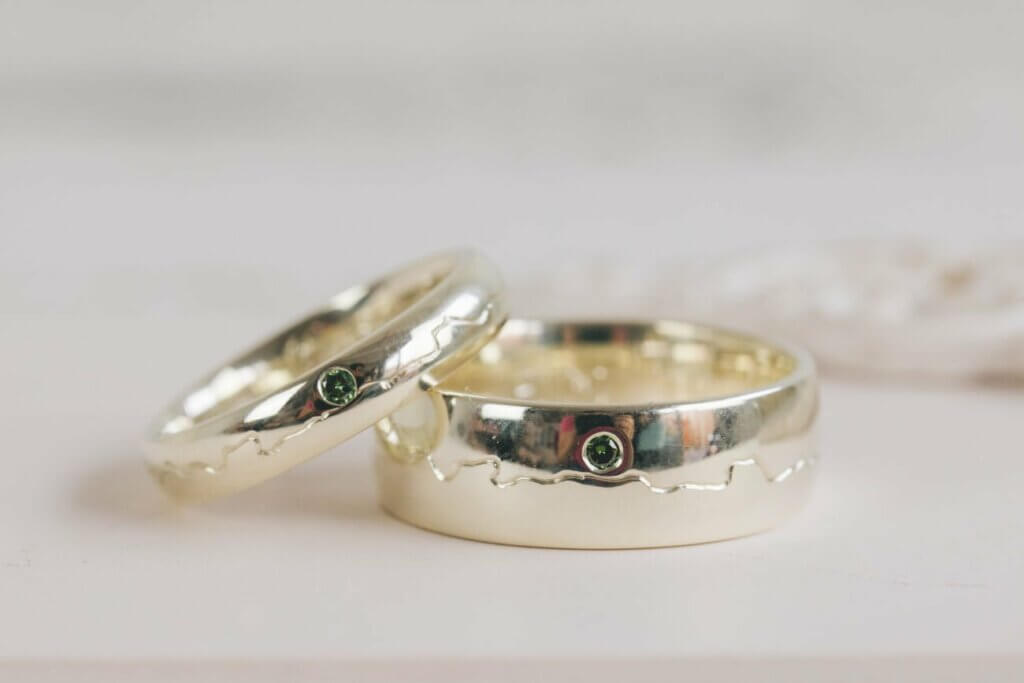 I have another set of rings in the workshop at the moment where the couple have written secret messages to each other inside. I think this is such a romantic touch and a gorgeous surprise for the wedding day.
---
Handwriting
Although not a wedding ring, this feather enhancer ring I designed for Laura in memory of her mother has an inscription hand engraved on the back of one of the feathers in the style of her mother's handwriting, which we copied from a birthday card. Using your partner's unique handwriting style to engrave a special message inside is the ultimate unique and personal detail.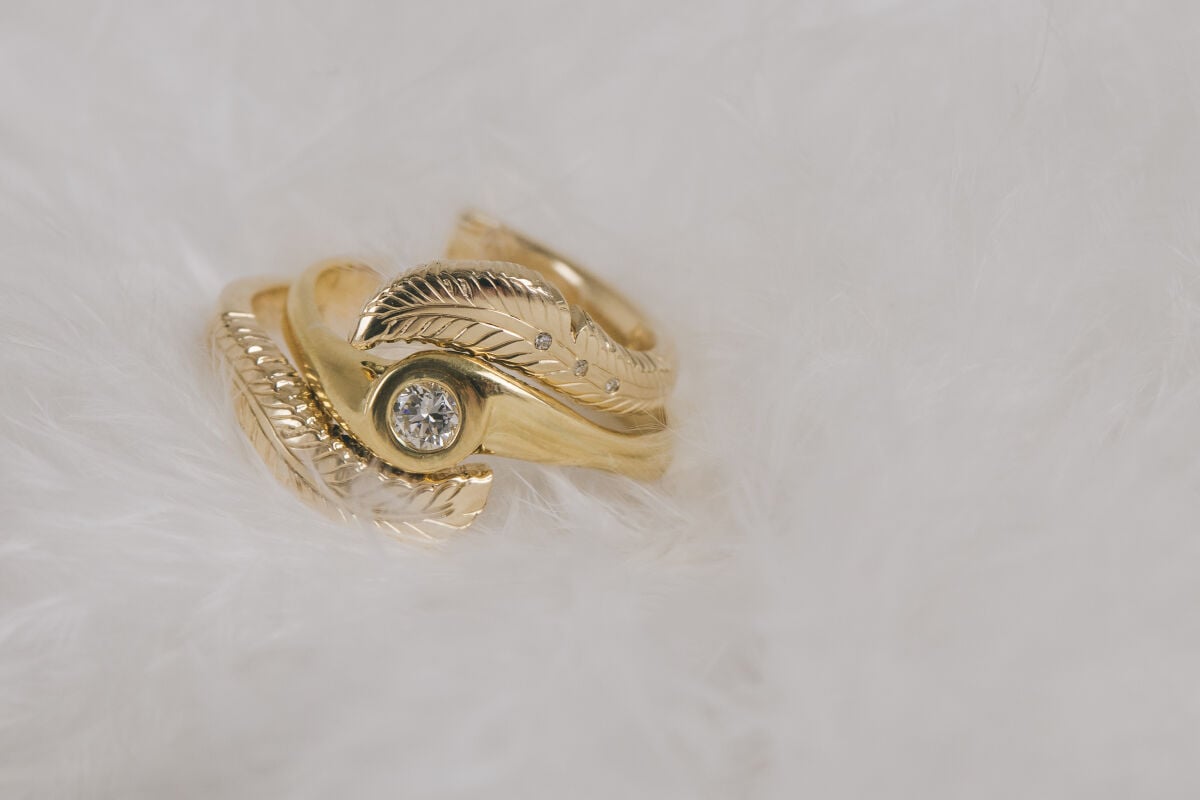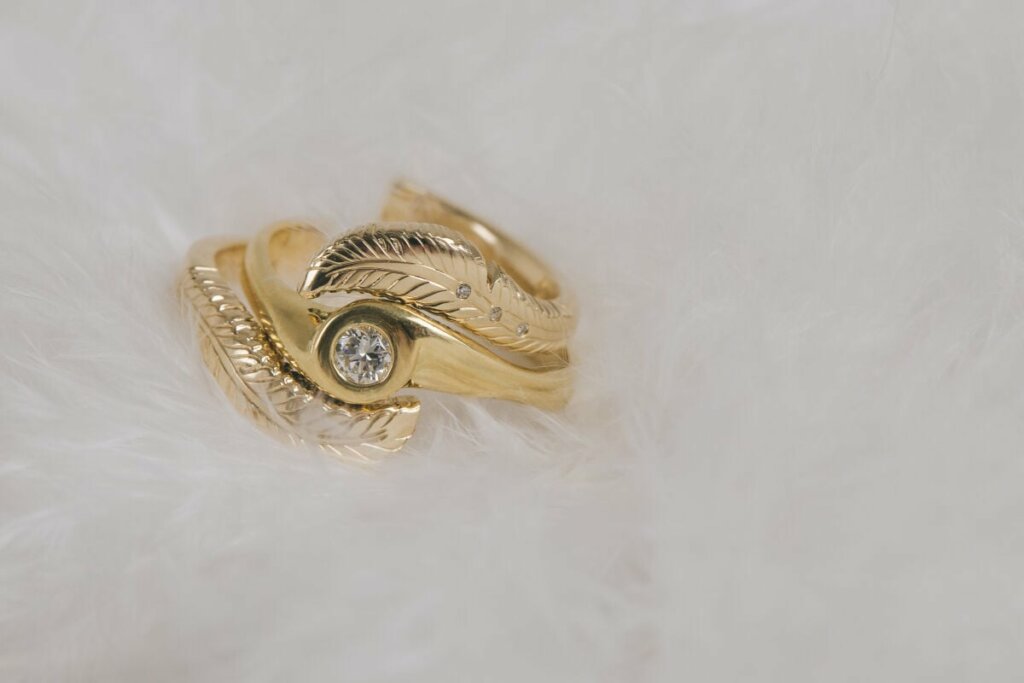 ---
Something Unique To You
Jake considered every detail of his surprise engagement ring for Molly, including the engraving inside and out.
Inside the ring are the initials JAM – these three letters are a happy coincidence on the number plate of their beloved retro van, standing for Jake And Molly. A friend had designed them a logo with the letters JAM and some stylised fir trees, which they've had made into decals for their van, and so we added the trees to the engraving too.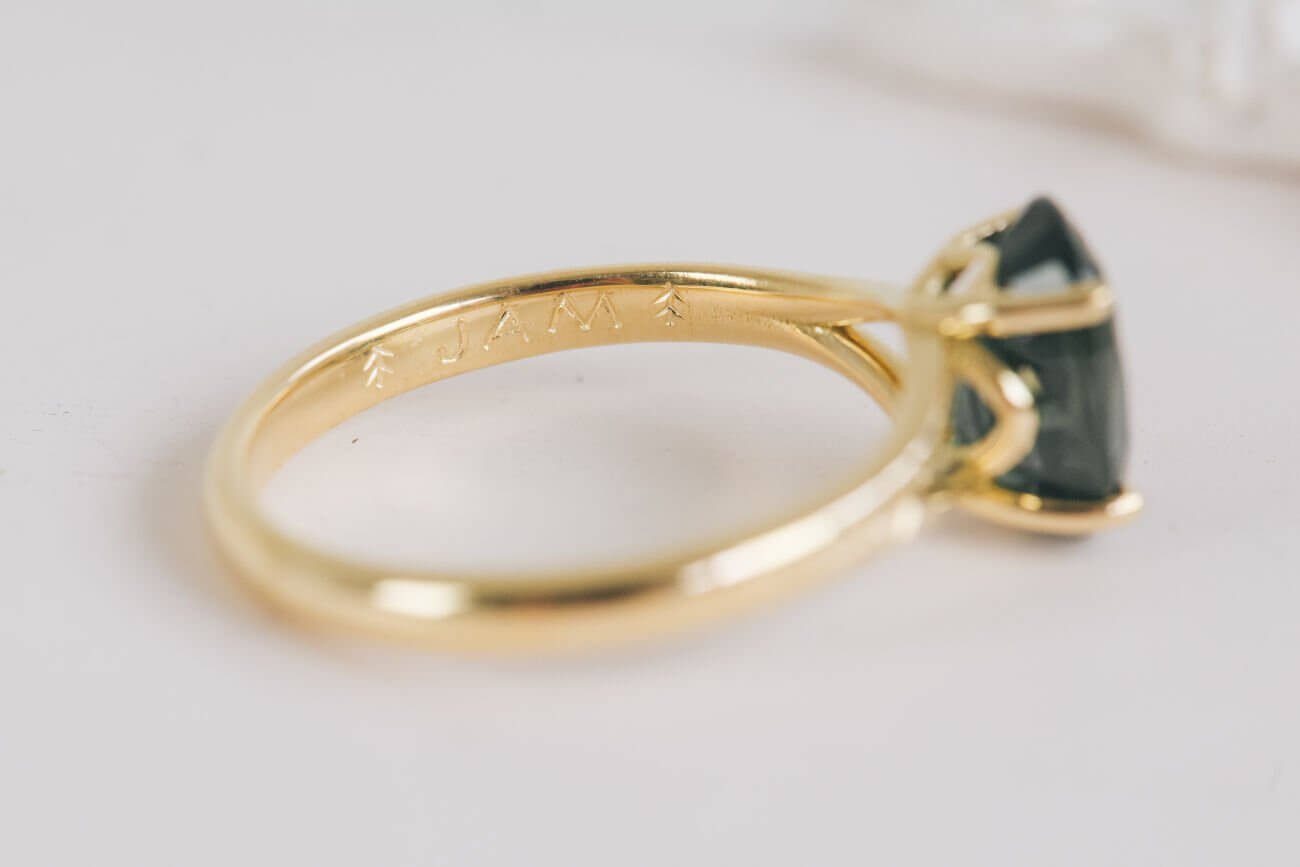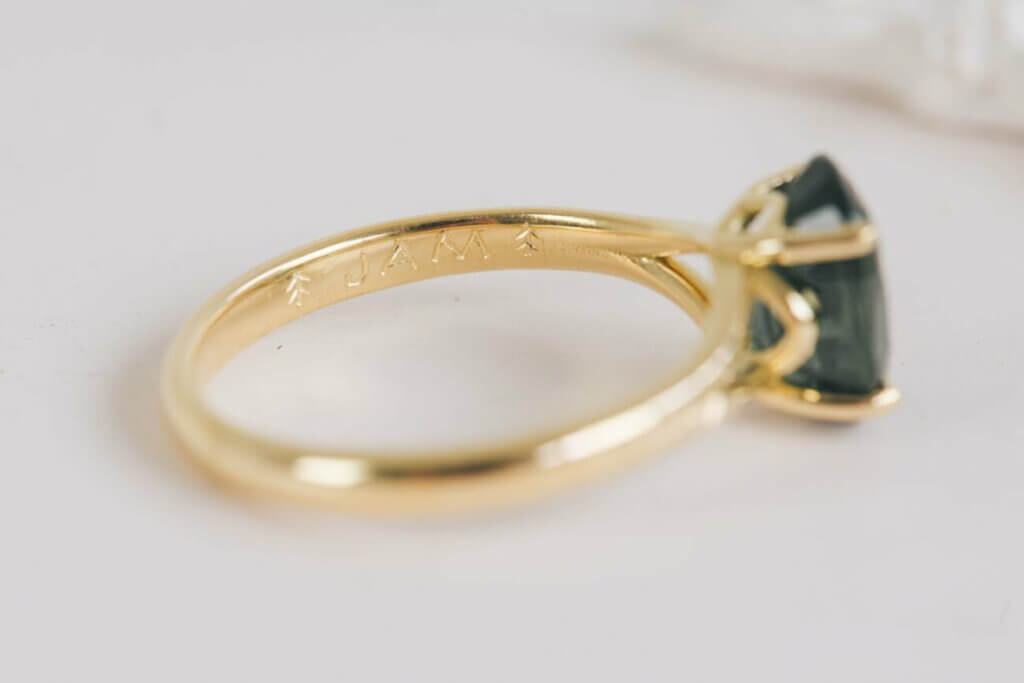 These fir tree details made it to the outside of the ring too, providing the perfect detail for the end of the split shoulders.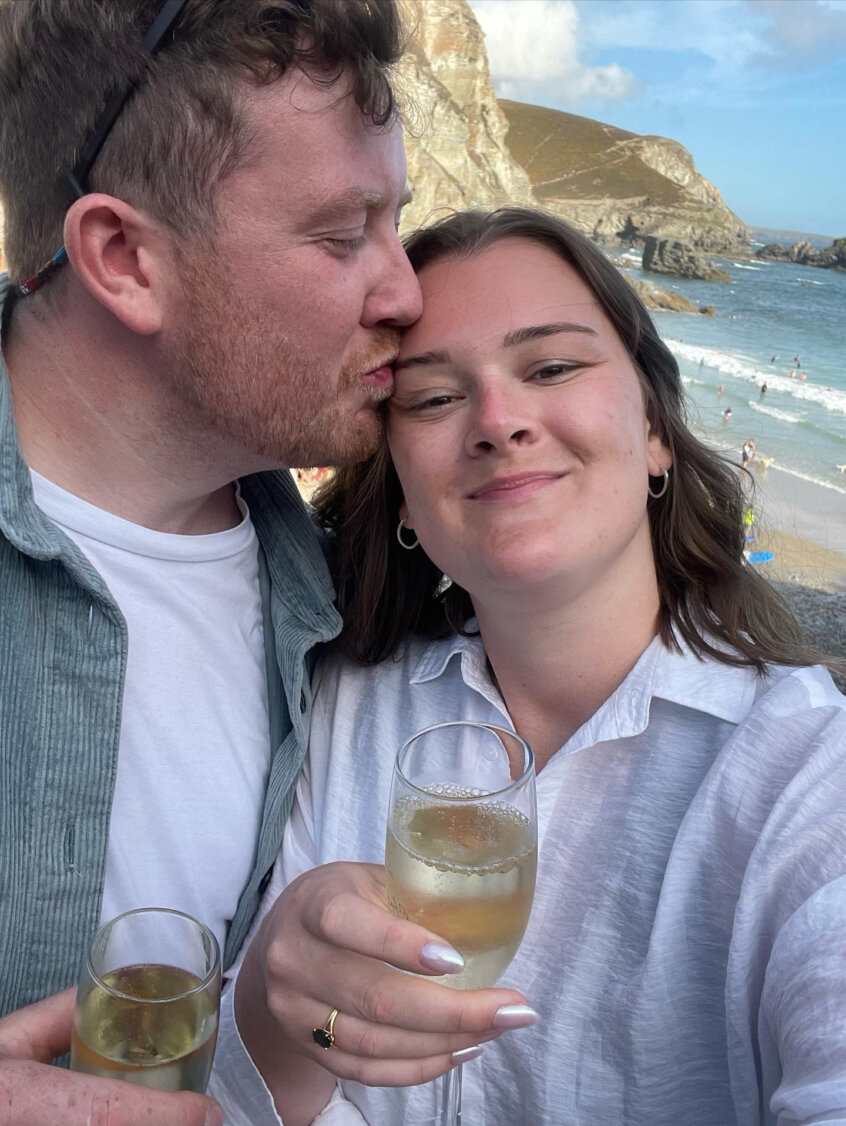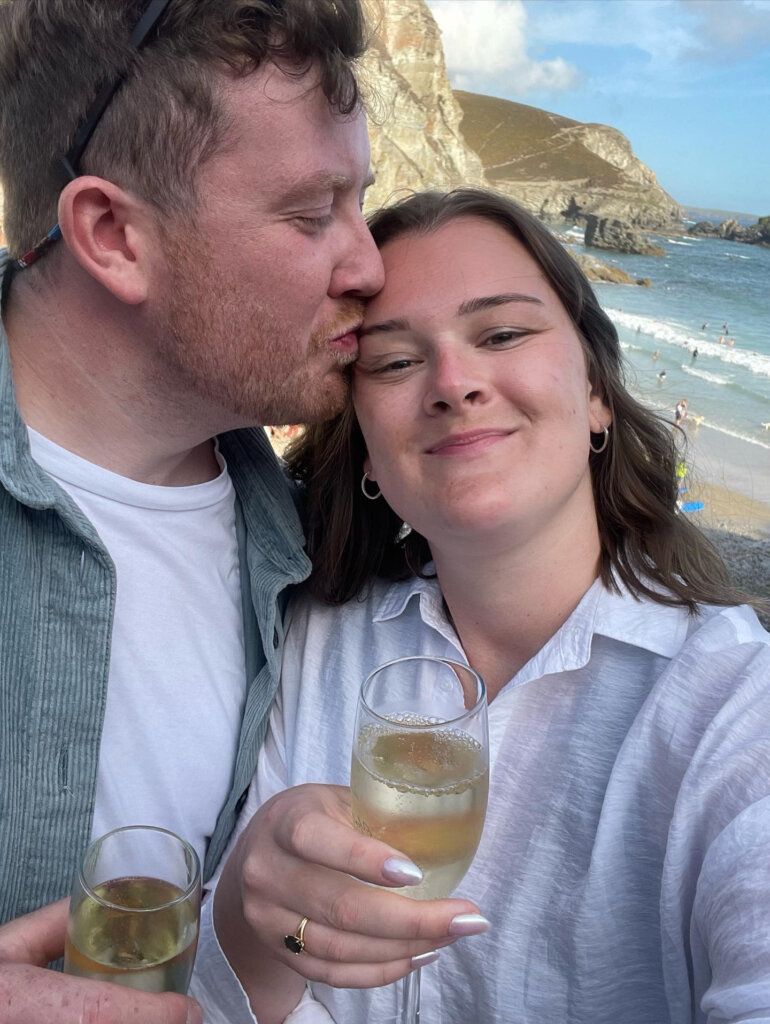 ---
Put it Back On!
If all else fails, perhaps a reminder to keep that ring on!
---
I work with Perry, an incredible hand engraver who created all these engraved details (bar the laser engraved Mickey heads!) The quality of hand engraving over the standard lightweight laser engraving you get on the high street is just another level. The timeless tactile nature of hand engraving is so special and beautiful.
The Wedding Engraver also offers live hand engraving of your wedding rings at your wedding ceremony! These engravings mean so much to my clients, and to have it etched into their rings at their ceremony in time for the vows and exchange of rings is such a magical touch for your big day. you can find out more about Perry's services here.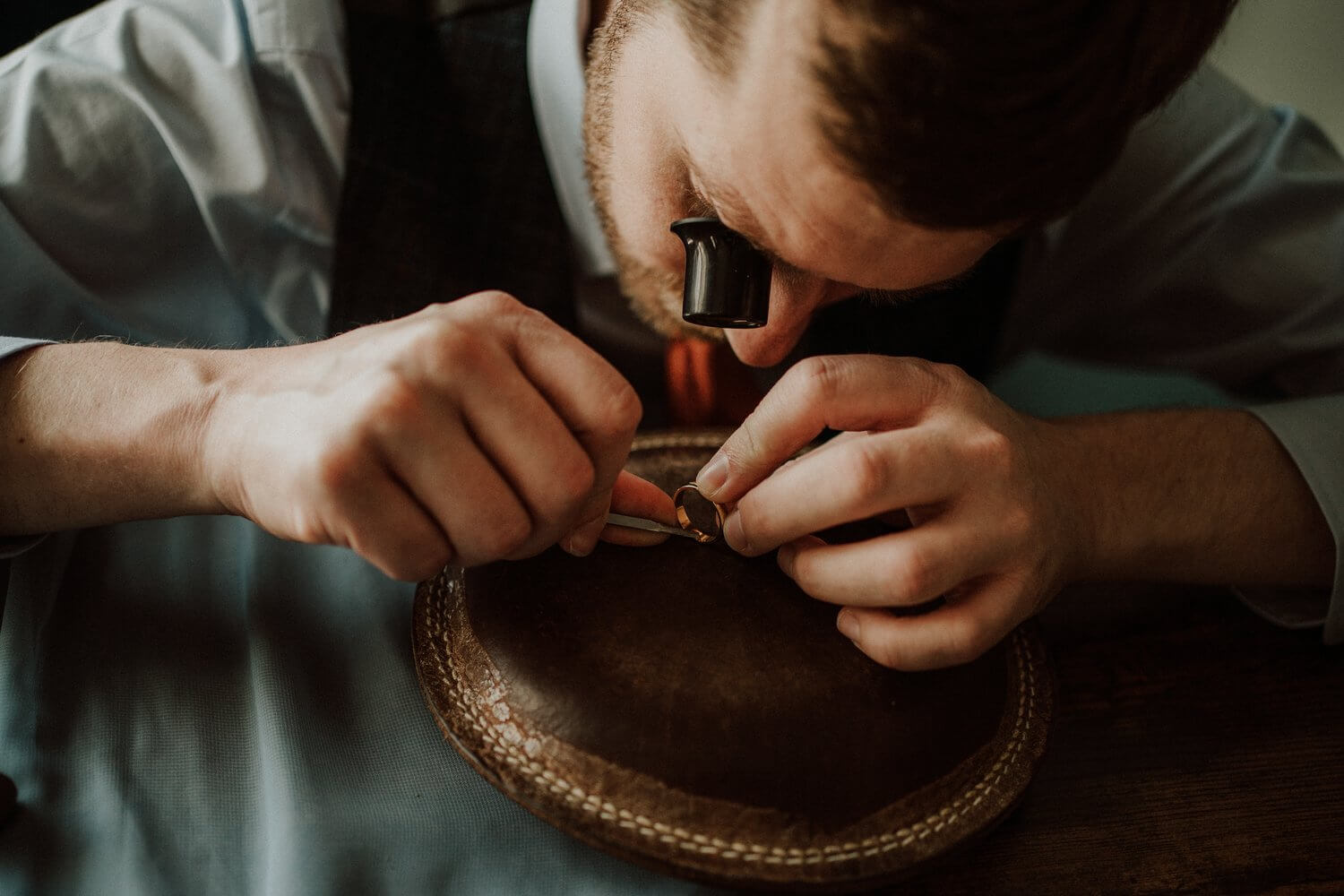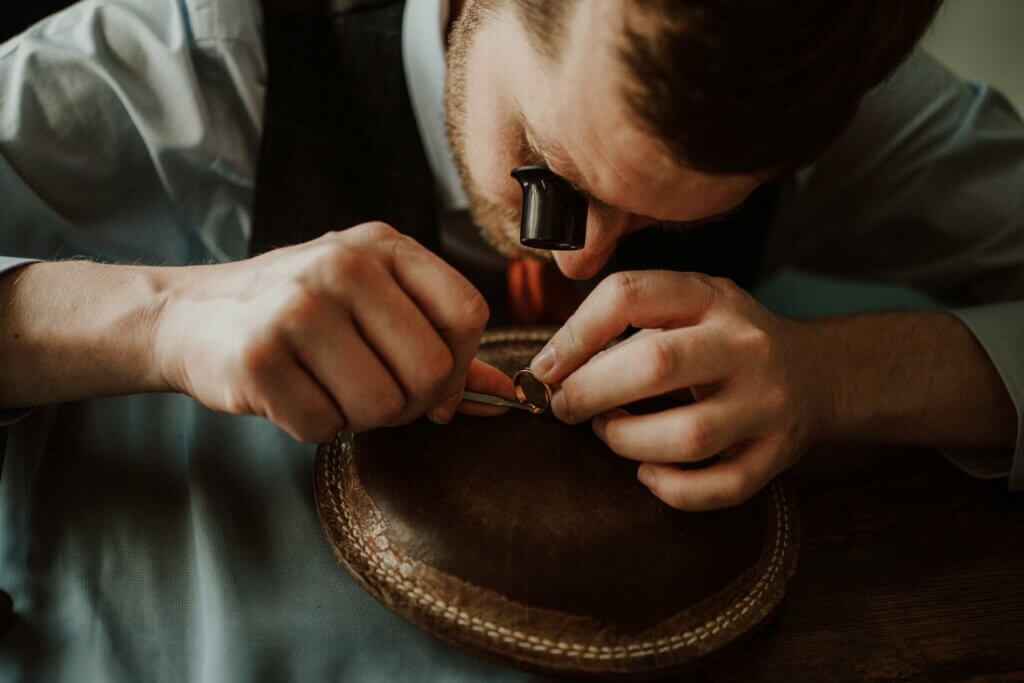 ---
Have I missed any ideas? What do you have inside your rings, I'd love to hear! Let me know in the comments.
All pro shots of rings taken by Red Peacock Photography