In my experience, designing wedding rings for women is often a simpler job than it is for men. This is because the design is usually somewhat dictated by the engagement ring. The other difference is that the majority of women have worn jewellery before and therefore have an idea of their taste and style. However, regardless of this, it can still seem quite daunting to choose a ring you plan on wearing for the rest of your life. There are so many styles to choose from!
I have written this guide to help ease this process and to demonstrate some of the options available to you.


---
1. To fit or not to fit, that is the question
The first thing you should do when planning your wedding ring is to check whether your engagement ring needs a fitted wedding ring to slot against it or follow its shape. If your engagement ring has a twist or asymmetric shape – like Rebecca's vintage engagement ring below – then you will need to think about a fitted wedding ring.
Also, if the setting style means a flat band won't sit comfortably next to the engagement ring, then you might want to consider other designs besides a straightforward unshaped wedding band.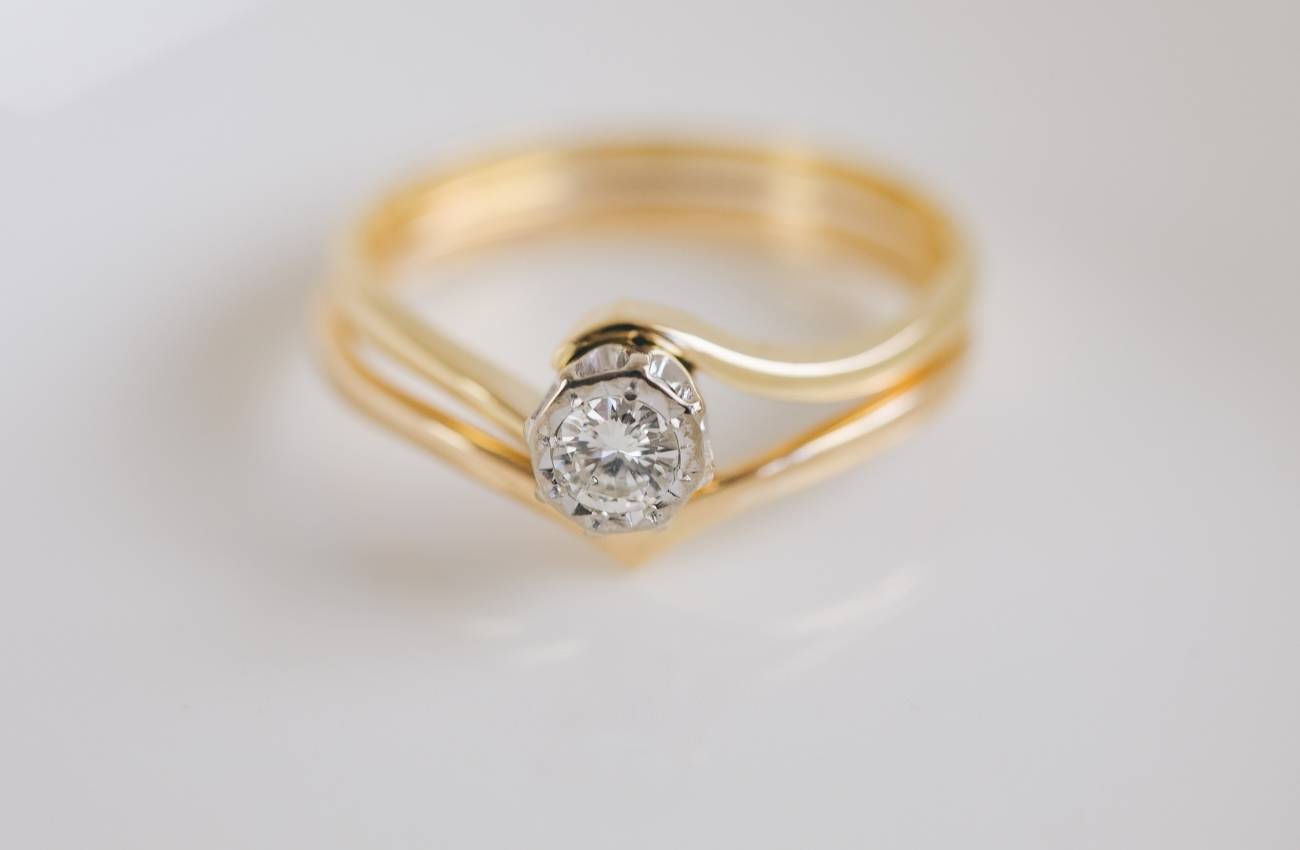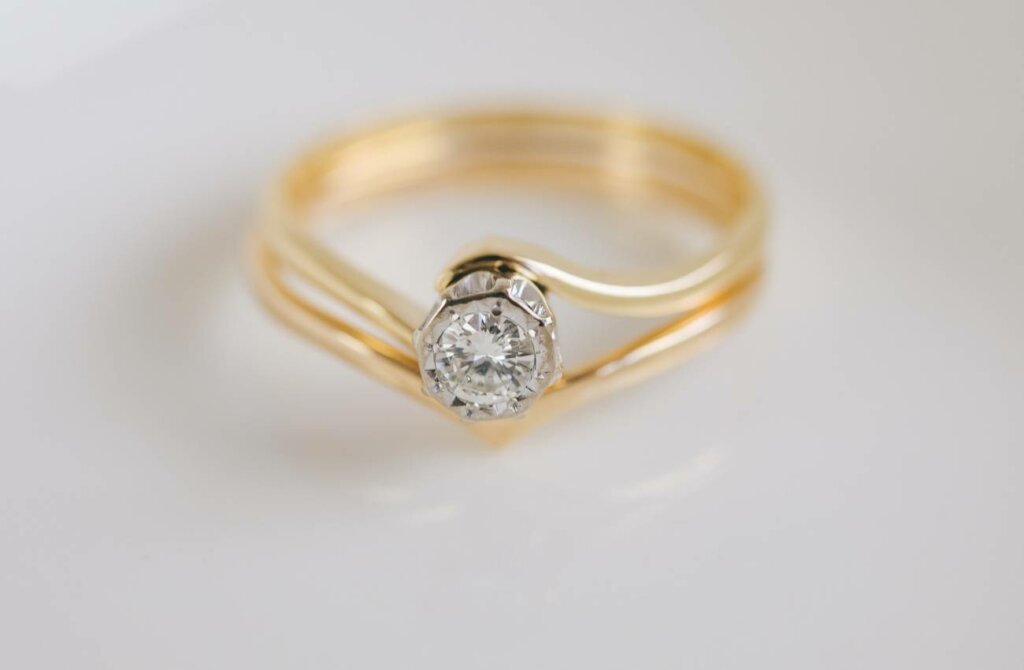 The best way to test this if you are unsure is to put an unshaped ring on next to your engagement ring; see if it tucks under or next to the setting in your engagement ring, or whether it rocks against a protruding setting shape, leaving a space between your engagement ring band and the wedding band.
A shaped wedding ring doesn't appeal to everyone as some women have concerns about how they might look if worn without the engagement ring. However, not all engagement rings will require a dramatically shaped wedding ring design. Here are some subtly shaped examples that could work with your engagement ring:

There are lots of ways we can fit next to your engagement ring including these shapes above, as well as enhancer rings, jigsaw shapes, undercut and open – take a look in my filterable gallery for some examples of these styles by selecting the different fitted styles.
---
2. Metal and Stones
Do you want your wedding ring to match your engagement ring? The vast majority of brides prefer to match their wedding ring metal to their engagement ring, but occasionally I meet a bride who wants a distinct colour contrast, be in through the colour of the metal or perhaps the stones, like Grace's fitted wedding ring below.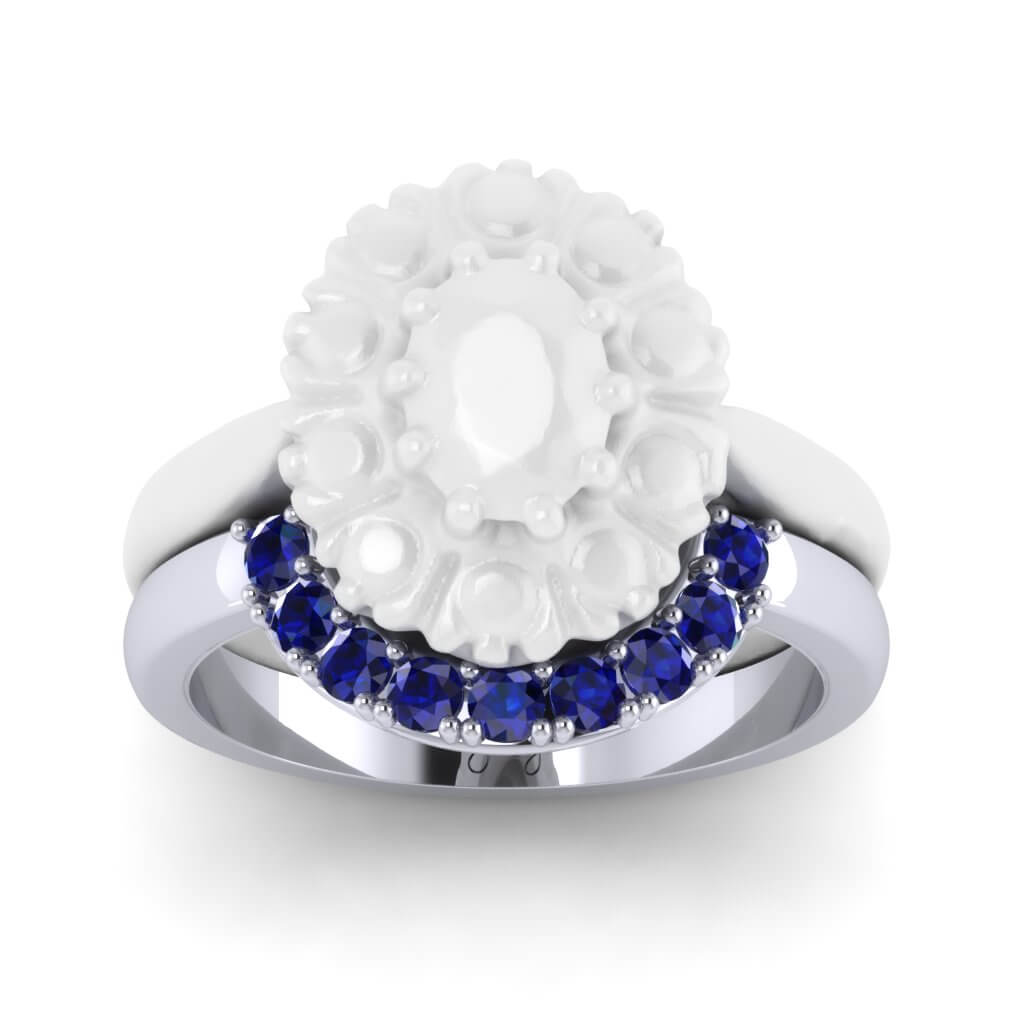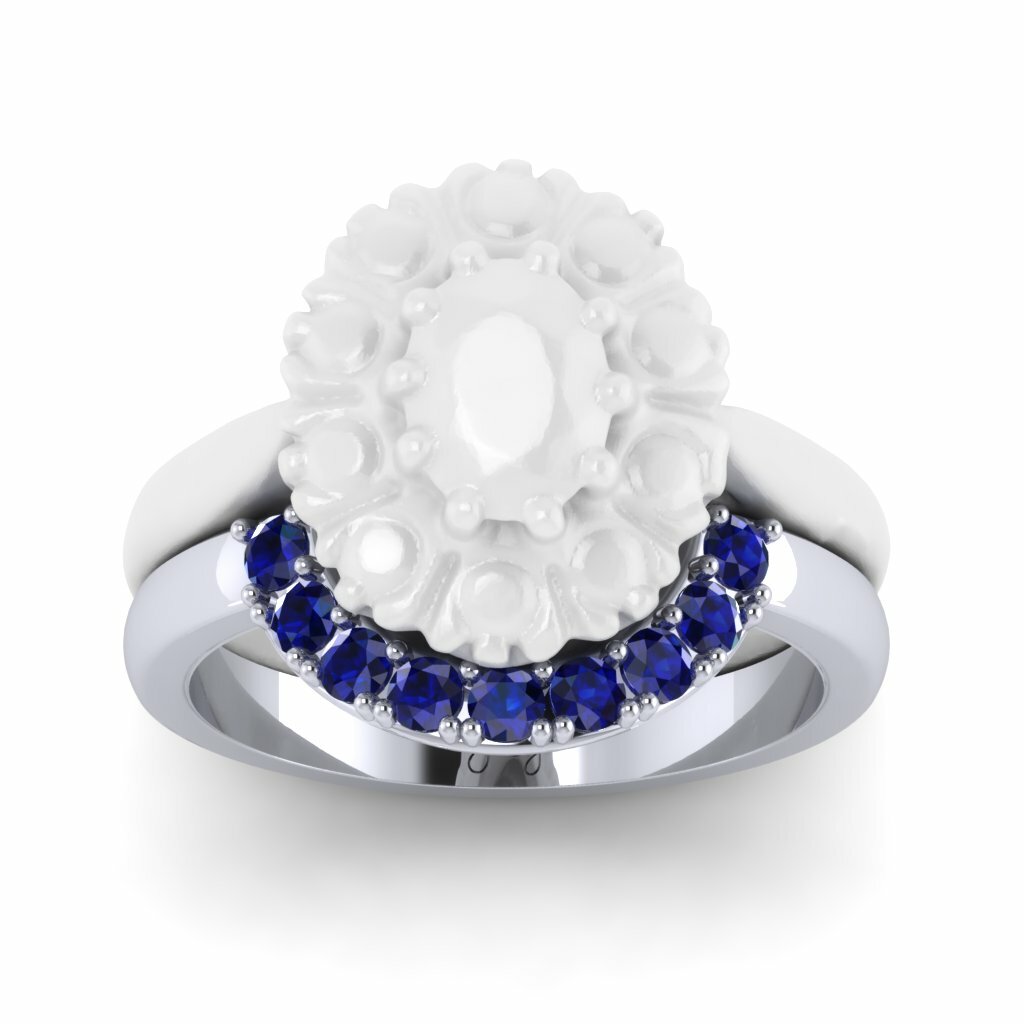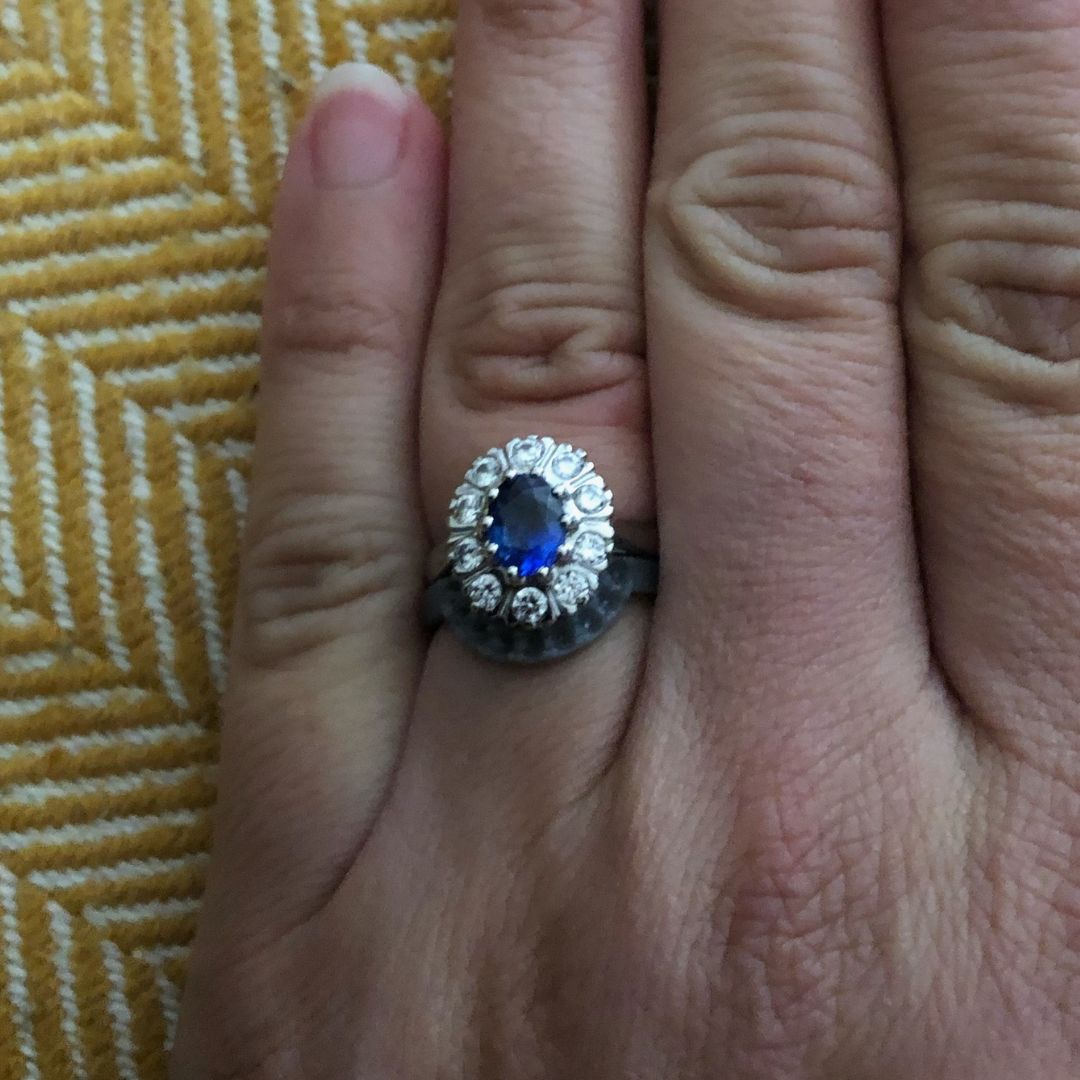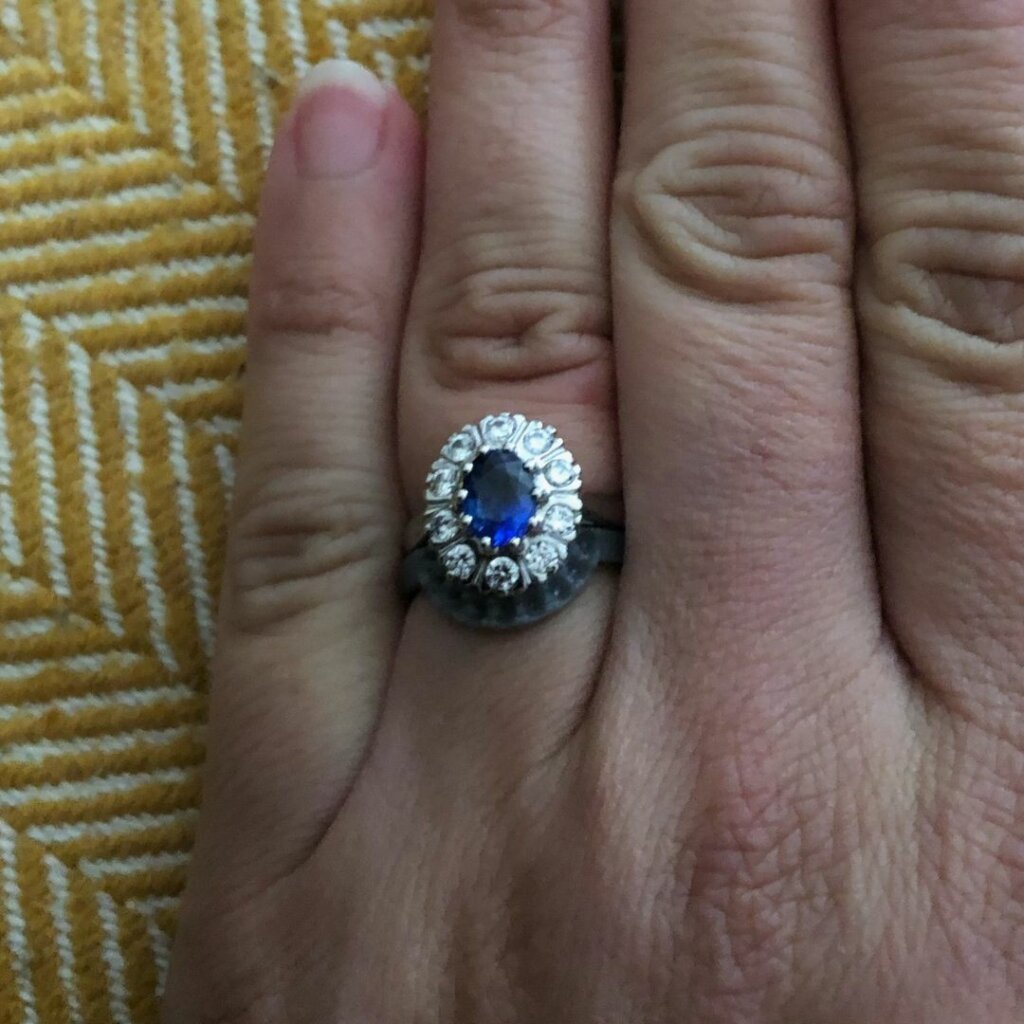 Grace's horseshoe shaped wedding ring is set with sapphires to contrast against the diamonds it sits next to so there is a distinction between the two rings. We colour matched them to the beautiful cornflower blue of the sapphire in her engagement ring.
My advise would be to match the type the metal of your engagement ring because they will wear equally and not wear each other down. However, if your engagement ring is gold, you could go for a different coloured gold next to it for your wedding ring. For example, a 9ct white gold engagement ring would look beautiful next to a 9ct rose gold wedding ring.
Stone wise, if your engagement ring has diamonds (or other gemstones) in the shoulders, you could go for a completely matching wedding ring for a very cohesive look. You will end up with a 'wall of bling' look where the two rings blur into one sparkly piece. Alternatively, a plain band, or a different type of setting can add some contrast and distinction between the two rings. Sorel had this dilemma with her wedding ring, so I drew up lots of different options for her to visualise the different styles next to her sparkly engagement ring.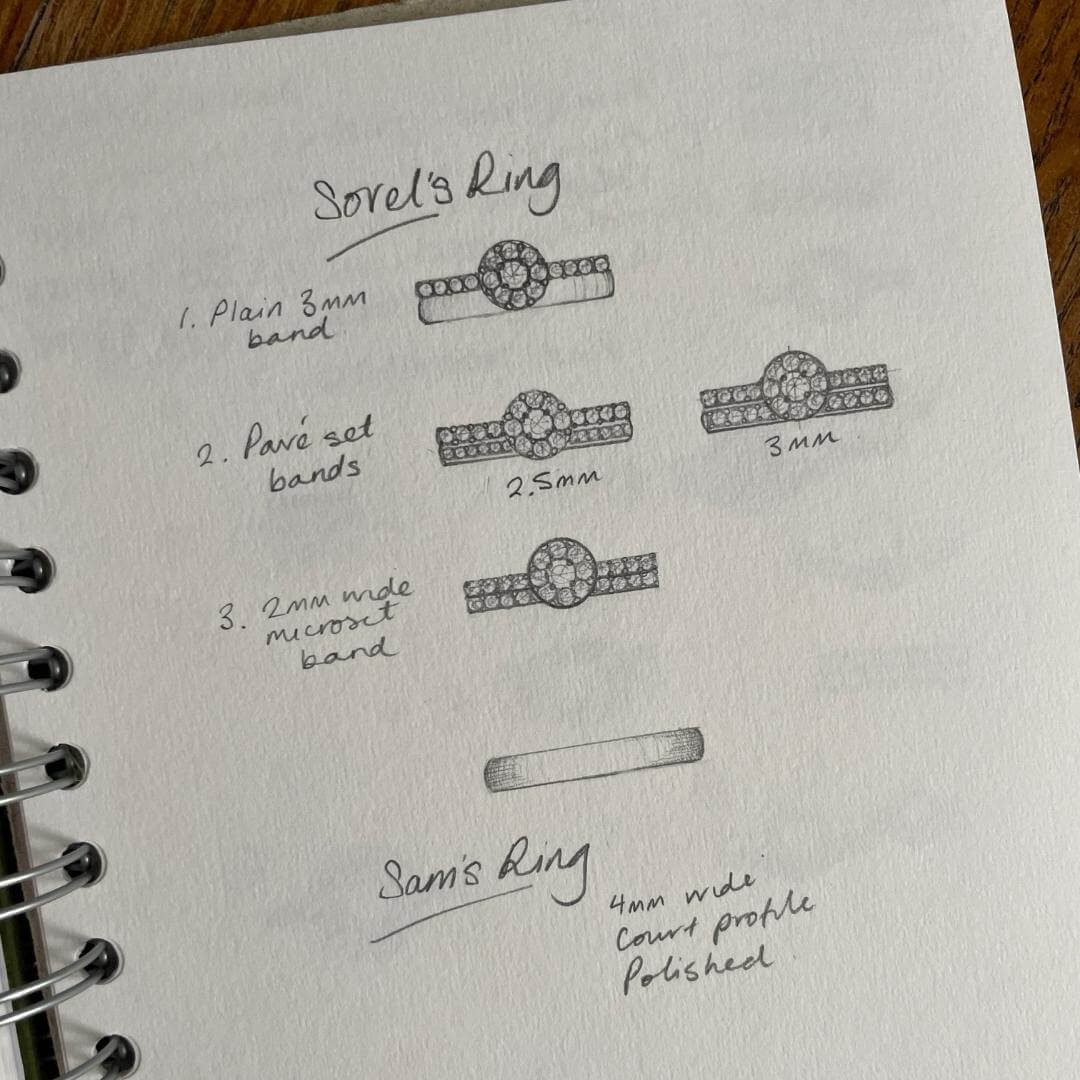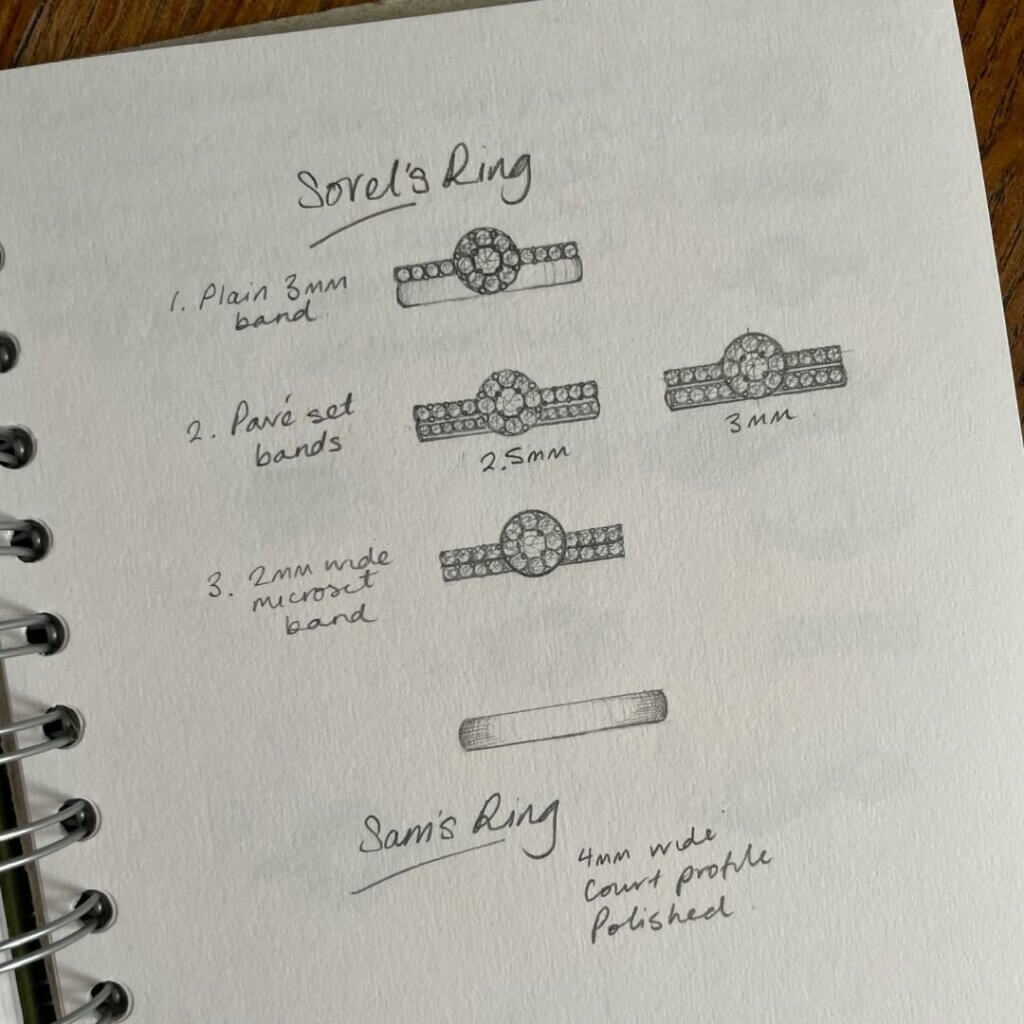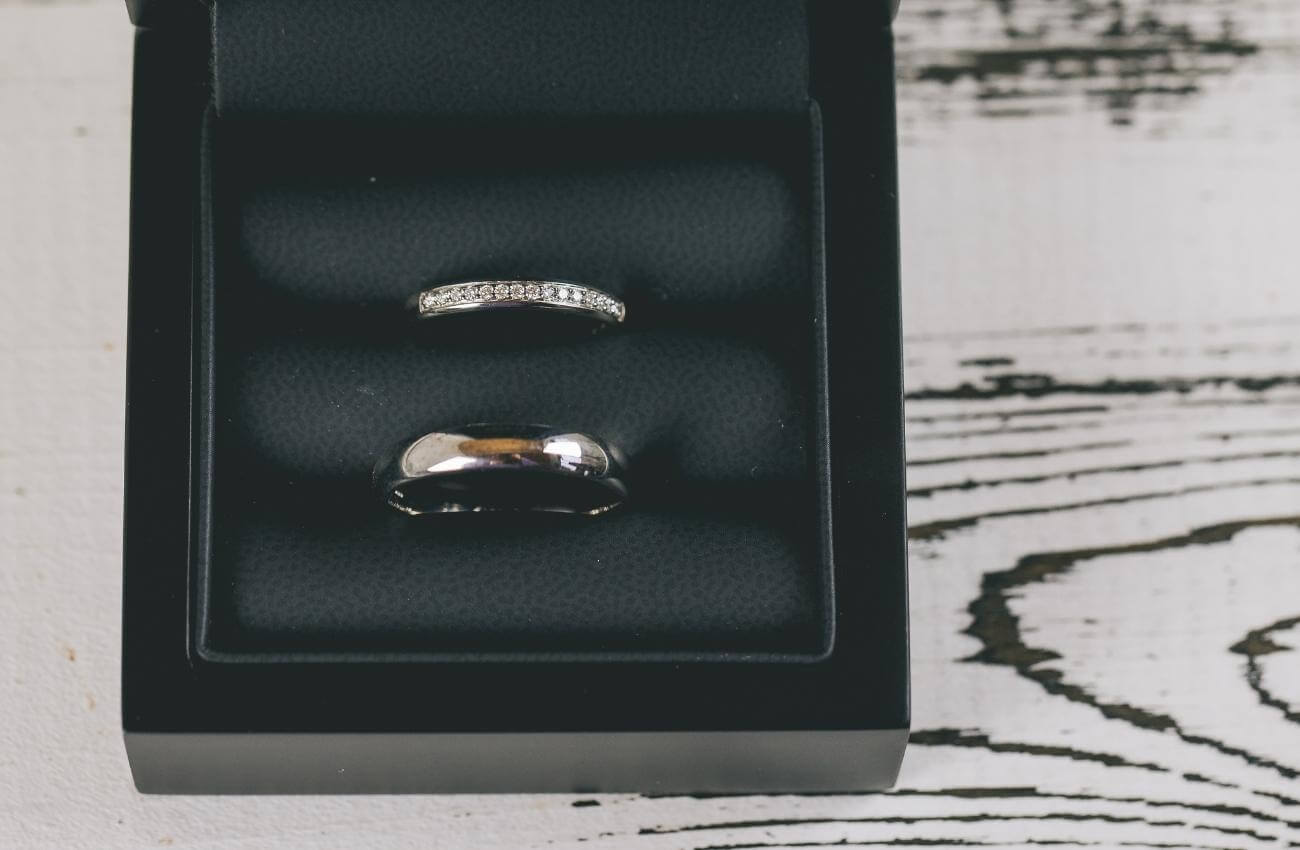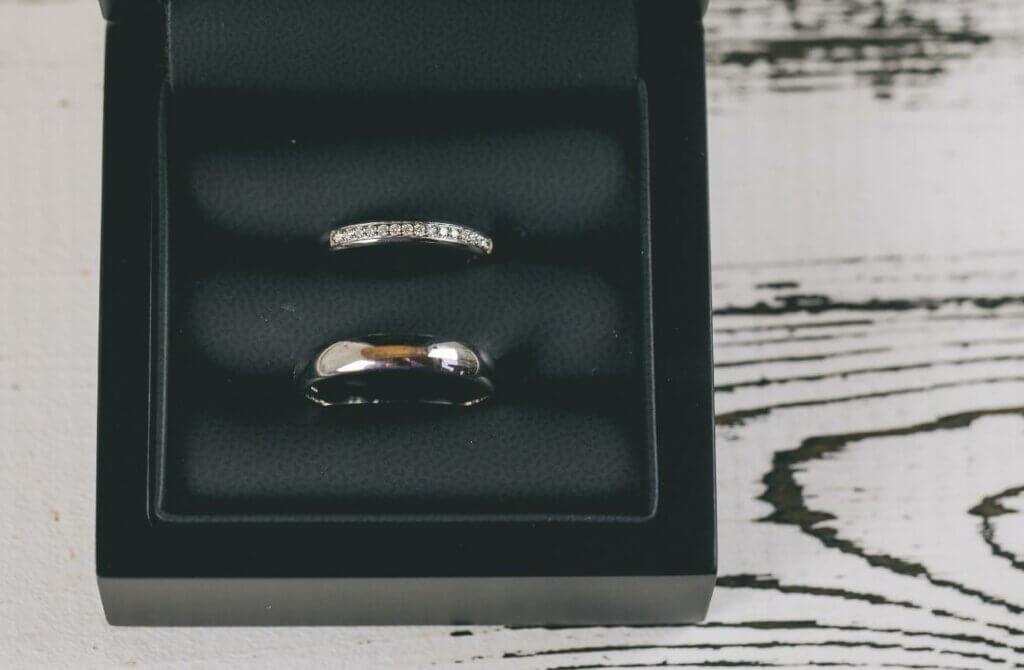 ---
3. Width
The most obvious way to decide on the width of your wedding ring is to match that of your engagement ring. I tend to measure the width at the sides and back to match it for brides who want a matched width for their wedding ring.
However, it is not a hard and fast rule that your wedding ring should match your engagement ring in this way. My engagement ring is very slim at 1.7mm wide but my wedding ring is a bit wider at 2.5mm. I chose this because I wanted to fit some diamonds into my wedding ring and a bit more width gave me the space to achieve this comfortably. Despite different widths, the two rings match in depth, which keeps them looking like a cohesive pair. I explain this is more detail later!

I designed a very chunky wedding ring with Jasmine who felt a wide ring suited her hand better and would give her more space to fit some intricate vintage inspired engraving. She wanted a strong contrast to her vintage engagement ring which is fairly slim and felt she may wear the wedding ring on its own day to day.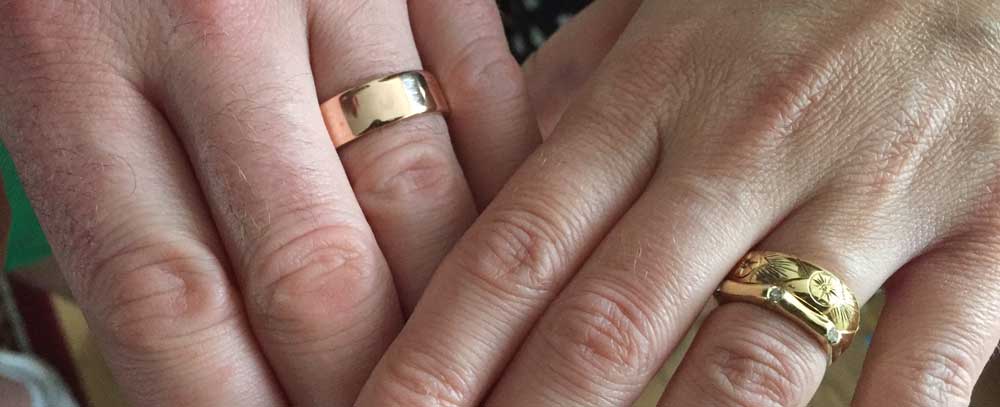 The best way to make your decision on width is to try on bands of different thicknesses and see how they look and feel on your hand. Consider how wide the two rings will be overall when worn together and how much space you have beneath your knuckle. Also, think about whether you might want to leave room to stack an eternity ring in the future.
---
4. Profile
The profile refers to the cross-section shape of the band. Your choice of the profile for your ring will depend on a couple of things:
Firstly, do you want to match your engagement ring profile to give a sense of unity between the rings? You absolutely do not have to match it, but try to complement your existing ring's shape. If you have a rounded engagement ring, a flat shape might not look right next to it. My engagement ring has a halo (fully round) profile whereas my wedding ring has a court profile, but they work well together as both have a gentle curve.
If you think you might wear your wedding ring on its own, matching your engagement ring is less important. Equally, you may have skipped the engagement ring altogether. So in this case, you can start from scratch and think about the modernity of the design you are after – flatter profiles tend to look more contemporary whereas softer and more curved shapes look more classic. Curved profiles trick the eye into thinking the band is slimmer, so your choice of profile can have an influence on the band width you choose.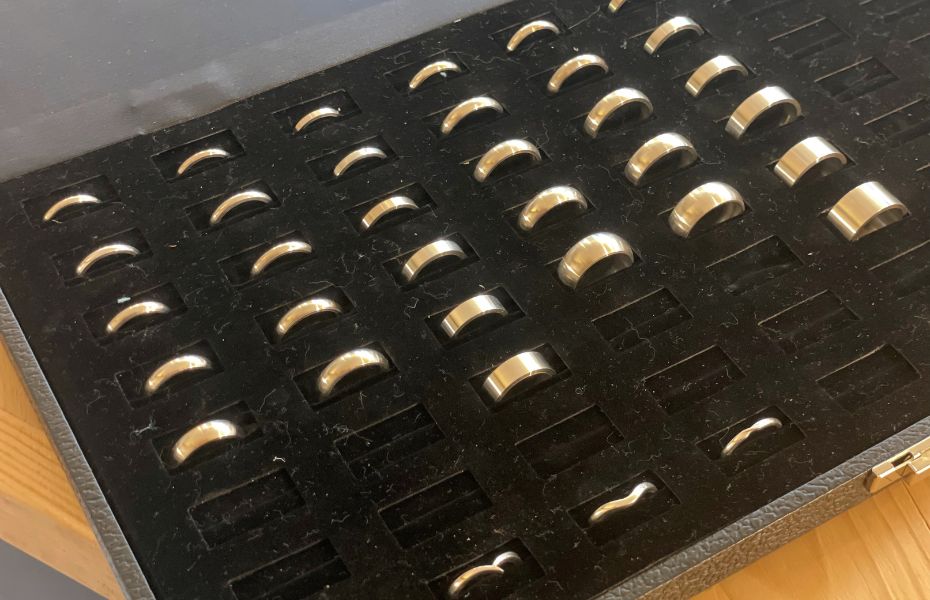 Lastly, consider how comfortable your choice of profile may be. Flatter and slimmer profiles tend to feel less bulky between the fingers but a curved interior to the profile can feel less restrictive and therefore more comfortable. If you go for a flat outer profile, you can always hide a curve on the inside for increased comfort.
---
5. Depth
The depth of the band refers to the thickness of the metal. Although you might go for a contrasting width or profile, I would advise sticking to the same depth as your engagement ring. This will give a sense of unity and will help them to sit comfortably together. When you look down on the rings on your finger, they will look harmonious because they are the same depth against your finger.
Some engagement rings deepen at the front towards the setting. I match the depth at the sides and back to make sure they look right together at the side of the finger.
---
6. Additional design features
You might like to add some design details to make the ring unique to you or match it to the style of your engagement ring. Charmaine's pretty engagement ring above was jointed by a tiara shaped wedding ring for a complementary contrast. She initially thought she wanted a straight wedding ring that matched the shoulders of her engagement ring, but decided the two rings would just merge into one.
Only you know how 'matched' you want your set to be, so go with what makes you happy!
You might like to introduce an engraved design or a combination of several embellishments – the choice is yours! The best thing to do is to look around and see if any particular style grabs your eye.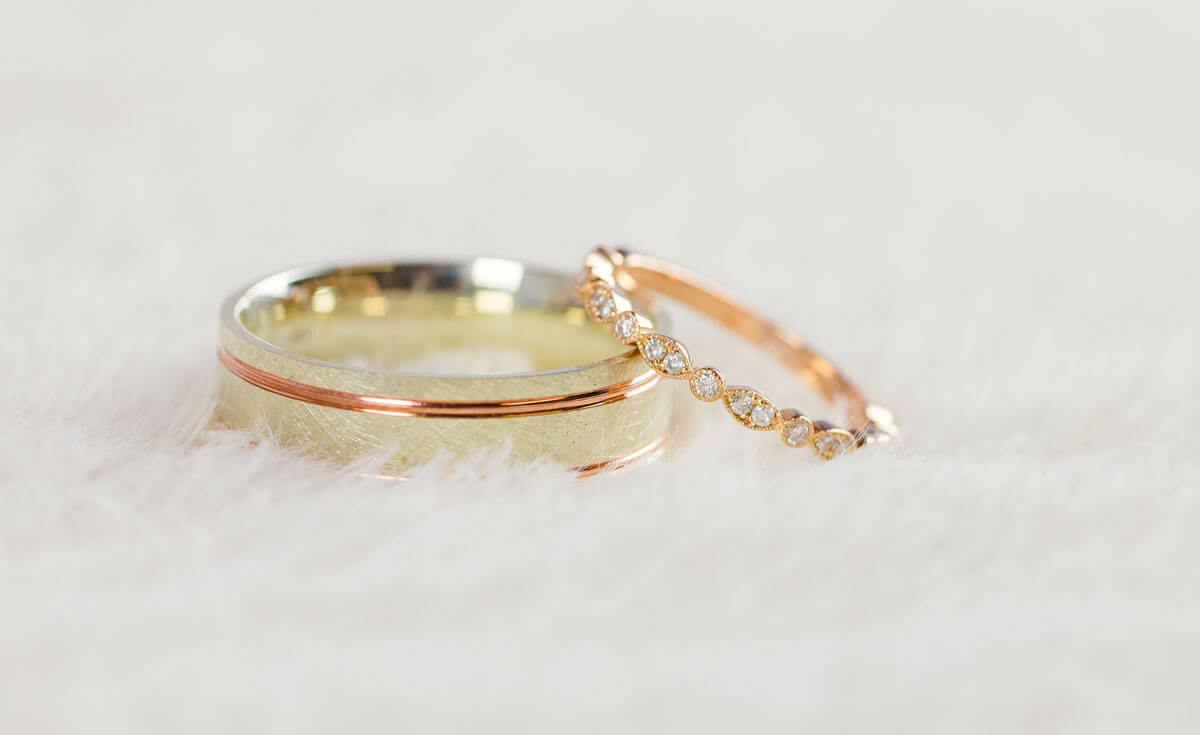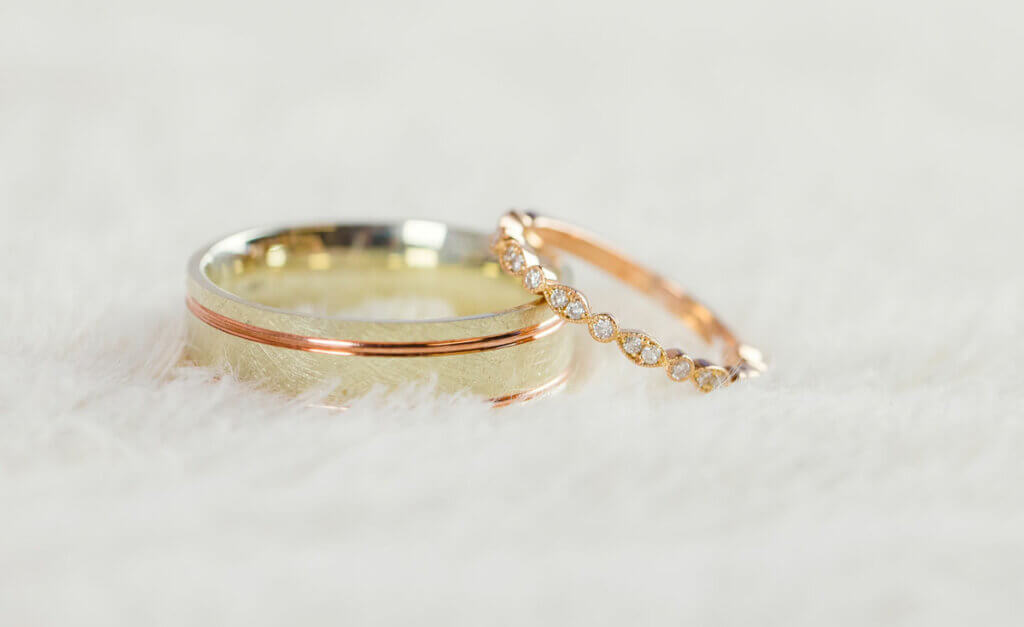 If you like the idea of having a secret design feature on the inside of your ring, engraving and flush set gemstones can be hidden inside the ring should you wish.
---
I hope that this article provides some structure to the thought process about your special ring and helps make the concept of choosing a wedding ring seem less daunting. My page all about the bespoke process takes you though the steps of going bespoke. Why not take a look at some of the designs I have made in the past for some ideas and get in touch if you would like to discuss having your unique ring made. Whether you are completely stumped over what to go for, or have a very good idea of what you want, I would love to bring your special ring to life for you.
You may also find our man's guide to choosing a wedding ring helpful.